We are living in a global village now. And the social media, such as Instagram, is the key drive of such society. People share almost everything on Instagram, from birthday party to concert, from selfies to beautiful landscape. And users search everything on this social network as well, including something very private. In result, clearing search on Instagram may become a necessary skill for Instagrammers.

Fortunately, there are methods to wipe out search history in the social platform or hide it to prevent other from peeking. And in this tutorial, we are going to tell you how to clear search on Instagram in detail. Just read on the article to get the detailed solutions.
Part 1

: How to Clear Instagram Search History on iPhone

Generally speaking, there are two methods to clear search on Instagram. You can learn the guides in this part.
Way 1: How to clear Instagram search history in Settings
Step 1. Open Instagram app from iPhone's home screen, tap on the "Profile" icon at bottom right corner of the screen.
Step 2. Then locate to the upper right corner and hit the "Settings" button with a gear icon. You will be taken to the "Options" screen.
Step 3. Scroll down on the Instagram Options screen, find the "Clear Search History" option and tap on it.
Step 4. When prompted the Are you sure dialog, tap on "Yes, I'm sure" to confirm it. Now, all search history in Instagram will be deleted.
Clearing Instagram cache is not only the way of protecting your privacy, but also the way of fixing some Instagram issues like Instagram videos not uploading, Instagram music not working, etc.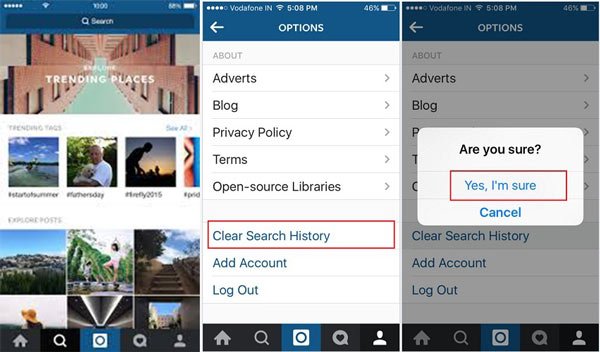 Way 2: How to clear Instagram search history by search bar
To help users clear Instagram search history, there is a shortcut to complete this task.
Step 1. Also start the Instagram app and sign in your username and password.
Step 2. Tap on the "Search" icon at bottom of the home interface, and then touch the search bar at top of the screen, just as ready as usual search.
Step 3. Then you will be presented the list of recent search history. Tap on the "Clear" option at top of the list, all your Instagram search history will be gone from your iPhone.
Note: Both the two ways could clear search on Instagram effectively. And clearing search history of Instagram is not only keep your information safe, but also reduces the size of your social media app and free up storage for iPhone.
Part 2

: How to permanently clear search on Instagram

Though you can clear search history on Instagram, it does not means that it is deleted permanently. If you are sensitive with your privacy or prepare to sell it, you'd better find a method to clear Instagram search history and other data on your phone permanently. From this point, we recommend Apeaksoft iPhone Eraser. Its key features include:
It has the capacity to permanently clear Instagram search history and other iOS data in one click.
Besides, you can erase contacts, voicemails, SMS, custom settings, photos, music, videos, app data and other files from iPhone.
It relies on advanced technology to erase Instagram history on iPhone, which is important to protect your privacy.
The iPhone erasing tool allows you to decide the level to clear your information and data.
iPhone Eraser supports all iOS models, like iPhone XS/XS Max/XR/X/8/7/6/6s, etc.
It is compatible with Windows 10/8/8.1/7/XP.
Download for Win
Download for Mac
In short, it is the best option to clear Instagram search history from iPhone at one time.
How to clear Instagram search history from iPhone in one click
Step 1. Install iPhone Eraser on your computer
Download and install the best iPhone erasing application on your computer. And plug your iPhone to your computer via a Lightning cord. Open iPhone Eraser and it will recognize your device automatically.
This way will wipe all Instagram search history from your iPhone along with other data, so you'd better make a backup first to avoid data loss.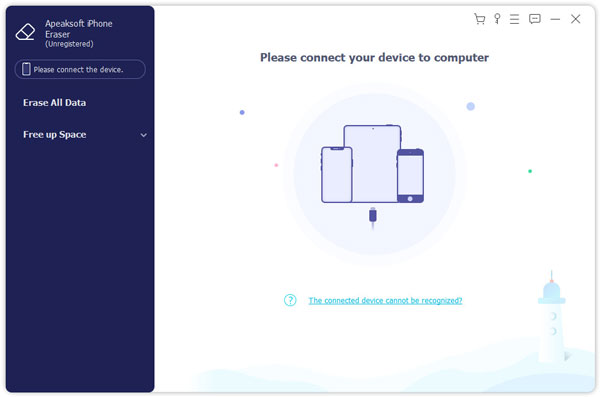 Step 2. Select a proper erasing level
iPhone Eraser offers three options related to erasing level, "Low", "Medium" and "High". The first one will overwrite all files on your iPhone; the second one overwrites your iPhone twice and latter one repeats overwriting for three times. Select a proper erasing level based on your situations.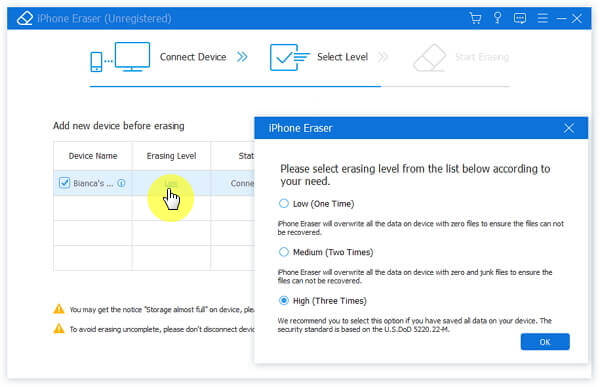 Step 3. Clear Instagram search history in one click
After selecting, click the "Start" button on the interface to initiate clearing Instagram search history. When it is complete, disconnect your iPhone with your computer.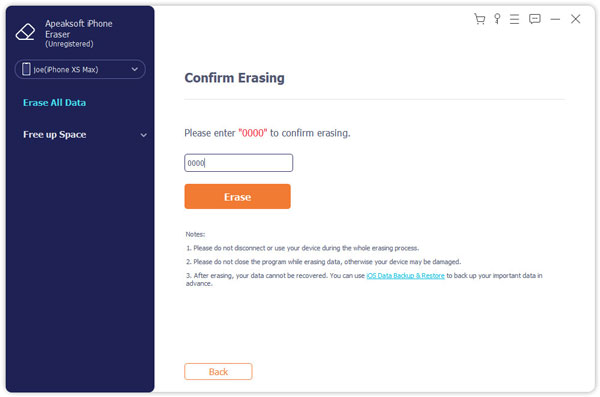 If you don't want to lose your Instagram photos, you can also get the deleted Instagram account back.
Part 3

: How to hide search on Instagram

Another way to protect your privacy is to hide search history in Instagram. In some cases, users may just expect to prevent others from spying on their information, rather than clear search on Instagram. The developers have realized such demands and launched this feature for Instagrammers.

Step 1. Locate to the toolbar at bottom of the main interface in Instagram app, and tap on the "Search" tab with a magnifying glass icon.

Step 2. Touch the search bar at top of the screen to open the search history list. Next, you will face several tabs below the search bar titled "Top", "People", "Tags" and "Places". Instagram organizes your search history to corresponding category. For example, Top stores your recent search history, People contains the users that you have searched.

Step 3. Go to the Top or desired tab and find the search history item that you want to hide. Long press the item until the menu bar pops up. Then tap on "Hide" to put Instagram search history out of sight. If you have more items to hide, repeat the operations.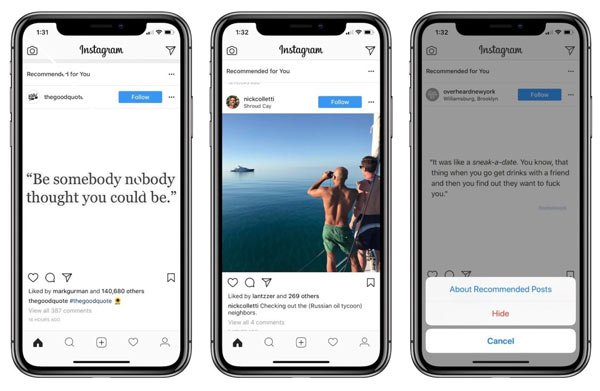 You May Also Like:
How to Clear Facebook Search History
Conclusion
In this tutorial, we have shared several methods on how to clear search on Instagram. If you just want to clear search cache data on Instagram and free up storage, the built-in clear feature is a simple option. And the shortcut method allows you to complete this task simply. On the other hand, Instagram permits users to hide search history to protect privacy. But the problem is that Instagram search history just disappears from your iPhone rather than deletes permanently. To help you clear Instagram search history without recovery, we also shared the best iPhone erasing application, Apeaksoft iPhone Eraser. Whenever you need to delete search cache on Instagram, you can select your favorite method and follow our guides to complete it in a few minutes.