It is known to all that Facebook has been one of the largest social-platforms. You can keep in touch with your friends and families through Facebook instantly. However, some people may get tired of overwhelming updates and advertisements. There are many reasons explaining why people want to delete a Facebook account forever. If you have decided to quit Facebook already, then this article is your complete guide.
The following paragraphs shows consequences and solutions about deleting your Facebook account. Therefore, you can read carefully to figure out whether you really want to get rid of old Facebook account. Later, follow steps below to delete a Facebook account on mobile or PC with ease.

Part 1

: What's the Difference between Deactivating and Deleting My Account

Actually, Facebook offers two choices for people who want to stop using Facebook for a period of time. In another word, you can deactivate or delete your Facebook account. So how to distinguish those two options?

The moment you deactivate your Facebook account, others cannot see your timeline or search for you. Though some information like the messages you sent may still remain visible to others. Well, deactivating a Facebook account does not matter a lot. You are able to reactivate your Facebook ID whenever you want.

As for deleting a Facebook account, everything stored in your Facebook ID will be removed totally. But your friends still have access to messages you sent before. However, there is no way to recover your Facebook account after you have deleted it.
How Do You Cancel/Deactivate Your Facebook Account
Step 1. Choose "Menu" icon on the top right corner of Facebook page
Step 2. Choose "Settings" option
Step 3. Click "General" in the left panel
Step 4. Select "Manage account"
Step 5. Scroll down and click "Deactivate your account"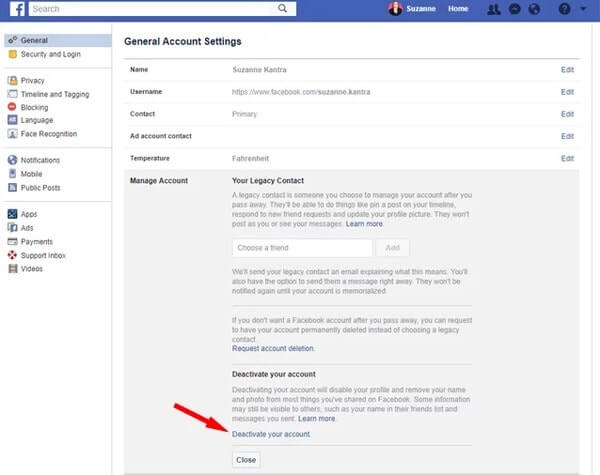 You can deactivate a Facebook account on iPhone or Android through Facebook general account settings as well, which is similar to deactivating a Snapchat account.
Part 2

: What Would Happen After Deleting FB Account

Question 1: Can I delete my Facebook account right now?

Answer 1: You cannot delete a Facebook account immediately. The Facebook team delays the deletion for several days. And it may take up to 90 days to delete data stored in backup systems. Fortunately, your Facebook information is not accessible on Facebook during this period.

Question 2: What is the consequence of deleting a Facebook account?

Answer 2: It takes a few days to complete the Facebook account deletion. And remember do not log back into your Facebook account again. Otherwise, your deletion request will be canceled automatically. In addition, you cannot delete messaging history and other information that isn't stored in your account. So others can still see messages you sent after your Facebook account has been deleted. However, you could recover deleted Facebook photos, messages, etc.

Question 3: What really happens when I delete my account of Facebook?

Answer 3: You are not able to use this Facebook account any more. And all your personal information associated with the account will be wiped clean. Your photos or notes may still exist in Facebook servers. But other Facebook users cannot access them.
Part 3

: How Can I Delete My FB Account without Password

What if you forgot your Facebook login password? Is there any way to delete a Facebook account without a password? Fortunately, Facebook offers several recovery methods. You can reset the Facebook password and resign into Facebook account without too much effort. Later, it is easy to cancel a Facebook account temporarily or permanently.

Step 1. Choose "Forgot Your Password" link on Facebook home page

Step 2. Reset the password with your email address or security questions/contacts

Step 3. Resign into your Facebook account

Step 4. Locate Facebook settings page and click "Security" in the left column

Step 5. Choose "Deactivate Your Account" or visit "Delete My Account" page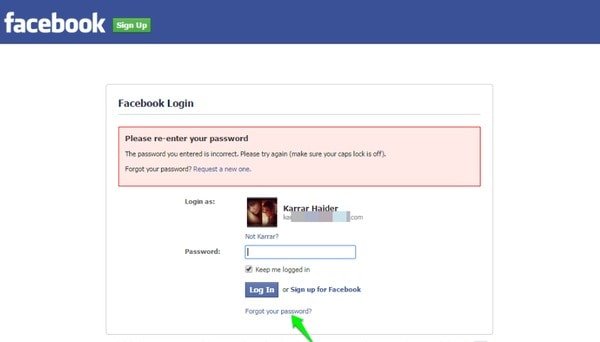 So follow the on-screen instruction and manage with the delete Facebook account link. Later, you can request for a permanent deletion successfully.
Part 4

: How to Delete Facebook Account Permanently and Immediately without Waiting 14 Days

You can open Facebook general settings page to download a copy of your Facebook data if necessary. Otherwise, there is nothing left after you have deleted Facebook account.

Step 1. Go to www.facebook.com/help/delete account page

Step 2. Log into Facebook with the account and password

Step 3. Click "Delete my account" option

Step 4. Resign into your Facebook account and type the captcha code

Step 5. Choose "OK" to confirm the Facebook deletion request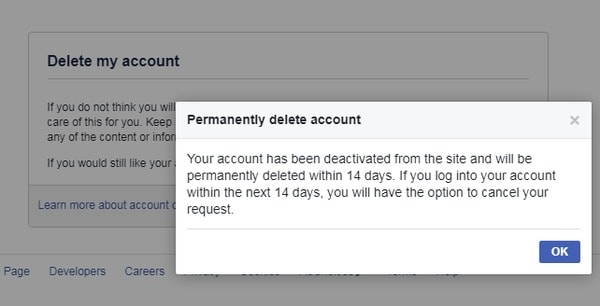 Do not sign into your Facebook account within the next 14 days. Later, you can delete a Facebook account permanently and immediately.
Don't Miss
How to Delete Messages on Facebook
How to Clear Facebook Search History
Part 5

: How to Recover the Deleted Facebook Messages After Deleting the Account

For people who delete important Facebook messages without backup, Apeaksoft Android Data Recovery is your ultimate tool. You can recover deleted or lost messages, contacts, photos, call logs and any other files from Android phones, tablets and SD cards without data loss. And its user-friendly interface allows users to recover messages after deleting a Facebook account easily and quickly.
Recover data lost from various scenarios including SD card issue, mistakenly deletion, etc.
Support over 20 file types like messages, gallery, call logs, videos and more.
Fully compatible with over 5,000 Android portable devices.
Backup your Android data including lost or deleted files to your computer.
Download for Win
Download for Mac
Step 1. Connect Android to Android Data Recovery
Launch Android Data Recovery on Windows or Mac PC. Later, use a lightning USB cable to connect your Android smart phone or tablet to the computer. Wait few seconds until this program detects your smart phone.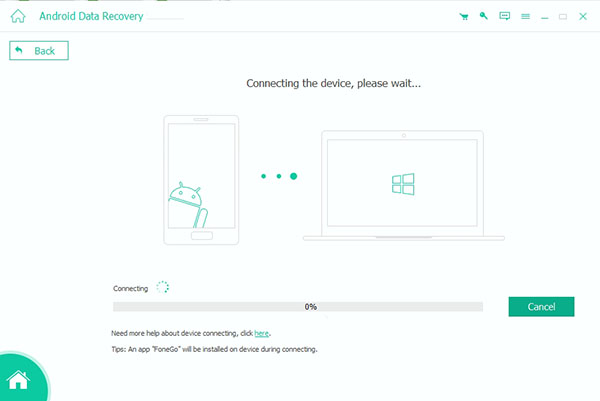 Step 2. Enable USB debugging mode
Choose "OK" when you see a notification for allowing USB debugging on your Android device. If not, you need to follow the on-screen tutorial to activate the USB debugging mode manually.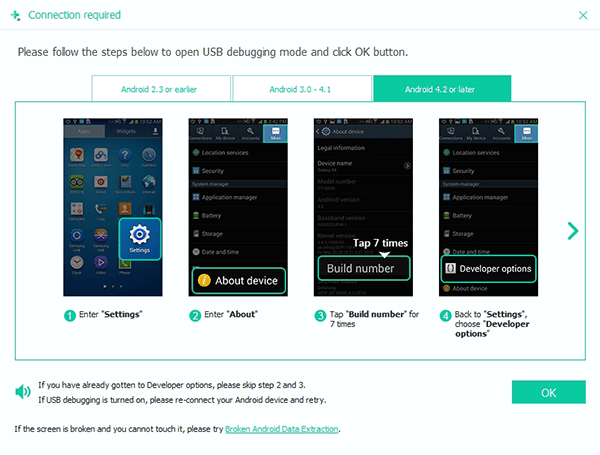 Step 3. Choose messages to recover
You will be required to choose the certain file type to recover. During this time, click the small check box before "Contacts". Then choose "Next" to move on.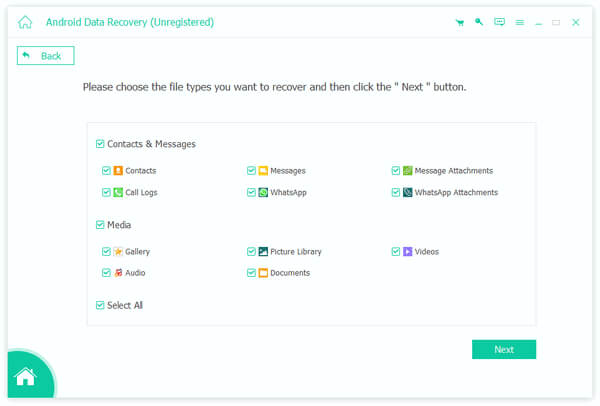 Step 4. Start to recover the deleted Facebook messages
Select and preview the detail information of any message freely. You can turn on "only display the deleted item (s)" to see deleted Facebook messages only. After choosing the deleted Facebook messages, click "Recover" button in the lower right corner.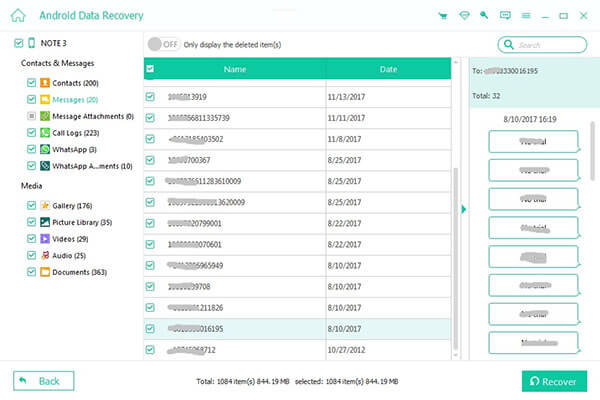 So feel free to delete a Facebook account on Android or other platforms. Even though you mistakenly delete something, you can still get it back through this powerful data recovery program.