- "My friend logged into her Gmail account through my phone to check an email. Now I can't figure out how to delete her account from my phone. Can anyone show me how to delete a Gmail account?"
- "How do I remove Gmail account from Android phone without factory reset?"
- "How to remove Google account from Samsung?"

There are many similar questions about how to delete a Gmail account permanently or temporarily. No matter which reason you take, the most important thing is to remove Gmail account from phone.
With over and over failures, some people hold the question that is it possible to delete a Gmail account. Well, definitely the answer is "Yes". This article aims to show you easy ways to delete a Gmail account. You can read and follow steps below to delete Google account right now.
Part 1

: What Happens When You Delete Your Gmail Account

There are also related consequences of removing your Google account. So think twice before you delete a Google account. Make sure you have backed up important contents already.
You cannot access the data related to that Gmail account anymore including records, photos, emails and others.
Contents you purchased on Google Play and YouTube are unavailable.
All your bookmarks and personal settings kept in Chrome would be removed.
Others cannot reach you through the deleted Gmail address.
You may have trouble resetting passwords related to your deleted Gmail account.
In a word, once you delete a Google account, all your mail settings and information would be deleted totally. And nobody can use your deleted Gmail account and pretend to be you. If you are OK with above cases, then you can take methods to remove Google account from phone.
Part 2

: How Do I Uninstall Gmail from My Phone

If you are wondering the question "How to remove my google account on other people's device?", then you just come to the right place.
How to Delete Gmail Account in Android Phone
There is no need to remove Google account from Android phone from computer. Actually, you can learn how to delete an email account on Android easily with the following paragraphs.
Step 1. Find your Google account
Open "Settings" app on your Android device. Later, choose "Accounts" and click "Google".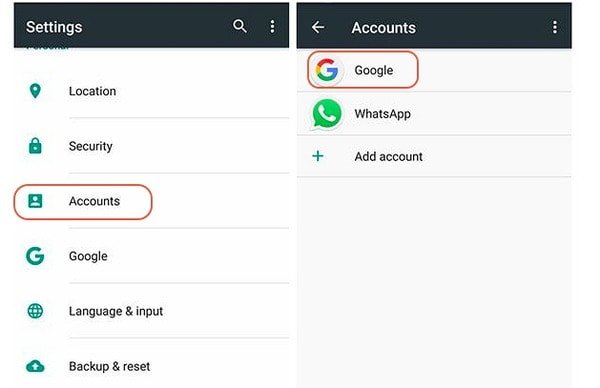 Step 2. Delete an email account on Android
Choose the three-dot "Menu" option on the top right corner. Select "Remove account". Then choose "Remove account" in the pop-up window to confirm.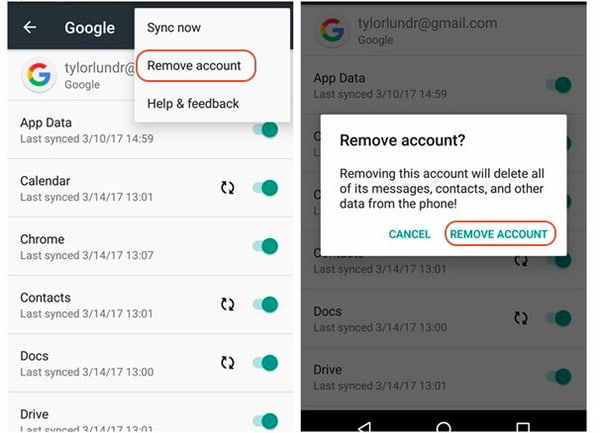 Moreover, these are also the operations of how to delete multiple Google accounts on Android tablet.
In this process, you need to input your gmail account and password to confirm the deletion. (Gmail password forgot?)
How to Delete Gmail Account on iPhone
As for deleting a Gmail account in iPhone, you can run Apeaksoft iPhone Eraser to erase all Google content and settings permanently.
Delete all iOS files (contacts, account information, browser history and more) and settings safely.
Provide low/medium/high erasing level to meet your needs.
Work with all iOS devices including the latest iPhone X, iPhone 8 Plus, iPhone 8, etc.
Clear your iOS data with anti-virus.
Step 1. Connect iPhone to iPhone Eraser
Download and install iPhone Eraser on your Windows or Mac computer. Launch this program and use a lightning USB cable to connect iPhone, iPad or iPod to computer. Wait for few seconds until the computer detects your iOS device.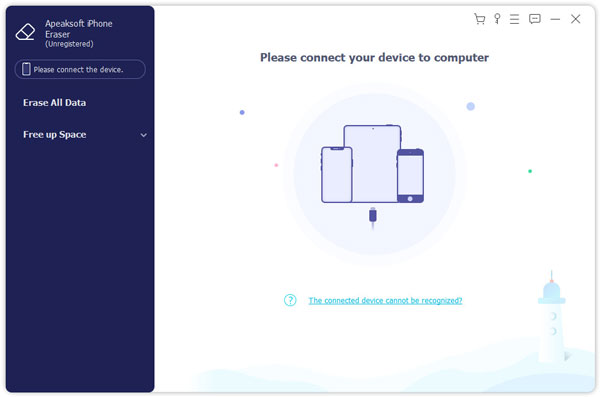 Step 2. Choose erasing level
If you just want to delete Gmail account on iPhone, then you can choose "Low (One Time)" option. It means iPhone Eraser will overwrite all data including your Google account with zero files. Then click "OK" to move on.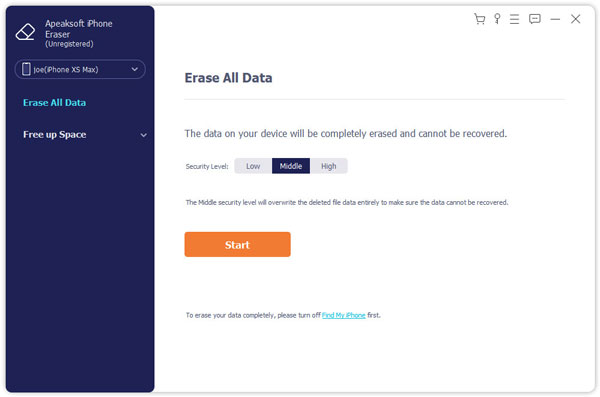 Step 3. Start to remove Gmail account from phone
Click "Start" icon to delete a Gmail account from iPhone permanently. Later, iPhone Eraser can help you remove Gmail account preferences and Google account settings automatically.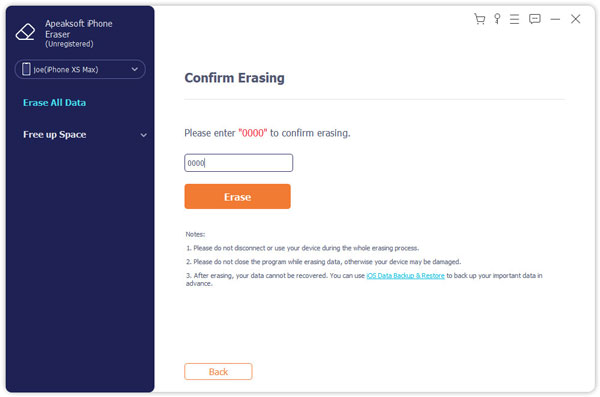 After that, you can restart your iPhone to get a clean smart phone. In addition, you can also create Google account.
Part 3

: Remove Google Account from Chrome

You had better download your data and back up important messages in advance. Otherwise, you would lose all mails and Google data related to that Gmail account.

Step 1. Open Gmail website on Chrome

Locate the Google Account preferences page. Scroll down and access the "Delete your account or services" section. Then choose "Delete Products" option.

Note: Do not click "Delete Google Account and data". As a result, you would lose all accesses to your entire Google account.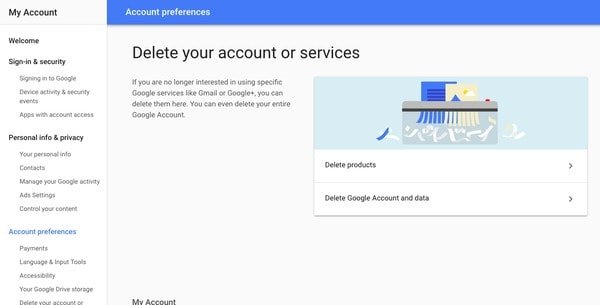 Step 2. Ask to delete a Gmail address
Reenter your Google password and click "Sign in". Make sure it is the right Gmail account you want to delete. Later, select "Delete" icon. You will be required to enter your email address. So type your current email address and choose "Send Verification Email" option. Then click "Got it" to move on.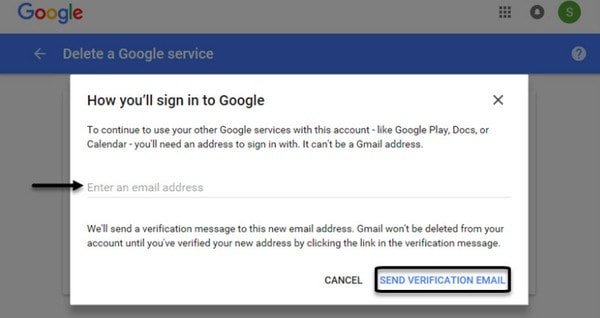 Step 3. Delete a Gmail account on computer
Check your email box to receive the Gmail deletion confirmation. Click the confirmation link and choose "Delete Gmail" option. Later, choose "Done" to delete a Google account successfully.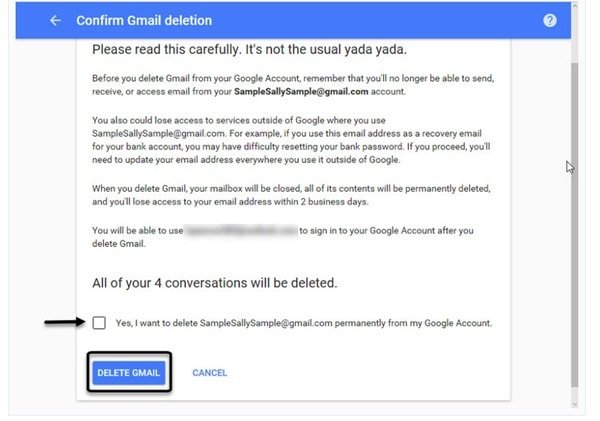 That's all for how to remove Google account from computer. During this time, you can get easy steps to remove Gmail account from computer using Chrome and other browsers.
Part 4

: Bonus Tips: How to Delete All Emails in A Gmail Account

To clean up your Google email box thoroughly, you can take the following steps easily.

Step 1. Open Gmail website on Chrome

Open your Chrome browser and go to Gmail website. Find and click the little select box near the top of Gmail inbox. Later, select "All" from this drop-down list. You can see all your email messages displaying.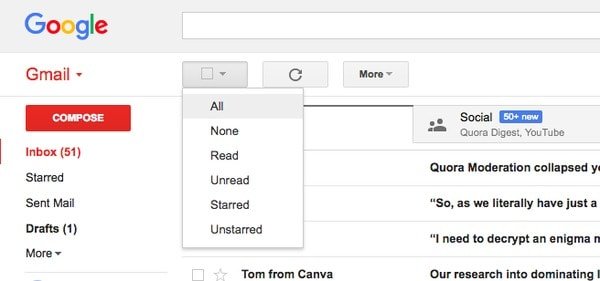 Step 2. Delete all emails permanently from a Gmail account
When you see "All 50 conversations on this page are selected", click the hyperlink besides. Then you can choose "Trash" icon on the top toolbar to delete all emails in a Gmail account using Chrome.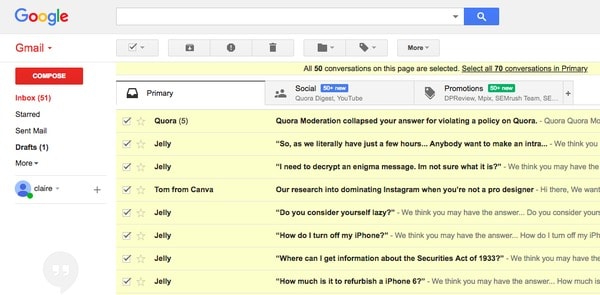 All in all, you can delete a Gmail account with above solutions in different cases. If you have any difficulty during the whole process, please don't hesitate to ask us. And you also share other good methods to remove Gmail account from phone or computer.