"How do I clear autofill in my browser? My sister used my iPhone and apparently she filled out some online forms. Now whenever I, the actual owner of the iPhone, try to fill out forms, her information comes up in autofill. How can I get rid of unwanted information in autofill?"

Autofill suggestions make our lives easier when fill out forms by recognizing that we have entered the similar text field in the past; however, one frustrating thing about this feature is that unwanted suggestions can build up over time and slow you down as you search for the right option. Fortunately, there are approaches to clear autofill on digital device. And just spend a few minutes; you can get these approaches in this post.
Part 1

: What is Autofill?

Actually, autofill is not an exclusive feature on iPhone. Most web browsers and app have integrated this automatic form filter, aiming to fill out forms online automatically and save users' time. You browser is able to remember the content that you entered in the fields of name, birthday, phone number, country, postal code and other. Next time when you are required to fill out the same information, the autofill feature will do this job.

Compared to computer, autofill is more popular among iPhone users due to people do not need to activate the virtual keyboard each time when fill out forms. On the other hand, the autofill feature brings some trouble. Some people concerns about security problem. For example, everyone who accesses your device could get your private information, such as credit card. Moreover, old autofill details could make you confused as well. To clear autofill details, follow our guides below.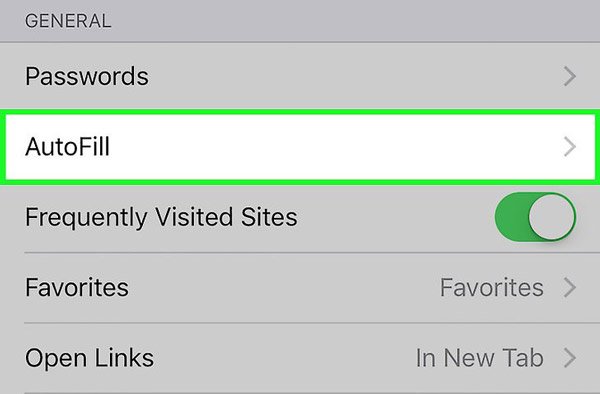 Part 2

: How to clear autofill on iPhone

Though iOS allows users to manage Safari Autofill feature, you can learn more options in this part.
Way 1: How to clear autofill in iOS Settings
Step 1. Turn on your iPhone, open the iOS Settings app from the home screen.
Step 2. Head to "Safari" > "Autofill" > "Saved Passwords", tap on "Edit", select unwanted details and hit Delete to get rid of them from your iPhone.
Step 3. To clear credit card information, select "Saved Credit Cards" on Autofill settings screen, hit "Edit", check each unwanted detail and tap on "Delete".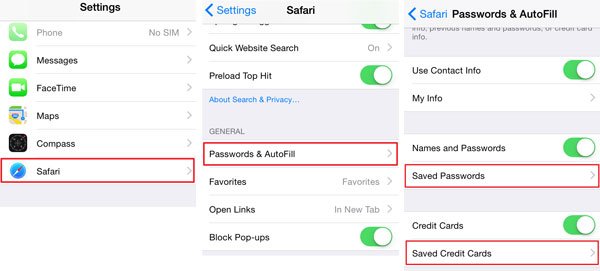 Way 2: How to permanently clear autofill on iPhone
If you prepare to sell your iPhone or give it to your friend, you'd better use a professional toolkit to clear autofill stuff permanently. From this point, we recommend Apeaksoft iPhone Eraser. Its key features include:
Clear all autofill on iPhone along with other data in one click.
In addition to autofill items, erase contacts, accounts, SMS, photos, music, videos, apps, custom settings, etc.
Use advanced technology to clear autofill on iPhone, which is unrecoverable.
Decide the level to clear your information and data.
Compatible with iPhone X/8/7/6/6s/5/5s/5c/4 and other iOS devices.
Available to Windows10/8/8.1/7/XP and macOS 11 or before.
Download for Win
Download for Mac
In short, it is the best option to clear autofill details on iPhone at one time.
How to clear autofill on iPhone with iPhone Eraser
Step 1. Install iPhone Eraser on your computer
Get the best iPhone erasing application installed on your computer, and plug your iPhone to your computer using a Lightning cord. Open iPhone Eraser and it will detect your device automatically.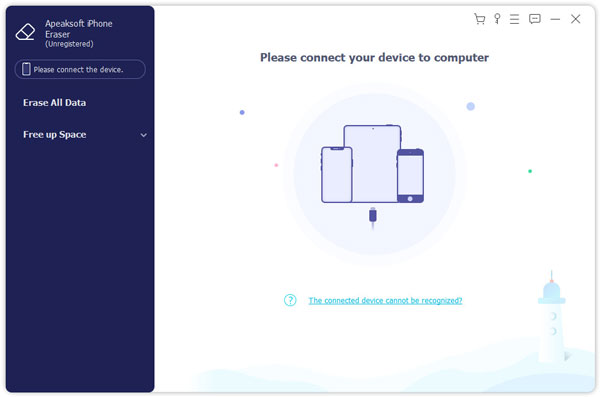 Step 2. Choose a proper erasing level
iPhone Eraser provides three erasing levels, Low, Medium and High. The Low level will overwrite all files on your iPhone; the Medium overwrites your iPhone twice and High level repeats overwriting for three times. Select a proper erasing level based on your situations.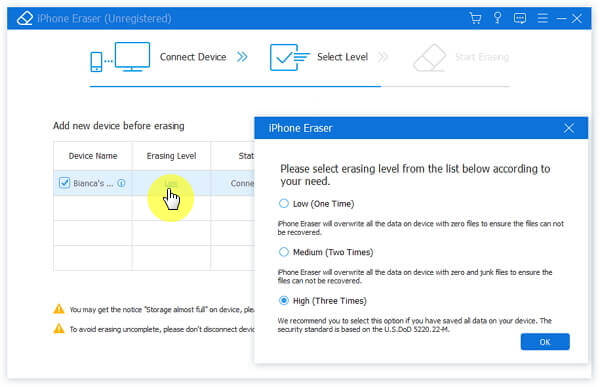 Step 3. Clear autofill on iPhone in one click
Finally, click the "Start" button on the interface to initiate clearing autofill stuff. When it is done, disconnect your iPhone with your computer.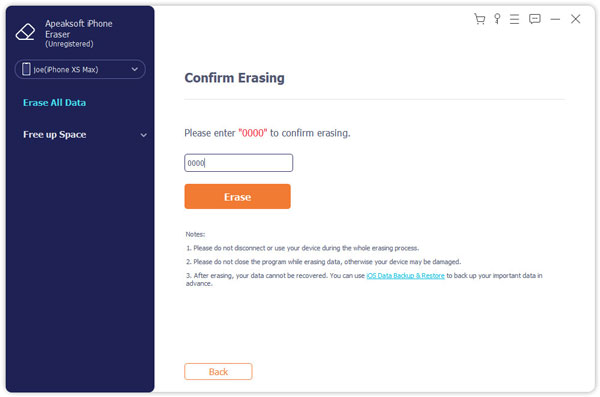 Part 3

: How to Clear Autofill on Mac OS X/11

The workflow to clear autofill on Mac OS is simple and our guides below helps you complete it under various situations easily.
Way 1: How to clear autofill in Safari on Mac
Step 1. Start Safari on Mac, unfold the "Safari" menu on top ribbon and click "Clear History and Web Data".
Step 2. Switch to "All history" in the dropdown menu and then click "Clear History".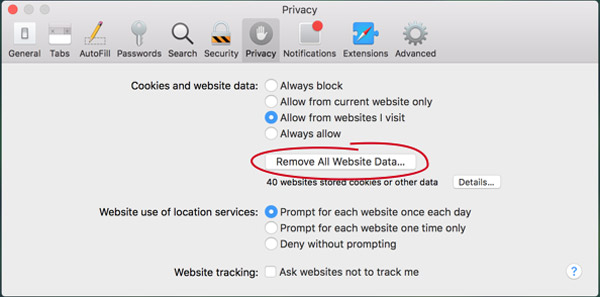 Way 2: How to clear autofill in Firefox on Mac
Step 1. Run Firefox browser, hit the "Settings" button with three-line icon, choose "History" and then "Clear Recent History".
Step 2. On the popup dialog, choose "Everything" in the dropdown menu, check the box next to "Form & Search History" and hit "Clear Now" button to clear autofill items.
Way 3: How to clear autofill in Chrome on Mac
Step 1. Launch your Chrome browser, unfold the menu bar, type chrome://settings/clearBrowserData in the address bar and press Enter key to open the clear browsing data dialog.
Step 2. Make sure to tick the checkboxes next to Autofill from data, Passwords, Cookies and other site and plugin data. Then click the "Clear browsing data" button.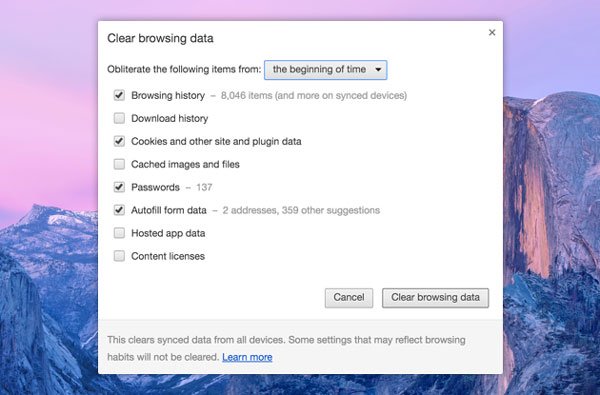 Part 4

: Other features of AutoFill

If you are not familiar with the autofill feature, we will share some knowledge you should know in this part.
1. First of all, Safari autofill feature is able to remember the contact information, names, passwords, credit cards and more details. And when the corresponding forms appear, Safari could identify it and fill out automatically.
2. Of course, you can decide to use or disable the autofill feature on your iPhone. Navigate to "Settings" > "Safari" > "Autofill" on iPhone and toggle the switches next to "Contact Info, Names and Passwords", and "Credit Cards" to disable it.
3. Every coin has two sides, so does autofill feature. It is convenient that autofill inputs the form; however, this feature is criticized for privacy issues. Luckily, you can decide whether to turn it on based on your demands.
People Also Read:
How to Clear History on Android
Conclusion
In this tutorial, we have discussed one of the most popular features in Safari, autofill. Some people agree that autofill feature makes their lives easier; however, others worry about the privacy leakage problem. We have shared how to clear autofill on iPhone and Mac. For instance, Apeaksoft iPhone Eraser could erase all Autofill items in one click. And the information is not recoverable. If you have accumulated a lot of Autofill stuff on you device, it is time to pick up your favorite way and follow our guides to clear them.