To start with, you need to figure out your real purpose. Whether you really want to delete Zoosk account permanently or just need to deactivate Zoosk account for a period of time, that matters a lot. Because once you have deleted Zoosk account, all your subscriptions, contacts and matches will be removed at the same time. And you cannot find them back. But if you only want to get rid of Zoosk temporarily or you are not sure, then deactivating your Zoosk account will be a better choice.

No matter which reason you take, the followings are step-by-step guides of how to delete Zoosk accounton Android, iPhone, Windows PC and Mac. Thus, you can remove Zoosk account from your mobile phone or computer successfully. As a result, you are able to hide your profile on Zoosk and delete all associated information from Zoosk service completely and permanently.
Part 1

: What Is Zoosk

Zoosk is a well-known online dating platform that receives millions of visits per month. Being one of the market leaders in mobile dating, Zoosk app has been translated into 25 languages and spread over 80 countries. It personalizes the dating experience to help every single find his or her right person and relationship.

Once you register as a "Zoosker", your Facebook and other email programs will be associated. Later, you can use its basic search and advanced search features to browse singles online. Thus, you can find matches of your own according to your preference freely. To be more specific, you can filter by categories including location, age, religion and more. So Zoosk offers many possibilities for you within too much costs. Of course, you need to purchase certain membership fees per month to find your perfect match.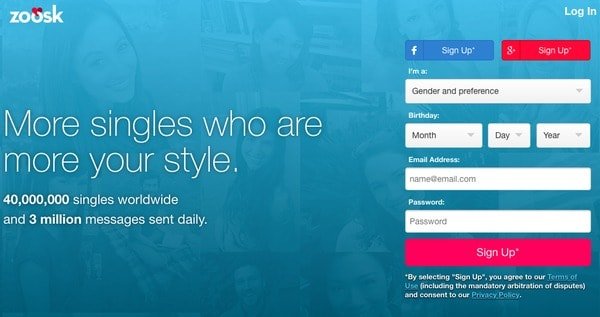 Part 2

: How Do You Delete a Connection on Zoosk

As a result, if you are a subscriber and want to delete Zoosk account from phone app or desktop, you need to cancel your subscription in advance. If you are not, then you can deactivate or delete your Zoosk account directly.
How to Cancel Zoosk Subscription Renewal on iPhone/iPad
Step 1. Locate phone Settings
Run "Settings" app on your mobile phone. Scroll down and select "iTunes & App Store" option. Later, you will be required to enter your Apple ID and Touch ID.
Step 2. Disable Zoosk subscription
Find and click "Subscriptions" in the Account Settings page. Then click the Zoosk subscription. Choose "Cancel Subscription" and click "Confirm" to turn off automatic renewal of Zoosk subscription. Well, you may receive the Zoosk cancellation refund.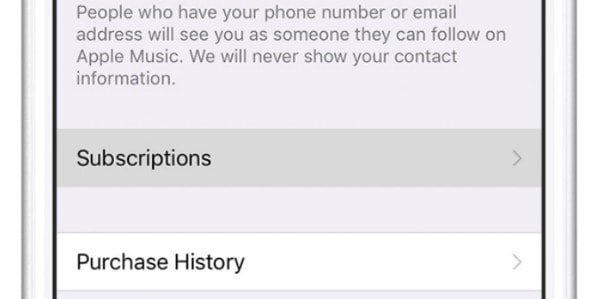 You can cancel your subscription on Andorid and computer with the similar operations as well. Then it is time to delete Zoosk account completely on tablet or computer.
Best iPhone Data Eraser you may want to know:
Delete Zoosk Connections and other data on your iPhone in one click.
Free up iPhone storage by erasing junk files, uninstall apps, delete large files and compress photos.
Provide three erasing levels, Low, Middle and High to protect your privacy in one click.
Support almost all iOS devices, like iPhone 12/11/X/8/7/6/6s/5/5s/5c/4, iPad Pro/Air/mini, and iPod Touch.
Download for Win
Download for Mac
How to Delete Zoosk Account on Computer
Step 1. Head to Zoosk account settings
Search and open zoosk.com on your browser. Sign into your Zoosk account and choose your displaying Zoosk name on the top right corner. Later, click "Account Settings" option from the drop-down menu.
Step 2. Delete Zoosk account on computer
Choose "Edit" next to "Account Status". Then select "Deactivate" and "Deactivate Zoosk Account" to confirm your change. In addition, you should delete Zoosk from your Facebook account as well.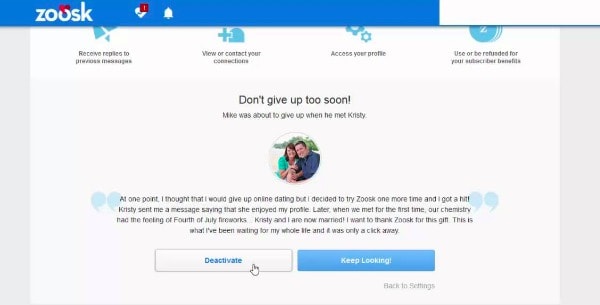 You can also choose "Pause Account" to pause Zoosk account for few months. Consequently, the Zoosk subscription still remains active.
How to Delete Zoosk Account from Android
Step 1. Open Zoosk main menu
Run Zoosk application on your Android phone or tablet. Log into your Zoosk account with the registered email address and password. Then choose "Menu" icon to access its main menu.
Step 2. Delete Zoosk account on Android phone
Select "Settings" and then click "Account" to locate your Zoosk account page. Choose "Edit" button besides "Account Status". Then click "Deactivate" to delete Zoosk account from Android.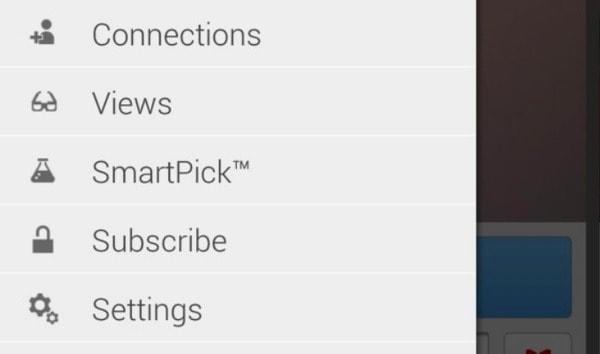 You will be required of the reason why you want to deactivate or delete your account during the process.
How to Delete a Zoosk Account on Facebook
Step 1. Open Facebook Settings page
Sign into your Facebook account to remove Zoosk's permissions. Later, choose "More" and click "Settings" from its drop-down menu to locate Facebook Settings page.
Step 2. Remove Zoosk from Facebook
Select "Apps" in the left panel. Then you can see all web applications that connected to your Facebook profile. Choose "X" icon on the top right corner of Zoosk's image.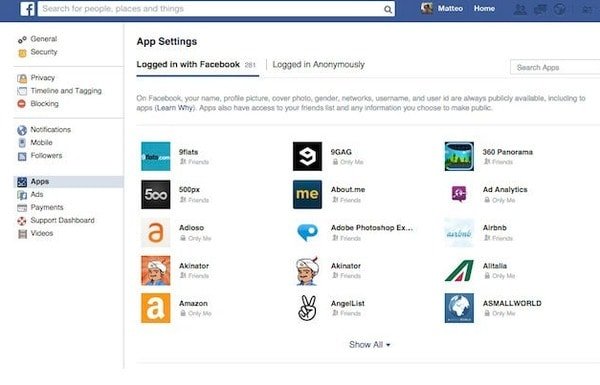 Moreover, you can remove all Zoosk activities from your Facebook timeline manually as well.
Part 3

: How Do I Delete My Zoosk Account for iTunes

If you subscribed Zoosk through iTunes before, then you need to cancel your subscription first. Just follow steps as above mentioned. Now, you can read the following steps to delete Zoosk account on iTunes easily.

Step 1. Turn off Zoosk subscription and expire its remaining days

Go to iTunes App Subscription page to cancel Zoosk subscription. Once you have canceled your subscription, wait until the remaining days on your Zoosk subscription expire. It is the most important rule you have to obey. You can visit your Zoosk account settings page to view the accurate expiration date.

Step 2. Delete Zoosk account permanently

Sign into Zoosk online dating website to deactivate and delete your account. You can open Zoosk account settings page and change its status from active to deactivate.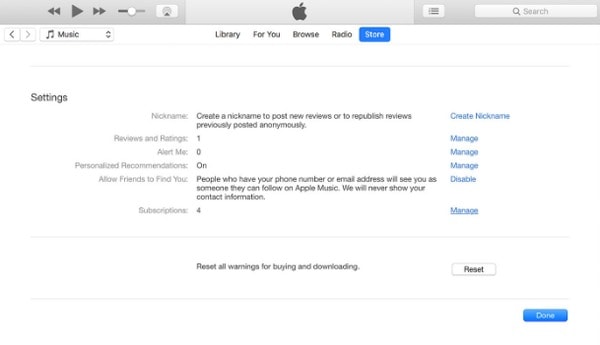 Furthermore, you can open Zoosk contact page and choose "Email Zoosk Customer Support" to have a check. And you can also call Zoosk to ask whether you have deleted Zoosk account permanently or not.
Part 4

: FAQs of Deleting Zoosk Account

1. How do I remove someone as a connection?

From a laptop or computer, you need to visit www.zoosk.com. Click on "Connections" on the left hand side, and then click the profile image of the connection you wish to remove; this will pop up a menu. Click on "Remove Connection", then click "Yes" to confirm.

2. Can I temporarily hide my profile?

Yes! If you want to hide your profile from Zoosk for a time, you can pause your account, which lets you temporarily hide your profile from Zoosk and still keep your profile, connections, and message history for when you come back.

3. How to unblock someone on Zoosk?

If you accidentally blocked someone and would like to unblock them from your computer's web browser, just open your web browser, go to zoosk.com. Log in to your Zoosk account, and then click on your Zoosk display name in the top right corner of your screen. Select Account Settings from the drop-down menu and then select Blocked Members in the left navigation. This will take you to your blocked members page. Find the name of the person you'd like to unblock and click Unblock.

4. What happens when I pause Zoosk account?

When you pause your account, your profile is hidden from Zoosk and won't be shown to other Zoosk members until it's unpaused. You won't be able to receive messages or other communications from Zoosk members. Also, you won't receive emails or notifications from Zoosk or Zoosk members.
All in all, that's what you need of how to delete Zoosk account on different platforms. If you have difficulties like Zoosk login problems or Zoosk wont let me deactivate, you can ask for Zoosk help or write down in the comments.