Account recovery is one of the processes that a lot of Gmail users encounter at least once. When they have not used their Gmail for a long time, they would forget it. Plus, our devices become more and more smart and could remember various accounts. When you need to sig in your Gmail on another computer or mobile phone, you would discover that you have forgotten Gmail username. Another case that people need to recover Gmail username is because got hacked and lost access to Gmail. Anyway, don't feel panic! We are going to show you how to get back your Gmail username and access in this tutorial.

Part 1

. Forgot Gmail username? What to do?

When you forgot Gmail username, it is absolutely no need to worry. You are not the first person to go through this, and not be the last one. Google know this and have come up with solutions for you to recover your account. And all you need to do is to follow the steps below.

Step 1. Put "https://accounts.google.com/signin/recovery" into the address bar of your browser and hit the "Enter" key to open Google account recovery page.

Step 2. Click the link labeled "Find my account" to start recover the forgotten Gmail username. Input your recovery email address or the phone number associated with your Gmail account. Click the "Next" button to continue.

Step 3. Then you need to drop the personal information that you used to register your Gmail into the corresponding fields, such as name and the date of birth. Click "Next" to open the verification page.

Step 4. Enter the verification code you received from Google through your recovery email address or phone number. Once click "Next", you will see the list of usernames matched.

Note: When recover a Gmail username, the recovery email or your phone number is necessary. If you forgot them too, you'd better to create a new Gmail account.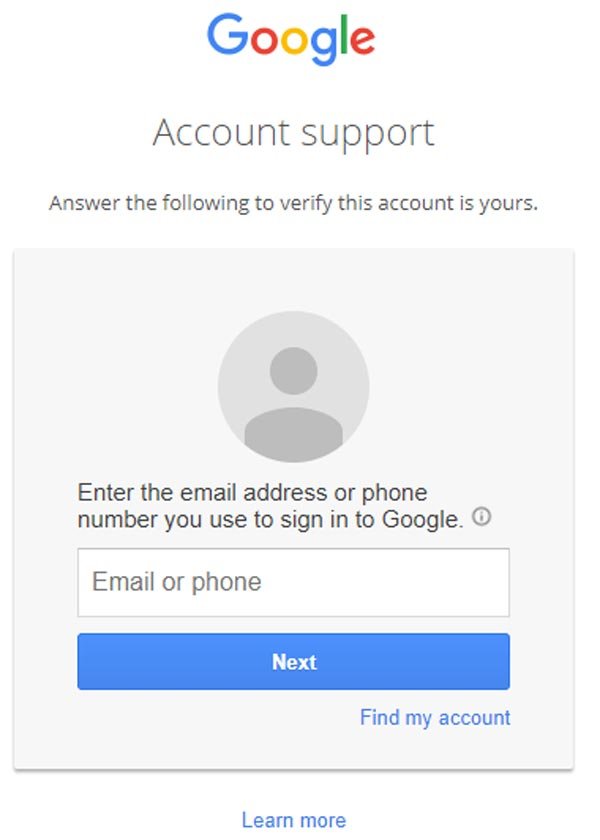 Part 2

. Reset Gmail password after Gmail username recovery

After recover your Gmail username, you can try signing into your account. If you forgot Gmail username and password, you have to perform Gmail password reset after username recovery.
Situation 1: Two-factor authentication is enabled in your Gmail account
Step 1. Access Google account recovery website (https://accounts.google.com/signin/recovery) in your browser, enter your Gmail account and click "Next" to start recovering your password.
Step 2. When you are prompted to enter the last password you remember, try any old password you still remember. Then click "Next" to move on.
Step 3. Enter your phone number, click "Next" and then "Send" to receive the notification from Google.
Step 4. Turn on your phone, open the notification and tap on "Yes" to get your verification code through your backup email address.
Tip: If you do not have a backup email, Google will prompt you to enter one.
Step 5. Enter the 6-digit verification code into the box and click "Next", you will be taken to the password reset page. Here you can reset your password for the forgotten Gmail username.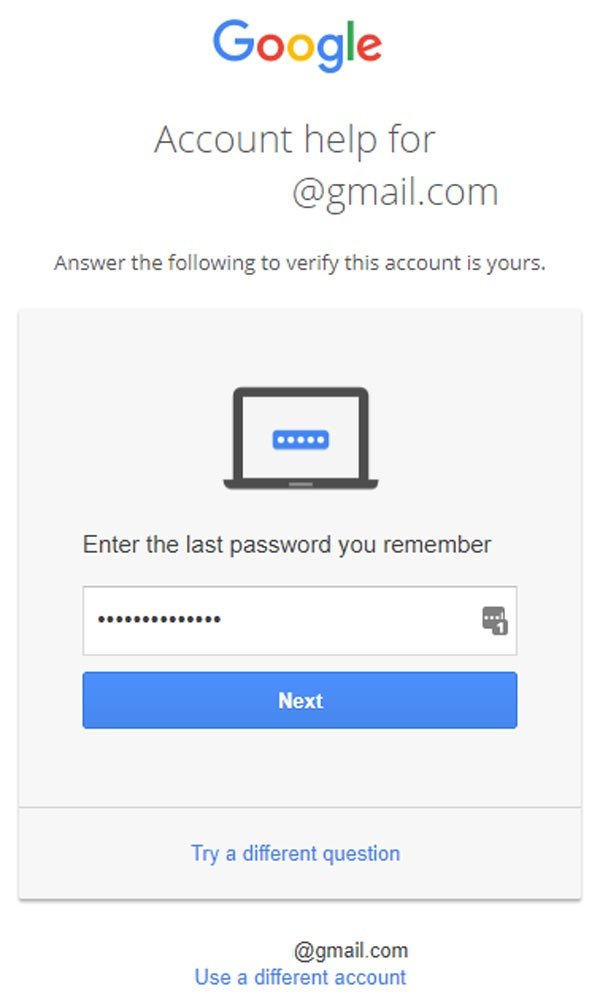 Situation 2: Recover Gmail password without backup email and phone number
Step 1. Also visit Google account recovery page and go through following the onscreen instructions.
Step 2. If you do not have any security measures, you will be required to provide information, such as when did you create this Google Account, to confirm you are the owner, after input the latest password you remember. Answer the questions as accurately as possible. That will decide the success rate to recover your password.
Step 3. Then enter an accessible email address to receive the verification code and click "Next". Put the code you received in your email address into the box and click "Next" to send your request to Google.
Step 4. When you receive the email from Google Support with a "RESET PASSWORD" link, click it and create a new password.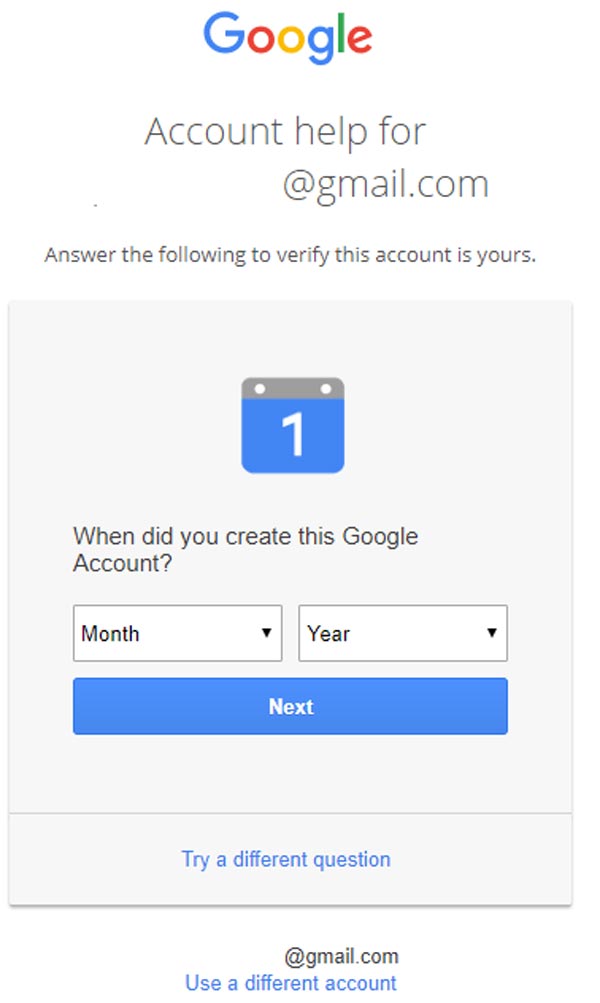 Part 3

. Tips to better manage Gmail account

After recover your forgotten Gmail username, you should grasp some tips to better manage your account.

1. Set up recovery measures for your Gmail account. To help you recover your Gmail account when you forgot Gmail username or password, Google developed several solutions. You can go to "Personal Info & Privacy" to add recovery email and phone number.

2. Remember your Gmail account using browser. IE, Firefox, Chrome, Safari and other browser clients support to remember the password when you sign in. All you need to do is to click "Permit" when prompt. And when you forgot Gmail username or password next time, open the password manager of your browser; you can get it back in a few seconds.

3. Write down your Gmail account on notepad. If you forgot your Gmail account several times, you should write it down on a notepad. Though not convenient, it is better than forgotten Gmail username recovery.

4. Use Excel to manage your Gmail account. Many people forgot Gmail username, because they have too many accounts. Excel is one of the best ways to manage your accounts in digital format. Moreover, it has the ability to encrypt a sheet. So, if you already have Excel on your computer, it is a good idea to manage your account using Excel.

5. Another way to keep Gmail account is third part tools. There are many programs on market could help you to save Gmail account and password, such as 1Password, Dashlane, LastPass and more. They not only work on computer, but also are compatible with mobile platforms. Although many people are afraid of the security problem, you can try any one you trust.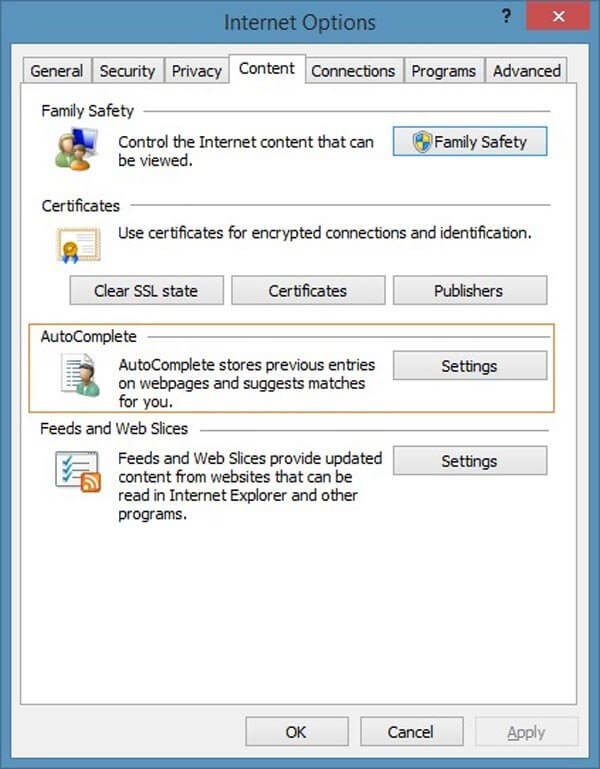 People Also Read:
How to Fix Forgot Gmail Password
Part 4. FAQs About Forgot Gmail Username
How do I get Gmail to remember my username and password?
If you don't want to enter your account number and password once every time you sign in with Gmail, you can set it up so that Google remembers them. After opening the Gmail website, enter your username and password. Click Sign in, then select Remember Password in the pop-out window.
Is the Gmail username and email the same?
Generally, your username is included directly in your Gmail address. The content before @gmail.com is the username for your Google account.
Can you reuse the Gmail username?
No. It is Google's policy not to allow the use of registered usernames. Even if you have deleted or abandoned your Gmail account, you cannot reuse it. The purpose of this policy is to prevent any malicious identity theft from happening.
Can you have two usernames on Gmail?
Sure. You can have multiple accounts on Gmail at the same time, with different usernames. An identical cell phone number can be tied to four Gmail accounts simultaneously. This allows you to do more.
What is an acceptable Gmail username?
Usernames have a lot of freedom. You can use cases, numbers, and symbols. However, to prevent it from being too complicated to remember your username, try to control its length and use something easy to write and remember.
Conclusion
Though people use Gmail every day on computer and mobile, it is common to forget Gmail username. Many people, for example, added Gmail account on smartphone and use the auto-backup feature. That does not need to sign in any time. Then they would discover that they lost the username when they need to log in Gmail account on another device. In this tutorial, we have shared the overall workflow to recover a forgotten Gmail username. When you encounter such problem, you will find our guides are helpful. Plus, we also provided several suggestions to help you manage Gmail account. If you have enough budget, you can try a paid service to keep your Gmail account safe. And there are many free ways to help you remember your account, such as your browser. Anyway, we hope our guides and suggestion could help you. And if you have any question, feel free to leave messages below.