To prevent others using some certain applications and features, many people prefer to block the access by using "Restrictions". You can call it as "Parental Controls" as well.
For instance, you can hide in-app purchase, location service and other features with a restrictions passcode. Therefore, you can unlock them only you enter the right restrictions PIN (Personal Identification Number).
But what if you forgot restriction passcode? Well, it means you are disallowed by your iPhone or iPad either. To solve this problem, this article mainly introduces how to recover forgotten restrictions passcode quickly.

Part 1

: How to Reset Restriction Passcode when You Forgot

If you set a restrictions password before, and you just forgot the restrictions passcode on iPhone or iPad, then you can use iTunes to solve this problem. You had better back up iPhone before resetting restrictions passcode. Otherwise, you may lose some latest iOS data.

There are two things you need to know if you forgot restrictions passcode and want to reset it.

The first thing is that it does not work if you hit "Erase All Contents and Settings". You will still be required to provide your Apple ID passcode and restriction passcode, even though you forgot restriction passcode on Apple products already. Another thing you need to do is to turn off "Find My iPhone", or you will fail to remove the forgotten restriction passcode.

Step 1. Turn off "Find my iPhone"

Open "Settings" and tap your profile on iPhone or iPad. Click "iCloud" button. Scroll down to turn off "Find My iPhone" option. You will be asked to enter Apple ID password, and then choose "Turn off".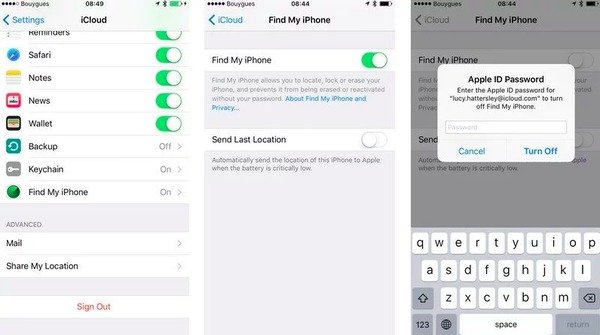 Step 2. Launch iTunes and connect iPhone to computer
Use a lightning USB cable to connect iPhone to computer. Launch iTunes and your iPhone will be detected automatically. Make sure your iTunes has updated to the latest version.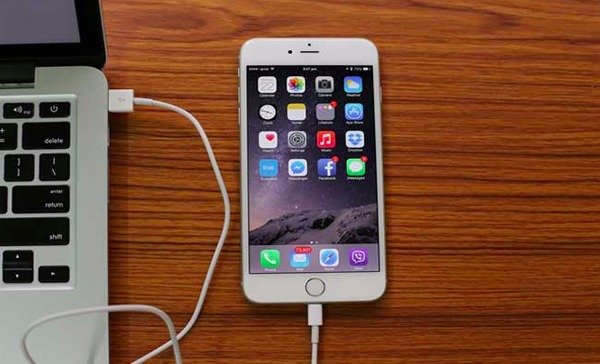 Step 3. Restore iPhone to factory settings
Click "Summary" in the left panel. Press "Restore iPhone" button. Confirm to restore iPhone to its factory settings. After that, iTunes will start downloading the latest iOS and restore iPhone immediately. Now you can use those applications again even though you forgot restrictions passcode.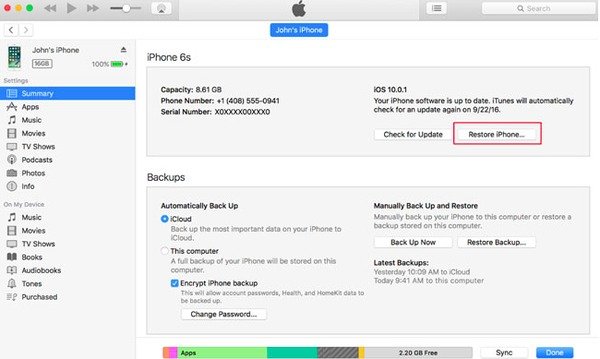 Part 2

: Recover Restriction Passcode with iBackupBot (Forget Restriction Passcode)

When you forget restriction passcode, you can also try recovering it without restoring iPhone, iPad or iPod touch. Just use following method to find back forgotten restrictions passcodes. Do not forget to back up iPhone before recovering restrictions passcodes beforehand. After that, you can reset a new restrictions passcode without computer as usual.

Step 1. Launch iBackupBot

Download and install iBackupBot on your Windows or Mac computer. Launch iBackupBot, it will detect all your backup files automatically, so you need to wait for a while.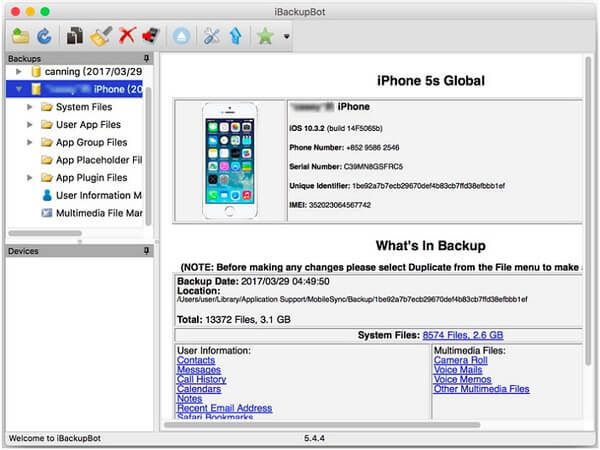 Step 2. Open iBackupBot file
After completing iPhone scanning, you can see a folder with your iPhone's name. Unfold it and select "System Files Folder". Choose "HomeDomain" from the list. Open "Library" folder, and then locate "Preferences" folder in the left panel. Right click "com.apple.springboard.plist" to open it with Wordpad or Notepad.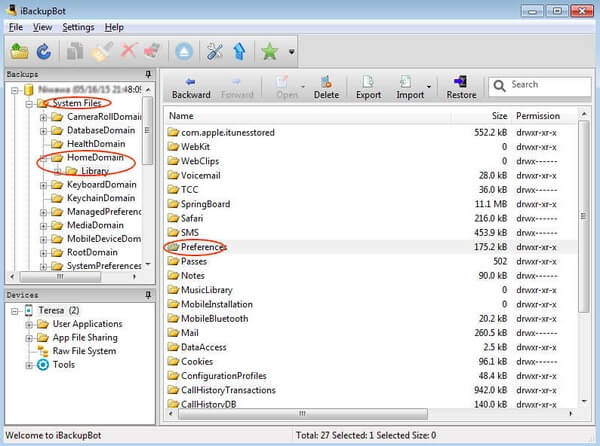 Step 3. Recover a forgotten restrictions passcode
SBParentalControlsPIN
1234
Copy and insert it to the pointed place just as the picture shows below. Save this file and then close it. Use a USB cable to connect iPhone to computer. Later, you can right click your iPhone icon to restore from the backup with iBackupBot.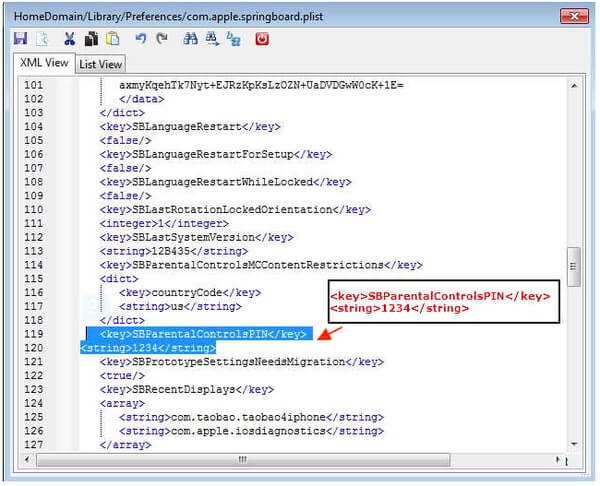 Surely, you do not have to recover restrictions passcode, but get another option to reset iPhone restriction password directly.
Part 3

: Reset Restriction Passcode with PinFinder (Forget Restriction Passcode)

PinFinder is another restriction passcode resetting tool which can help you reset a Forgotten Restrictions Passcode without Restoring. Now you can take the next steps to fix the issue.

Step 1. Download PinFinder and install with iTunes

Launch iTunes and connect iPhone to computer with a USB cable. Back up your iPhone in advanced. Moreover, disable "Encrypt iPhone Backup" option. Download the latest PinFinder on your Mac or PC. Double click PinFinder icon to run the program.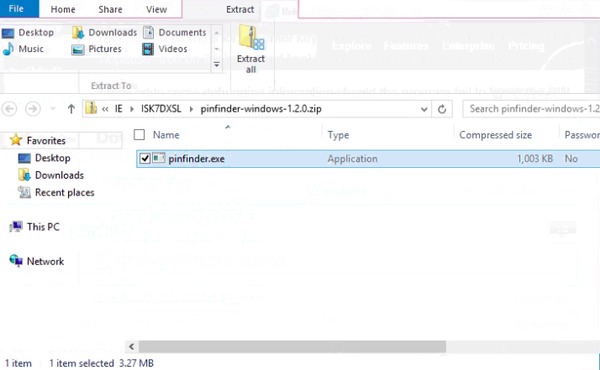 Step 2. Recover a forgotten restrictions passcode on computer
Right click the "Start" button and then select "Command Prompt". Press "Return" on your keyboard. Now you can recover your forgotten restrictions passcode for iPhone quickly. It is on the right side of "Backup Time".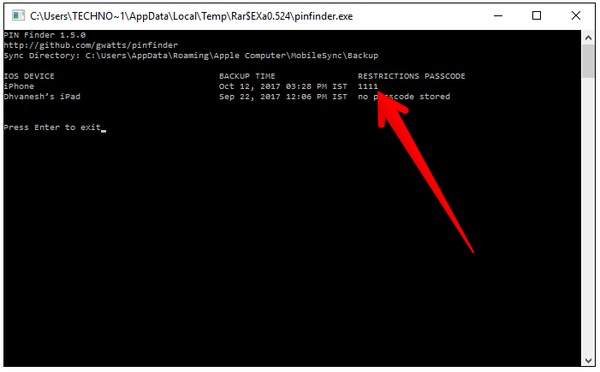 Part 4

: Use iOS Restriction Passcode Cracker when you forget Restriction Passcode

iOS Restriction Passcode Cracker is an online restrictions passcode extractor which can help you deal with the forgetten restriction passcode problem.

Step 1. Extract RestrictionPasswordKey and RestrictionPasswordSalt

Remember to back up iOS data in advanced. Download and install iPhone Backup Extractor app on your computer. Open it and hit "Read Backups" button in the lower left corner. Select your latest iTunes backup file, and click "Choose" to continue. Scroll down to tap "iOS Files" and then hit "Extract" button. Open "com.apple.restrictionpassword.plist" with "Text Editor". You can find it after choosing "Library" and "Preferences". Now you can find the target information in details.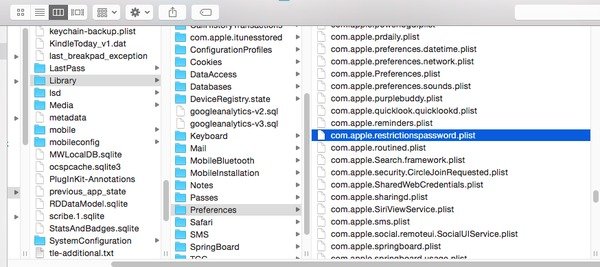 Step 2. Unlock iPhone and reset restrictions passcode
Open iOS Restrictions Passcode Cracker site with your browser. Copy and Paste numbers of RestrictionsPasswordKey and RestrictionsPasswordSalt. Hit "Search for Code" and wait until iOS Restrictions Passcode Cracker find the correct restrictions PIN. Though it may take you a long time to recover a restrictions passcode, you do not have to factory reset iPhone actually.

Best iPhone/iPad/iPod data recovery you may want to know:
If you forgot to backup iPhone before factory resetting, just as you forgot restrictions passcode before, then you can use Apeaksoft iPhone Data Recovery to solve the problem. There are 3 data recovery methods that you can recover data from iPhone/iPad/iPod touch selectively.
Recover up to 19 kinds of data from any iOS device directly
Restore data from iTunes backup to computer
Download and extract iCloud backup to output lost data
Preview and scan lost iOS data before recovery
Highly compatible with the latest iOS 12 and iPhone XS Max/XS/XR
Download for Win
Download for Mac
As a result, you can reset a new restrictions passcode even if you forgot restrictions passcode on iPhone, iPad or iPod touch. Later, you can add or remove applications to adjust restrictions on Apple devices easily.