"I want to transfer the data from my SD card to computer, but click on the format button by mistake, how to unformat SD card, please help."

The format feature could help you to get rid of all data on your SD card with a single click. But if you tap on it accidentally, all your files will be gone permanently. That is a disaster for people who save important files on the SD card. What does format SD card mean and is it reversible. In this post, we are going to answer these questions in detailed.
Part 1

: What does format SD card mean

SD card formatting is a simple process of cleaning up the card. It not only removes all current data, files and information on the card, but also creates a new file system. So, technology specialists suggested people to perform SD card format regularly. Unlike erasing files, formatting SD card wipes the entire card, rather than just destroys the file system.
Part 2

: Will formatting SD card delete photos

What does formatting an SD card do? As mentioned before, it will delete all files on your SD card, like photos, videos, documents, music, and more. But does that mean you will lose these files forever? The answer depends on your decision. If you want to get back deleted files from a formatted SD card, professional data recovery programs, such as Apeaksoft Data Recovery, could help you.
Part 3

: What is the benefit of formatting SD Card?

If formatting SD card clean up all data, why we should do this? The benefits include:

1. First of all, it is a basic troubleshooting. If your SD card is not detected by your smartphone, digital camera or computer, format could get the file system normal.

2. It not clean up existing files, but also wipe out virus, malicious programs, Trojan, etc. If you suspect that your SD card is infected by virus, formatting SD card could get rid of it simply.

3. Another benefit of formatting SD card is to rebuild the file system after SD card corrupts.
Part 4

: How to Format an SD card

In this part, we will show you how to format an SD card on Android phone, Windows PC or Mac.
How to format SD card on Android phone
Step 1. Insert your SD card into your Android phone, unlock your phone and open the "Settings" app from App Tray.
Step 2. Scroll down to find the "Storage" option and tap on it. Locate to the SD card section, and hit "Format SD card" to erase all data on it.
Note: Unable to format SD card or SD card won't format on smartphone? You can try to do it on computer instead.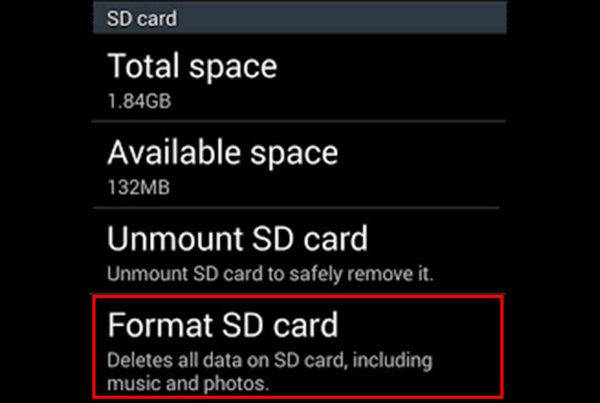 How to format SD card on Windows PC
Step 1. Put your SD card into your Windows PC, open "My Computer" from desktop and you will find the SD card under Portable Devices area.
Step 2. Right click on it and select "Format" on the floating menu bar to open the format SD card window.
Step 3. There are three file systems:
NTFS is default Windows operating system format;
FAT32 is a widely compatible format;
exFAT is compatible with Windows and Mac.
If it is not the first time to format SD card, check the box next to "Quick Format".
Step 4. Finally, click on the "Start" button to initiate the process.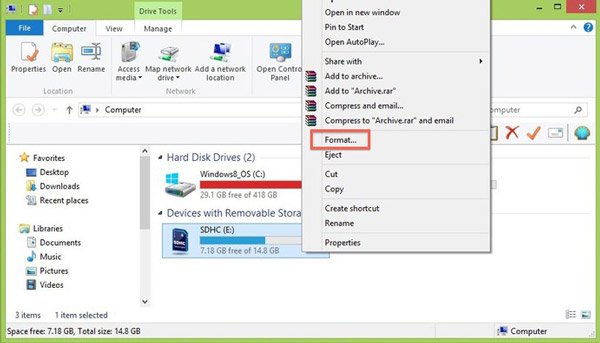 How to format SD card on Mac
Step 1. Also put the SD card into the slot of your Mac computer. Open the Disk Utility app and find your SD card under "External" on left hand column.
Step 2. Locate to the top ribbon and click on "Erase" to open the format SD card window.
Step 3. Unfold the dropdown menu of "Format" and select a proper format, drop a name for the SD card, and then click the "Erase" button.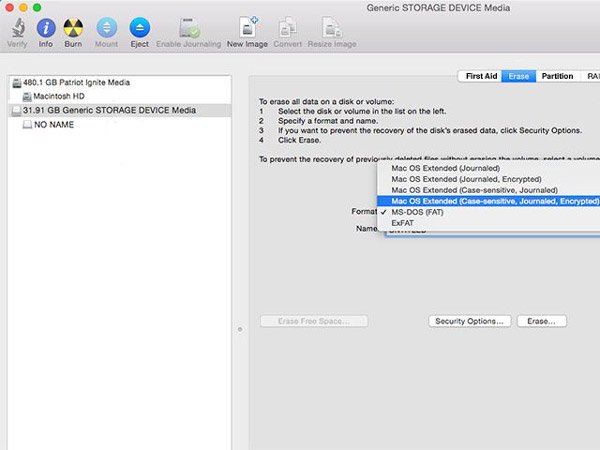 Recommend

: Apeaksoft Data Recovery

Some people format SD card by mistake. In result, all data will be deleted from the SD card. Is it possible to unformat SD card? The answer is simple, yes. All you need is a professional SD card data recovery tools, like Apeaksoft Data Recovery. Its key features include:

1. Have the capacity to get back deleted files from SD card, flash drive, memory card, digital camera and other storage media in one click.

2. Available in a variety of situations, such as SD card format, accidental deletion, virus attack, system crash, and more.

3. Support a wider range of data types, including all image, document, audio, video, and email formats.

4. Get back your files from formatted SD card in original format and quality.

5. Preview the recoverable files and select specific ones for recovery.

6. Quicker, lightweight and safe.

7. Compatible with Windows 10/8.1/8/7/Vista/XP.

In short, it is the best solution on how to unformat SD card.
Part 5

: How to unformat SD card

Step 1. Download and install Data Recovery on your PC. Insert the formatted SD card into your computer and launch the best SD card recovery program.

Locate to the data type area, select what data types you want to recover. Then go to the locations area and choose your SD card in Removable Devices section. Data Recovery will work as soon as you click on the "Scan" button.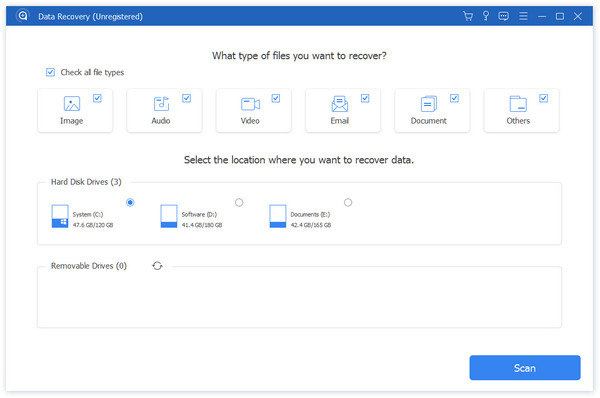 Step 2. After quick scanning, you will be presented the result window. For example, go to "Video" tab from left sidebar, you will get several folders named AVI, MP4, 3GP, FLV, etc. Go to each folder and search for the files that you want to recover. The "Filter" feature at top ribbon could help you to locate the files quickly.
Tip: If you cannot find the desired photos, click on the "Deep Scan" button to perform deep scanning.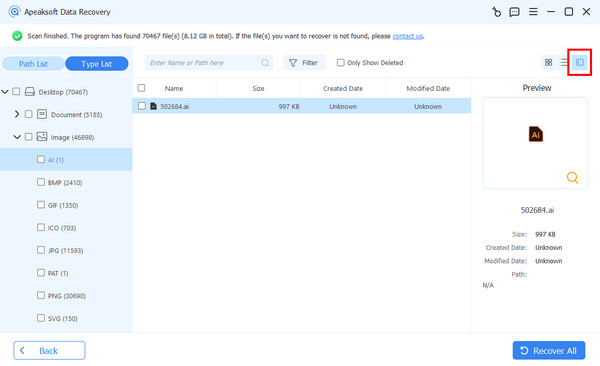 Step 3. Check the boxes in front of each desired files and click on the "Recover" button to start unformatting SD card. Wait for it to complete, then you can access and edit your files normally.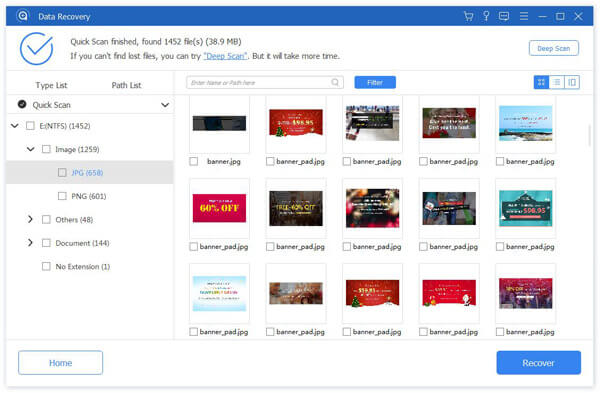 Conclusion:
Technology is changing our life and makes everything easier. However, things are not so simple in some cases. Formatting SD card by accident could cause data loss. With the guides and knowledge above, you can unformat SD card with Apeaksoft Data Recovery at any time.