According to a recent survey, there are oceans of image formats on market, from HEIF to JPEG, from PNG to RAW. These file formats were designed for different purpose. HEIF, for example, is getting more and more attention, especially after the iOS 11 released.
However, many people still cannot distinguish HEIF with JPG or JPEG. We are going to share the basic knowledge you need to know about these two commonly-used image formats in this article. So, you can use them properly.

Part 1

: Brief Introduction of HEIF And JPEG

HEIF, stands for High Efficiency Image File Format, is a new picture format for individual images or image sequences. Since iOS 11, the photos captured by iPhone's native Camera app will be stored as HEIF format.

JPEG, on the other hand, is a commonly used format to store digital images. It relies on lossy compression technology to produce smaller file size. According to Wiki, JPG typically achieves 10:1 compression with little perceptible loss in image quality.
Part 2

: HEIF vs. JPEG

Both HEIF and JPEG are popular photo formats that provide convenience to store, share and transfer digital images. The differences between HEIF and JPEG are obvious: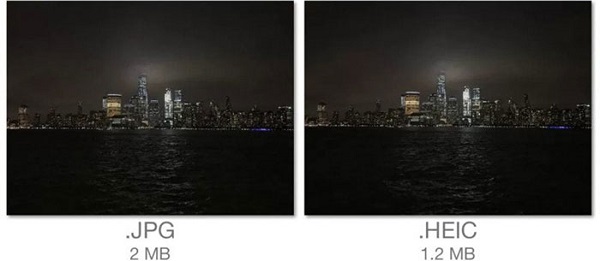 1. File size. Though JPG is a lossy image format, the file size of a JPEG image is much larger than the same photo saved in HEIF. That is because Apple developed HEIF aiming to help users to save space on iPhone and iPad.
2. Image quality. Another main advantage of HEIF is better in terms of quality even though the file size is normally half the size of JPEG. That is why iPhone users prefer to save their photos in HEIF, though both JPEG and HEIF are supported by iOS.
3. Technology. The compression technology of JPEG format back in 1992, which has improved with time to get better image compression. On the other hand, HEIF utilizes a more efficient algorithm to turn your photos into smaller files.
4. Compatibility. Since JPEG has released for very long time, it is compatible with almost all operating systems and devices including Windows, MacOS, Linux, Chrome OS, iOS and Android. HEIF was released by Apple for iOS devices, so it is not as widely used as JPEG. HEIF is usually used on the latest iPhone and iPad models. It is not easy to open HEIC/HEIF images on non-Apple devices.
5. Flexibility. It is well known that JPEG is a file format to store individual image. HEIF is not only a file container for still images, but also for a series of images.
6. Photo edit. HEIF not only supports transparency but also supports up to sixteen bits of image color. So, it is more suitable to edit than JPG, which only supports 8-bit color. The problem is that not all photo editors are compatible with HEIF.
7. Save in HEIF or JPG. On iOS 11, the pre-installed Camera app allows you to decide the photo format. To set up it, go to the

Settings

app from the home screen, tap on your name, and head to

Camera

>

Format

. Here you can get two options,

High Efficiency

and

Most Compatible

. The format will capture photos in HEIF format, and the latter will use JPG.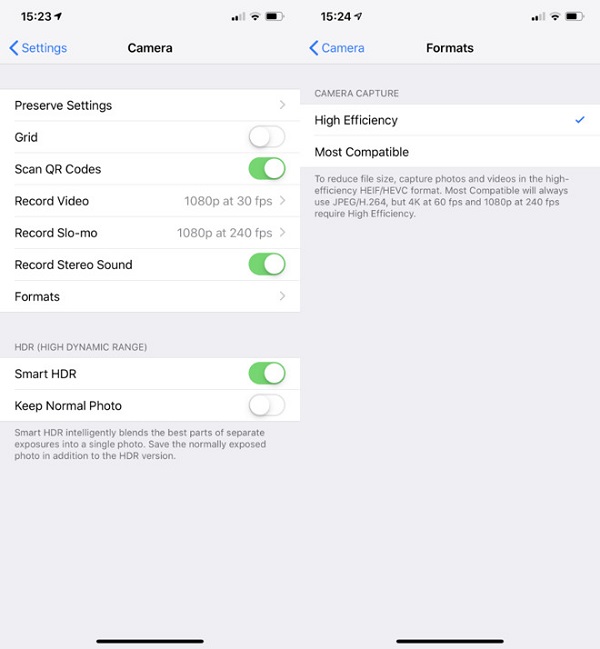 Part 3

: How to Convert HEIF to JPEG

Although HEIF is better than JPEG on various aspects, the compatibility is the biggest downsides. In addition to iOS devices, only a small part of photo editors can process HEIF. So, you may have to convert HEIF to JPEG and use your photos for social media, photo editors or any platforms. From this point, we recommend Apeaksoft HEIC Converter, which is a convenient way to perform HEIF conversion.
Encode HEIF images to JPEG or JPG format with a single click.
Keep the original quality of your HEIF images during conversion.
Batch process hundreds of photos using the multi-thread technology.
Keep the metadata of your photos for editing or modifying further.
Download for Win
Download for Mac
All in all, this free HEIF converter is the best way to turn HEIF images to JPG format without paying a penny.
How to Convert HEIF to JPEG without Losing Quality
Step 1. Get the best HEIF converter
HEIF Converter is a desktop program, so you need to download and install it on your computer. It is freeware and totally free to download and use.
Next, click the Add HEIC button on the top ribbon to trigger the open file dialog. Find the HEIF images, select them and click Open button.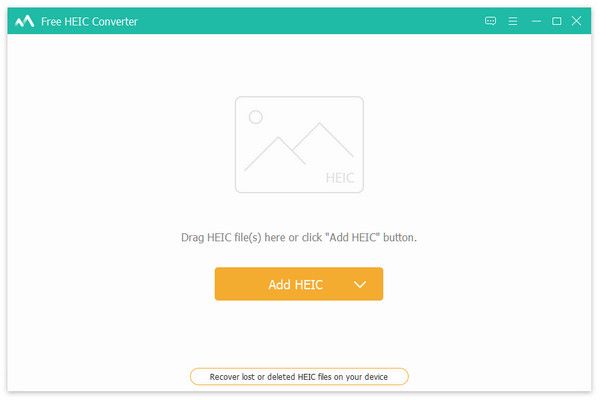 Step 2. Set JPG as the output format
After the image is imported, they will show up in the media library area. Go to the Conversion Settings section on the right side. Click and expand the Format dropdown menu and select JPG. Adjust the video quality from the Quality option. If you check the box next to Keep Exif Data, the program will do it. The click the three-dot icon to set a specific directory in the Output Path field to save output images.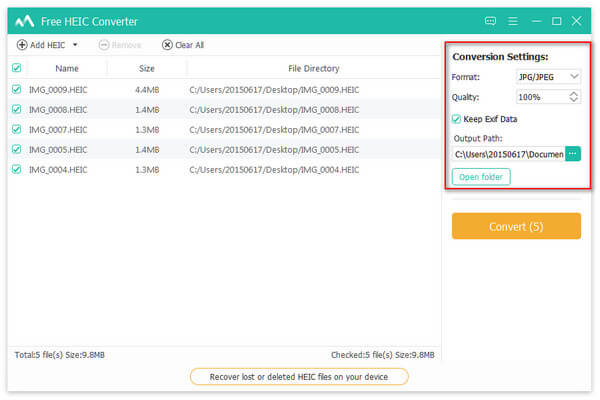 Step 3. Convert HEIF to JPEG in one click
Check all images you want to convert to JPG in the library area, and click the Convert button to start processing your HEIF images.
According to our research, it only takes a few minutes to process more than one hundred HEIF at one time. Plus, the output quality is usually the biggest worry when converting HEIF to JPG. HEIC Converter packs advanced algorithm to enhance and optimize photo quality.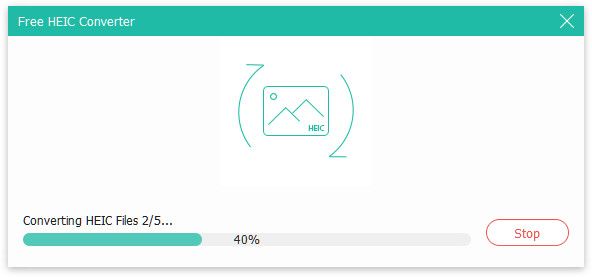 Conclusion
Based on our sharing above, you might understand what is HEIF and JPEG, the differences between them, and how to convert HEIF images to JPG format. As an image format, HEIF is more excellent than JPEG, no matter on file size or image quality. It makes sense that more and more iPhone users select HEIF as the default photo format. However, if you want to use HEIF on platforms other than iOS, you have to convert it to JPG or other commonly-used image formats. Apeaksoft HEIC Converter can meet your need on HEIF conversion without quality loss.