Since vlog has become more and more popular, many people begin to create vlogs and share them on YouTube or other popular video sites. The first thing to create a vlog is to choose a correct camera that is best suitable for your needs. GoPro as a brand for action camera, is a good option for vlogging, especially when you are involved in high-intensity sports or action. For example, if you need to regularly record underwater, or want to do some on-the-move recording, GoPro can be your best choice.

Part 1

: Is GoPro good for vlogging?

You can make a decision about whether GoPro is a good choice for vlogging after checking its advantages and drawbacks.
Pros:
Portable
The small size of GoPro makes it more portable, which is a very important advantage for vlogging. Common cameras may demand a bulky camera bag, but for GoPro, you can put it in your pocket or backpack easily without taking up much space. What's more, it would be inconvenient to make vlogs with cameras in large size, especially when you are outside.
4K resolution
GoPro is a good 4k camera with affordable price. If you have limited budget but you still want a good camera that can create amazing 4K pictures, get a GoPro!
Time-Lapses and other more features
GoPro has several shooting modes that are full of fun and can make your vlog more interesting. The Time-Lapse mode can add a different level of enjoyment to a video blog and it enables you to switch from video to photo or photo burst mode (for YouTube thumbnails) depending on what you are going to capture.
Some of the newer models of GoPro even have night-lapse or long exposure capabilities so that you're able to get better quality footage if you're capturing in a dark environment.
Good audio quality
Most cameras on the market often have one common problem, which is that their audio is useless. Thus camera users need to purchase an external microphone. The first disadvantage of this problem is that it will cost much more money, the other one is that you need to carry one more piece of equipment before you can start vlogging. This makes your video recording process more complicated and will slow you down.
While GoPro, on the other hand, can deal with audio much better, especially when you are close to the camera. But in windy weather GoPro is not different from other cameras. However, the newer models of GoPro can handle wind noise much better.
Pros:
Poor battery life
If you are recording a long video with GoPro, you will find that the battery life drains fast. So you need to carry several spare batteries in case that you didn't finish recording before the battery has run out. More over, not all the models of GoPro allow you to exchange batteries.
Lack of stabilization
As an action camera, the lack of stabilization is a big disadvantage of GoPro, even though this case only exists in some of the GoPro models.
Part 2

: What's the best GoPro for vlogging?

GoPro has released various versions till today, and there exists three basic product lines: Session, Hero and Fusion. It has released at least 10 most popular models recently from Hero 7 Black to Hero 2018.

Session

Session is small in size and low in cost, it's always a small cube with a lens and button.

Hero

Hero will cost much more than session but with more buttons and functions.

Fusion

Fusion is a newer model. It's a larger 360 degree camera with a lens on both the front and the back. This version is not suitable for new beginners.

So how to choose the best GoPro for YouTube vlog from so many models? Generally speaking, to choose a suitable vlog camera, you should take the following factors into consideration: budget, your detailed demand, and the camera's functions.

If you are a starter in vlogging filed, I recommend you to choose GoPro Hero 5 Black.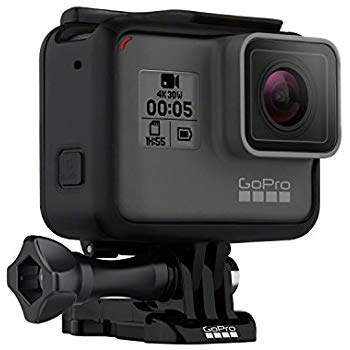 It's the first camera in Hero edition to support 4K recording. Although this model is several years old, it's still functional enough for starters. What's more, it's easy to find a 5 Black for less than $250, this price is very economical in 4K cameras. The biggest advantage of 5 Black lies in that it offers some features that have been discontinued in Hero 6 but then added back on the 7 Black, which include everything from high frame rates and HDR photo capture to an external mic input and being compatible with Karma drones. Another strong selling point of Hero 5 Black is its removable battery, which allows you to change battery when it runs out. More over, 5 Black also offers GPS, which makes it possible to add location tagging to your vlog. The Hero 5 Black also comes with completely waterproof, so it can be used in all outdoor conditions and scenarios.
Part 3

: How to setup GoPro and how to vlog with a GoPro?
How to Transfer Music Files Stored on Your Computer to iPhone Flexibly
For a GoPro vloging setup there are few things you need (especially for a beginner), even if there are various accessories available in the market. In my point of view, you only need something like the 3-way tripod mount, a GorillaPod or just any selfie-stick that will allow you to record yourself more easily or freely. Another accessory you must prepare is extra batteries, which allow you to film longer.
If you want to get better sound quality, you can consider getting a GoPro microphone.
1. Practice as much as you can
As a beginner, you may feel awkward filming yourself talking, and you may not know how to take a good-looking video. Just practice as much as you can until you feel natural to film yourself.
2. Keep your hand steady
Please keep in mind that you'd better keep your filming hand as steady as you can to create a smooth video log. Nobody will like a shaking video.
3. Tell a story
In order to make your vlog more interesting and attractive, it'd be good to tell a story or follow a narrative, rather than just recording yourself talking randomly.
Part 4

: Extended Reading: Perfect your vlog with professional vlog editors

After you make a vlog, you need to edit it to make it perfect before uploading it online. A professional vlog editor can do you a good favor. Apeaksoft Slideshow Maker can help you easily make fantastic vlog with your favorite video clips, photos and music.

Features:
Apeaksoft Slideshow Maker supports almost all video formats, including MP4, MOV, AVI, FLV, WMV, MTS, M2TS, TS, M4V, RMVB, ASF, VOB, DAT, 3GP, MOD, TOD, WebM, etc.
It also works well with any frequently-used image format like JPG, JPEG, PNG, TIF, TIFF, BMP, GIF, etc. and audio format like MP3, AIFF, FLAC, AAC, WAV, WMA, M4A, OGG, and so on.
This vlog editor is equipped with 10 ready-made themes to help you make vlog in different styles. You can choose themes like travel, wedding, fashion and more according to your need.
You are also able to customize your own themes with various text effects, transition modes, filter and other elements.
You are able to rotate, crop and clip your video and adjust video contrast, saturation, brightness and hue to make your vlog perfect. More over, you can also edit your photos and the background music.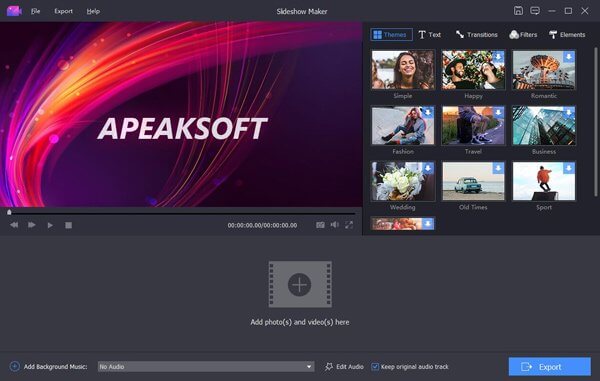 Conclusion
Now you have known more about GoPro and how to vlog with a GoPro, give it a try now!