Are you searching for a professional iPhone repair?
This post tells how to locate iPhone repair stores near you and fix an iPhone. When you need an iPhone screen repair or battery replacement, you can know where to find technicians and get Apple iPhone repair and services.

iPhone Fix Near Me
Part 1. How to Contact Official Apple iPhone Repair & Service
If you have AppleCare+ for your iPhone, you can get Apple-certified service, 24/7 priority tech support, and accidental damage protection from the official. It provides insurance against accidental damage in the process, with a service charge for each incident. When you need to repair an iPhone screen or replace a battery, you should first contact iPhone Repair & Service. You should know that AppleCare+ also provides you with Express Replacement Service.
When you want to fix or repair an iPhone, you can go to the official Apple website and then click on the top Support menu. When you enter its Apple Support page, you can scroll down to locate the Apple Repair part and click on it. After that, you can click the Start a repair request button to get specific support from Apple.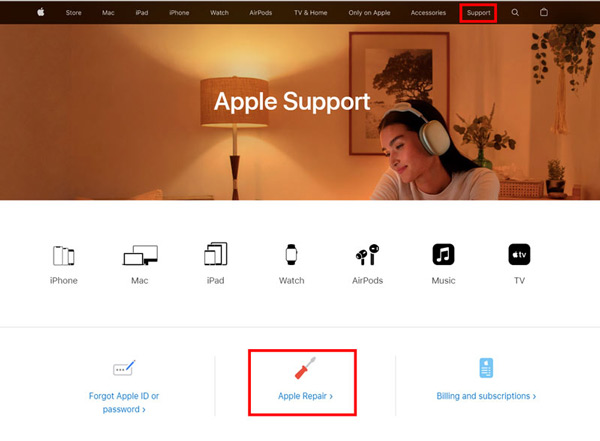 You can also choose iPhone on the Apple Support page to open an individual iPhone Support page. Click Service and Repair to enter the iPhone Repair & Service page. You can get battery replacement, screen repair, and other services by clicking on the Get service button.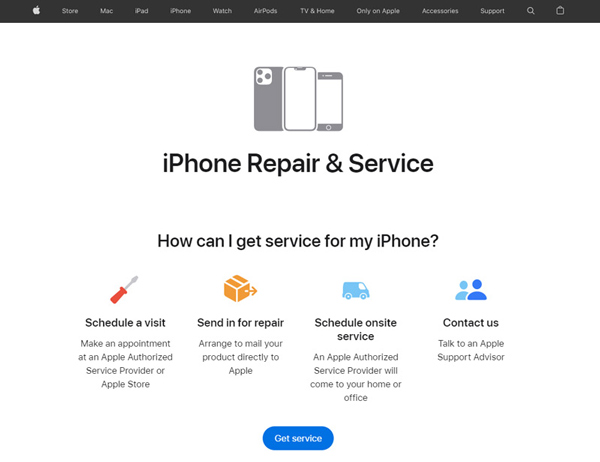 You can follow the on-screen instructions to choose a topic and explain your iPhone problem, and then select your preferred solution to repair it. Here you need to sign in with your Apple ID to save time and get personalized solutions. You can easily find an Apple-authorized service provider near you.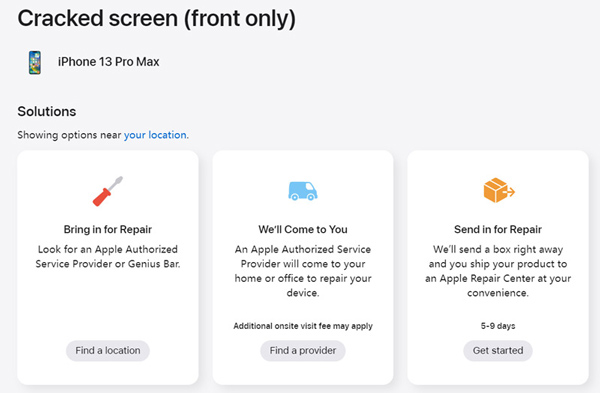 Part 2. How to Find iPhone Repair Near Me
If you want to quickly find iPhone repair stores nearby, besides contacting Apple Support, you can also directly search for them on a browser like Safari or Chrome. You can easily access related shops and get directions. Also, you can go to some professional iPhone repair websites to get help.
You can navigate to some popular iPhone fix websites like Best Buy, iFixit, Rapid iPhone Repair, Buzzmeeh, 911 iPhone Repair, and others to fix your iPhone with ease. They have professional iPhone repair technicians to help you repair any iPhone. You can schedule an appointment based on your iPhone model and its problem.

Part 3. Professional Way to Fix Various iPhone Issues By Yourself
To fix some iPhone system issues, you can use the powerful iOS issues-fixing software, iOS System Recovery. For instance, it can help you fix a disabled iPhone or iPad, black/red/blue/white screen, loop start, error 4013 or 4005, stuck or crash issues, microphone or notifications not working, and others. It offers a simple and effective way to safely repair an iPhone and rescue data.
Step 1To fix crashed iOS system to normal, you should free download this iOS System Recovery on your Mac or PC first. When you open it, choose the iOS System Recovery feature.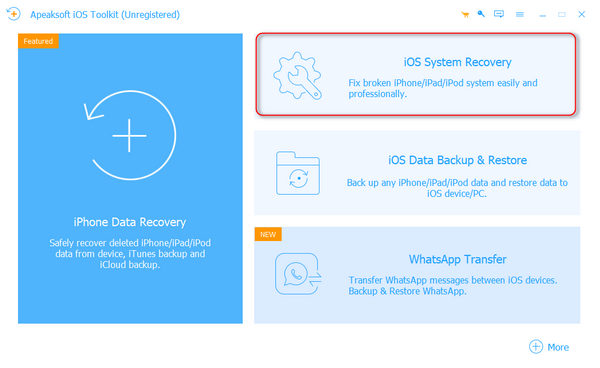 Step 2Click the Start button to move on. You can use a lightning USB cable to connect the iPhone to your computer and then click on the Start button. Now you are offered two solutions to repair iPhone, Standard Mode, and Advanced Mode. You can first select the Standard Mode and then click the Confirm button to move on.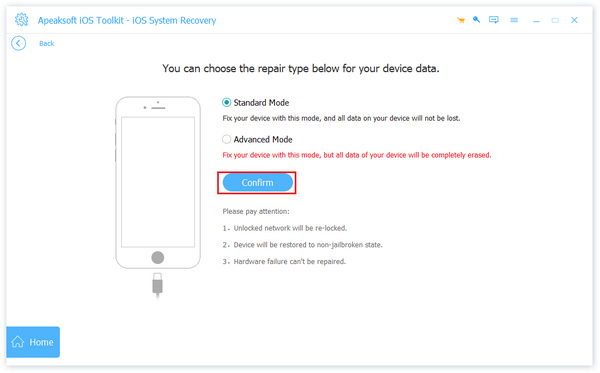 Step 3After connecting successfully, you can see some basic information about the iOS device. During this step, you can view and select suitable firmware to optimize your iPhone. Click on the Next button.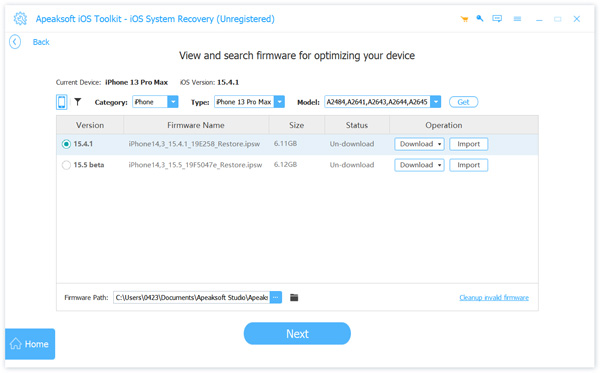 Step 4iOS System Recovery will start to download the firmware for iPhone repair. When the downloading is finished, it will use the firmware to fix your iPhone.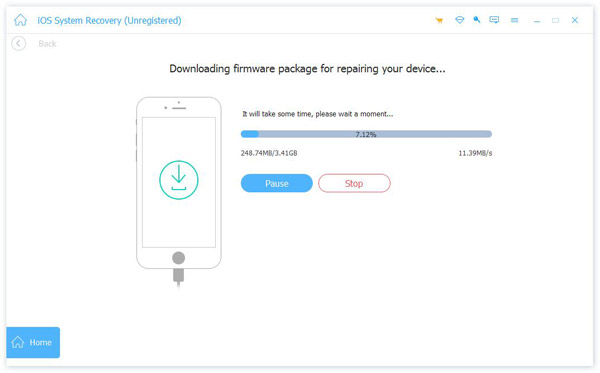 iOS System Recovery is designed to fix various iOS issues especially. But you can't use it to repair a damaged iPhone or problems caused by hardware.
Related to:
Part 4. FAQs of iPhone Repair Near Me
Question 1. How much does it cost to repair the back of an iPhone?
If you have AppleCare+, you may fix the back of your iPhone for free. Or you will get charged from $349 - $599 to repair the broken iPhone back glass based on the specific model. Also, you can go to the local iPhone repair shop to get a relatively lower price for the iPhone back repair.
Question 2. How can I fix the iPhone not charging issue?
When you can't charge an iPhone, you should first check the lightning cable. You can use another cable to charge your iPhone. Also, you can choose to restart or hard reset your iPhone to fix the issue. If the problem is still existing, you can contact Apple or get help from the local iPhone repair shop.
Question 3. Does Apple replace iPhone batteries for free?
No. Apple replaces your iPhone battery for a fee. Its warranty doesn't cover batteries that wear down from normal use. If you have AppleCare+ and the iPhone battery is less than 80 percent of its original capacity, you can get a battery replacement at no additional cost.
Conclusion
We have mainly talked about Apple iPhone repair in this post. You can learn how to get support and help from Apple and quickly find local iPhone repair shops nearby. Moreover, we introduce you to a great iOS System Recovery for fixing various iOS issues. If you still have any questions about iPhone repair, you can leave us a message in the comment section below.