When you get a shaky sport video with your camcorder, or receive a video with white spots on it, what's worse, you get a sideways video with your iPhone camera, you may feel very tired, because you love them, but the video effects disappoints you. At that point, the video enhancer will be indispensable for you to improve the quality.
Apeaksoft Video Converter Ultimate possesses the great features which will get you wins of enhancing video quality greatly.

Advance video enhancing exercises
Upscale resolution from low to high
When you get a blurry low 240p video, you could try this function. It enables you to get superb video quality from 240p to 720p HD, 1080p HD, even 4k, which creates a high quality video for your vision.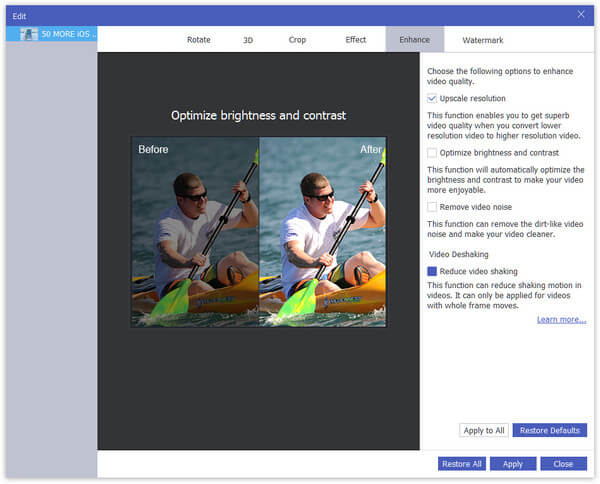 Optimize brightness and contrast automatically
If you are not familiar with the brightness and contrast for your video file, then this feature will do you a great favor exactly. It can adjust the brightness and contrast automatically, so that you could avoid making the settings for contrast and color.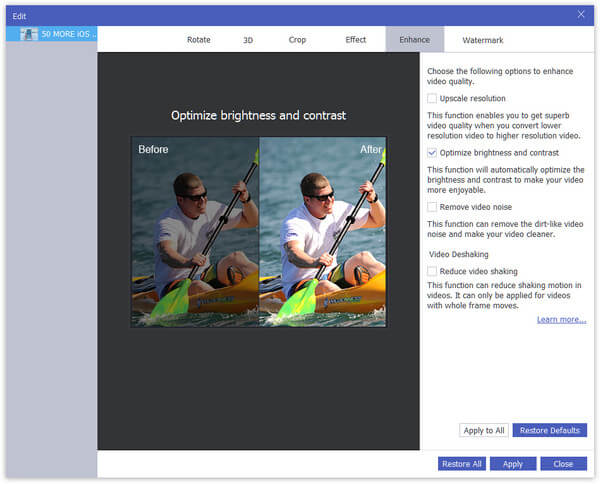 Remove video noise
If you find there are many white spots on your video like a video in an old black-and-white television, then you could use this software to help you remove the dirt-like video noise to get a clean video for enjoyment.
Reduce video shaking
Still feel dizzy for the shaky video on your screen? Just clicking "Reduce video shaking" to stabilize the video to get a stable video for the fit of your eyes.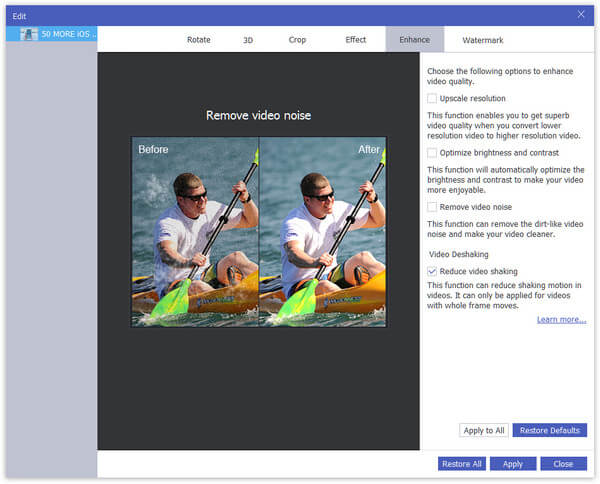 Basic video editing to improve video quality
Apart from the advanced enhancing features of this software, you could also look at its basic editing features provided by this program.
Powerful Editing features: clip/rotate/crop/watermark/3D effects and more.
Convert video or audio files to various formats such as H.264/MPEG-4 AVC, AVI, 4K MPEG-4 Video (*.mp4), AAC, AC3, AIFF, AMR, etc.
Compatible with nultiple devices including iPhone XS, iPhone XS Max, iPhone XR, iPhone X, Samsung Galaxy, Motorola, etc.
Download for Win
Download for Mac
Rotate and flip video
When you get a sideways video with your portable camera to open on your computer, try to rotate it to get the correct angle for the eyes. You could rotate a video file in 90 counterclockwise or 90 clockwise to rotate a sideways video. Also, you could flip a video file vertically or horizontally to create a special water-reflection effects.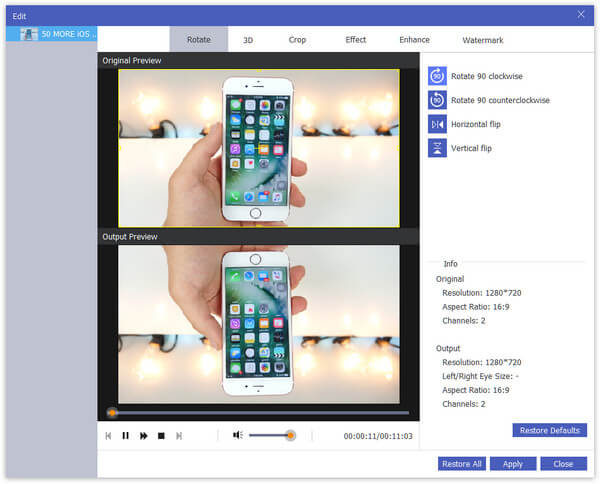 Enable 3D
Feel surprising by the vivid 3D effects? You could also make it by yourself. This video enhancing software gives you the option to create Anaglph with red/cyan or green/magenta or amber/blue in full/half/monochrome color, etc. Also, you will be allowed to split screen side by side (full or half width) or top and bottom (full or half height). Turning 2D to 3D will be in one click.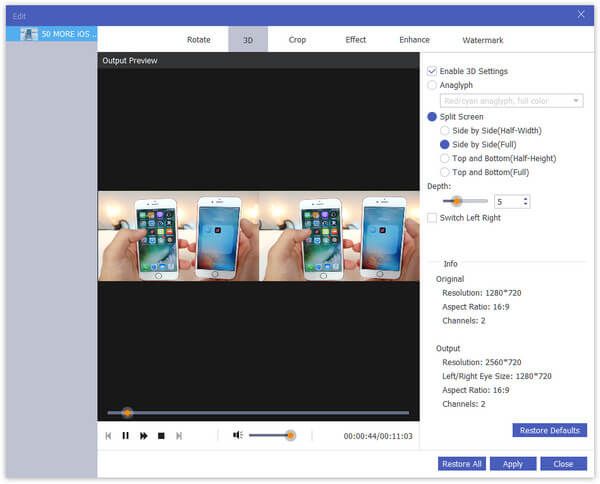 Crop video
When you want to get rid of the wide-wide angle lenses on mobile phones for the recorded video, you will love this feature. It can help you crop the unwanted area in four modes, letter box, medium, pan & scan and full. One click will enables you to get a close-up for the marked parts in a video file.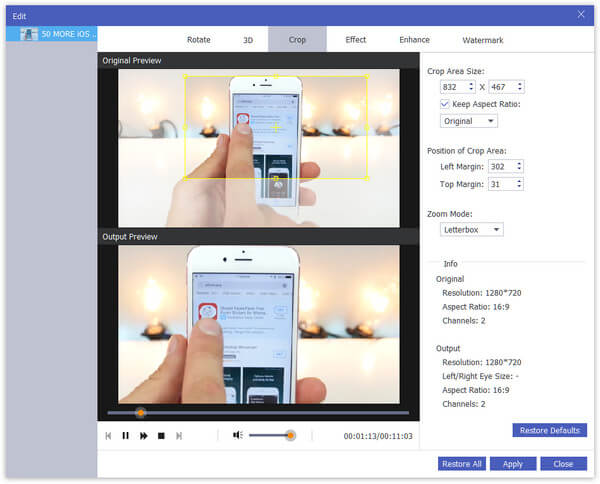 Effect
Effect adjustments in a video file will make your video file style changeable. You can set the brightness, contrast, saturation and hue to get the nostalgic black-white film, also you will receive the dimmy horrible movie when you adjust the settings manually.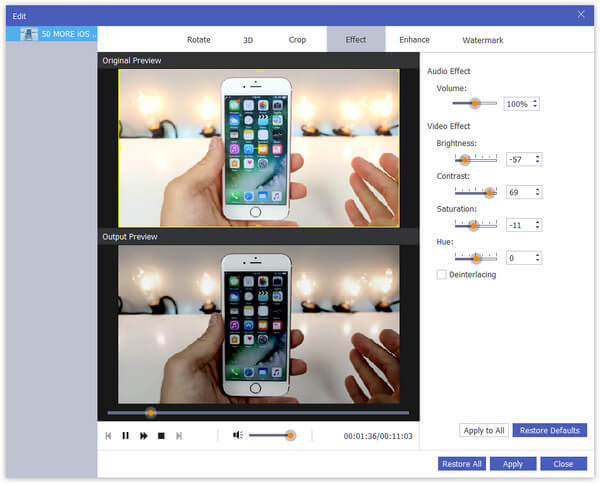 Watermark
If you want to create a video file with your own logo, then here you could consider adding watermark to specify it. You are given the option to add text or picture. You can set the text font, size, color, and location. Also, for the picture, you could set the location and transparency to customize your own style.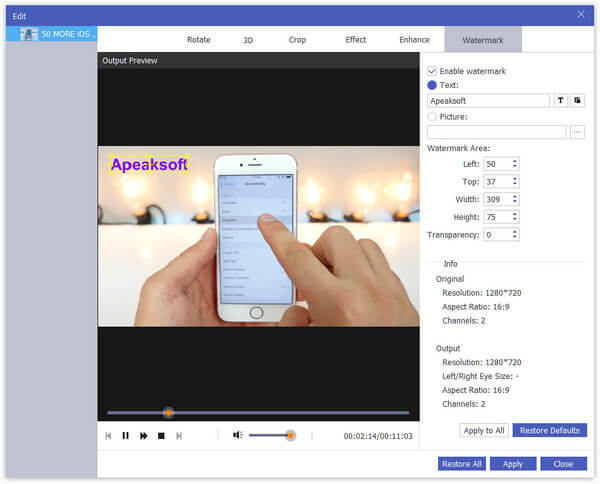 Clip and merge video
No matter how long you will convert a video file, you will get what you want exactly. You can use the clip feature to trim a long video into parts. Also, you could merge a long file from the video clips and rearrange them to get what you want them to be. Easy operations.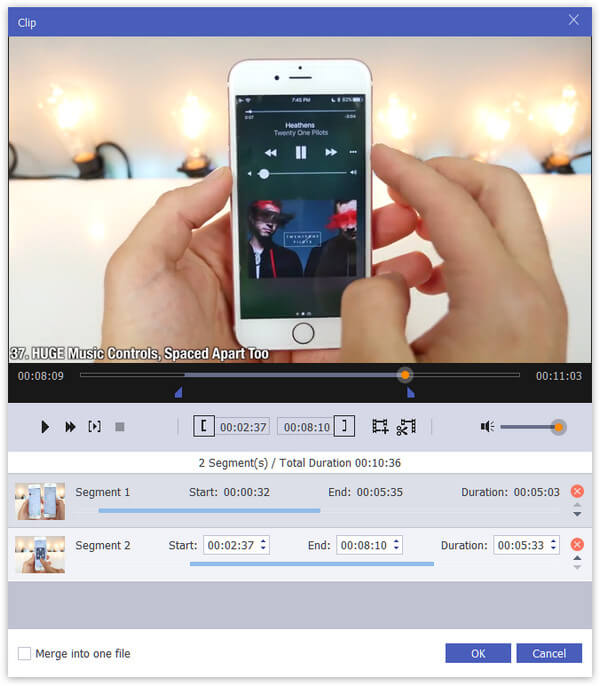 Other features of video enhancer
As the video enhancer, it should be the enhancing software to improve video quality, also, it could work as the video editor to rotate, clip, merge, watermark and crop video freely. However, this software works more powerful to work as the video and DVD converter.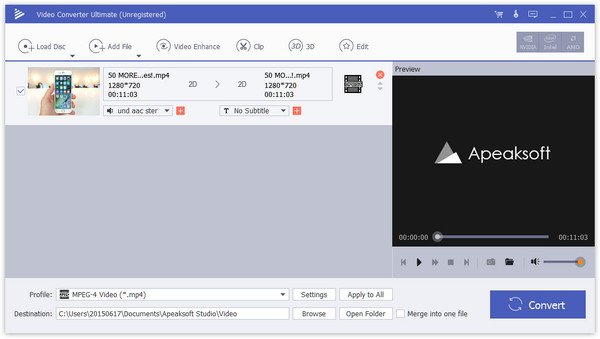 Convert video and audio file
It supports over 300 video and audio formats converting. Like 3GP, AVI, DV, FLV, MOD, MKV, MPEG, MP4, WebM, MOV, RMVB, TOD, AIFF, MP3, FLAC, OGG, AC3, AIFF, WAV, WMA, RA, etc.
Convert home-made DVD
You could also rip video from your home-made DVD disc for non-commercial use to get the video watching in an easy way.
Support extra-subtitle and multi-audio tracks
You can add the extra-subtitle for the video file. Also, you could add one or more than one extra-audio tracks to the video to create your stylish video file.
FAQs of video enhancer
How can I improve video quality?
You can use a video editor to increase the video resolution from lower one to 720P/1080P/4K. Also, Adjusting brightness, saturation and contrast, and reducing shaking motions can be helpful to enhance the video quality.
How to enhance video online?
Clideo can be a great choice that offers free video editing tools to let you control brightness, contrast, saturation and hue values of the video clips. You can also use it to cut, rotate, crop, add filters and more effortlessly.
Is there an app to enhance video quality on iPhone?
Here are several video-enhancing apps you can have a try: Chromic , Afterlight, Instagram, infltr, Vintagio, etc.
Conclusion
Apeaksoft Video Converter Ultimate is the video enhancing software will gain more shinning points to improve the video quality. Whether you want to reduce video shaking, or remove video noise, even if convert SD to HD for high resolution or adjust brightness and contrast, you could meet your demands fully with this program.