Since iOS 11, Apple has introduced a new photo format, HEIC, into iPhones and iPads. Now, the default photo format has become HEIC on iOS devices. In another word, you take a photo on your iPhone and it will be saved in HEIC. However, this photo format is still not widely used on other platforms or the internet. It makes sense that many people ask what is HEIC format on social media. This post will share a complete introduction.

What is HEIC
Part 1:

What Is a HEIC File

HEIC stands for High Efficiency Image File, which is a photo container format released by Apple. It is the native image format on iOS 11 and later.

The biggest advantage of HEIC is the advanced compression technology. A HEIC photo can offer better quality with a smaller file size compared to JPEG. Therefore, users can save more photo files on iPhones and iPads.

However, HEIC has shortcomings too. Firstly, most social media and websites do not support HEIC images. You have to convert your photos to JPG or other image formats. Since Windows 10 1809 update, PCs are compatible with HEIC too. For earlier versions of Windows 10, you can install Microsoft's HEIF File Extension for free. On Windows 8.1 and earlier, you have to transform the HEIC photos to other image formats. Android does not have native support for HEIC until now except Android P. So, you cannot open HEIC images with the built-in viewer on these platforms.
Part 2

: Part 2: How to Convert HEIC to JPG without Quality Loss

It makes sense that iPhone users prefer to take photos in HEIC format. However, it is another story when using the photos on other platforms or sharing them online. Therefore, iPhone users need a powerful HEIC to JPG converter, such as Apeaksoft Free HEIC Converter.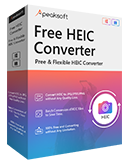 5,120,000+ Downloads
Convert HEIC images to JPEG or PNG format in one click.
Batch process hundreds of HEIC images at the same time.
Optimize photo quality while converting.
Totally free to use without any limitations.
How to Convert HEIC to JPG Quickly
Step 1: Add HEIC
Download and install the best HEIC to JPG converter on your PC. There is another edition for Mac users. The software is free of charge. Launch it when you need to convert HEIC images. Click the Add HEIC button in the home interface, find and select the HEIC photos, and click the Open button. Alternatively, locate the HEIC images in a File Explorer window, and drag and drop them into the interface.
Tip: You need to transfer the HEIC photos to your computer from your iPhone.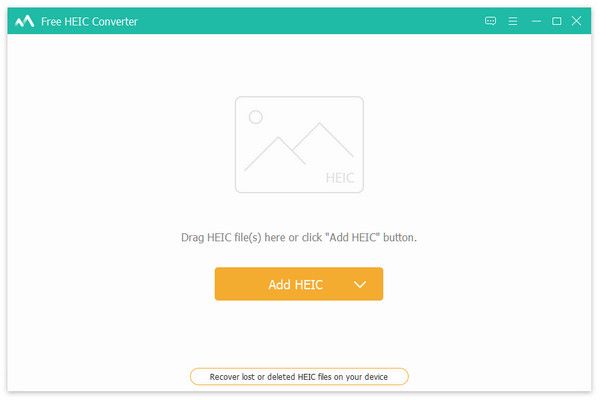 Step 2: Set output format
After HEIC loading, you will be taken to the main interface. There are settings on the right panel. Pull down the Format box, and choose JPG or PNG as the output format. Set the photo quality from the Quality option. To keep the metadata of the HEIC images, tick the checkbox next to the Keep Exif Data option. Hit the Open folder button and set the output path for saving the results.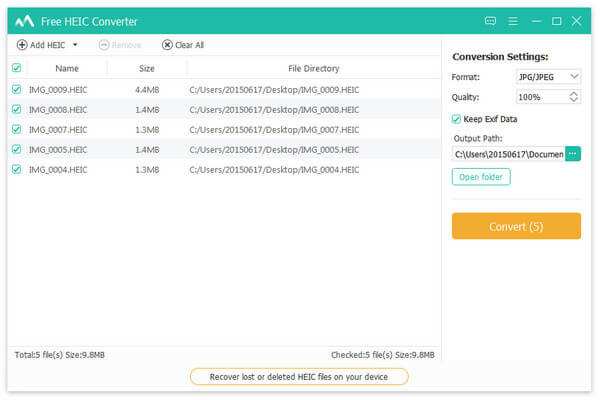 Step 3: Convert HEIC to JPG
As long as you are done settings, click on the Convert button at the bottom of the right panel to begin converting HEIC to other image formats. Wait for the process to finish and you will find the photos on your hard drive. Although the HEIC converter is free, it won't add a watermark to your photos.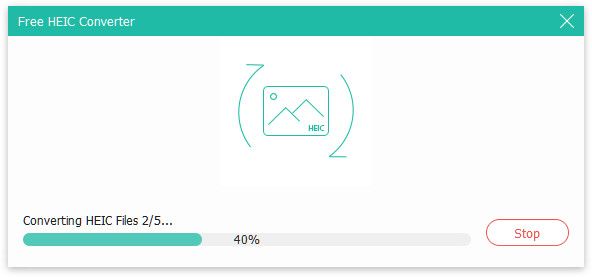 Part 3: FAQs about Transferring HEIC from iPhone to PC
How to open HEIC?
On Apple devices, you can open the HEIC images directly, such as iPhone, iPad, and MacBook. On Windows 10 April 2018 update or later, HEIC can be viewed in a File Explorer. For other platforms, you have to use a HEIC viewer to open HEIC photos.
Which one is better HEIC or JPEG?
HEIC provides better quality and smaller file sizes, but JPEG enjoys higher-level compatibility. You can choose a proper image format according to your need.
How to convert HEIC to PNG on iPhone?
There are two ways to convert HEIC to PNG on iPhone. Firstly, you can save a HEIC photo in PNG format with the Files app. Plus, there are several HEIC to PNG converter apps that you can download from App Store.
Conclusion
ow, you should understand what HEIC stands for, what it means, the advantages and shortcomings of HEIC, and how to convert HEIC photos to other image formats. If you just view and use your photos on iPhone, HEIC is a perfect format. For other purposes, you have to transform it to popular image formats with Apeaksoft Free HEIC Converter. If you still have other questions about the iPhone photo format, please feel free to leave your message below this post and we will answer it quickly.