"I have an Android phone, and I prefer to play mobile games, such as Clash of Clans, recently, I found that my smartphone became slower and slower, my friends suggest that I should free up internal storage, but how to move apps to SD card on Android? Please help."
It is true that our smartphone almost could do every task in our daily life and work; however, most features are offered by apps. Though some high-end Android phones have expanded internal storage up to 64GB, it is apparently not enough.
Plus, saving too much data on memory would slow down the performance. The alternative solution is to move Android apps to SD card. In this tutorial, we will show you the how-to guide in details.

Part 1

: Move Android apps to SD card with internal storage

First of all, most manufacturers allow users to extend internal storage by microSD, for example, Samsung Galaxy S8 is able to extend up to 256GB. But that does not mean that you can install apps to SD card directly. There is a feature called Adoptable or Flex Storage in Android.

Google first introduced this feature in Android 4.0. It permits users to shift a SD card to a part of internal storage and help Android moves app to SD card. Unfortunately, not all smartphone brands support this feature. For instance, Samsung and LG have removed it, partly because of security consideration. And you have to prepare a fast SD card to ensure the experiences.
How to move Android apps to SD card with internal storage
Step 1. Insert the SD card into your Android phone, open the Android Settings app from your app tray and head to the "Storage" screen.
Step 2. Select your SD card on the screen and open the "menu" button, which is usually located in the upper right corner with a three-dot or three-line icon.
Step 3. Tap "Storage Settings" or similar option on the menu bar, and select "Format as Internal" or "Use as internal storage".
Then hit "Erase & Format" to delete current data on the SD card. If prompted that the SD card is too slow, you'd better change a fast card, otherwise the performance will become terrible.
Step 4. When it is done, you will be required to move apps now, follow the onscreen assistance to move Android apps to your SD card and tap on "Done" to confirm it.
Note: As you can see, this way will erase existing data on your SD card, so you should backup it before perform format. Moreover, bear in mind that once you take out the SD card off your smartphone, the function will be ended and the apps on SD card cannot open anymore.
Part 2

: Move Apps from Android to SD card with Application manager

Don't worry! Even though you do not format the SD card to internal storage, it is still possible to get Android move apps to SD card. Some apps are developed to support SD card storage. So, you can move them from Android to SD card directly.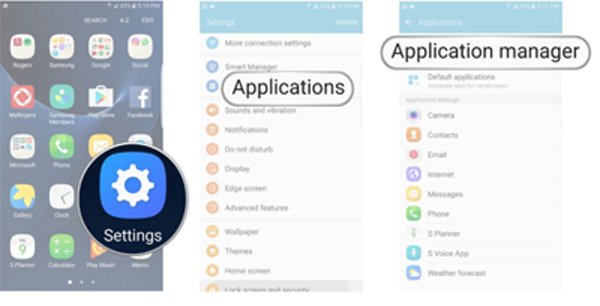 How to move apps from Android to SD card with Application manager
Step 1. Make sure that there is a fast SD card in your smartphone, and launch the Settings app from your app drawer. Go to "Application manager/Apps", and find an app that you want to move app to SD card and tap on it.
Step 2. Choose the "Storage" option and you may find the "Change" button. If not, it means that the app does not support storages except internal memory. Tap on the Change button and select your SD card on the popup options dialog.
Tip: On some Android phones, the storage shift feature is called "Move to SD card". Once you tap on it, the app will go to your SD card immediately.
Step 3. Finally, tap on Move or similar option to confirm the changes. Then you can repeat the operations on other desired apps to save them to SD card. Any time when you want to restore the apps back to internal memory, just tap on the "Change" button in Application manager.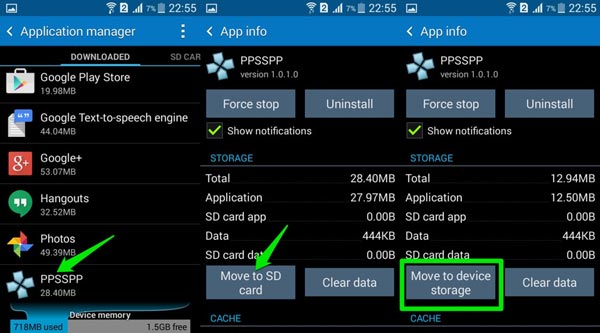 Note: According to our research, this way is feasible for most entertainment apps and small games, but not some large games that need to save and communicate data on internal storage.
Moreover, much like the first method, the model of your SD card decides the apps performance and your experiences.
Recommend

: Apeaksoft Phone Transfer

The alternative solution to move Android apps to SD card and free up internal storage is to move some files from on Android phone to another mobile device, especially considering that more and more people are multi-device users. From this point, we recommend Apeaksoft Phone Transfer. Its key features include:
1. On-click Transfer. It has the ability to transfer data from Android phone to iOS or another Android device.
2. Lossless move. Phone Transfer will not cover or damage existing data on both source and target phones, which is better than Android move apps to SD card.
3. Keep original conditions. It is able to extract data from one Android phone and save them on another mobile device in original formats and quality.
4. Faster and safer. It relies on USB cables to transfer data between Android and other smartphones, which is much quicker and safer.
5. Support a wider range of data types. Phone Transfer works for videos, photos, contacts, music, voice memos and other documents.
6. Higher compatibility. This phone transferring application is compatible with all Android devices released by Samsung, HTC, Moto, Sony, Google, Huawei, Xiaomi, and iPhone 14/13/12/11/XS/XR/X , etc.
In short, it is the best way to free up internal storage on Android phones.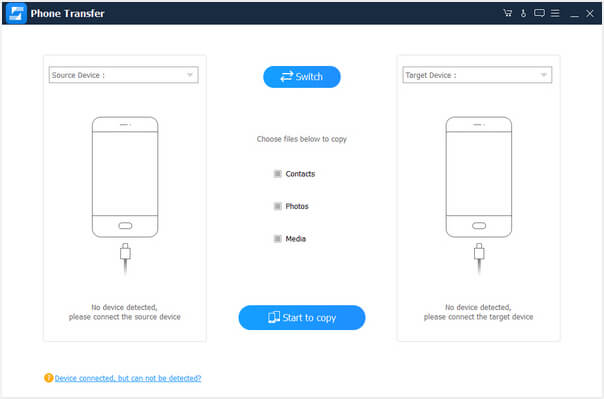 Conclusion:
Based on the introductions above, you might understand that how to move Android apps to SD card. Both the Adoptable feature and Application manager do not require you to install third-party apps on Android move apps to SD card. They are available to various Android phones and mobile apps. You can choose any one according to your situations.
On the other hand, we also shared an alternative solution for moving Android apps to SD card, Apeaksoft Phone Transfer. We wish that our guides and suggestions are helpful to you.