Apple has decided to stop iTunes, though it is a great tool for managing the content on your iOS device. CopyTrans Manager is one of the best alternatives to iTunes. No matter on Mac or Windows, it is not a breeze to connect your iPhone to iTunes to sync data.
Fortunately, some third-part software not only speeds up the process of data syncing to and from your iPhone, but also removes a set of limitations enforced by iTunes.

In this article, we will share an unbiased review of CopyTrans and its best alternatives.
Part 1

: Reivew of CopyTrans

CopyTrans Manager is a third-party application that makes it easy to sync your iPhone music library without iTunes.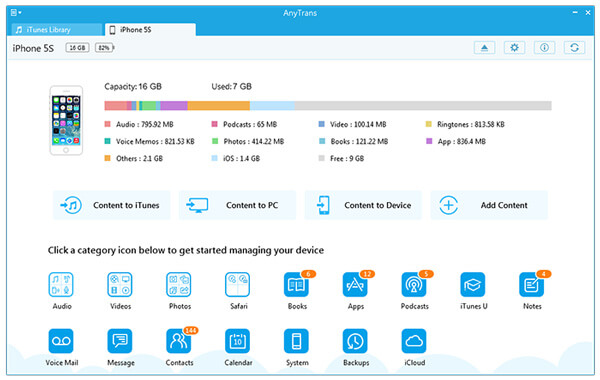 Main features:
1. Transfer music, photos, videos and more without having to open iTunes.
2. Sync data via the USB cable without the requirement of an internet connection.
3. Share any files with iPhone, iPad and iPod Touch.
4. Restore iTunes library from iPhone, iPad or iPod.
5. Edit your iTunes library and your playlists without iTunes.
Pros
1. This iPhone manager is easy to use.
2. There is a built-in player to let you pre-listen to your music before syncing.
3. The smart backup feature will create a backup for your iOS device once connecting.
Cons
1. It cannot transfer some data types, such as iBooks.
2. You have to install iTunes on your computer when using CopyTrans
Part 2

: Top 5 Alternatives to CopyTrans

While CopyTrans is considered to be a simple tool for managing the content of your iPhone, not everyone is comfortable with it. Read on to see the best alternatives solutions.

Top 1: Apeaksoft MobieTrans

Apeaksoft MobieTrans is a professional application for iOS devices.
Transfer data between iPhone and PC, Android phone or another iPhone.
Support photos, videos, music, contacts, call history, SMS, and more.
Rely on the physical connection to sync data between iOS and PC. Quickly.
Available to iPhone XR/XS/X/8/7/6s/6 or earlier, iPad and iPod Touch.
Pros
1. The interface is user friendly and integrates extensive tools, like a ringtone maker.
2. The alternative to CopyTrans supports a wide range of iOS devices.
Cons
1.You need to purchase the license after the free-trial, but the price is pretty affordable.
How to Transfer Data between iPhone and PC
Step 1: Get the best alternative to CopyTrans
Download and install MobieTrans to your PC.
Connect your iPhone to the computer using the Lightning cable came with your device. Then launch the program and it will detect your iPhone.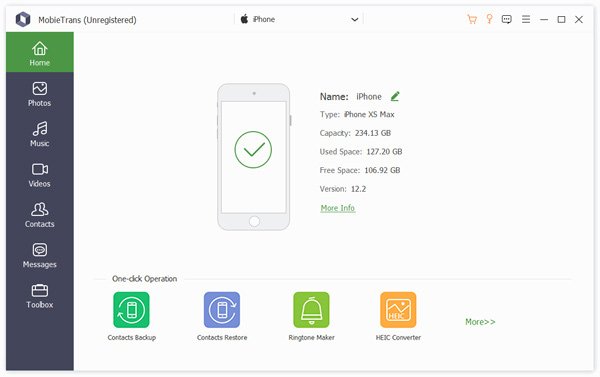 Step 2: Transfer data from iPhone to PC
To back up your iOS data, such as photos, to your computer, go to the Photos tab. Then all photos on your iPhone will be displayed on the right panel. Check the box on each photo you want to backup. Then click the PC icon on the top ribbon to save them to your computer.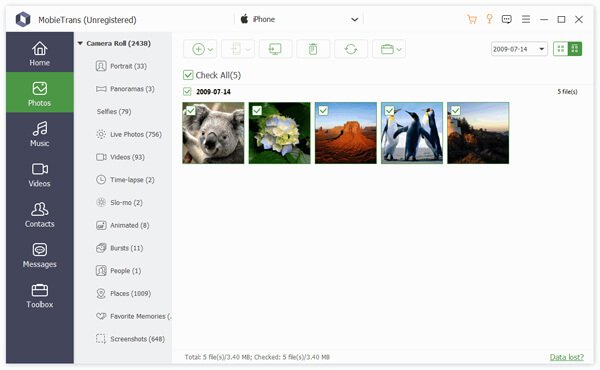 Step 3: Add data to iPhone from your hard drive
If you want to add some files to your iPhone, go to the corresponding tab, click the Plus icon on the top of the window. Select the files on the Explorer window and click Open to add them to your iPhone.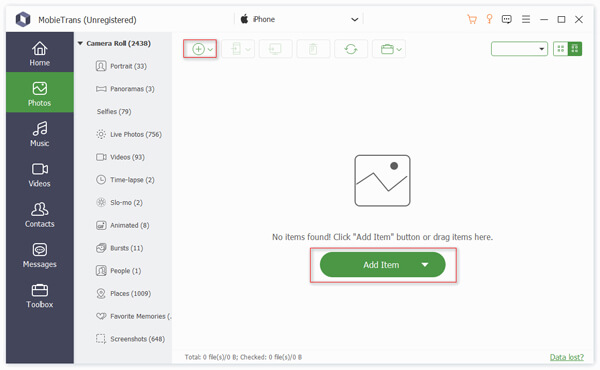 Top 2: iMazing 2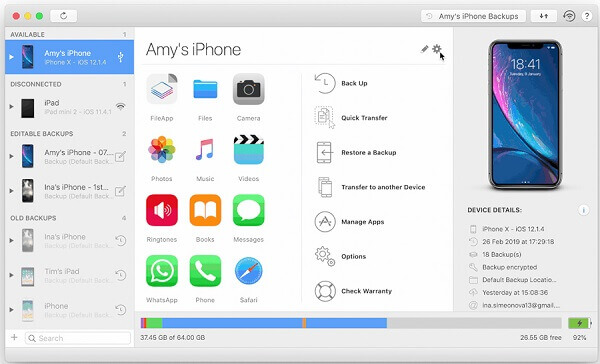 iMazing 2 was developed by DigiDNA. It makes easy for data management of iPhone.
Key features:
1. Transfer photos, music, contacts and more between iPhone and computer.
2. Sync multiple files from PC to iPhone with the Quick Transfer functionality.
3. Export and print iPhone messages and WhatsApp chats.
4. Back up your iPhone via Wi-Fi easily.
Pros
1. The alternative to CopyTrans is fully compatible with the new iOS 12.
2. It is able to display all iOS files including the hidden ones.
Cons
1.If you want to access iPhone data, you have to backup them first.
Top 3: Waltr 2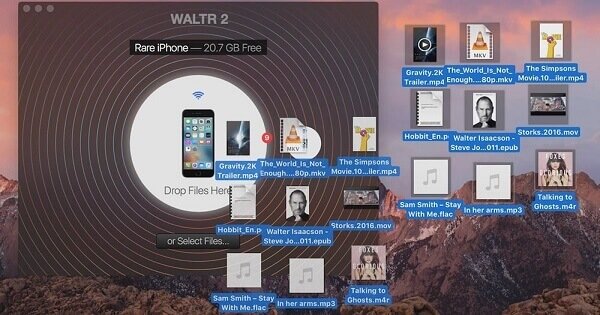 Waltr 2 is another way to transfer media files to iPhone without using iTunes.
Key features:
1. Transfer any video, music, iBook and other documents into iPhone or iPad.
2. Convert files on the fly to iOS supported formats.
3. Keep the original condition during data transfer.
4. Support both Wi-Fi transfer and USB syncing.
Pros
1. The drag-and-drop functionality makes it easy to use.
2. The alternative to CopyTrans is lightweight.
Cons
1. The price is no par with iMazing and other software.
2. It does not allow you to preview and manage data on your iPhone.
Top 4: iExplorer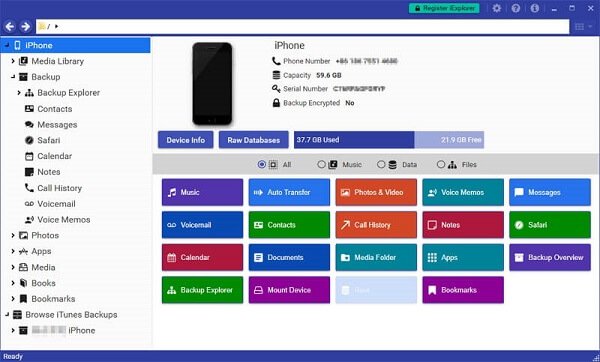 iExplorer is a good way to manage your iOS device on PC.
Key features:
1. Read the contents on your iPhone and present them.
2. Transfer messages, notes, contacts, voicemails, and so on.
3. Send selected content from iOS device to iTunes.
4. Mount a directory from your iPhone as a folder in Windows Explorer.
Pros
1. The alternative to CopyTrans makes it easy to manage iPhone data.
2. It offers both a free and a paid version.
Cons
1. It does not support all file types on iPhone.
2. It cannot sync iPhone data via Wi-Fi network.
Top 5: MediaMonkey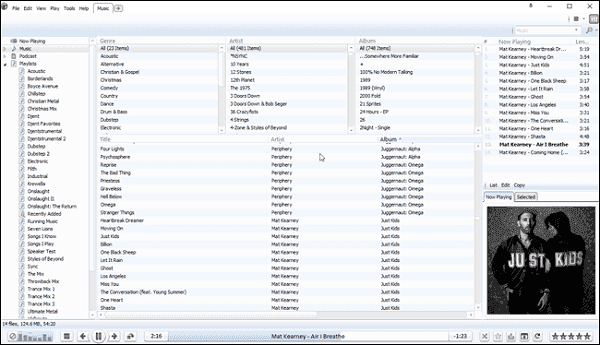 MediaMonkey is not only a music player, but also a music manager for iOS devices.
Key features:
1. Recognize music on your hard drive and import them automatically.
2. Listen to music saved in any audio formats.
3. Sync your music to iOS devices including iPhone and iPad.
4. Equip a customizable interface and a lot of skins.
Pros
1. This alternative to CopyTrans offers three versions to meet varied need.
2. It integrates a media library for music management and syncing.
Cons
1. It cannot convert your music for iPhone.
2. The advanced features are only available in the premium version.
Part 3: FAQs About CopyTrans
Why can't I transfer files from my phone to my PC?
The most common reason is a faulty connection between your device and your computer. If your devices are connected via a lightning cable, it could be that your cable is not transferring data properly anymore or that the USB port on your device is malfunctioning. You can verify this by replacing the data cable with another one. Suppose your device is connected to the computer via Wi-Fi. In that case, it may be that your internet connection is unstable or the internet speed is too slow, resulting in files not being transferred properly. You can try connecting to another wireless network.
How can I connect my iPhone to iTunes without a cable?
If you don't use a USB cable, you can connect via Wi-Fi. First, ensure your device connects to the same Wi-Fi as the computer. Open iTunes on your computer, and click the icon of your device. Then choose Summary, and tick the box of Sync with this device with Wi-Fi. Finally, click Apply.
Can I transfer files from iPhone to PC via Bluetooth?
Sure. You can transfer files if you can pair your phone with your computer. Just go to Bluetooth file transfer and choose Send files. Select the name of your computer in the list, and tap Browse to check the files you want to share. However, this method of transmission may be less efficient, so you may want to consider using another tool.
Should I erase the old iPhone after the transfer?
It depends on what you want to use your phone for. If you just want to keep it as a backup, then there's less need to empty the data. If you want to sell your phone, you should erase all personal information after transferring the data.
Can I transfer everything from one iPhone to another phone with iCloud?
If you have iCloud backup turned on, you can transfer your data to the new device by signing into iCloud on another device. However, it is important to note that iCloud can't back up data originally saved. And if you are trying to transfer to an Android phone, there may be some app data that can't be transferred due to a system mismatch.
Conclusion
Based on the review above, you should grasp at least 6 best data managers for iOS devices. Now, you must understand whether CopyTrans Manager is worth to use. Moreover, you can get more options that have the similar features. Apeaksoft MobieTrans, for example, is a professional iOS manager. We hope that our recommendations are helpful to you.