ephPod is one of the early alternatives of iTunes. It's a file transfer manager between the computer and iPod. With it, you can sync contacts and more. However, it no longer updates since 2006. If you have an old iPod, this software will still work on your computer. If you don't, you need to find an alternative to ephPod. This article reviews the pros and cons of ephPod for Windows software and provides the best alternative for you. Please read carefully.

Ephpod Review
Part 1. ephPod Review (Features, Pros & Cons)
Although the official website of ephPod doesn't update any more, you can still use ephPod normally. You can use it to sync contacts and store them in vCard format (a special Contacts menu option on iPod). If Outlook is available on your computer, ephPod can you're your contacts automatically. One stunning point of ephPod is that you can download music from your iPod and transfer iPod Music to the computer. Neither iTunes nor XPlay can achieve that. With this feature, you can share music between computers easily. What's more, you're allowed to add MP3 or WAV files to iPod easily.
You can also manage songs within a playlist simply. It allows users to create a playlist of recent music files of a certain type. In addition, you can arrange the order of songs in a playlist to place them as you want on the iPod, or just arrange them alphabetically with ephPod itself.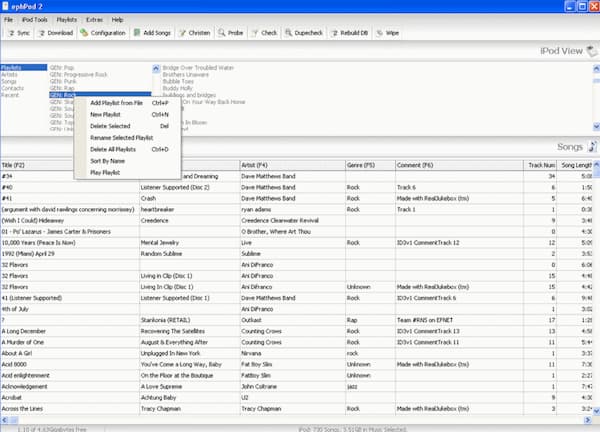 PROS

Easy to use for transferring music
Sync contacts well
Download iPod music easily
Add playlists at any time
Arrange music order in a playlist
CONS

No Mac version
Slow transferring speed
Too outdated for newly released iPod and other iOS devices
Possibly clear your iPod library
Part 2. The Best Alternative to ephPod
Since ephPod is outdated and not compatible with most iPods in the market, we recommend the best alternative to manage iPod files. MobieTrans is the professional and all-in-one software to manage files between iOS devices and the computer. It is compatible with all versions of iPod and the latest iOS 16 system. It's both available for Windows and Mac. You can use it to transfer data from an old iPod to a new iPod. You can also export files from an iPod or transfer files to it at a fast speed. You can also delete songs from iPod. In addition, you can use the built-in music editor to sync and organize iPod songs and playlists easily.
Besides features limited to iPod, more functions are provided to users. With MobieTrans, you can back up the data on your phone (both iOS and Android) safely within one click. You can also manage photos, messages, videos, audio, and contacts. You are allowed to add, export, de-duplicate, and delete items from the folders. You can even make ringtones and convert HEIC images with it.
Step 1: Connect iPod and the Computer
Download and install MobieTrans. Then launch it on your computer. Connect your iPod to the computer with a USB cable. You can see the basic information on the main interface when your iPod is connected successfully.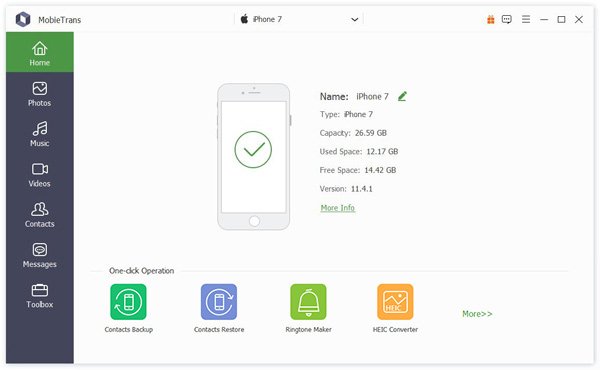 Step 2: Select iPod Music
Select Music from the left panel. You can select wanted files from All Music or Playlists. You can preview the music file by double clicking it. You can also edit the file by clicking the Edit button (a pencil icon).
Step 3: Export to PC
Click the Export to PC button and you can transfer the music on your iPod to the computer.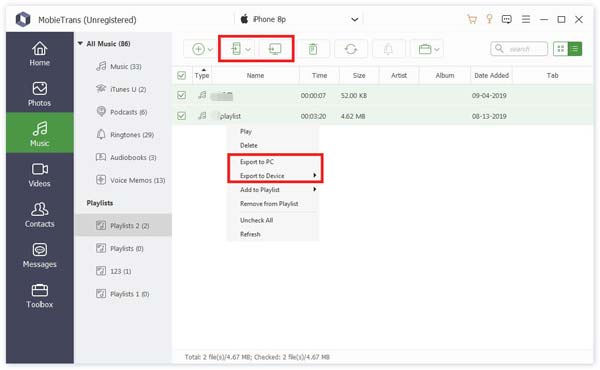 Step 4: Create New Playlist
Click the Portfolio icon from the top menu and select Create Playlist.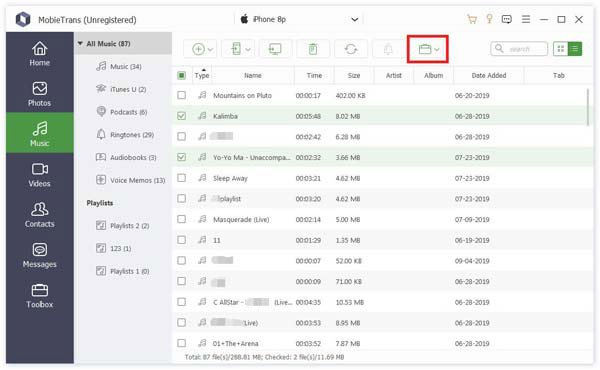 Then right click the blank area of the music list and select Create Playlist. Then you'll get a new playlist and you can rename it.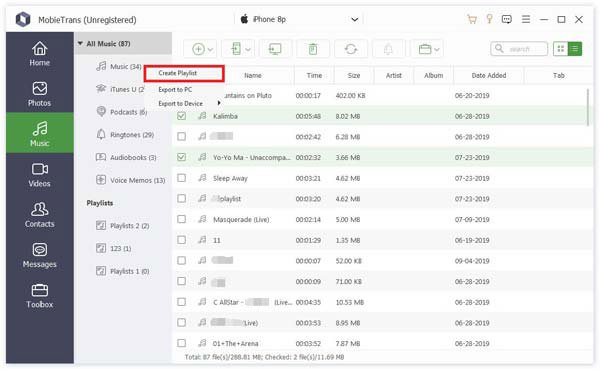 Part 3. FAQs of ephPod
Where to download ephPod?
You can free download ephPod from the official website of ephPod. Though ephPod hasn't updated since 2006, you can still download and use it normally with your old iPod.
Is ephPod open source?
No. Many pieces of ephPod are donated from commercial companies. Therefore, it cannot be open source.
What is the best alternative to ephPod?
You can use MobieTrans to manage files on your iPod. This software is available for both Windows and Mac. You can back up data and edit files with it easily.
Conclusion
This article introduces the main features of ephPod. But it has cons. Therefore, this article provides the best alternative to ephPod to enable users to manage music files on their iPod easily. You can use it when iTunes doesn't recognize iPod. If you're in the need for such a management tool. You can download and have a try yourself.