"I have recorded an important lecture using iPhone's Voice Memo, and now I want to use it in my presentation for next class; however, I do not know how to send a voice memo from iPhone simply. Please help."
Voice Memo on iPhone is convenient to record something, especially when our hands are busy with other things.
However, when you want to export voice memos from iPhone and save them on other places, you will find it difficult to deal with.
How to get voice memos off iPhone?
5 ways in the following description will show you the full guide to send voice memos from iPhone to another iPhone, PC, Mac, or Google Drive here.

Part 1. How to transfer voice memos from iPhone to iPhone/computer directly (Recommended)
The first method of getting voice memos off iPhone is highly recommended with iPhone Transfer. It helps you avoid the defects from iTunes, Google Drive, AirDrop, and Email. It is the desktop app which enables you to export voice memos from iPhone to Windows and Mac computer easily.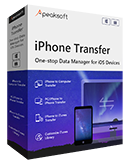 4,000,000+ Downloads
Get voice memos off iPhone and save to computer in one click.
Transfer voice memos between computer and iPhone.
Manage and delete iPhone voice memos on computer.
Compatible with iPhone 15/14/13/12/11/X running iOS 17/16/15 or earlier.
Step 1. Install the best iPhone transferring application
Download and install Apeaksoft iPhone Transfer to your computer. You can find the right version according to your operating system.
Hook up your iPhone to your Mac computer using the Lightning cord, which you use to connect your iPhone and the charger adapter. Launch iPhone Transfer to let it detect your device.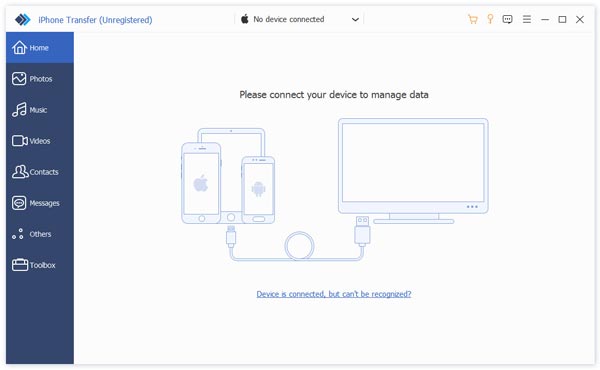 Step 2. Preview voice memos on iPhone before backup
Click the name of your iPhone at top dropdown of the home interface. Then select the "Music" option on left hand column to display all multimedia data on your iPhone, go to the "Voice Memos" tab from top ribbon to only show voice memos saved on your handset.
If you want to delete unwanted voice memos, select them and click the "Delete" button.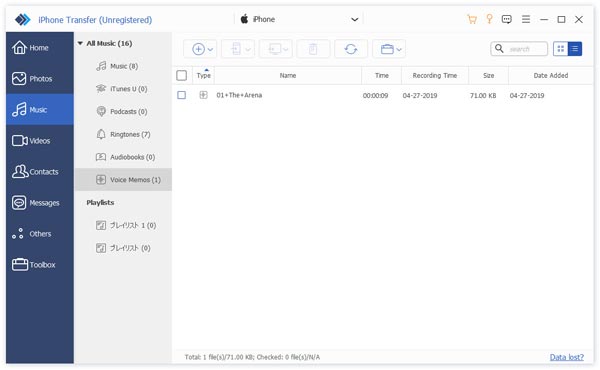 Step 3. Get voice memos from iPhone to Mac/PC
Scroll down the list and tick the checkbox in front of each voice memo you'd like to backup to your PC. Then select "Export to PC". On the popup dialog, pick a folder and start getting selected voice memos to PC.
People also read:
Part 2. How to get voice memos off iPhone to computer with iTunes
iTunes is the multimedia transfer tool, which deals with music, videos, and voice memos, too.
Step 1. Use Apple's Lightning cable to link your iPhone with your computer. Start the latest version of iTunes and click the iPhone icon at top left corner after your device is discovered.
Step 2. Click "Summary" on left hand column. Tick "This computer" under "Backups", and click "Back Up Now" under "Manually Back Up and Restore" to backup all data including voice memos from iPhone to iTunes.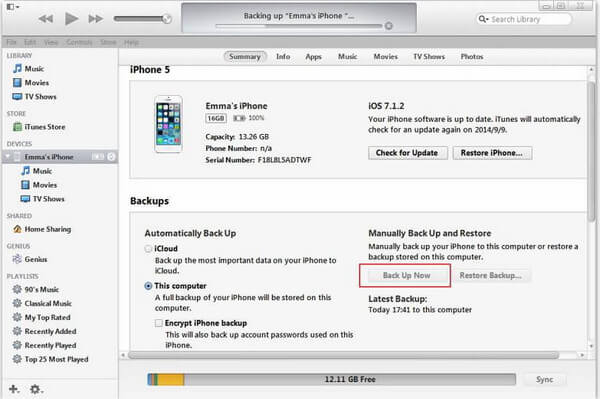 Step 3. After the backup process is done, you can disconnect your iPhone. Click "Voice Memos" on the left sidebar, and view all voice memos you get off just now from iPhone. Checkmark those you want to keep, and right-click to select "Copy", and paste it on the target location on your computer.
Here, you can also find iTunes backup location to find the voice memos files to use them freely.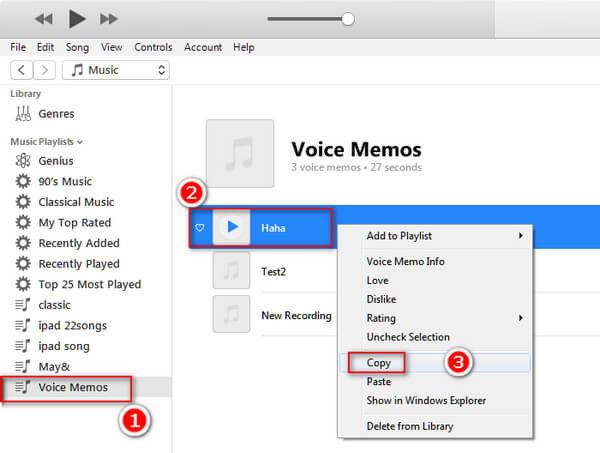 Cons: You need to backup all data on iPhone to iTunes, which may take a long time, even if you only want to get off several voice memos.
Part 3. How to import voice memos to Mac/iPhone with AirDrop
AirDrop is the free way created by Apple to import voice memos from iPhone to Mac/iPhone. However, for using it, you need to bear the following rules:
1. iPhone 5 and above running iOS 7 and later, while Mac is in OS X 10.7 Lion and later.
2. Turn on Wi-Fi and Bluetooth within meters.
3. Dozens of voice memos on iPhone will cost hours to share.
Now, if you are ready, let's start do it right now.
In the following steps, we are taking iPhone and Mac as the example, if you want to AirDrop from iPhone to iPhone, just jump here.
Step 1. First of all, you need to enable AirDrop on both your iPhone and Mac computer. On your Mac computer, go to "Finder" > "Go", AirDrop will turn on automatically once Bluetooth and Wi-Fi is enabled. Then select "Everyone" from the dropdown menu at bottom.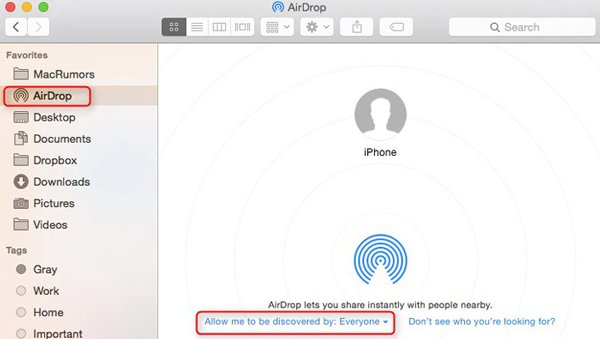 Step 2. On iPhone, start the "Settings" app from your home screen and turn on the "Wi-Fi" and "Bluetooth" features. Then go to the "Control Center" and enable "AirDrop". Then you will be presented three options, "Off", "Contacts Only" and "Everyone". We suggest you to select "Everyone" as well. If you iPhone appears on the AirDrop screen on Mac, it means the connection is successful.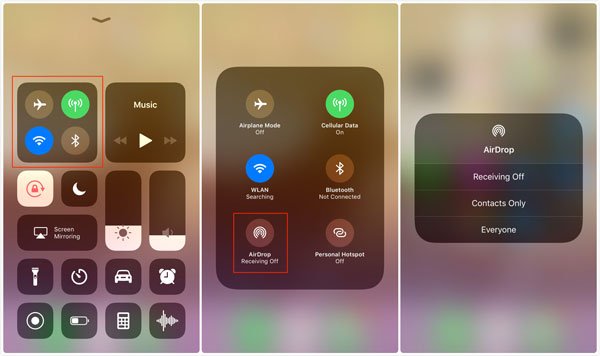 Step 3. Navigate to the Voice Memos app on your iPhone, select a desired voice memo, tap the "Share" icon and hit your Mac computer on the AirDrop menu to take voice memos off iPhone.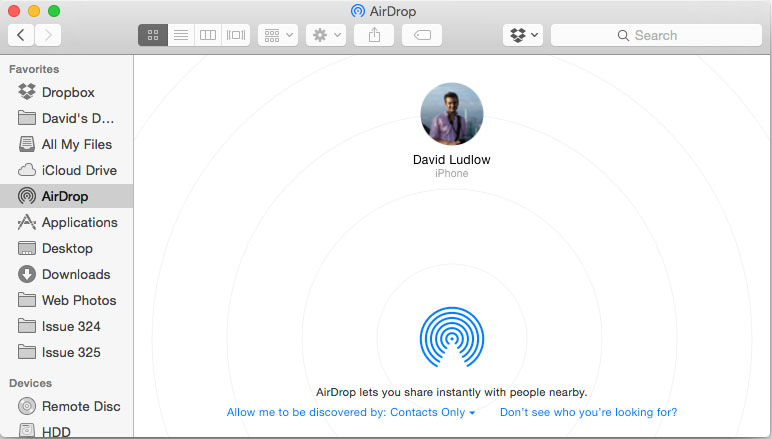 Step 4. Next, switch to the Mac computer and accept the voice memo and start transferring. Repeat the step 3 on other voice memos you want to send. After the process is complete, you'd better turn off AirDrop on both iPhone and Mac to prevent from other people to access your devices.
Don't miss: How to make a voice memo into ringtone.
Part 4. How to get voice memos from iPhone to Android/computer via Email
When we talk about send a single file from iPhone to computer, email is always one of the options.
Here, we will take Gmail as the example to show you the steps on sending a large voice memo from iPhone to computer.
Step 1. Unlock your iPhone, go to "Settings" > "Mail" > "Accounts" and tap "Add Account". Select "Google" on the list and input your Gmail username and password (Gmail password forgot?).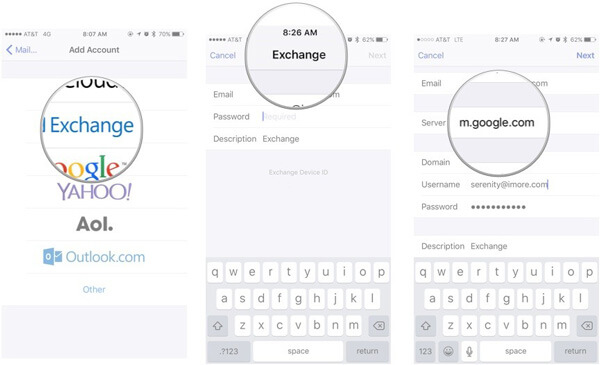 Step 2. Quit the Settings app after setup, open the iOS "Voice Memos" app and select the voice memo you want to use on computer. Make sure the voice memo is no larger than 50MB. Then tap on the "Share" icon to activate the menu bar.
Step 3. Choose "Mail" on it to create a new mail with the voice memo as an attachment. Enter your Gmail address in the "To" box and hit the "send" icon to send a voice memo to email.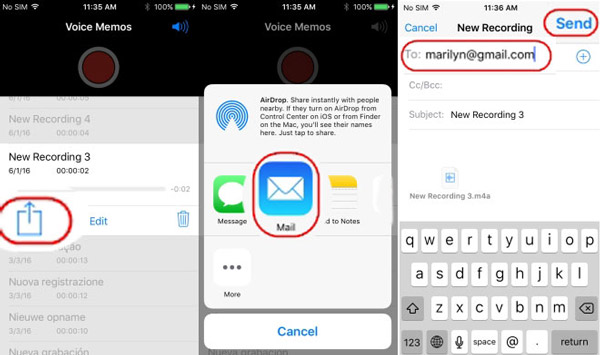 Step 4. Any time when you want to get the voice memo from iPhone, access your Gmail account on your Android phone or computer, go to the Inbox, select the mail and download the voice memo attachment to your device.
Note: Google allows users to send an email with attachments no more than 50MB. If the attachment is larger than 50MB, you can use the Google Drive to send the mail.
Part 5. How to send voice memos to Google Drive
To send a voice memo larger than 50MB, you have to use the Google Drive to send the email. This way supports a mail up to 10GB.
Step 1. Select the desired voice memo in iPhone Voice Memos app, tap the "Share" icon and select "Google Drive" if you have install it on your iPhone.
Step 2. Open the iOS Mail app or Gmail app, tap on the "Compose New Mail" icon to open the new mail screen. Also input your Gmail account in the "To" field and drop a subject in the Subject field.
Step 3. Long press blank place until you see the popup menu, select "Add Attachment". By default, it will display the files in iCloud Drive. Hit "Locations" at top of the screen and then select "Google Drive" to switch the location. Tap "More", if you do not see Google Drive.
Step 4. Then select the voice memo to add it to the new mail's attachment. Wait for a moment until the voice memo is uploaded completely. Finally, tap the "Send" icon to send a large voice memo to Gmail.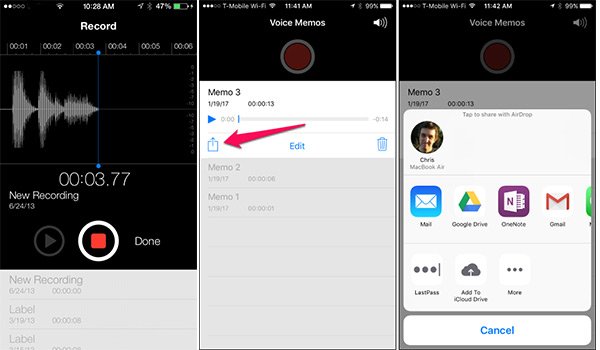 Transferring multimedia files using wireless connections has obvious downside. It is much slower than the USB cable.
You may need: How to Record Voice Memo on iPhone
Conclusion
In this tutorial, we have shared you how to get voice memos off iPhone to computer/iPhone/Android phone. Every method has its own weaknesses you have to admit, however, after many time's trial from most users, it proves that the first method is the easiest one.
If you have more questions about voice memos transfer, please feel free to leave a message below.