Google Photos is one of the most popular cloud platforms to back up your photos on iPhone and Android device. Apart from acting as a photo gallery app, it essentially offers extensive features, such as smart search, photo editing and more. However, you cannot use it when Google Photos won't upload your videos and photos. Therefore, this article tells you 5 solutions to fix this problem on iPhone and Android.

Part 1: 6 Solutions to Fix Google Photos Won't Upload on Mobile
When Google Photos won't back up your media files, check your storage firstly. If you have enough space, perform the solutions below, which can help you get rid of the trouble quickly.
Solution 1: Restart Your Device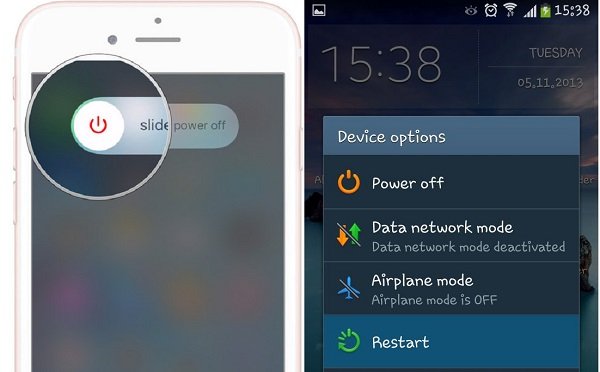 On iPhone, press the Power button until the power-off screen pops up. Move the switch from left to right. Wait for a few seconds after iPhone screen turns black. Then press the Power button to turn it back on.
On Android, hold down the Power button to pop up the shut-down dialog. Tap Restart and wait for your phone to reboot.
Then Google Photos will upload your pictures and videos.
More details about restarting an iPhone are here.
Solution 2: Force Close Google Photos App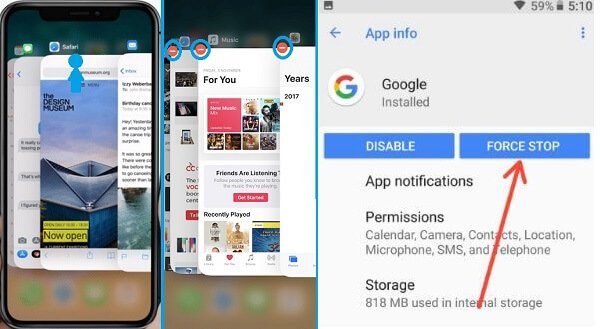 On iPhone, enter the multitask screen. For iPhone X or later, swipe up from the bottom of the home screen. For iPhone 8 or earlier, double press the Home button. Swipe left and right to find Google Photos, and then swipe up on it.
On Android, open the Settings app, tap Applications, select Google Photos, and tap Force Stop.
Next, reopen app and check if pictures upload to Google Photos again.
Solution 3: Re-sign in Your Account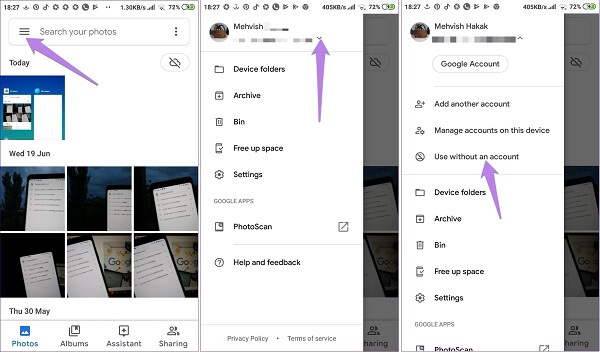 Step 1 When you find Google Photos won't back up your photos, tap the Menu button with a three-line icon in the app.
Step 2 Tap the arrow icon next to your email and select Use without an account.
Step 3 Then choose Google account to log in under the arrow icon to sign in your Google account.
Google account forgot? Just recover it now.
Solution 4: Re-enable Back up & sync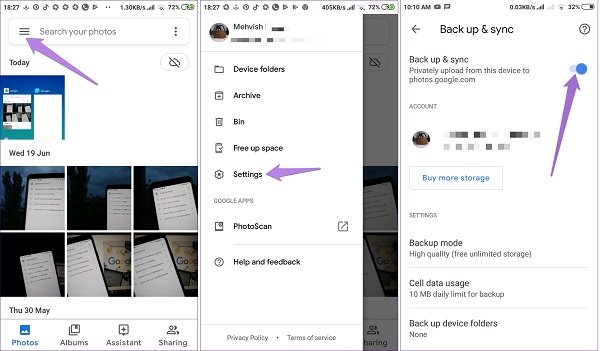 Step 1 Disable Back up & sync once photos won't upload to Google Photos. Tap the Menu button in the app and select Settings to get the option.
Step 2 Then reboot your mobile device and enable the Back up & sync feature.
Solution 5: Set Automatic Backup Correctly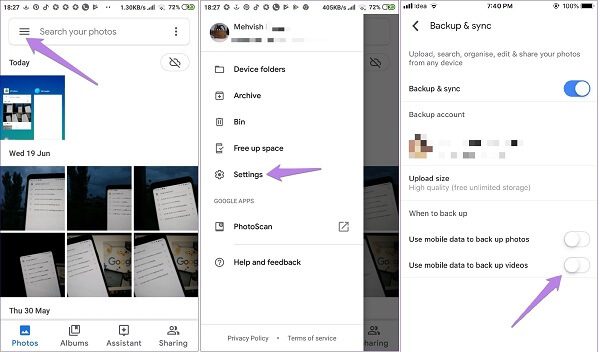 Step 1 Run Google Photos app, tap the button with a three-line icon in the search box to open the menu screen.
Step 2 Select Settings and scroll down to the When to back up section.
Step 3 There are two options, Use mobile data to back up photos and Use mobile data to back up videos. Set them based on your situation, and then you can backup photos using Google account.
If Google Photos won't upload videos using mobile data, for example, enable the second one.
Part 2: Best Alternative to Google Photos
Your photos would upload to Google Photos with an internet network. Sometimes, you are not covered by a good network. In result, Google Photos won't backup videos and photos. Why not try an alternative, such as Apeaksoft MobieTrans.
Back up photos on iPhone or Android with a USB cable.
Let you preview all photos for selectively backup.
Keep the original quality while backup photos to PC.
Utilize hardware acceleration to improve the performance.
Support all iPhones and Android devices from major manufactures.
Download for Win
In short, it is the best alternative solution to back up your photos and videos when Google Photos works abnormally.
How to Back up Photos from Mobile to PC
Step 1 Connect mobile device to your PC
Launch MobieTrans once you install it on your computer. Then connect your iPhone or Android phone to the machine with a USB cable.
Tip: For iOS 13/14, you need to enter your passcode to build the connection.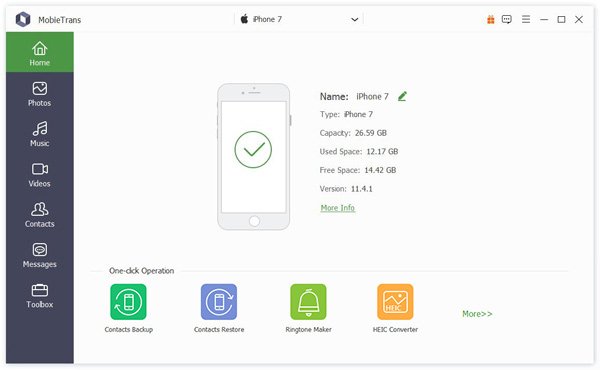 Step 2 Preview photos on your handset
Go to the Photos tab from the left sidebar and you can view all photos on your mobile device on the right panel. They are organized by albums and date. If you want to back up other data types, such as videos, head to the Videos tab to preview it.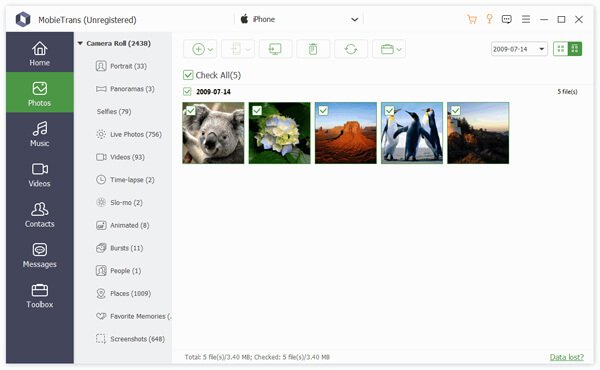 Step 3 Back up photos to PC quickly
Make sure to check all photos and videos that you intend to back up to computer. Then click the PC icon and select your machine. In the pop-up dialog, set a specific location to store the media files and start backup. When it is done, hit the Open Folder button to check if photos are backed up without Google Photos.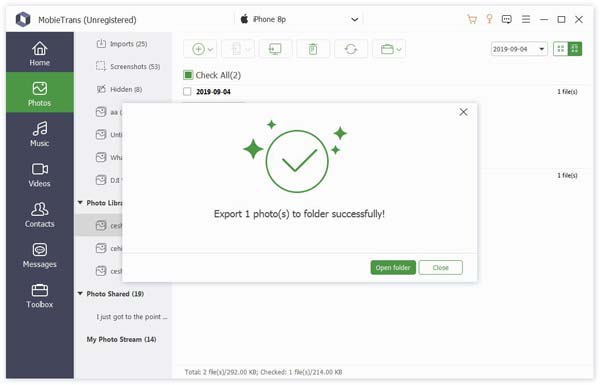 Part 3: FAQs of Google Photos Won't Upload
Why are my photos not showing in Google Photos?
Answer: There are several reasons why your photos won't show up in Google Photos, such as insufficient space, incompatible file formats. For instance, Google Photos will turn Live Photos to still images.
Google Photos can't upload item skipped
Answer: Some photos and videos are skipped while others won't when uploading them to Google Photos. The causes are complicated, like files are too large. We suggest you to try uploading them again. If the problem persists, you'd better pick up an alternative tool.
What is Google Photos file size limit?
Answer: Google Photos and other Google cloud services share the 15GB free storage for each account. The good news is that you can get unlimited storage in Google Photos for free, if you upload photos up to 16 megapixels, and videos up to 1080p. When it comes to full-resolution upload, your photos and videos will use the storage capacity.
Conclusion
This guide shows you a complete comparison between Google Photos and Amazon Photos. If you are looking for a cloud storage for photo backup, you should get your decision. On the other hand, we recommend a more cost-effective way, Apeaksoft MobieTrans, to sync your photos between mobile and computer. Have more questions related Google Photos vs. Amazon Photos? Please leave a message below.