"I just upgraded to iPhone 14, but all my data is still on my old phone, how to switch to a new iPhone?" It is exciting to get a new iPhone and toy with all the new features of iOS 16. However, data transfer is a big problem. There are several options for moving data to your new handset depending on your situation. This guide will demonstrate the easiest ways and concrete steps below.

How to Switch iPhones
Part 1: Ultimate Way to Switch to iPhone
For starters, you have to set up your smartphone and sync your data before enjoying your new device. That is a big problem for many people since there are too many products in the application market nowadays. However, rather than limited choices on the file type and a long time for backup processing, Apeaksoft MobieTrans will be your top option. It will help you switch between iOS and iOS or Android devices without any lags or delays.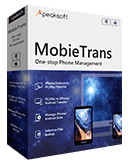 4,000,000+ Downloads
Share and transfer phone data from iPhone to Android and iPhone devices freely.
Support data transfer from your phones to PC at a super fast speed.
Preview and manage your iPhone data anytime and anywhere you want.
Select photos, music, videos, contacts, message, ringtones and more to back up.
Step 1Download and install this software based on your computer. In the main interface, you are allowed to connect your iPhone to the PC via two channels: a USB connector or QR code. Choose the one you prefer to.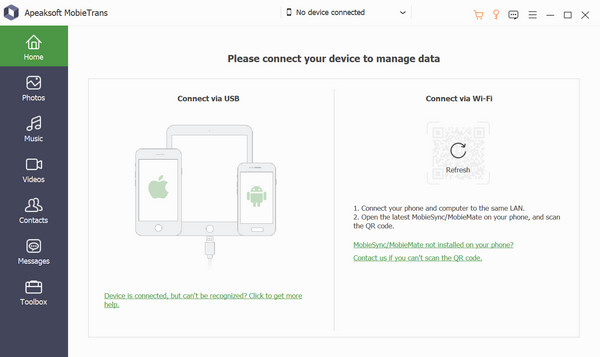 Then you can unlock your iPhone and choose to trust the connecting option. Then you will see the notice for a successful connection to continue.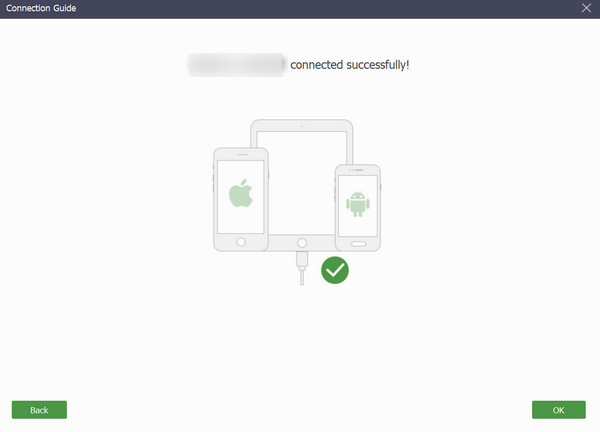 Step 2Then in the menu list on the left, you can click the Photos button and select the targeted file from different folders. Then move to the Transfer icon on the top.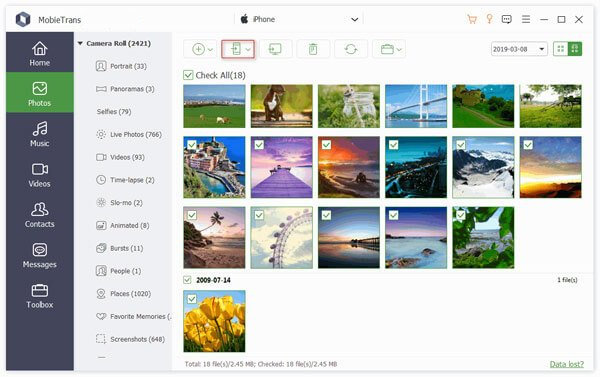 Step 3Select the phone device as the destination for data transfer and wait till you see a new window for the successful transfer.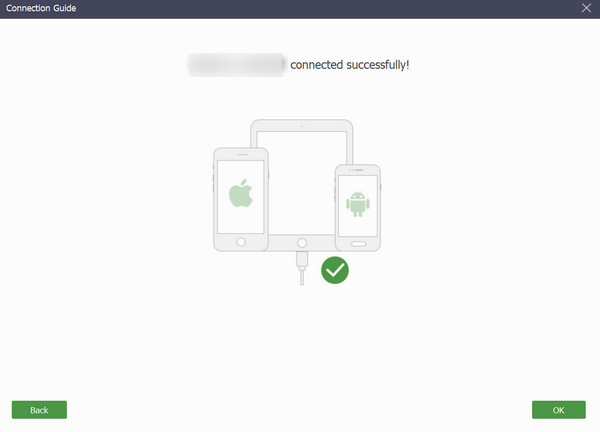 You can also switch to other sections on the menu list and repeat the same process. In the Home part, you are allowed to use the one-click operation to back up and restore your contacts, make ringtones, convert HEIC files and more as long as you want.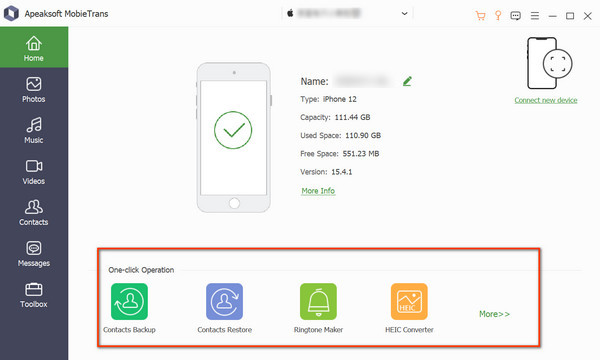 Part 2: How to Switch from iPhone to iPhone
Since iOS 11, Apple has introduced a new feature called Quick Start into iPhones and iPad. As its name indicated, it enables users to switch to a new iPhone quickly and directly. Obviously, it is a handy way to migrate your settings, apps, contacts, and more without a computer.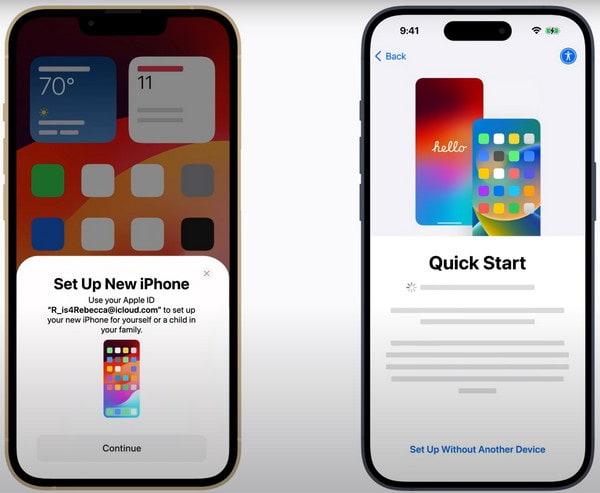 Step 1Back up your old iPhone to iCloud or a computer. Make sure to connect the two iOS devices to the same network, and enable Bluetooth on them.
Step 2Turn on your new iPhone, and begin to set it up from the Hello screen. When you reach the Quick Start screen, place the old iPhone close to your iPhone.
Step 3Tap the old phone and line up the image in the circle window. That authenticates the Quick Start transfer. When prompted, enter the passcode of your old device, and tap Continue to move on.
Step 4 Agree to Apple's terms and conditions, and read the alert carefully. Press the Continue button and the iPhone switch will start. You can check the progress bar to learn the process.
Step 5After data transferring, you will find the data are copied from the old iPhone.
Note : Quick Start feature copies all settings and data to the new iPhone. It is not available to transfer specific data to your new device.
Part 3: How to Switch from Android to iPhone
According to our research, some people switch to a new iPhone from an Android device in order to get exclusive features. To help these new iPhone users, Apple released a free app, Move to iOS. It migrates important data like contacts from Android to iPhone quickly. Here are the steps to do it.
Step 1Also, put the two devices on the same Wi-Fi network. Download the Move to iOS app from Google Play Store and install it on your Android phone.
Step 2 Turn to your new iPhone, and tap Set Up Manually when setting up the device. When you reach the Apps & Data screen, choose the Move Data from Android.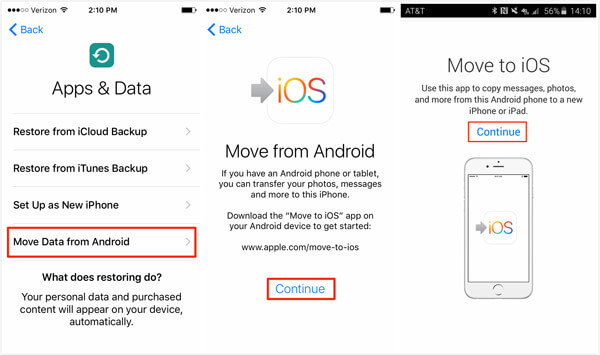 Step 3On your Android phone, run the Move to iOS app, and enter the One-Time Code displayed on your iPhone. Then the app will scan your phone and look for available data including contacts, calendars, photos, and more.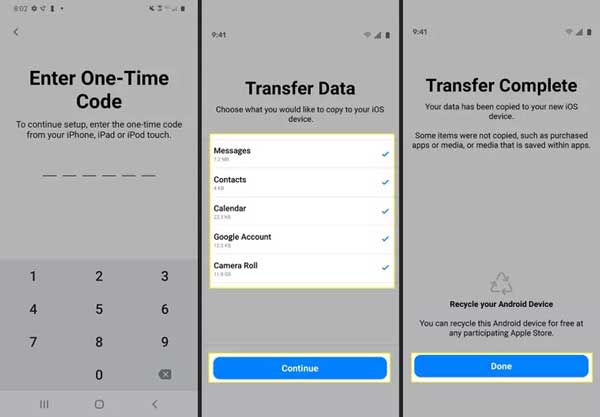 Step 4Select all desired data types, and press the Continue button to initiate switching to iPhone from Android. When it completes, you will get the Transfer Complete screen. Tap the Done button to confirm it.
Step 5On your new iPhone, continue the setup process.
Part 4: FAQs of How to Switch iPhone
Can I switch iPhones myself?
Yes, it is not a big problem if you have the right tool and a concrete tutorial.
Do I need to switch SIM cards when I get a new iPhone?
If you think about switching to a different carrier, you will need to get a new SIM card for your new iPhone. Or, you can simply move your original SIM to your new iPhone.
Does iPhone 14 need a SIM card?
No, iPhone 14 and 14 Pro in the US cannot be activated using a physical SIM card.
Conclusion
Following our guide above, you should understand how to switch to a new iPhone from an Android phone or another iPhone. The Apple's Quick Start feature and iOS app are convenient and safe ways to get the job done. Apeaksoft MobieTrans is the ultimate way to upgrade to a new iPhone from iPhone or Android with specific data. Do you have more questions now? Please leave a message below.