If you are a fan of Facebook, you must know Facebook provides an option of syncing all your contacts information with iPhone.
It is a very useful function when you want to contact your Facebook friends with a phone call or text message. However, some users who know this function recently may don't know how to import Facebook contacts to iPhone.
To sync Facebook contacts to iPhone, you have two choices to select. One is using your iPhone default settings to import Facebook contacts to iPhone. Another one is turning to some third-party applications for help.
No matter which way you want to choose, you can find the guide in this article. We will show you how to sync Facebook contacts with iPhone in the basic way and introduce you 3 related programs. You can also get the tips when you sync Facebook contacts to iPhone. Just begin reading and learning.

Part 1

. Sync Facebook Contacts with iPhone Default Settings

iPhone provides you a basic way to sync Facebook contacts. Once you have installed Facebook on your App, it is fairly easy to import Facebook contacts to iPhone. This default way requires you to sign in your Facebook account with your email address and password. If you forget one of them, it can be difficult to finish the process. Now you can follow the next steps to sync Facebook contacts with iPhone.

Step 1: Visit Settings app on your iPhone. Then scroll down to find Facebook option. Just tap on it.

Step 2: Then enter your Facebook's user name and password into the text filed. Make sure the email and password you typed are correct. Then tap Sign in.

Step 3: When you signed in successfully, you can see your name in the new window. Here you are allowed to turn on Calendars and Contacts, which means you allow these apps to use your account.

Step 4: At this point, you can see an option called Update All Contacts. Just tap on it to sync Facebook contacts to iPhone easily.

After that, you can open Facebook to see if the contacts have been synced. (Facebook not loading?)
If you do not want to update Facebook contacts to iPhone, just delete Facebook account on your iPhone.
Part 2

. 3 Programs to Sync Facebook Contacts with iPhone
Top 1: Sync Facebook Contact to iPhone with MyPhone+ for Facebook
The first recommended program you can use to sync contacts to iPhone is called MyPhone+ for Facebook. It is an all-in-one premium dialer, which can keep your contacts up-to-date with the latest pictures and information from Facebook to your iPhone.
It is a popular program among many users. Some users commented this software as the definite must-have application if you are finding the way to sync contacts and pictures on your iOS device.
With its built-in contact list, you can see your contacts with thumbnail photos. The process of browsing and calling contacts cannot be easier.
What's more, this program can help you view all your contacts birthdays in one convenient place. If you want to have a better way to sync Facebook contacts to iPhone, you can try this software, but you need to pay $0.99 to buy it.
Top 2: Sync Facebook Contact to iPhone with Sync.ME
The second powerful software which is strongly recommended to you is called Sync.ME.
It can identify unknown phone calls, and warn you from annoying spam calls, as well as add a caller picture to your contacts from not only Facebook, but also Twitter and Google+.
It is really a popular software, and over 15 million people users love to use this software to sync Facebook contacts to iPhone. With this app installed on your iPhone, you can enhance your contacts, for it can keep your contacts up-to-date with their pictures from Facebook and other websites.
Another wonderful feature is that it can merge iPhone contacts, create backup files for your contacts, background sync and much more. Moreover, it is free to download for use.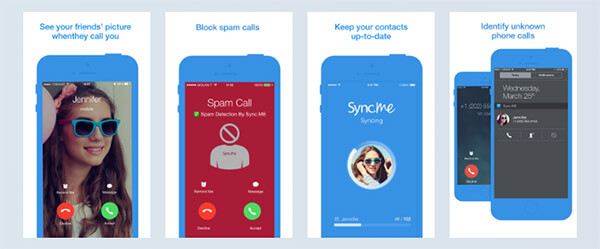 Top 3: Sync Facebook Contact to iPhone with FaceSync
As you can tell, FaceSync is also one of the best software you can use to sync Facebook contacts to iPhone. Nevertheless, different with others, this application concentrates more on syncing photos for your iPhone contacts with your Facebook contacts to iPhone.
After you have this program, when your friends call you, your iPhone will show your friends latest Facebook profile photo to you. In fact, this software can intelligently match your iPhone contacts with your Facebook contacts using a professional program with a database of nicknames. What you need to do is just simply loading up the app and start syncing out of the box. This software allows you to save your syncing preferences, so next time you can update all your contact photos just in one click.
It used to be free, but now it is 99 cents and only syncs your pictures. So consider careful before buying.

Part 3

. Tips for Syncing Facebook Contacts with iPhone

All the ways we introduce to sync Facebook contacts with iPhone are easy to follow. But there still are something you need to note during the syncing process.
Your iPhone won't update the contact information automatically when your Facebook friends make any changes. That means if there are something changed with your Facebook friends, you need to repeat the process of syncing Facebook contacts with your iPhone regularly and manually.
When you sync Facebook contacts to iPhone, your contacts on your iPhone will be updated, including the names. So after you have completed your sync, some named you previously saved on your phone will be slightly different. The new names are according your Facebook, so don't worry about it.
Some contact cards may disappear. In fact, you don't need to worry about this question. That is a feature of Facebook. It will automatically remove any contact who only have Facebook email address. Therefore, the disappearance of some contact cards makes up for some of the inconvenience of having to sync Facebook contacts to iPhone manually.
When you want to sync the pictures or other media files like videos, audio, etc., from Facebook to iPhone, you should use iPhone Transfer.
iPhone Transfer is the iOS data sync tool, which lets you share contacts, photos, videos, music, etc. between iPhone and iPhone/computer.
If you get pictures, videos, or audio files on Facebook on computer or iPhone, but want to sync them to another iPhone when getting a new iPhone, it will be the helper exactly.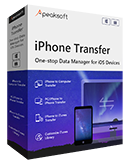 4,000,000+ Downloads
Sync contacts, pictures, videos, music from iPhone to iPhone.
Share data between iPhone and computer.
Transfer Facebook attachments, like photos, videos, music, etc.
Work for iPhone 14/13/12/11/XS/XR/X/8/7/6, iPad, iPod, etc.
Step 1. Connect iPhone to computer
Free download this software on your computer, install and run it immediately. Connect your iPhone to computer with the USB cable and this software will detect your iPhone automatically.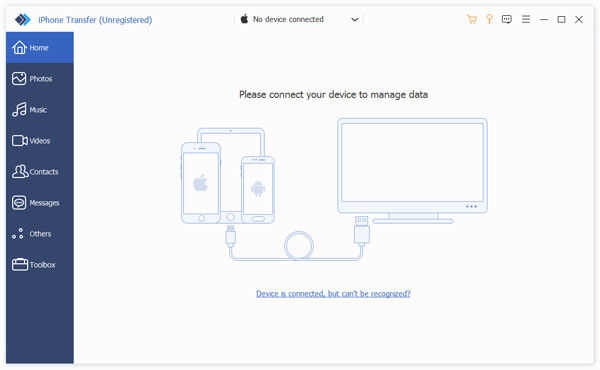 Step 2. Add Facebook photos to iPhone
If you have stored your Facebook photos online on your computer and want to add to your iPhone, just click "Photos" on the left sidebar, click the add button, navigate your Facebook photos or other data on your computer, and click "Open" to sync to your iPhone.
Part 4. FAQs About Syncing Facebook Contacts to iPhone
Will downloading Facebook data show deleted messages?
Facebook can hardly save your files for all periods, so you may not be able to find all your data on it since you signed up for Facebook. The data or content you deleted from this platform will also not reappear because they have been removed from the server.
Does Facebook keep your deleted messages?
Facebook can't recover deleted messages. If you delete your messages, you can only try to recover them from your device's backup. Of course, you can also seek help from the other party in the chat who sent it, as your deletion of the message does not affect the message they received. It should be noted that you cannot delete messages from the community chat if you are not the community administrator.
Why is Facebook taking up so much storage on my iPhone?
Running Facebook takes up a certain amount of memory, and the part that takes up the most memory space is the cache. These caches include data such as messages, pictures, videos, etc., that you have sent and received, and the amount may grow as you use Facebook. You can clear these caches regularly if needed, and it won't cause you to lose data. It's just that you may consume extra time the next time you open these messages.
Can you back up Facebook messages?
Sure. First, you can download the Facebook message as HTML or JSON directly in Facebook's Settings or just copy the message in Facebook and save it in TXT format. Or try to use third-party backup software to export the messages.
Are Facebook files and messages stored forever?
Facebook saves all your data and information by default if you don't actively set it to delete. However, you cannot rule out the possibility that Facebook will not work properly due to insufficient memory on your device. If your device indicates running out of memory space, you must clean it up in time to ensure the normal use of Facebook.
Conclusion
Here we show you some different but useful choices to help you sync Facebook contacts ith iPhone. Moreover, we also provide the tips for you to sync Facebook pictures, music, videos, and audio from computer to iPhone. f you still have questions or have other good ways to recommend, just contact with us. Hope you can gain what you want from this article.