"How can I sync all my devices and accounts together easily and efficiently?" According to recent survey, majority of people are suffering on the internet across devices and systems. Therefore, syncing data between Windows, macOS, iOS and Android has become an important skill. Of course, there are lots of tools that have such ability. SyncMate is one of the best multi-sync software, but what it can do, whether it is worth you to download, how to use it, etc. This review will answer these questions.

SyncMate Review
Part 1: Brief Review of SyncMate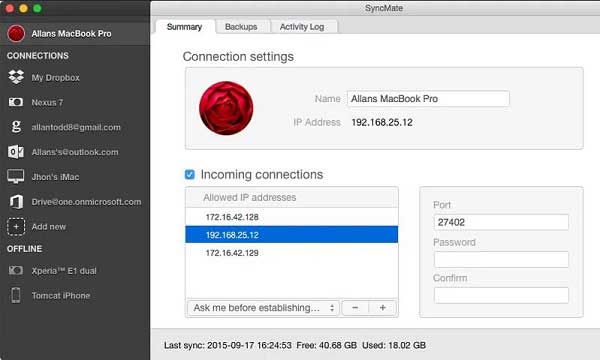 In post digital era, most of us are multi-device users. SyncMate is a useful tool for us to sync data crossing devices and operating systems. It provides two versions:
Sync Free allows you to sync your calendar event, contacts between Mac and Android or iPhone. You can also sync your files from Dropbox and Google accounts.
Sync Expert allows you to sync more data types and use advanced features, like AutoSync. With the Expert Edition, you also have the choice to select various parameters before syncing as well as convert files.
Main Features of SyncMate
1. Connect iPhone, iPad, and Android to Mac easily.
2. Sync contact, photos, calls, SMS, calendar, reminders, music, etc.
3. Support Android 5 or higher, iPhone and Mac OS X.
4. Back up entire handset to Mac in single click.
5. Offer a sync center to manage all your accounts.
6. Sync with cloud services using the sync engine.
Unbiased Review of SyncMate
PROS

1. It is an all-in-one sync application for Mac users.
2. SyncMate makes data syncing faster and easier.
3. The AutoSync feature simplifies the workflow of data management.
4. It is available to a wide range of data types, including Apple music.
5. It is able to edit, add and delete Safari bookmarks.
6. According to our research, SyncMate is safe and secure.
CONS

1. The free version only allows you to sync calls and calendar.
2. SyncMate is not available to Windows.
How to Sync Data between Android and Mac with SyncMate
Step 1Install the data sync software from Mac App Store or the official website. Then run it and click Add new under Connections.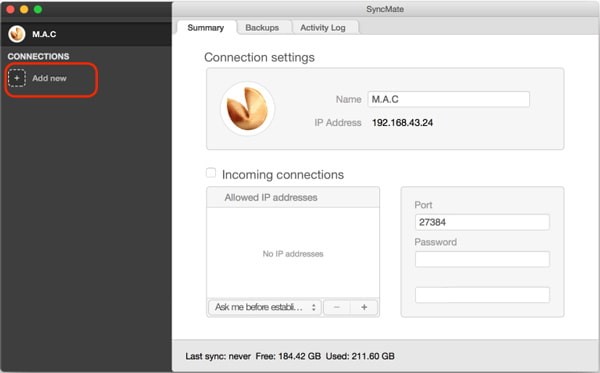 Step 2Choose your mobile device, such as Android Device, and select a connection way. SyncMate supports USB, Wi-Fi, and Bluetooth.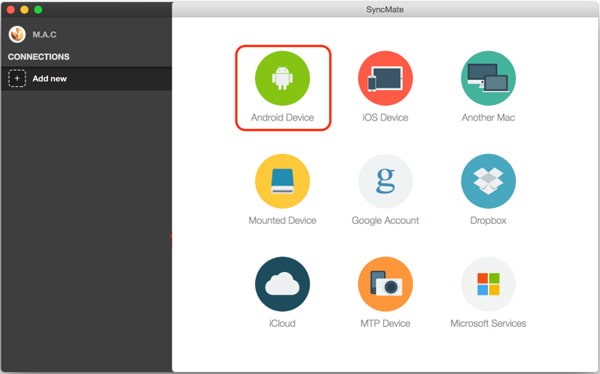 Step 3Next, turn to your Android phone, install the SyncMate for Android app on your handset and connect it to Mac according to your setting.
Step 4Once the connection is successful, you can select the data types that you want to sync. Remember that the data types available in Free and Expert version are different.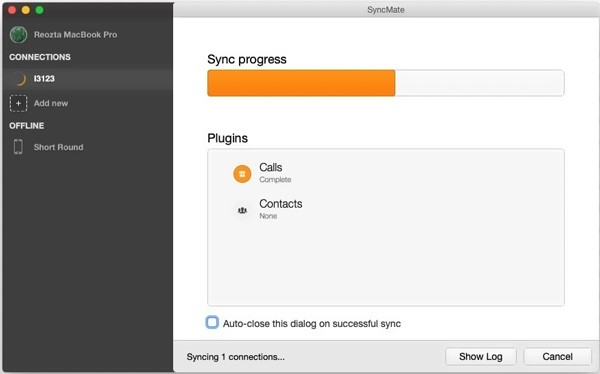 Step 5Click the Done button to confirm it and start syncing. Wait for the process to finish and check Android files on your Mac.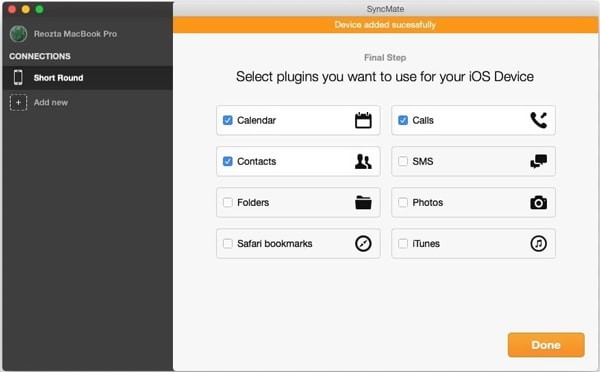 Part 2: Best Alternative to SyncMate
SyncMate is not the only choice to sync data from Android or iPhone to computer. Apeaksoft MobieTrans, for example, is one of the best alternative solutions. Compared to SyncMate, the latter is available to more devices and system. Moreover, it is pretty easy to use and beginners can master the syncing software without any technical skill.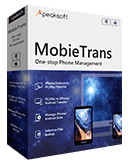 4,000,000+ Downloads
Sync data between iOS, Android, Windows and Mac easily.
Support a wide range of data types, like photos, music, contacts, etc.
Preview all data on mobile device for selectively syncing.
Keep the existing data on mobile device without damaging.
We use an Android phone and PC as the example to show you how it works.
How to Use the Best Alternative to SyncMate
Step 1Connect devices
Connect the mobile device to your computer with a USB cable. Then launch the best alternative to SyncMate and the software will detect your device automatically.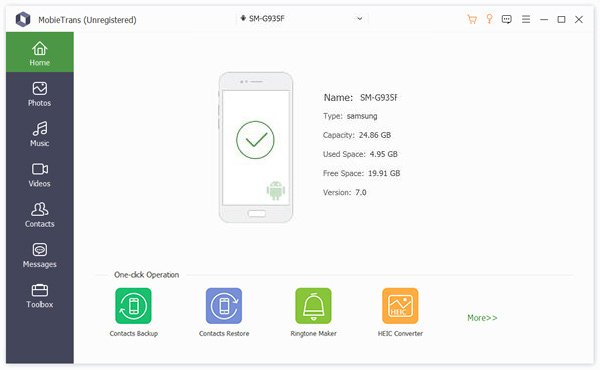 Step 2Preview data on mobile
After device scanning, all data will be organized by types. If you want to view photos, for example, go to the Photos tab from the left side and you will see all of them as thumbnail. You can preview them by date and album.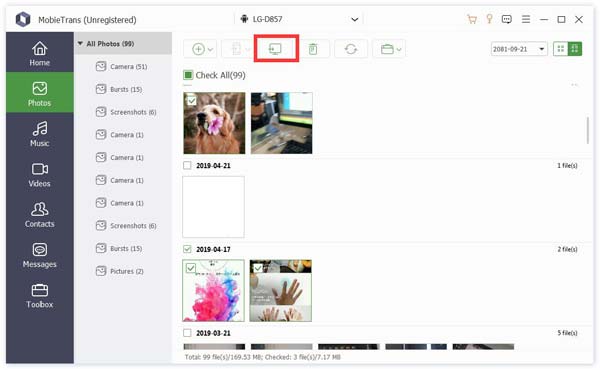 Step 3Sync data between Android and PC
Add data from PC to Android: Click the Add button with + icon, find and select the data that you want to sync to smartphone, and click the Open button. Then the data will go to your Android phone and merge with existing data.
Back up data from Android to PC: Select the target data and files, and click the PC icon at the top of the window. Then choose a folder and confirm it.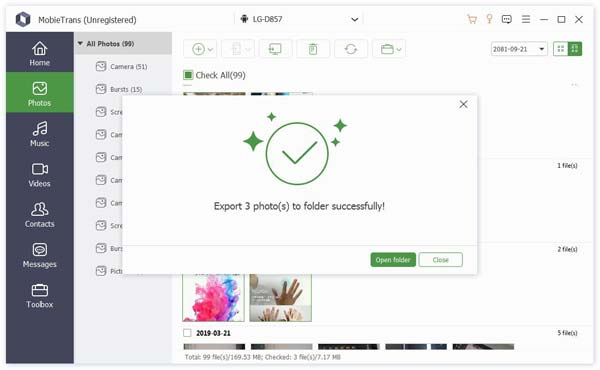 Note : If you want to sync data between iPhone and Android phone, connect the two devices to computer, select the desired data on source device and transfer to the target device.
Read More
Part 3: FAQs about SyncMate
How much does SyncMate Expert cost?
SyncMate Expert is affordable and costs $39.95 for up to 2 Mac. It also provides a Family plan costs $59.95 and available to up to 6 machines. For business use, a plan costs $99.95 for up to 10 Mac computers. To use it on unlimited devices, the cost is $199.95.
What devices and services do SyncMate support?
SyncMate is available to Android, iOS, MTP devices, iCloud, Google accounts, Microsoft Services, and external hard drives. The extensive device and service compatibility is one of the main reasons behind SyncMate's widespread.
Are online PDF tools safe?
It seems not to be safe to upload a confidential PDF file online for cropping. But those online PDF coppers claim that they will delete the uploaded PDF file within hours. You should think twice before cropping an important PDF file online.
How to Uninstall SyncMate on Mac?
Firstly, you need to download the special uninstaller from the website to your Mac. Run the file and follow the onscreen instructions to remove SyncMate from your disk. Then reboot your machine.
Conclusion
Now, you should understand what is SyncMate, what it can do, the benefits and disadvantages, as well as how to sync data with the software. You can make the best decision according to our review. If you do not like SyncMate, try the best alternative, Apeaksoft MobieTrans. More questions? Please feel free to write down your message below this post.