iBook app has the default share feature. You can share PDF, excerpts, links or even the book to others. But it is kind of time-wasting to share hundreds of books one by one. Want to move all books from the original iPad to a new one in a short time?
Many users have no idea how to transfer iBooks from one iPad to another iPad. If you have the same question, you just come to the right place. This post will show you 5 workable iPad books transfer tools. Thus, you can move downloaded books between iDevices wirelessly or via USB connection.

Part 1

: Transfer iBooks from iPad to Another iPad via Settings

It should be the most direct way to transfer iPad books to another iOS device. To be more specific, you can sync iBooks between two iPads without third party app.

Step 1. Put your two iPads under a same Wi-Fi network.

Step 2. Unlock the old iPad. Tap "Settings" > "iBooks" > "Sync Bookmarks and Notes"/"Sync Collections".

Step 3. Repeat above operations on your new iPad to receive iBooks.

Part 2

: Transfer iBooks from One iPad to Another with iTunes

You can backup iPad iBooks with iTunes first. Later, you can restore the new iPad with iTunes backup. Check here to learn what does iTunes backup.

However, the existing iBooks stored on your new iPad will be erased by default. So think twice before transferring iPad files with iTunes.

Step 1. Connect old iPad to computer via a USB cable.

Step 2. Run iTunes. Click your iPad icon and locate the "Summary" page.

Step 3. Turn on "This computer" and click "Back Up Now" under the "Backups" section. (Wait for a while to complete the process.)

Step 4. Plug your iPad to the computer. Then go ahead to iPad Summary page.

Step 5. Choose "Restore Backup" under "Backups".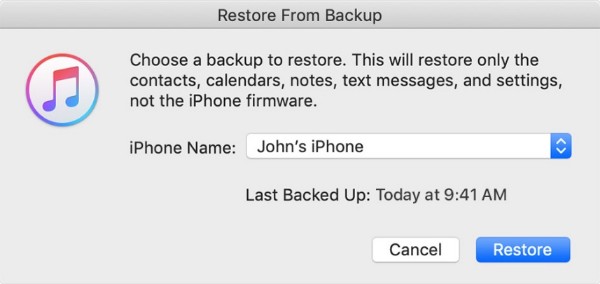 Step 6. Select the latest backup file. Choose "Restore" to transfer iBooks from iPad to iPad using iTunes.
Part 3

: Transfer iBooks from iPad to iPad Using iCloud Drive

iCloud Drive is the traditional file transfer for Apple users. You can transfer the entire iBook data to another iPad via Wi-Fi connection. Thus, be patient if the iBooks transferring process takes a long time.

Step 1. Open "Settings" app. Sign into two iPad with the same Apple ID.

Step 2. Choose "iCloud", then turn on "iCloud Drive".

Step 3. Trigger on the "iBooks" option.

Step 4. Transfer iBooks from iPad to another iPad wirelessly.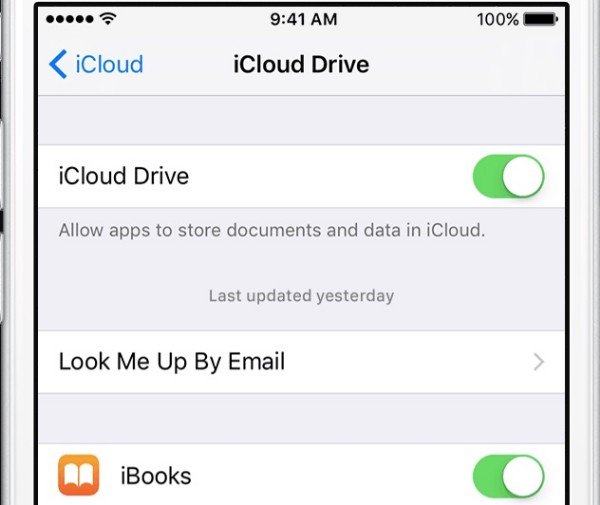 Part 4

: Transfer iBooks between iPad Devices with AirDrop

Actually, you can transfer iBooks from iPad to another iPad with Bluetooth by using AirDrop. Just make sure you are running iOS 7 and later versions.

Step 1. Connect your two iOS devices to the same network.

Step 2. Enable AirDrop and make yourself discoverable to everyone.

Step 3. Select the new iPad's name in the "My Books" screen.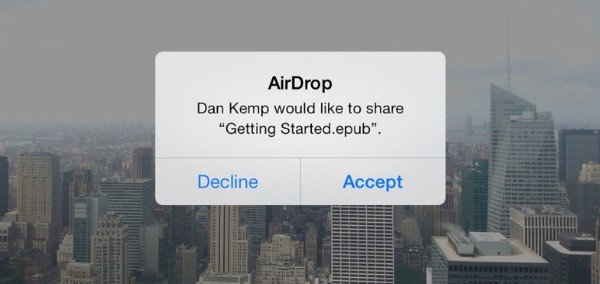 Step 4. Turn to your new iPad. Choose "Accept" to transfer iBooks ePub from iPad to another iPad with AirDrop. Check this post to learn more about how to AirDrop iBooks between iPhone, iPad and Mac.
Part 5

: Best Way to Transfer iBooks from iPad to Another iPad without iTunes

Actually, the above 4 iPad file transferring methods have different restrictions. For instance, you can only transfer purchased iBooks from iPad with iTunes. The Wi-Fi speed, file size limit and other factors also matter a lot. Thus, if you want to transfer several books from iPad to another iOS device safely, you can try iPhone Transfer.

You can transfer digital books, ePub, PDF, audio books, podcasts, playlists, albums, contacts, and almost all iOS file types between iOS devices. Different from iTunes and common file transfers, you can preview and select which data to move freely. It is also supported to import files from your iPad/iPhone/iPod to iTunes library without data loss.
Transfer iBooks, photos, movies, app data and other files from computer/iOS device to iPhone/iPad/iPod.
Transfer files from iPhone/iPad/iPod to your Windows/Mac computer.
Sync iOS files to iTunes library without data loss, iTunes errors, one-way transfer and other iTunes limits.
Support the latest iOS 17 of iPad Pro, iPad Air, iPad mini, iPad, iPhone 15/14/13/12/11, etc.
Fully compatible with Windows 11/10/8.1/8/7/Vista/XP and macOS X 10.6 or above.
Download for Win
Download for Mac
Transfer iBooks and ePubs from iPad to iPad selectively
Step 1. Connect two iPad to iPhone Transfer
Free download and install the iPhone transfer software. Use lightning USB cables to connect your two Apple iPad to the computer. You can activate the account with your email address and registration code.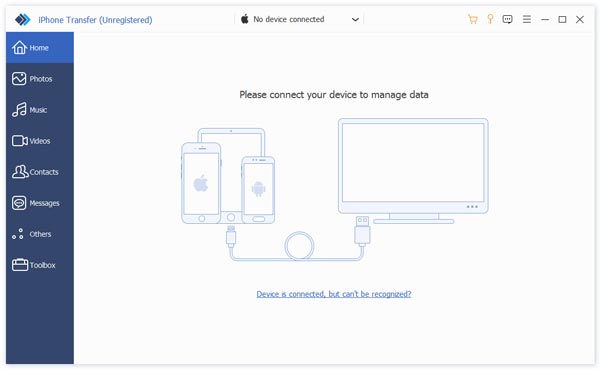 Step 2. Preview and select iPad iBooks
Choose your old iPad's name in the left panel. Later, click "Books" to see all available iPad books. You can double click any book to preview details. Do not forget to mark before the file you want to transfer to another iPad. It's OK if you transfer other files from the old iPad to a new one by the way.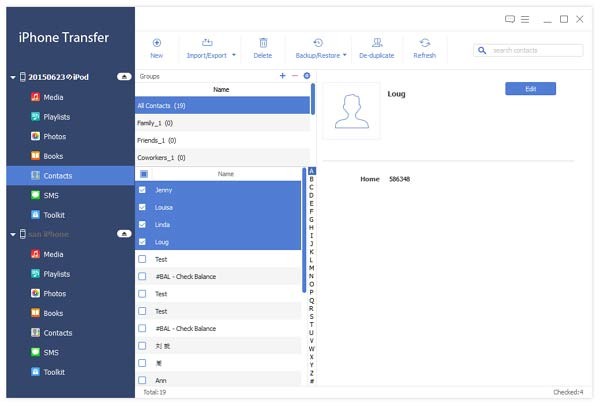 Step 3. Transfer iBooks from iPad to another iPad safely
After the customization, unfold the "Export to" menu on the top toolbar. Select "Export to [iPad's name]" to move the selected iBooks to another iPad. Do not disconnect your iPad while the file transferring process.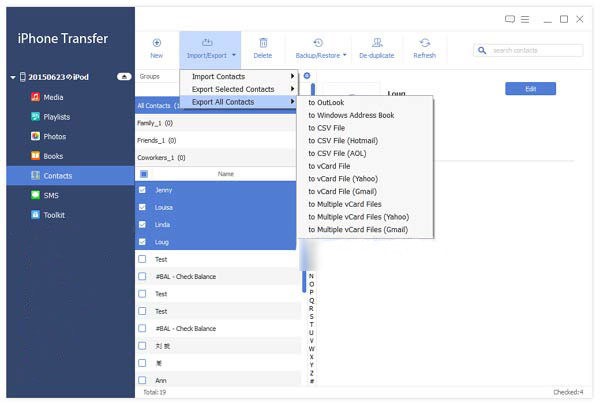 Therefore, you can transfer iBooks from iPad to another iPad easily, as well as other data types. If you want to get more customizable features, iPhone Transfer is definitely your best choice. You can transfer the chosen iPad files while preserving other iOS data in the original place. In addition, its intuitive interface is friendly to beginners. Whenever you encounter iOS transfer issues, you can free download iPhone Transfer for a try.
Part 6. FAQs About Transfer iBooks from iPad to iPad
Why can't I transfer data from the old to the new iPad?
The reasons for this situation are multifaceted. First, you must check if both devices are connected to a stable network. A broken network may make the transfer process interrupted. Secondly, the transfer may fail because the file is too large. Moreover, if your software glitches, the data of it will also not be transferred smoothly.
How do I retrieve my books from iBooks?
First, you should open the iBooks app on your device. Find Reading Now at the bottom of the interface, then tap it. Tap your photo on the top right corner of your screen, and find My Purchase. Choose either Books or Audiobooks > Not on this to check the books you get but not on your device.
How long does it take to transfer data from one iPad to another?
Generally speaking, transferring data from one iPad to another may take 2 to 3 hours. The exact hour depends on the size of the file you are transferring and the number of files you are transferring. In addition, the speed of the internet is also an important influence.
Can you transfer data from a broken iPad to a new one?
Sure. The more common way to transfer is through iCloud or iTunes. If you don't have backups on these two platforms, you can resort to third-party data recovery tools. However, it should be noted that the data in the software applicable to the iOS system can only be transferred to the Apple device, and devices using other systems may not be able to receive this information properly.
What is the limit file size for Apple Books?
The ideal size for Apple Books is under 1GB. However, Apple has officially set a maximum size limit of 2GB. so you need to ensure that your files are not larger than 2GB or that it will interfere with normal usage.