"I am trying to move the data from my Samsung Galaxy Note 6 to my new Galaxy S9. My contacts are linked to my Gmail but what I need is to move the photos. Do you know how to transfer photos from one Samsung phone to another? Please help me."
The new Samsung Galaxy flagship is really amazing, such as the 3D emoji. However, users may face some challenges on photos and images transferring between Samsung phones. Most major smartphone manufacturers not only launch advanced smartphones, but also developed services to provide better user experiences, for example Samsung's Smart Switch.
In short, we are going to share 3 simple ways to transfer photos from Samsung to Samsung.

Part 1: Transfer photos from Samsung to Samsung in one click
The easiest way to move photos from Samsung to Samsung is using Apeaksoft Phone Transfer.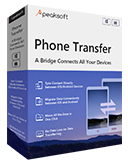 4,000,000+ Downloads
Transfer photos from Samsung to Samsung in one click.
Keep existing photos on both Samsung devices during transfer safely.
Besides photos, Phone Transfer works for videos, music, contacts and other documents, too.
Compatible with Samsung Galaxy S9/S8/S7/S6/S5/S4, Note 9/8/7/6/5 and more.
Step 1. Connect Samsung phone to computer
Free download this software to your Windows 10/8/8.1/7/XP computer. Install and run it. Plug both Samsung phones to your computer using USB cables.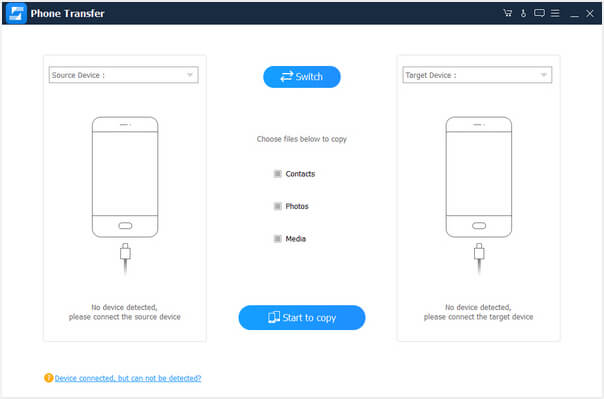 Step 2. Transfer photos from Samsung to Samsung
Make sure that the one Samsung phone is in the "Source Device" box and the other one is in the "Target Device" box. If not, hit the "Switch" button at top of the home interface to correct it.
Check the box in front of Photos. If you do not want to interrupt existing photos on the other Samsung phone, uncheck "Remove the chosen data on Target Device before copy" under the target device icon.
Finally, click the "Start to copy" button to start transferring photos from one Samsung phone to the other one.
Moreover Samsung to Samsung swtich, this tool also lets you transfer data from iPhone to iPhone, Android to iPhone and iPhone to Android.
Learn here
Part 2: Transfer photos from Samsung to Samsung using Smart Switch
Smart Switch is a well-known application to help users transfer photos from Samsung to Samsung. (Samsung Smart Switch not working?)
It uses Wi-Fi connection to move data between smartphones, so make sure that you have one available.
Step 1. Install the Smart Switch to both Samsung devices from Google Play Store. It is free of charge. If you have installed an old version on your smartphones, tap "Update". Then open it from the app tray, agree to the terms and conditions and then touch "Next" to move on. On the main screen, select "Android device" and then tap on "Start" to open the next screen. Repeat the same operations on the other Samsung phone.
Step 2. On the old Samsung phone, select "Sending device", and select "Receiving device" on the new phone. Then hit "Connect" on the both smartphones to pair each other.
Step 3. Next, you will be taken to the data type screen, scroll down to find the "Photos" option on your old phone and select it. Then tap "Send" on bottom of the screen. Switch to the new phone, and hit "Receive" to initiate the process.
Step 4. When it is complete, touch "Finish" on the new iPhone and quit Smart Switch. Now, you get photos from one Samsung phone to another.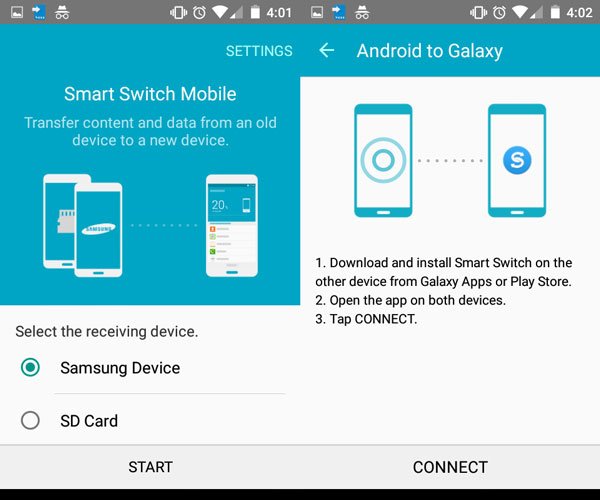 Part 3: Transfer photos from Samsung to Samsung via Bluetooth
Unlike Smart Switch, Bluetooth is a built-in technology available to most smartphones, including all Samsung phones. So, you can transfer pictures from one Samsung phone to another with Bluetooth. The benefit is that you do not need any app or extra devices. But it is slower than other methods related to photo transfer.
Step 1. Open the "Settings" app from app tray, and then toggle the switch of "Bluetooth" to turn it on. If cannot find the Bluetooth option, go to the Wireless & Networks section.
Step 2. Switch to the other Samsung phone and turn on Bluetooth as well. Wait for the previous phone show up on the device list, tap on it. Then you will be prompted to pair the devices on both smartphones, hit Pair to set up the connection.
Tip: Make sure to place both your smartphones in visible mode.
Step 3. Next, open the Gallery app on the previous Samsung phone. To transfer pictures, long press any desired one to switch to the select mode, and touch all pictures to transfer from one Samsung to another. Then tap the "Share" icon and then pick "Bluetooth".
Step 4. On the target Samsung phone, tap on "Accept" on the popup message to start receiving photos.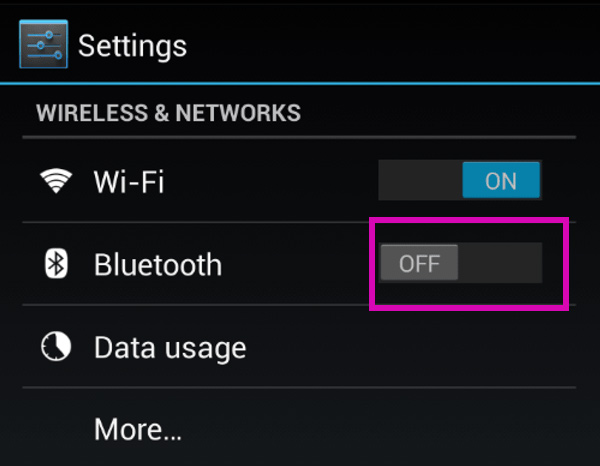 Conclusion
The photo is not a new way to record our life and wonderful moments. Any time when people see beautiful landscape or join a party, the first activity is to take out their smartphone and record it. In this tutorial, we have told you three best ways on how to transfer photos from Samsung to Samsung for various situations. Smart Switch app is a good option to sync all photos between Samsung phones at one time, though the setup steps are a bit complicated. Bluetooth is more suitable when you want to transfer a single or several photos. On the other hand, Apeaksoft Phone Transfer is a simple way to sync all photos from Samsung to Samsung. Now, you can make a better decision and follow our guides to get what you want.