This article will share a review of Tunesbro Phone Transfer. As the most popular operating system, Android is available to a wide range of smartphones, from the highest-end to the cheapest. It is important to keep important files even when you upgrade your device, like photos, videos, documents, apps, and more. How to migrate data from one smartphone to the other? The answer is phone transfer software, such as Tunesbro Phone Transfer.

Tunesbro Phone Transfer Review
Part 1: Tunesbro Phone Transfer Review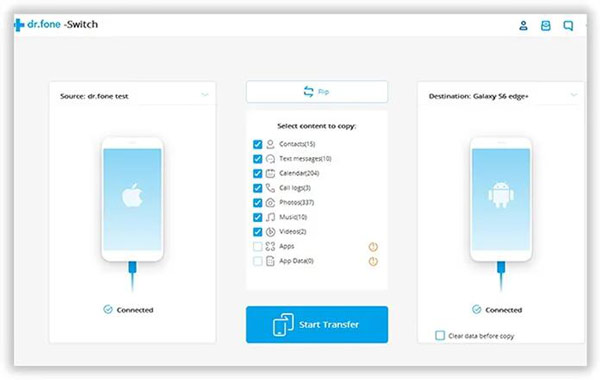 Tunesbro Phone Transfer is a phone transferring program developed for data migration between Android devices, iOS and Android, and more. You can download it for free and pay for $49.95 for license.
Main Features
1. Transfer data between to smartphones or tablets.
2. Support contacts, SMS, photos, music, apps and more.
3. Sync iTunes or iCloud backup to Android device directly.
4. Delete all data on the source device after migration.
5. Use the USB cable to sync data between smartphones.
6. Complete the process in 5 to 15 minutes.
Brief Review of Tunesbro Phone Transfer
Pros

It integrates a user-friendly interface and lets you find what you want easily.
Tunesbro Phone Transfer transfers data between smartphones directly.
It does not require network and is free of data leak.
You can decide the data types to transfer.
Since it relies on physical connection to transfer data, it is pretty safe.
Cons

You need to pay for the whole toolkit, although it is just a part.
It does not have advantage in price and functionality.
The supported data types are various depending on your devices.
You cannot preview the detail or do selectively transferring.
In short, Tunesbro Phone Transfer is a simple way to help you transfer and sync data if you have two mobile devices or intend to upgrade to new smartphone.
Part 2: Best Alternative to Tunesbro Phone Transfer
It cannot be denied that Tunesbro Phone Transfer can meet your basic need on data migration when you upgrading your smartphone. Apparently, it is not the only choice. Apeaksoft MobieTrans, for example, is one of the best alternative solution to migrate your data from one smartphone to the other.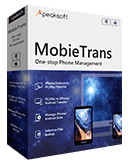 4,000,000+ Downloads
Transfer data between Android and iOS, Android, or computer.
Preview the detail of your files before transferring.
Automatically transcode the data according to the target device.
Manage your data on computer easily.
We use photo as the example to show you the workflow below.
How to Transfer Photos from One Smartphone to the Other
Step 1Connect the two devices
Open the best alternative to Tunesbro Phone Transfer once you install it on your PC. Connect the two smartphones to your computer with USB cables. Then the software will detect the two devices automatically.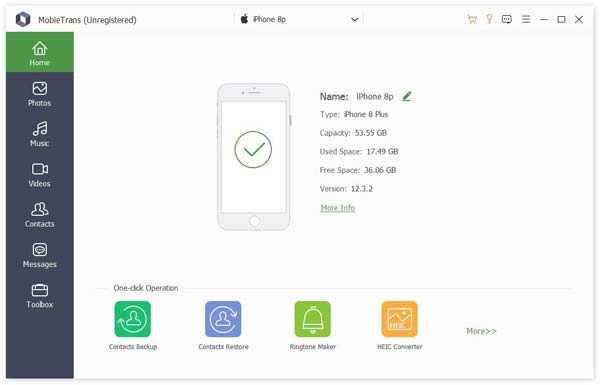 Step 2Preview files
Open the drop-down list and choose the source mobile device. Then you will be presented all data on it organized by types. To transfer photos, for example, go to the Photos tab from the left side. Here you can search for specific photos by date and album, delete unwanted photos, or back up some of them to your computer.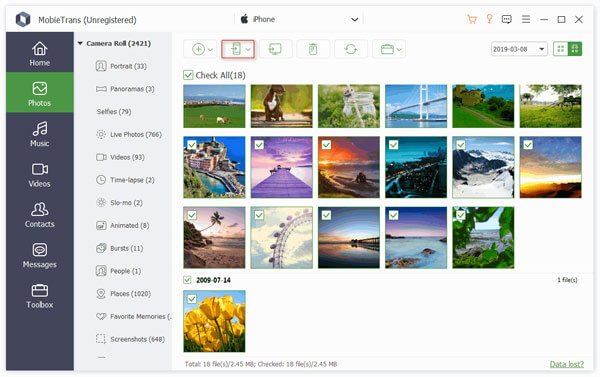 Step 3Transfer files between smartphones
Make sure to select the files and data that you want to send to the target mobile device. Then click the Phone icon at the top menu bar and choose the target device. Now, you can wait the Tunesbro Phone Transfer alternative to finish the job alone. Finally, disconnect the two devices and you will find the data on both of them.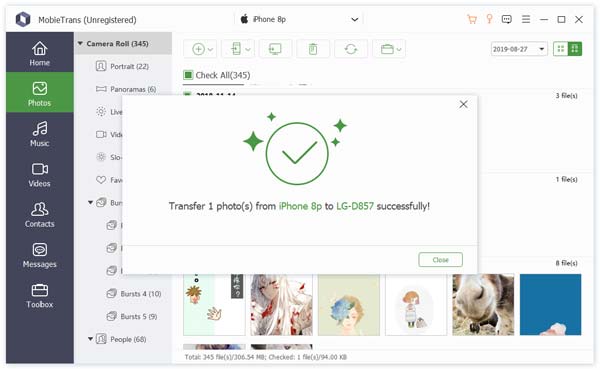 Related Reading
Part 3: FAQs about Tunesbro Phone Transfer
Where to download Tunesbro Phone Transfer for free?
Although you can download the software for free from the official website, it is not freeware and you need to pay for a license to access the full features.
Is Tunesbro Phone Transfer safe to use?
According to our research, it is safe and major antivirus software won't report malware when installing. Moreover, it does not ask network when working, so you do not need to worry about privacy leak.
How long does data transfer take?
It is difficult to answer and depending on your situation, like the performance of data transfer software, the amount of data and the way to transfer your data.
Conclusion
Now, you should understand what Tunesbro Phone Transfer can do in detail as well as the advantages and downsides. If you just hope to transfer media files from one smartphone to the other one, it can meet your need. For advanced features, you can try an alternative, Tunesbro Phone Transfer. It is easier to use and provides bonus tools. If you have other questions, please leave a message below this post and we will reply on it quickly.