iMobie AnyUnlock is an all-in-one software solution to help users unlock their iOS devices efficiently. Whether you are locked out of your iPhone due to forgotten passcodes or misplaced Apple ID credentials, AnyUnlock can provide you with a hassle-free unlocking experience.
In this full AnyUnlock review, we will explore the various aspects of AnyUnlock, a popular unlocking tool designed to unlock iOS devices. We will discuss its features, pricing, pros and cons and introduce a great AnyUnlock alternative.

AnyUnlock Review
Part 1. What Is AnyUnlock
AnyUnlock is a popular iOS unlocking program that offers effective solutions for unlocking various types of passwords and locks. Its ability to unlock iOS devices, remove Apple ID locks, decrypt iTunes backups, and more makes it an invaluable tool for fixing lock-related issues. It gives you a seamless and efficient experience to regain access to your iOS devices and files.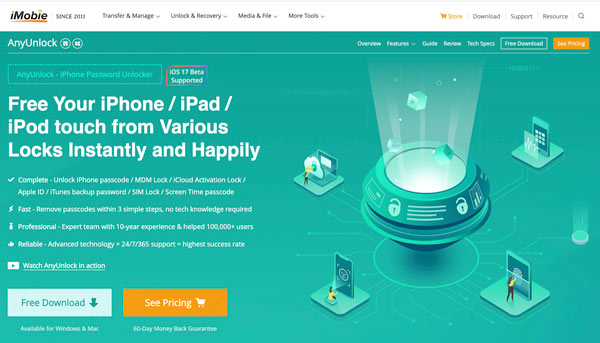 Part 2. AnyUnlock Review, Features, Price, Pros, and Cons
iMobie AnyUnlock is designed to offer efficient solutions for unlocking various types of passwords and locks. It can assist users in unlocking different iOS devices and files.
AnyUnlock Key Features
AnyUnlock offers a wide array of features to cater to different iOS unlocking scenarios. One of its notable features is the iPhone/iPad/iPod unlocker, which helps you unlock your iOS device when you have forgotten the lock screen passcode. The feature supports various unlock methods, including using a numerical passcode, a face ID, a touch ID, or even a custom alphanumeric passcode.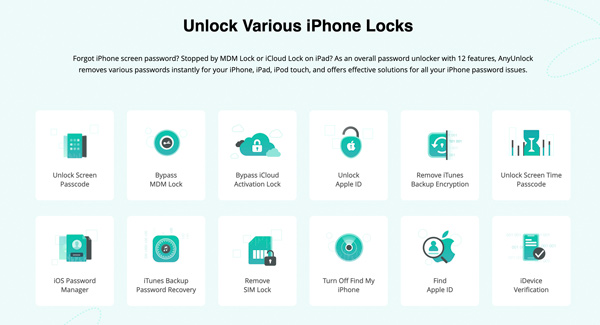 AnyUnlock provides an Apple ID unlocker that allows you to bypass Activation Lock or remove an Apple ID from your iOS device without needing prior account information. It can be particularly useful if you've purchased a second-hand device or want to use a different Apple ID on your device.
Additionally, AnyUnlock includes an iTunes backup password unlocker that lets you recover or remove your forgotten iTunes backup password, enabling you to access your encrypted backups effortlessly. Moreover, it can bypass SIM restrictions and remove local MDM.
AnyUnlock Pricing and Download
AnyUnlock offers flexible pricing options to cater to different user needs. For instance, its Full Toolkit subscription starts at $69.99/Year, the Unlock Screen subscription starts at $45.99/Year, and its Unlock Apple ID plan starts at $35.99/Year. Go to the product page of AnyUnlock and click the See Pricing button to check more details.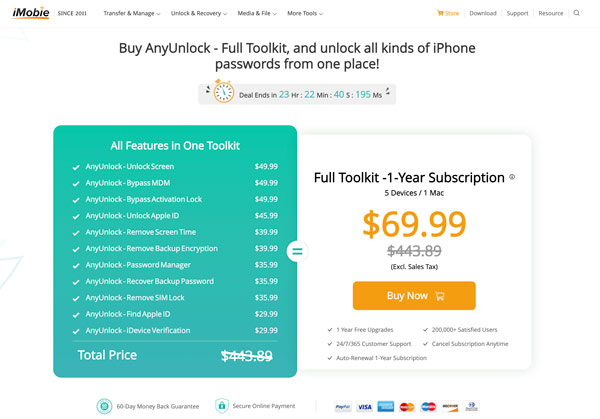 To download iMobie AnyUnlock on your Mac or Windows PC, visit its official website and click the Free Download button.
Pros and Cons of iMobie AnyUnlock
AnyUnlock supports various unlocking methods, catering to different user preferences and iOS device types. Whether you rely on passcodes, biometric authentication, or Apple ID credentials, AnyUnlock can help you unlock your devices. It has a sleek and user-friendly interface to guarantee an intuitive iOS unlocking process.
AnyUnlock goes beyond simple iPhone lock screen passcode recovery and offers solutions for Apple ID bypass and iTunes backup password recovery, providing comprehensive device unlocking capabilities.
Although AnyUnlock offers a trial version, its limited functionality may hinder users from fully exploring its features before purchasing. It currently supports iOS devices running on iOS 11 and later versions, meaning users with older devices may not be able to benefit from its services. Worse, many users have faced delays or interruptions during the unlock process.
Part 3. Best AnyUnlock Alternative to Unlock iOS Devices
If you are in search of an alternative iOS unlocking software, Apeaksoft iOS Unlocker is a highly recommended choice. It offers similar features and functionalities, including iPhone passcode unlocking, Apple ID unlocking, Screen Time bypassing, and DMD removal. This AnyUnlock alternative boasts compatibility with a wider range of iOS versions and has garnered a strong reputation for its ease of use and reliability.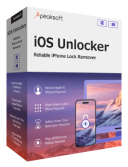 4,000,000+ Downloads
Best AnyUnlock alternative to unlocking iPhone and iPad passcodes.
Remove your forgotten Apple account and Apple ID password.
Wipe the lock screen passcode, Face ID, and Touch ID on your devices.
Remove MDM and Screen Time restrictions without losing iOS data.
Apeaksoft iOS Unlocker is a reliable and powerful alternative to AnyUnlock. It offers many features to help you unlock iOS devices securely. It lets you remove various locks, including Apple ID, screen passcode, Screen Time passcode, and MDM, without hassle. It supports the latest iOS versions and is compatible with Windows and Mac systems. Its user-friendly interface makes it easy for beginners and advanced users to navigate and unlock their iOS devices effectively.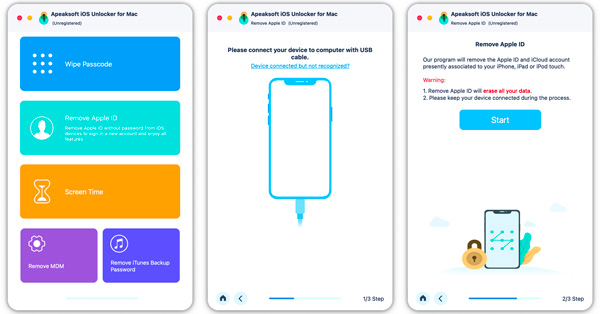 Part 4. FAQs of iMobie AnyUnlock
Does AnyUnlock remove MDM?
Yes, AnyUnlock can remove MDM (Mobile Device Management) from your iPhone. It is a professional tool specifically designed for unlocking various locks on iOS devices, including MDM locks.
Do all iPhones have MDM?
No, not all iPhones come with Mobile Device Management built-in. MDM is a software solution that allows organizations to manage and control mobile devices, such as iPhones, remotely. While iPhones can be enrolled in MDM solutions, it is not a native feature. Organizations typically deploy MDM software on iPhones to enforce security policies and streamline device management.
Is AnyUnlock iPhone password unlocker safe to use?
AnyUnlock iPhone password unlocker is generally considered safe to use. But, it's advisable to research and read reviews about AnyUnlock to determine its safety and reliability. Also, you should ensure download software from trusted sources and always have a data backup before attempting unlocking or password recovery methods.
Conclusion
This post gives you a detailed AnyUnlock review and introduces a great alternative. iMobie AnyUnlock can unlock iOS devices like iPhones, iPads, and iPods. It can unlock iPhone passcodes, bypass Apple ID locks, and even remove iCloud activation locks. However, if compatibility or trial limitations are of concern, Apeaksoft iOS Unlocker provides a strong alternative that deserves consideration.