"Is there any simple way to compress a video online for sharing to my friends? I tried some free online video compressors to reduce the file size, but got a small-size file with poor image quality. I don't want to lose the video quality. Any help?"
Big-sized 4K 60FPS/1080p 240FPS and HD videos can offer you the fantastic visual experience. But when it comes to streaming, sharing, or uploading these video files, you may want to reduce the video size.
Large videos require lots of bandwidth and take too much time to upload or download. So in many cases, your video won't be accepted if it's too large in size. Good thing is, you can compress video to reduce the file size. To do that, you can get help from the video compressor. Here comes the question, which video compressor you should use?

Video Compressor
With so many free online video compressors and professional video editors offered on the internet, which one can help you compress video up to the maximum without losing its quality? Here we make a list of 7 best video size reducers to help you small the file size.
Best MP4 Video Compressor [Recommended]
Video Converter Ultimate - Best Video Compressor for Windows/Mac
Compress MP4 video to a smaller size without any image/sound quality loss.
Reduce video file size by customizing video parameters, like resolution, bit rate, frame rate, encoder, etc.
Compress video by clipping and cropping unwanted parts.
Compress video in any popular formats including MP4, AVI, MOV, FLV, WMV, MKV, etc.
Powerful editing features like clip, merge, crop, watermark and adjust effects.
Enhance video to improve video quality in 4 ways.
Download for Win
Download for Mac
Part 1. Top 5 Free Online Video Compressor Reviews
How to striking the right balance between a small video file size and a high quality visual experience? You can rely on the video compressor. First part, we will introduce you with 5 best free video files reducers to help you compress video online.
1. Free Online Video Compressor
Apeaksoft Free Online Video Compressor is specially designed to free compress large file into smaller size. It can work as the any video file reducer to compress video in MP4, MOV, AVI, MKV, FLV, WebM, MXF, WMV, MTS/M2TS, M4V, and more.
Compress 4K UHD, 1080p/720p HD and common SD videos with fast speed.
Easy reduce video file size while keeping the original image/sound quality.
Adjust the output file size by dragging the size processing bar to get any size you need.
Compress the resolution to other resolution as auto or lower than the original resolution.
Preview the 10-second video effects after compressing the video file.
No watermark, no email or register-up and other limitations.

2. Free Online Video File Reducer - Clipchamp
Clipchamp is one popular online video compressing app which can help you turn your video into a smaller file size. With this free video compressor, you can save storage space and load video faster. It accepts a wide range of video resolutions including 4K, 1080p, 720p, 360p, and more.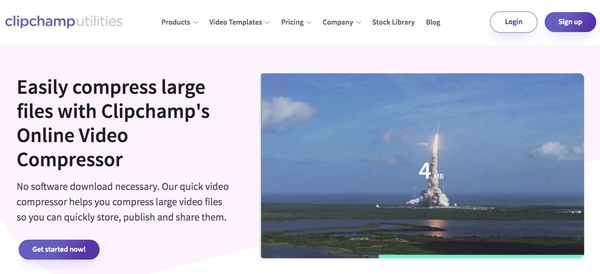 This video compressor is compatible with any frequently-used video formats like MP4, AVI, MOV, DIVX, FLV, 3GP, WMV, VOB, MKV and more. It allows you to compress a large-size video up to 20GB. It also includes a batch compression option to help you compress many large video files at a time.
Clipchamp is not a totally free online video file reducer. Free users will get watermarked output videos. What's worse, you have to log in with Google/Facebook account or email.
3. KeepVid Online Video Compressor
KeepVid Online Video Compressor can work as a great MP4/MOV compressor to compress video online for email, YouTube and other different needs. It fully supports Chrome and Firefox browser to reduce video size online with ease. Moreover, this free compressor can offer you a very fast video compressing process.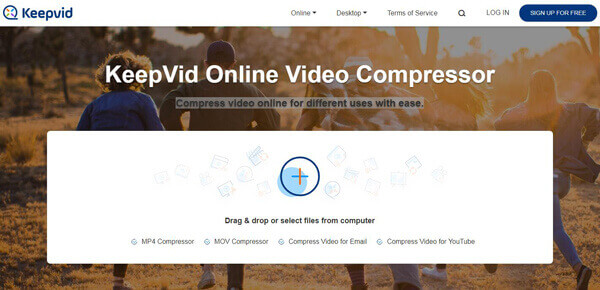 KeepVid Online Video Compressor carries the advanced settings option which enables you to select the resolution for output file. What's more, it guarantees that it will protect all users' privacy and won't host any user information.
4. Free Online Video Size Reducer - YouCompress
YouCompress Free Online File Compressor is a free online video compression tool lets you quickly compress video to a small size without quality loss and without reducing visual quality. It is compatible with MP4, MOV, MP3, PDF, PNG, JPG, JPEG and GIF files. The convenient feature of this free file compressor is that, there is no need to install any additional software on your computer.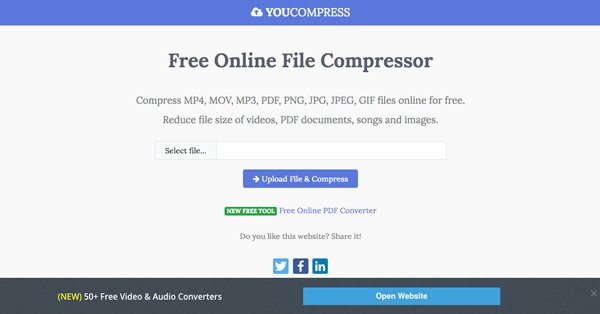 This video compressor app requires no registration. You can handily reduce the file size online without any watermark added. Moreover, it is totally free and there are no limitations on how many videos you can compress. The service of this free online video size reducer is cloud-based.
5. Online MP4 Video Compressor
PS2PDF MP4 Video Compressor is another popular online video compressing site which can help you turn file into a small size. It can work as an easy-to-use online MP4 video compressor to help you compress MP4 files without a limit. You can easily compress a video by setting Constant Rate Factor.

This free online MP4 video compressor supports any frequently-used video resolutions like 4K, 1080p, 720p, 480p, 360p, 240p, and other non-standard ones. You can also cut video, set video width and height resize video to a smaller size. The annoying part is, you can see many ads in this site.
Part 2. Top 2 Professional Video Compressors to Reduce Video File Size
With the online video compressors recommended above, you can easily compress a video. But using online tools to edit video, especially large-size file, will take really long time for the uploading and downloading process. Actually, you can rely on some professional video editors to reduce the file size.
1. Best Video Compressor - Video Converter Ultimate (PC/Mac)
Video Converter Ultimate is one all-featured video editor, enhance and converter which has the capability to compress videos. Almost all video formats are supported, such as MP4, MOV, AVI, FLV, MTS, M2TS, MKV, 3GP, SWF, WMV, and more. This lossless video compressor offers two kinds of solutions to help you small the video size. You can choose to clip video to only save the necessary parts, or lower the video resolutions and other options.
Step 1
Click the download button above to free install and launch this powerful video compressing software on your computer. When you enter the main interface, you can click "Add File" to load video(s) you want to compress.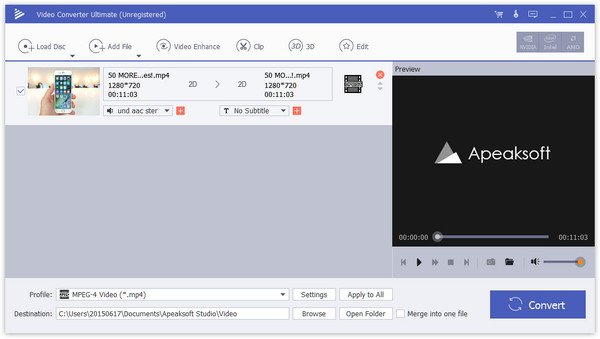 Step 2
Select the video and click "Settings" to enter the "Profile Settings" window. Here you are allowed to adjust "Resolution", "Video Bitrate", "Encoder" and other settings to reduce the file size.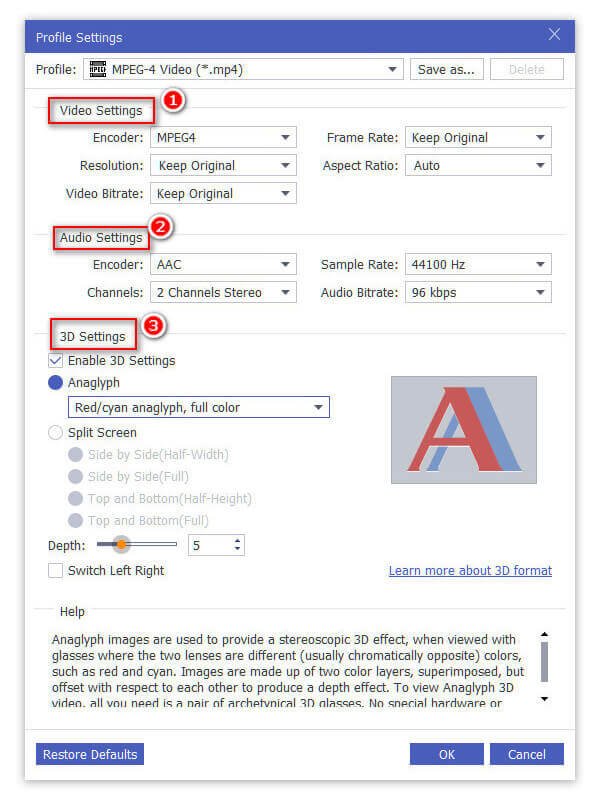 As we mentioned above, this video compressor enables you to cut video and only save the useful part. You can click the "Edit" button and then use the Clip feature to do that.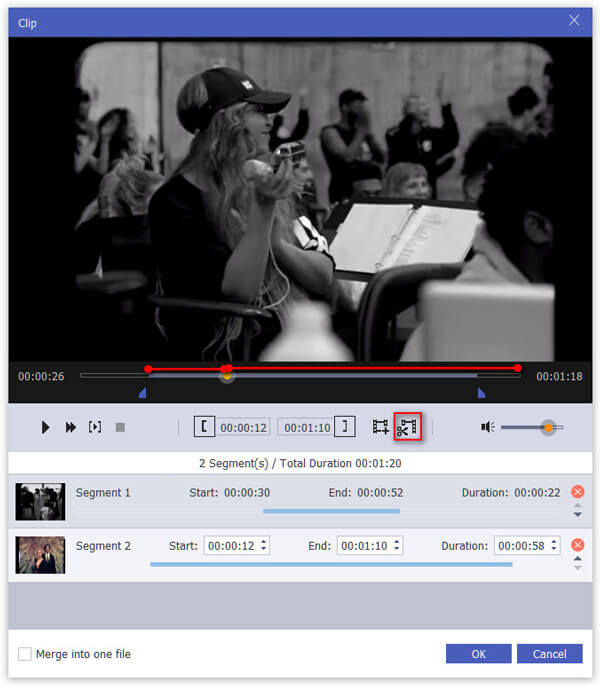 Step 3
Click "Profile" and choose a suitable output format from the drop-down list. Over 100 formats offered for you to choose from. Click "Convert" button to start to compress the video to a small size.
Before compressing the video file, you can use the video editign feature to rotate, flip, watermark, crop, and edit the video effects as you like.
2. Use VLC Media Player to reduce video file size
VLC Media Player is one very popular media files playing software. If you have VLC installed on your computer, you can also use it to compress the video. It is able to compress H264 to HEVC with 50% bit rate saving, and convert video to smaller-sized file with ease. Also, you can choose to decrease Bit rate, frame rate and resolution to make that happen.
Step 1
Open VLC on your computer. Click "Media" button on the menu bar and then choose "Convert/Save..." option.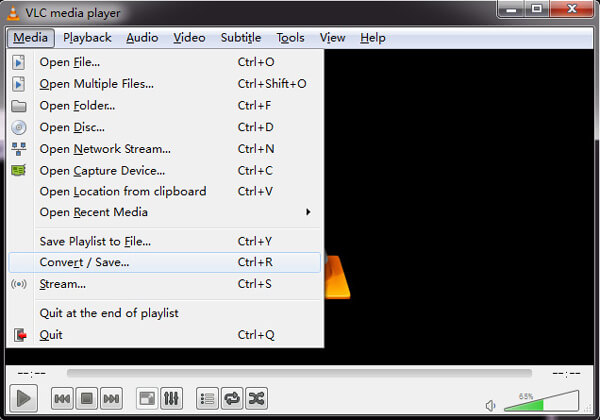 Step 2
Choose one or more videos to open via "Add" button. Then click on "Convert/Save" button at the bottom part of the window.
Step 3
Click "Profile" and choose a suitable video codec/format you need from the drop-down menu. Then click "Video codec" tab to lower the resolution and other options. By doing so, you can easily reduce the file size.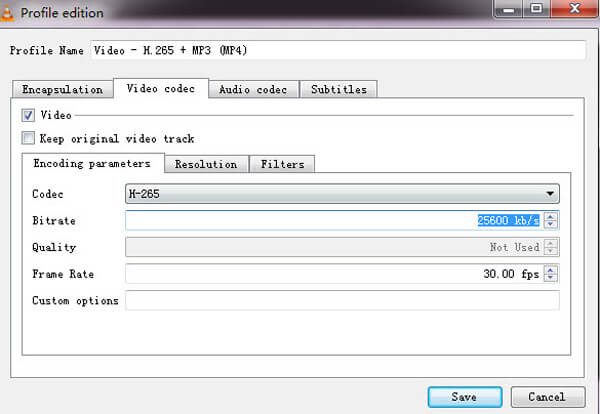 Step 4
Click "Browse" to name and locate the destination file. Then click "Start" to compress the video to a smaller size.
That's all for the 7 best video compressor reviews. After reading this post, you can handily compress your video to a smaller size for quickly sharing and uploading. If you have any better compressor recommendations, please share them with other readers in the comment.