In today's digital age, capturing and sharing videos has become integral to our lives. Changing the background color is one effective way to elevate your iPhone videos. If you do not know how to do it, you are lucky! This will guide you through changing the background color in your iPhone videos. This would help you to add a personal touch and enhance the visual appeal of your footage.

Change Background Color on iPhone Video
Part 1: How to Change iPhone Video Background Color on Vid.Fun
Do you want to change the background color of the iPhone video on other devices? You can try Vid.Fun app on your Android. This is a powerful video editor and maker on your mobile device. Besides the pure color, this software could help you change the video background with different templates. And you can even add another image overlay as the video background. Furthermore, more features of Vid.Fun are Video Trimming, Picture Cropping, Content Rotating, Video Adjustment, Video Filters, Text & Stickers, etc.

Features:
Have robust and various features to edit or create a video.
Change the video background with color and another image.
Output video with high resolution after changing the background.
Work with iPhone video without format incompatible issues.
Step 1 You can tap Add to add the iPhone video to Vid.Fun. Before you change the background of the video, you can also edit the video.
Step 2 You can also crop and change the ratio of the video. Then you can make the video fit with the background frame.
Step 3 There are many background colors and templated you can choose to apply for the overlay. You can also add an image as your background.
Step 4 After changing the background, you can preview the video. And then tap Save to save the video in your camera roll.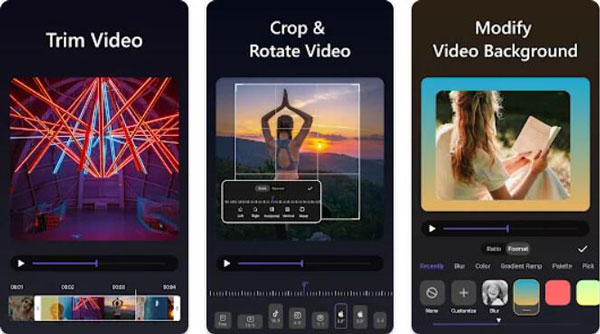 Part 2: How to Change Background Color on iPhone Video with iMovie
You will need to use a video editing app to change the background color of a video on an iPhone. One popular option is iMovie, available for free on the App Store. You can use iMovie to slow down, speed up, or even combine videos on your iPhone. But, if you want to change the video color on iPhone with iMovie, you can only apply some solid color. Here's how you can use iMovie to change the background color in your iPhone video:
Step 1 Open iMovie and tap Add with a plus icon to start a new project. And then tap Movie to create a new video project.
Step 2 Tap Add, and you'll find various options to add to your current video. Then you can tap Background to choose a color.
Step 3 You can experiment with options like hue, saturation, brightness, or even apply a specific color filter.
Step 4 Once you're satisfied with the background color changes, tap Done to save your edited video.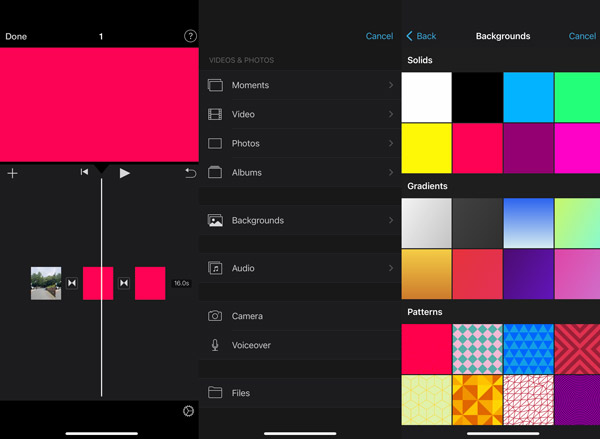 Part 3: FAQs about Changing iPhone Video Background Color
Can I apply different background colors to different sections in a single video?
Yes, most video editing apps allow you to apply different background colors to different sections or scenes within a single video. This can be achieved by cutting the video into segments or using keyframe animations to change the background color at specific points in the timeline.
Can I change the video background color while preserving transparency?
Yes. Preserving transparency in a video typically requires using specific file formats that support transparency channels, such as the alpha channel. While some video editing apps may support this functionality, it is more commonly associated with advanced editing software on desktop platforms.
Will changing the background color affect the original lighting and exposure?
Yes. When changing the background color may subtly affect the perception of lighting and exposure in your iPhone videos. However, modern video editing apps allow you to maintain the desired visual balance. And you should change the iPhone color to the same as other devices so you can watch the video in the same color.
Conclusion
By following these simple steps, you can unlock a new level of creativity and visual impact by changing the background of your iPhone videos. Whether you're a casual video enthusiast or a content creator striving for perfection, the ability to change the background color on your iPhone videos opens up endless possibilities. So, why wait? You can easily change the background color with Vid.Fun if you want more color options.