"I want to quickly upload a video on YouTube, but the file size is so big that YouTube refuses to host it, how can I compress video for YouTube without cutting corners on quality?"
You may encounter the similar problem since video files are easily to become large and surpass the maximum file size. Moreover, it takes much time to upload large video files to YouTube especially if your internet connection is not very good.
The only way to speed up the process is to compress your videos for YouTube. You can learn the details from the article below.

Compress Video for YouTube
Part 1: Does YouTube Compress Video?
YouTube has become the most popular social media platform for discovering videos and getting entertainment. Today, trillions of people across the globe visit YouTubes to share their videos or view others creatives.
However, does YouTube compress automatically? The answer is yes.
Apart from offering the editing features on YouTube, it does compress your videos to make video stream better and offer the best experience. It integrates a technology called Adaptive Bit Rate. Once you upload a video to YouTube, it will be converted to MP4 automatically. Moreover, YouTube is able to adjust the resolution and bitrate of your videos according to optimum quality. That is how YouTube compress a video.
Part 2: The Best Way to Compress Video for YouTube
According to YouTube, the permitted YouTube video size is 2GB. As device development, we can make 4K videos with smartphone simply. However, it will become a problem when uploading the video to YouTube. From this point, we recommend Apeaksoft Video Converter Ultimate. It offers multiple ways to compress videos for YouTube.
1. Adjust resolution, bitrate and codec for compressing videos.
2. Support all video and audio formats including MP4, AVI, MKV, etc.
3. Optimize video and audio quality while compressing videos for YouTube.
4. Batch handle multiple videos at the same time.
5. Offer extensive video editing tools, such as trim, clip, crop, and more.
In short, Video Converter Ultimate is the easiest way to compress your video files for YouTube.
How to Compress Videos for YouTube in Batch
Step 1 Install the YouTube video compressor
Once you download and install Video Converter Ultimate to your PC, launch it. There is a dedicated version for Mac. Click the Add File menu on the top of the window to add the video files you want to upload to YouTube. Or you can drag and drop the video files into the home interface directly. Then the video files will appear in the library area.
Step 2 Preview and edit your videos
Firstly, you can preview the video files with the media player on the right side. If your video is very long, you'd better split it for uploading on YouTube. Click the Clip menu on the top ribbon to open the Clip window. Here you can remove unwanted parts by resetting the starting and end points, or split it into clips. Hit the OK button to confirm it and go back to the home interface.
More features for editing the videos for YouTube, you can check it here.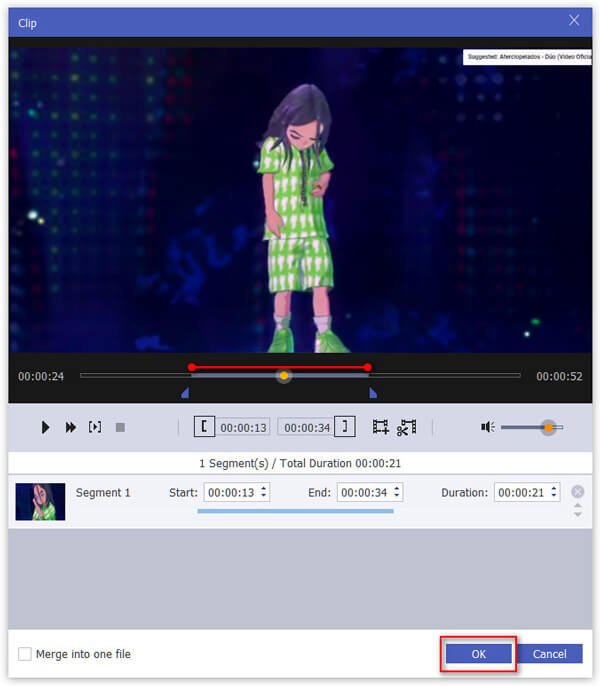 Step 3 Compress videos for YouTube
Move to the bottom area in the home interface and click the Settings button to open the Profile Settings dialog. Choose MP4 from the Profile drop-down list and hit Save as button to set the destination location. Set Resolution and Video Bitrate to lower level. Make sure to choose H.264 from Encoder and click OK to confirm it.
Finally, check the desired videos in the media library area, and click on the Convert button at the bottom right corner to start compressing videos for YouTube.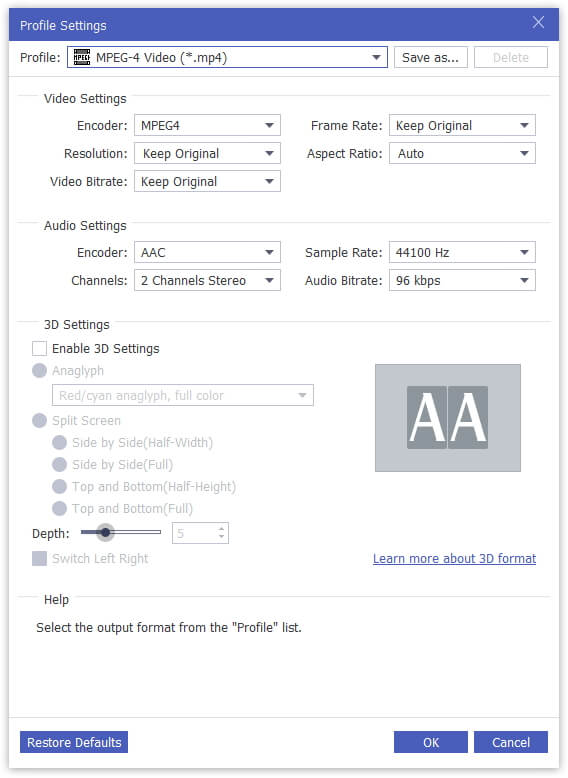 Part 3: Compress Video for YouTube Online
For people who do not like to install software on their computers, web-based video compressors are another option to compress videos for YouTube. Here are two online YouTube video compressors below.
Method 1: Compress Videos for YouTube with Free Online Video Compressor
Apeaksoft Free Online Video Compressor is the best way to compress videos for YouTube online. It does not have file size limit. Moreover, you can process multiple video files per compression. No matter you are average people or advanced users, you can get what you want quickly.
Step 1 Visit the online video compressor for YouTube in your web browser. Click the Add Files to Compress button to get the launcher.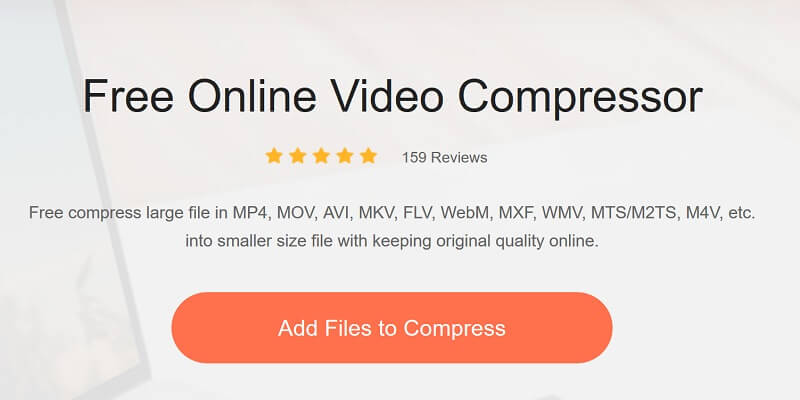 Step 2 Once the launcher pops up, click the Add File button to upload the videos that you intend to share on YouTube.
Step 3 When uploading is done, decrease the value of Size by moving the slider. Moreover, you can modify Format, Resolution and Bitrate to compress the video further.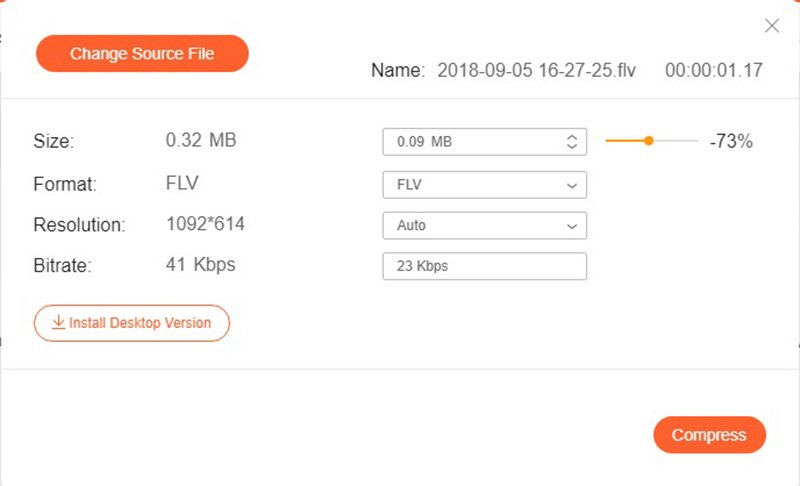 Step 4 If you are ready, click the Compress button to initiate the process.
Method 2: Compress Videos for YouTube by Online Convert
Online Convert is an online collection of file convertors and other tools. It has a video converter for YouTube with extensive presets to compress videos for YouTube.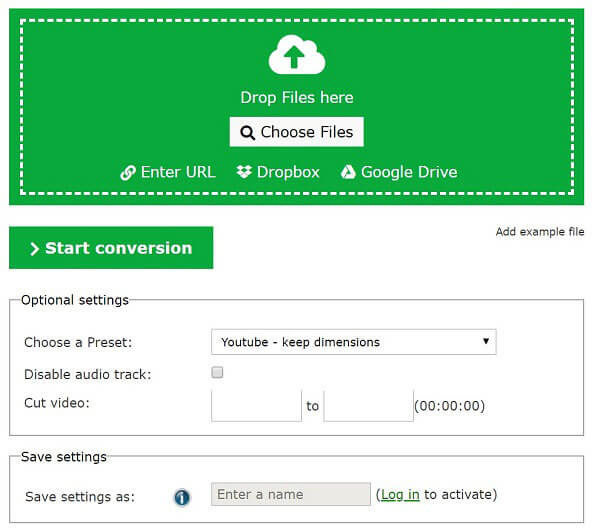 Step 1 Copy and paste https://webservice.online-convert.com/convert-video-for-youtube into the address bar in your browser, and hit Enter key to open the online video compressor for YouTube.
Step 2 Click Choose Files to upload the desired videos. Or import the videos from URL, Dropbox or Google Drive.
Step 3 Choose a proper option from the drop-down list next to Choose a Preset. Make sure the resolution is lower than the original video.
Step 4 Click the Start conversion button to begin compressing videos for YouTube. When it is complete, download the videos to your computer and then share on YouTube.
Conclusion
Before you share your videos to YouTube, you'd better compress them to meet the maximum file size. There are a lot ways to compress videos for YouTube and we shared the best ones above. If you have many video files or update your YouTube channel frequently, Apeaksoft Video Converter Ultimate can help you simplify the process. For compressing videos occasionally, you can try an online tool, such as Apeaksoft Free Online Video Compressor. If you have other trouble when compressing your videos, feel free to leave a message below this post.