Nowadays, a simple video is kind of boring. If you want to create some eye-catching content, you can make a video collage. It's okay if you have no experience in video editing. A good video collage maker can provide everything you need.
Just choose a video slideshow template and insert your video clips one by one. Add background music to your video collage. Later, add specific video effects with its built-in video editor. That's all. Now you can share your video collage to YouTube, Facebook, Instagram, and more.
Want to know how to make your first video collage? You can quickly find proper apps to put videos together on multiplatform.

Make a Video Collage
Part 1: Desktop Solution to Make a Video Collage
Apeaksoft Video Converter Ultimate provides dozens of video collage templates. You can combine up to 13 videos to make a video collage on your computer. The desktop video collage maker software allows users to resize any video clip window by dragging. Thus, you can customize any single video collage window freely.
In the filter section, you can analog many effects, such as warm, gray, sketch, stars, modern, etc. So if you want to make a video collage for birthday, party, or other activities, you can get satisfying results here.
Can you add background music to a video collage? Of course, the answer is Yes. Here you can keep the original audio track or make a video collage with downloaded songs. The adjustable volume slider and audio effect are easy to use. Furthermore, you can convert video formats and edit video clips within the program.
Apeaksoft Video Converter Ultimate
Make a video collage with up to 13 different videos and images on one screen.
Put videos side by side with free border size options.
Edit each video clip by clipping, resetting scale, adjusting position, etc.
Create a collage with videos and background music from all sources.
Save your collage video to 1000+ formats and devices with high quality.
Explore more video editing and converting functions outside the collage video maker.
Download for Win
Download for Mac
Step 1Free download, install, and launch the video collage maker software. Choose Collage on the top toolbar. Here you can make collage videos with music.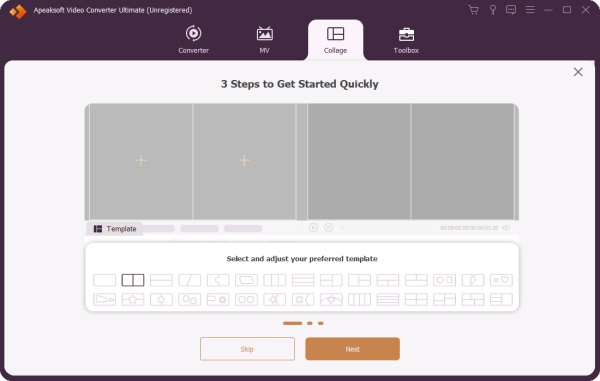 Step 2In the default Template section, choose a blank video collage template. You can change the collage layout ratio, border size, and color based on your need.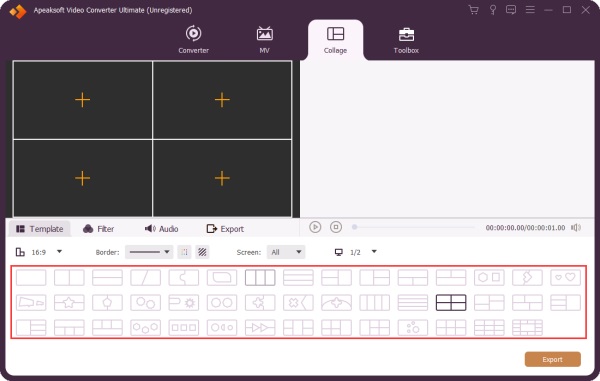 Step 3Click + to import your video clips one by one. You can add photos to your video collage as well. Hover your mouse over the video file to make further changes if necessary.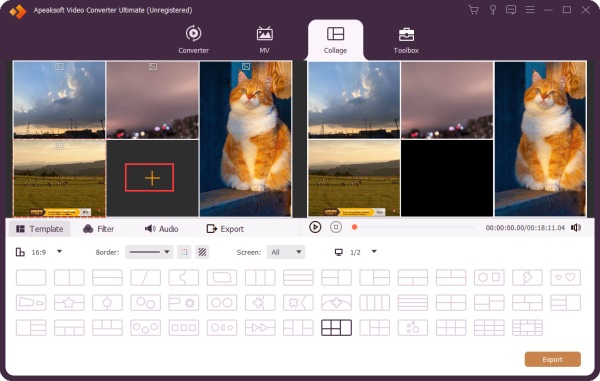 Step 4Go to the Filter and Audio sections. If you want to make a video collage with favorite songs, enable the checkmark before Background Music. Later, upload your background music file. You can adjust its volume, fade out, delay, and loop effects.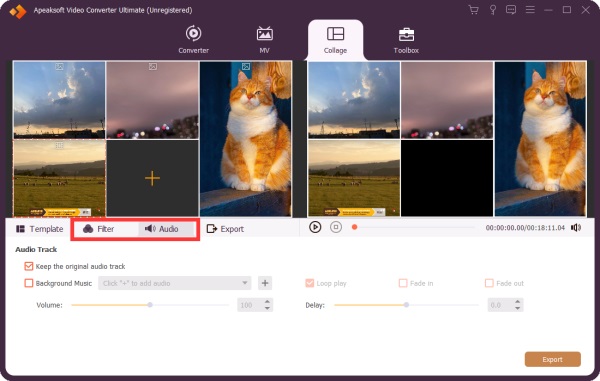 Step 5Click Export after customizations. Here you can rename, change video format/resolution/frame rate/quality, turn on GPU acceleration, and make other changes. At last, click Start Export to download your video collage with music.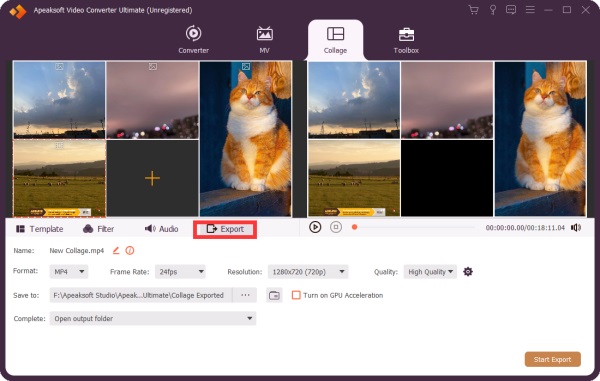 Part 2: Online Solution to Create a Video Collage
Online video collage makers offer more stylish stock images and elements. If you want to make a creative video collage, you can also try online collage creators. There are many tools that can make collage videos online, such as Kapwing, FastReel, InVideo, etc. Here will take Kapwing collage maker as an example.
Step 1Visit the collage maker online. Click Get Started. Then upload your content from local or online sources.
Step 2Adjust the position and size of each video file by dragging with your left-click mouse.
Step 3In the right Edit panel, you can rotate, add layer, set outline corner, and make more changes.
Step 4Click Export to download or share your newly created collage video.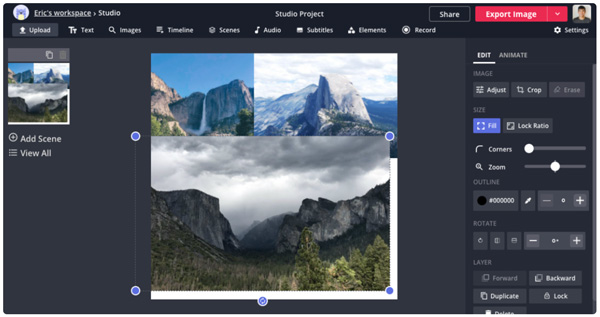 Part 3: Mobile Solution to Edit a Video Collage
As for mobile users, you can use apps that can put videos together to get video collages. What is the best app to make a video collage on iPhone and Android? You can check the following recommendations.
1. Scoompa Video Collage Maker – Video Collage Maker for Android App
It is a free video collage maker apk for Android users. You can select multiple layouts of photo or video collages. The wide support of text and stickers are also good to use. You can create a short video collage on Android with ease.
Create a video slideshow on Android with 100+ predefined layouts.
Add background music or custom sound tracks to your slideshow video.
Re-edit the collage video any time you want.
2. Vidstitch – Video Collage Maker App for iOS & Android
Vidstitch can combine videos and photos seamlessly on both Android and iOS devices. Compared with other side-by-side video apps, you can make a video collage for Instagram, Vine, Twitter, and many other social platforms. The GIF support can provide more possibilities. The Vidstitch crashes are frequently complained about by many users. According to its developer note, you can update to the latest Vidstitch version to bypass the problem.
Make a video collage with a song on Android with multiple frames.
Auto optimize video and photo collages for Instagram.
Post full size video clip without cropping via single frames.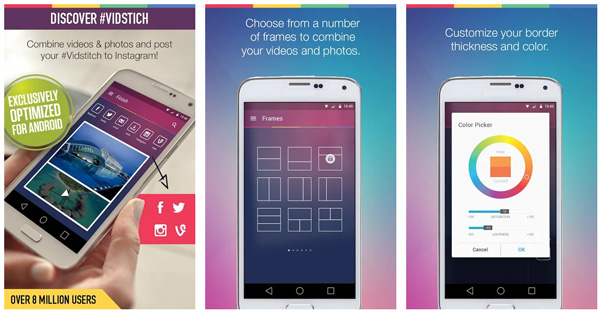 3. Adobe Premiere Rush – Video Collage Maker and Editor for iOS & Android
If you want to make a professional-looking collage video, you can take a look at Adobe Premiere Rush. You can drag and drop video clips to arrange the position. Moreover, you can trim, crop, flip, mirror, add stickers and overlays to create a video collage on iPhone and Android easily.
Make a collage of unlimited video clips with audio tracks.
Add original music, royalty-free soundtracks, loops, and sound effects to your collage video file.
Adjust video speed, add overlays, and unlock other advanced functions after upgrading.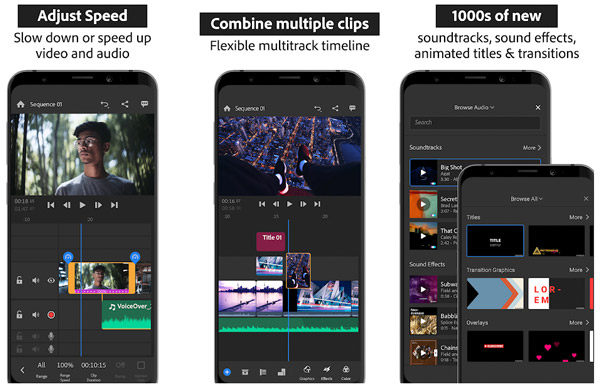 Here are steps for making a slideshow on iPhone, iPad, and more.
Part 4: FAQs of Making Video Collages
Can you make a video collage on iMovie?
Yes. You can use the iMovie split screen feature to combine videos side by side. Open iMovie. Import video clips into the timeline. Find and choose the Video Overlay icon on the top right corner. Choose Split Screen and adjust the side-by-side video effect. Later, you can make a split screen on Mac, iPhone, and iPad with iMovie. You can export MP4 in iMovie.
How to make a video collage on TikTok?
You can choose any tool mentioned above as your video collage for TikTok app. Choose a blank collage template. Add video clips or pictures. Later, you can export and share the collage video to TikTok.
Can you make a video collage with a live photo?
Yes. Live photos are animated pictures. You can create a video collage with live photo by using Apeaksoft Video Converter Ultimate. Head to its Collage maker to combine videos and live photos together.
That's all to make a video collage with music on multiplatform. You can use a video collage online, desktop, or mobile tools to solve the problem. Most video collage apps support putting 6 videos into one screen. If you want to unlock more features, you can run Apeaksoft Video Converter Ultimate. The program allows users to combine up to 13 video clips into a collage video. By the way, the above tools are workable to make a video collage on YouTube, Facebook, Instagram, Snapchat, and more.