Instagram allows you to post normal videos, Story videos, Reels, Live videos, and more on its platform. You may wonder how long videos can be on Instagram and the ideal Instagram video lengths for different types. This post will guide you to learn more about Instagram video length.

Instagram Story Video Length
Part 1. Instagram Video Length Requirements
Depending on the specific video type you posted, Instagram video length can be between 3 seconds and 60 minutes. This part will tell you the related Instagram video length limits of Instagram Story, Instagram Live, Reel, IGTV, Feed, Ads, and more.

Instagram Story video length
Instagram Stories allow you to post a video of up to 15 seconds. When you upload a longer video, Instagram will automatically split it into individual videos of 15 seconds. For instance, you can record a maximum of 60 seconds at once and upload it to Instagram. The platform will break it up into 4 Stories with 15-seconds each.
Instagram Feed video length
You can upload a video to your Instagram Feed between 3 seconds- 60 seconds. When you get a video longer than a minute, you should select a 60-second frame within the app and then post it. But the real Instagram Feed video limit is 60 minutes. You need to add more clips to your video or repeat the same clip to make a loop effect. When people watch your video from your Instagram Feed, they will see the first 60 seconds of the video as Preview. After that, they can choose Keep watching to view the rest of your video.
Instagram Reels length
Reels can be Instagram's version of TikTok videos. You are suggested to post short and entertaining videos in Instagram Reels. The video is limited to 60 seconds in length.
Instagram Live time limit
You can stream for up to 4 hours when you go live on Instagram. If you need to go live for more than 4 hours, you can restart your live session and can pick up where you left off. Moreover, Instagram allows you to save can pick up where you left off.
Instagram IGTV video length
Instagram allows you to post an IGTV video for up to 10 minutes from your mobile device and 60 minutes from a computer. After you post an IGTV video on Instagram, others can only see a preview of 15 seconds. For more content, they need to press Keep watching to continue watching it.
Instagram Story and Feed video ads
The length of Instagram Story video ads is limited to 15 seconds. The Feed video ad length is between 3 seconds to 120 seconds. When you want to check your posted ad on Instagram, you can upload it in Preview first and then press the Play button to view it.
Part 2. How to Edit and Trim a Video for Instagram Posting
Instagram offers many commonly-used editing features for you to edit your video before posting. While for some large videos that are not captured by your phone, you can choose to edit them on your computer using a professional video editor. Here we introduce you to an easy-to-use and all-featured video editing tool, Video Converter Ultimate. It can help you cut your video to a suitable length for Instagram without quality loss. Now you can free download it and follow the steps below to edit a video for Instagram sharing.
Step 1 Open this recommended Video Converter Ultimate, and click the Toolbox tab to display more tools. Here you can scroll down to select the Video Trimmer tool. In the pop-up window, you can add your video file to it.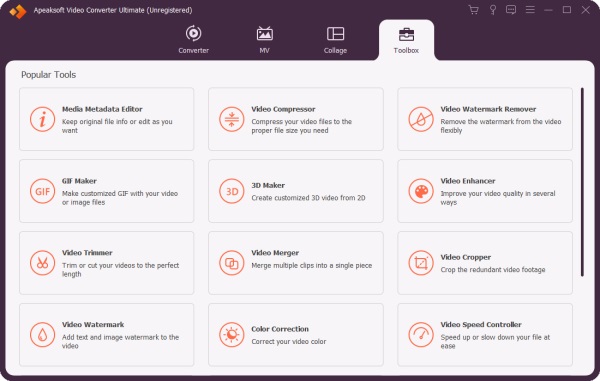 Step 2Check the Instagram video length requirements above and trim your video to a suitable length. You can move the trimming bars to cut the video. Moreover, you can use its Split, Add Segment, and Fast Split features. It also allows you to combine several video clips into one.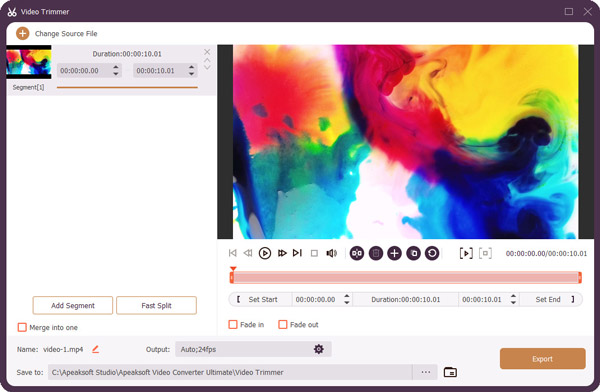 Step 3 There are many other useful tools and features designed in this video editor. You can use them to edit your video, customize its effects, and enhance its quality. After that, you can export your edited video and then upload it to Instagram.
Part 3. FAQs of Instagram Video Length
Question 1. What are the Instagram video resolution and size limits?
Instagram allows you to post a video with an aspect ratio between 1.91:1 and 9:16. You should upload a video with a minimum frame rate of 30 FPS and a minimum resolution of 720 pixels. The maximum file size for Instagram videos is 3.6GB.
Question 2. How to delete a posted Instagram video?/p>
To delete a video, reel, or photo that you've posted on Instagram, you can choose the post, tap the 3-dots icon, and then select the Delete option to remove it. Click here to learn how to delete Instagram accounts.
Question 3. Can I share someone's post from Feed to my Instagram story?
If their account is public and they have allowed others to re-share their posts, you can share their post from Feed to your Instagram story. Otherwise, you can't directly share it.
Conclusion
After reading this page, you can figure out how long should your Instagram video be. Through the Instagram video length requirements, you can better edit your video and share it on Instagram.