Where do you want to spend your summer holiday? Have you made any plans or preparation? Perhaps, you can record travel videos and make your own vlogs?
You must know well about vlogs, because everyone around us would like to try this fast-speed editing.
Well, vlogs cannot be defined. You can tell your own stories, set different themes, record real life and make short films.
Want to make your own vlogs?
Here is the comprehensive guide to start your travel vlog, even beginners can follow.
Part 1

: How to make a travel vlog step by step

Step 1. Set and define the story

If you want to make your travel vlog attractive, you should customize your own travel story according to your timeline. So, you need to spend time considering what you will say and what you will do during the travel.

Your fantastic adventure may be infused into this small vlog. What your audience want to see is a whole great story. So set the story frame and try to capture colorful sights.

Step 2. Get equipment well prepared

Before filming the video, the first thing you should do is to get the perfect equipment. If you are particular about high-quality vlogs, you may choose a professional camera.

To shoot a great travel vlog, you may need a really good camera. You can choose mirrorless cameras like Canon EOS M50, Panasonic LUMIX LX10, Canon PowerShot G7 X Mark II, etc.

If not, you are able to shoot the video with your iPhone, Android phone and other devices with built-in camera.

Step 3. Film the video

Your travel story needs to be narrated in different angels. You can shoot and film the long and short activities to fit the story.

Step 4. Edit the video

Editing the video is the most important part of making a vlog. Here, we will take Apeaksoft Slideshow Maker as an example to show you how to edit the travel vlog.

First, download and launch Slideshow Maker. When you enter the interface, click "Add photo (s) and video (s) here" to load the travel vlog to this Slideshow Maker. Or you can drag the travel vlog you want to edit in this area.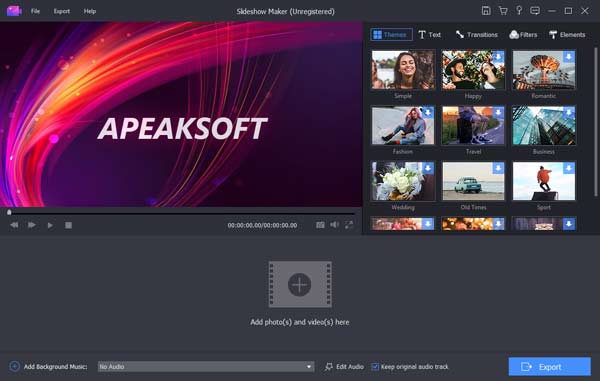 Note: If your travel videos are stored on your mobile phone, just get videos from phone to computer firstly.
Second, click "Edit" button to start the editing process. Here, you are allowed to adjust effects including contrast, saturation, brightness, hue, and more. You can also crop and clip your own travel vlog. After all adjustments, click "OK" button.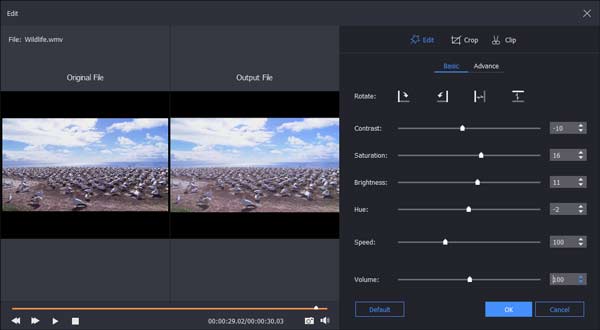 Third, click "Add Background Music" on the left side of the interface, and add the music. You can also edit the music and set the background music loop playback.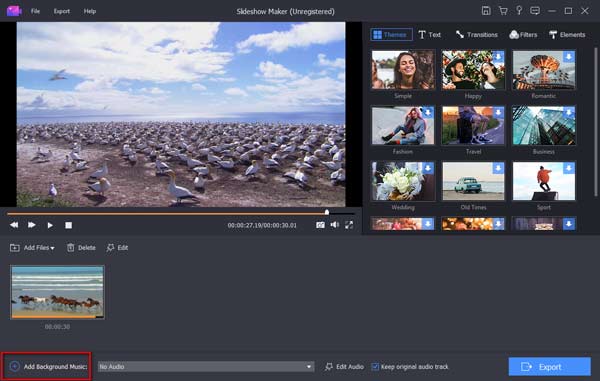 Fourth, Slideshow Maker offers you to add themes, text, transitions, filters and elements. You can customize your own special travel vlog.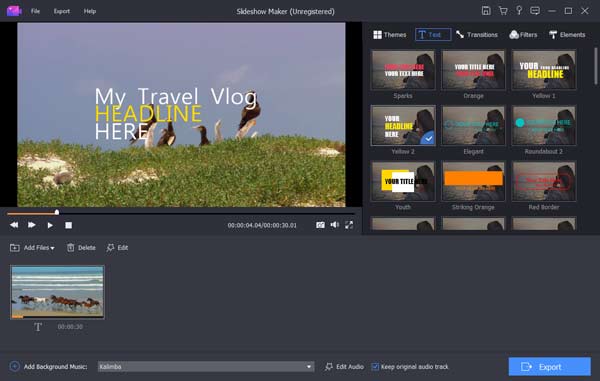 Fifth, click "Export" button and choose the right output format and resolution. Here, almost all kinds of popular formats and devices are available to export.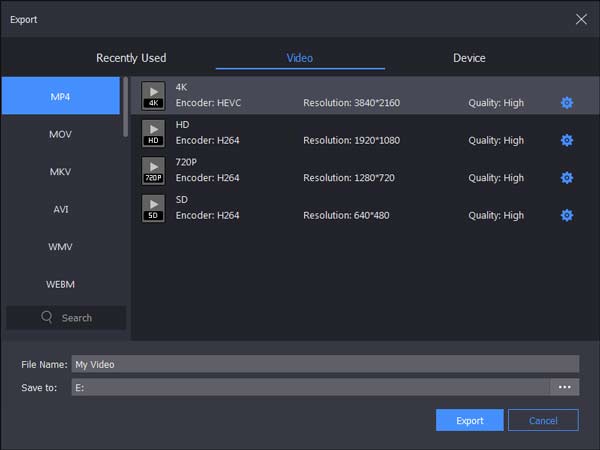 Step 5. Share and publish
After all these editing done, your vlog is perfectly created. At that moment, you just need to share your vlog with families and friends, or share it on Instagram.
Part 2

: 10 Best Tips you should know about making travel vlogs

If you want to film awesome travel vlogs, you should be aware of these following tips. They will avoid you making mistakes and greatly save you time.
1. Choose the right equipment.
The equipment may decide the quality of your travel video in the preliminary phase. So, choosing good video equipment is important. You can shoot your own video with your phone or a professional camera like GoPro. Someone may just want to share the travel vlog with families and friends, so picking your iPhone or Android phone is OK.
However, some professionals want to record best travel vlog to make money for content creation. They may choose a professional camera to capture high-quality videos.
2. Your camera should be centered on one activity or spot.
Generally, your travel story should be started according to one place or one activity. Actually, you can film all different places. If you spend your time at one place, you will find the vlog much more interesting than that shot at many places.
3. Don't be shy in your own vlog.
If you want your vlog most special and attractive, you should show what you are doing. So, don't be shy to show yourself. Much like the network broadcast, you also have to talk to the camera and smile at the camera, as if you were talking to a real friend.
4. Your vlog should be shot in a quiet environment.
When you are shooting travel vlog, there may be noises like wind sounds, overhead planes, baby crying, passing vehicles. If you take video under such noisy environment, your vlog may be a disaster. It is hardly to cut the noise, even if the frames are well captured. So, try to take a vlog at some quiet places.
5. Your friends, fellow travelers and local people may show in your vlog.
It may seem more interesting if you add your friends, fellow travelers and local people in your vlog. You can talk to local people on the street and ask if they are likely to show in your vlog. This will make your vlog cool and fascinating.
6. Your perspective needs to be captured.
It is a great way to show your journey. From your point of view, your viewers will feel they were together with you. No matter where you are, your shared experience will be a special part of your vlog.
7. Prevent your video from being shaky.
If your travel clip is shaky or in low-quality, people will stop watching or reopen it. The number of viewers will be greatly decline. To solve this problem, you are suggested to walk slowly to avoid the shakiness. If the case permits, you can purchase a camera with image stabilization.
8. Ensure good light sight.
Whether you take photography or a travel video, the most important thing is the light. Photography is actually an art of light. You should make sure that the front-lightings on the screen, which will improve the high quality and high saturation.
9. Make your videos short
People easily become tired of watching videos unless the content is interesting enough. So, you should limit your video within three minutes. The materials should be bountiful and the segments should be limited within 30 seconds so that they are easily to edit.
10. Choose good background music
The background music is crucial to the whole travel vlog. Maybe you should choose the vlog background music according to the vlog theme. You are also able to add background music when editing your travel vlog with the best vlog editor Apeaksoft Slideshow Maker.
With these 10 tips, you will never be worried about filming or making travel vlogs. So, why not try to make your fantastic vlog by following these steps? We really hope that these 10 tips will help you become a good vlogger. Don't wait for tomorrow. Just start your journey and film your vlog right now!