As a video editing lover, you must have a huge collection of video materials. But did you ever think that you could put two or more of them into one video collage? By doing so, you can deliver more information and excitement to your audience with a video of multiplied visual impact. It won't be too difficult a job. Now just follow the steps in this post and get started making a video collage for your Facebook.

Make a Video Collage on Facebook
Part 1: How to Make a Video Collage for Facebook
Before you start your work on it, you need a handy tool. We highly recommend Apeaksoft Video Converter Ultimate, which can help you make a video collage for Facebook without any effort. Though called a video converter, it is a powerful video editing program as well. The video collage feature is one of its major segments and is well designed. Here are several key features of it:
Make a video collage for Facebook using up to 13 videos.
Accept hundreds of popular video, audio, and image formats.
Fantastic rendering speed based on advanced hardware acceleration.
Customize the video collage layout without any limitations.
Steps to Make a Video Collage for Facebook Like a Pro
Step 1Head to the Collage feature
Free download, install, and launch Apeaksoft Video Converter Ultimate, then click on the Collage tab in the main interface.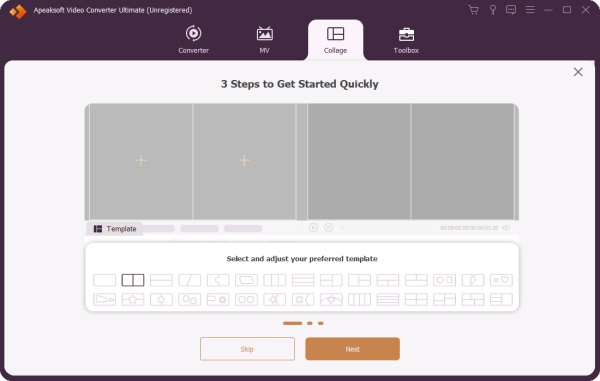 Step 2 Choose a layout
Under the Template tab, there are 44 different preset collage layouts. Choose the one you like in line with the number of videos you want to use.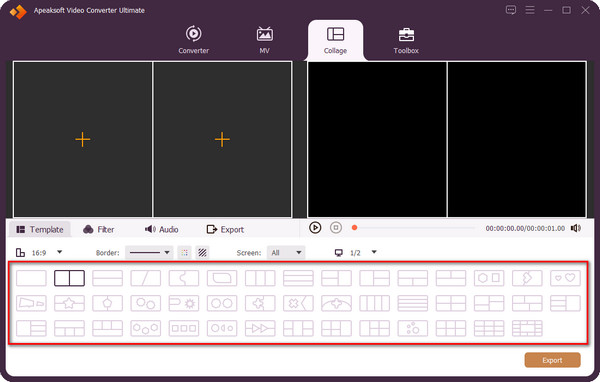 Step 3Fill the empty sub-frames with videos and photos
On the upper left of your screen is the layout of the collage. You can click on the "+" buttons to fill the empty sub-frames with your videos and photos. The photos you added will be static in the result video collage.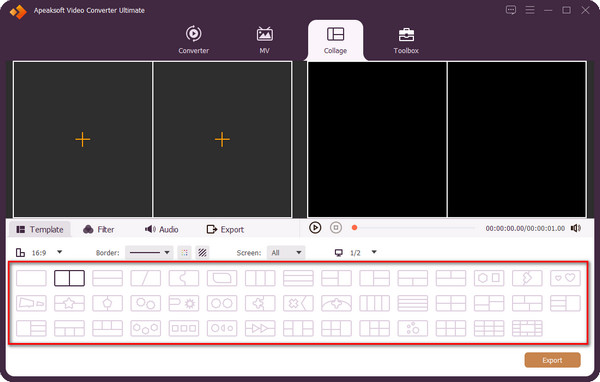 Step 4Adjust the videos in sub-frames
Click on a sub-frame that is already filled with a video or photo, then you will see five buttons and a volume bar appear in its corner. Using them you can silence, edit, and cut the video. You can also cancel the changes using the Reset button or replace the content video using the Replace button.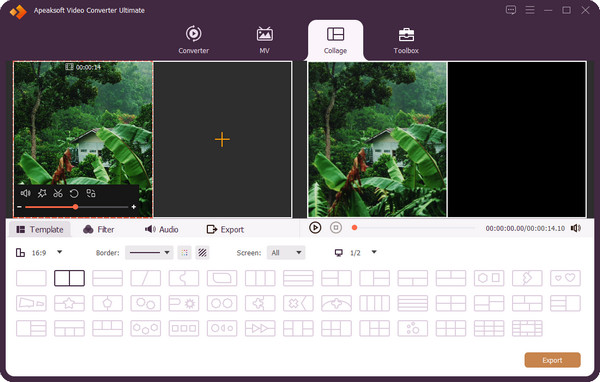 Step 5Change the filter and audio
The program allows you to decide what audio to use. It's a good option to disable all the sounds from the videos in sub-frames and import a piece of external music, for the mix of the background noises from multiple videos might be very unpleasant. As for the filters, just move to the Filter tab and choose the one you like.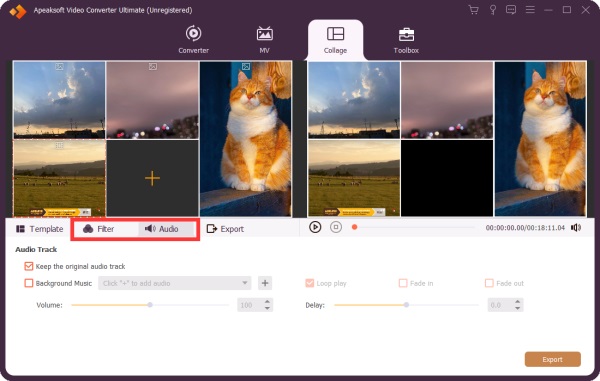 Step 6Make the video collage for Facebook
At last, you need to move to the Export tab where you can adjust the output settings. When everything is settled, click the Start Export button and wait for the rendering. When it's done, you have managed to make a video collage for Facebook. Just post it to your Facebook on your computer or phone.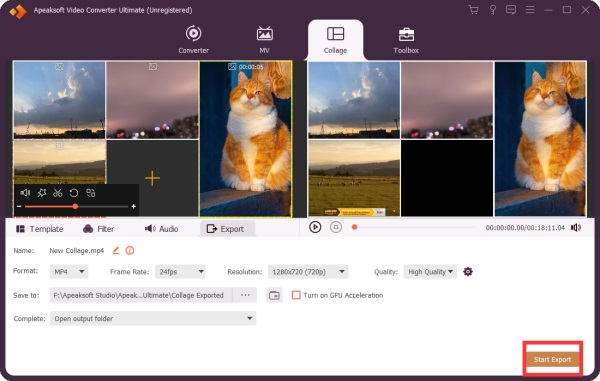 This software is powerful to edit and make slideshows for Facebook, and you can try it easily.
Part 2: FAQs about Making a Video Collage for Facebook
1. How to make a photo collage for Facebook?
Open your Facebook app and tap Photo. Then select the photos you want to make a collage for and tap Done. The app will show you the preview of the layout. Now you can see the Choose Layout button in the top left corner. Tap it to change the layout.
2. What is the best format for Facebook videos?
The most recommended video formats for Facebook videos are MP4 and MOV format with H.264 codec and stereo AAC audio. The aspect ratio should be 16:9 or 9:16. Also, the video must be shorter than 240 minutes and smaller than 4GB. Besides, do not forget to control and compress the video size before uploading to Facebook.
3. Can Facebook videos be downloaded?
Facebook does not allow its users to directly download videos on it. However, you can download Facebook videos with the help of some skills. Just right-click the video you are watching and copy the URL. Then you can go to fbdown.net and enter the URL to download the video.
Conclusion
In this post, we introduced how to make a video collage for your Facebook. We exemplified the whole process using Apeaksoft Video Converter Ultimate, the best video collage maker for Facebook. It can help you integrate up to 13 videos into one using your desired layout. Have a free trial now!