Everyone has watched stunning split-screen videos in which things are happening simultaneously on two or even more screens. Did you ever imagine that you can also make stunning video collages on your iPhone? It is not difficult at all. Here we will provide a free tool to do it and show you in detail how to use it to make a split screen video.

Make an Video Collage
Part 1: Make a Video Collage with PhotoGrid – Pic Collage Maker
PhotoGrid – Pic Collage Maker is a popular video collage maker and video editor. From its logo, you can easily learn that it does a good job in making video collages. Here is how to use it:
Steps to Make a Split Screen Video with PhotoGrid – Pic Collage Maker
Step 1Get PhotoGrid – Pic Collage Maker from your App Store and open it. On the first screen, tap the Grid button.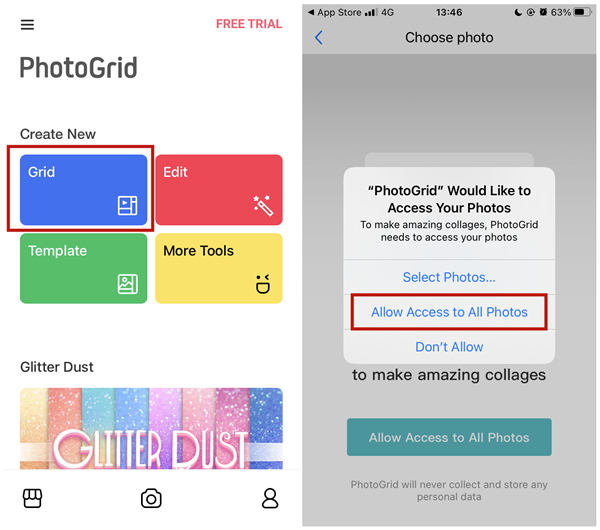 Step 2Allow the app to access your photos and videos. Then you can directly choose the photos and videos you want to use. Also, at the top of the screen, you can preview how the result video will look like in different layouts. Tap on a layout to apply it, or you can change the layout later.
Step 3On the Edit screen, you can trim the videos and change the layout, aspect ratio, border width, and background color. Drag the bottom menu left and right and you will find various features and effects including music, sound, text, sticker, filter, and watermark. At last, just tap the Save button in the top right corner of the screen.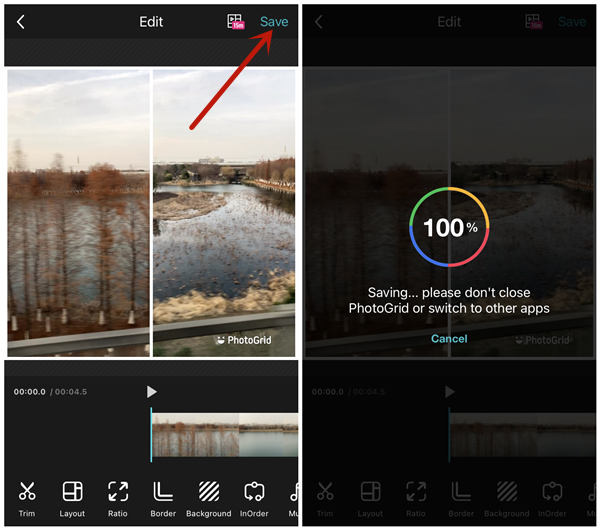 Step 4Choose between 720P and 1080P and tap the Save button. Then just wait for the rendering process to complete. The app will make the video collage and save it in your Photos app.
As you can see, you can walk through the whole process using PhotoGrid – Pic Collage Maker without paying a cent. However, not all features in the app are open to you. For example, the PhotoGrid watermark cannot be turned off and the length of the video is limited to under 15 minutes. For a more pleasant experience of creating split screen videos, we recommend the next method.
Before you starting splitting a video on iPhone, you can edit your video recordings on iPhone to refine your collaged output video.
Related Articles
Part 2: Make a Split Screen Video with Video Converter Ultimate
To make a video collage, Apeaksoft Video Converter Ultimate can make the task even easier. With an intuitive interface, all the features needed can be found at the first look. This program allows you to adjust the borders of the sub-frames freely so that you can use countless layouts. More than that, 44 built-in layout styles are prepared for you. Here are several key features of it.
Make split screen videos with beautifully decorated templates.
Provide various filters like warm, gray, sketch, orange dots, purple, etc.
Put up to 13 sub-frames into the same screen.
Render the video at a peerless speed using hardware accelerating.
Easy steps to Make a Video Collage with Apeaksoft Video Converter Ultimate
Step 1Free download, install and launch Apeaksoft Video Converter Ultimate. When you see the main interface, head to the Collage tab.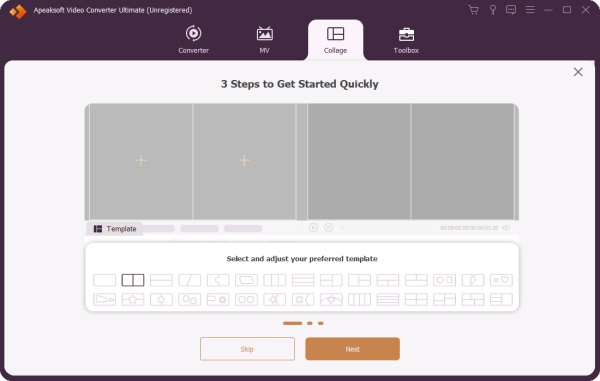 Step 2Choose a desired layout for the video collage under the Template tab.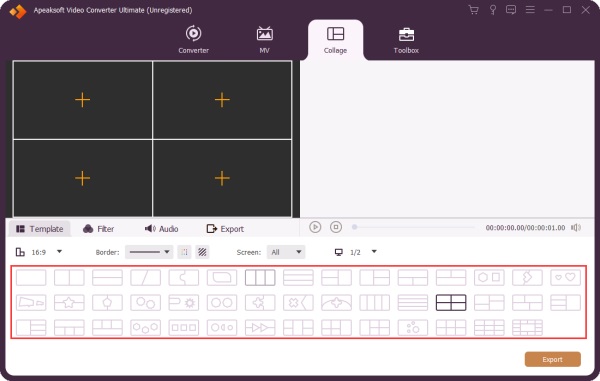 Step 3Then you need to fill the empty sub-frames in the layout on the left. Each sub-frame can contain a video or a lasting photo.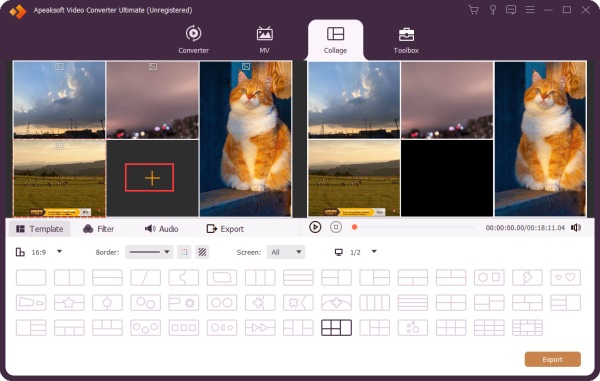 Step 4If you want a filter on your video collage, head to the Filter tab and pick one. The program also allows you to make a video collage with customized background music. Instead, you can choose to keep the original audio tracks.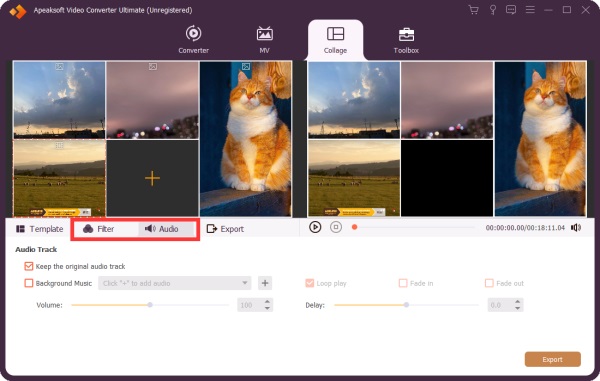 Step 5On the right side, there is a preview window. You can click on the Play button to preview the result before you export the file. To export the file, move to the Export tab and go through the settings. You can also use the Start Export button in the bottom right corner instead.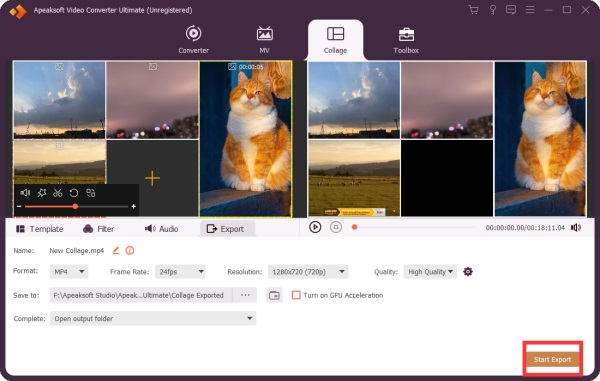 Part 3: FAQs about Making a Split Screen Video
1. How do I combine two videos side by side?
You can use the video collage feature in Apeaksoft Video Converter Ultimate. Putting two videos side by side is the most basic layout for video collages. Using the program, you can even put 13 videos in one screen.
2. How do you record a split-screen video?
Actually, split screen videos are not directly recorded with a camera or screen recorder program. They are made using video editing software from separate video clips. You can try making a split screen video with Apeaksoft Video Converter Ultimate.
3. How to place two windows side by side in Windows 10/11?
Drag the title bar of a window to the edge of the desktop and let go of the left button of the mouse. Then the window will occupy half of the screen. The other windows will show then. Click on one and it will take up the other half screen.
Conclusion
This post introduced how to make a split screen video on iPhone. This technique is not as difficult as many people would think. Just download an app and select the videos you want to put into the layout. PhotoGrid – Pic Collage Maker might be your easiest choice, for you can use it to do the job for free and makes video collages of quite good quality.