The ears will feel tired when you just put one song into loop playback. However, once you just make a slight variation of the original song by mixing, you will refresh your ears.
Remixes are just the great way to create old favorites into new surprises.
Without creation, you just need to remix songs like adding, removing or adjusting audio track to get the entirely new music.
What helps you to mash up two songs to create remixes is getting the exact song remix maker. Here we gather the best 5 music mashup tools (online, desktop and phone), and you decide which one is the best one.

Part 1. Best 5 Song Remix Maker
Video Converter Ultimate – Easiest Music Remix Maker for Novice (Windows & Mac)
Apeaksoft Video Converter Ultimate is the easiest music remix creator.
As its name replies, it is the ultimate video converter for Windows and Mac. However, the audio track remix is also its one of functions. It lets you add more than one audio track into one music file. You just need to add all the audio tracks into this software, and it will help you combine them together automatically, and you do not need to make the adjustment one by one.
PROS

Support various song formats.
Unlimited audio track remixes.
Easy to remix music.
CONS

The music remix maker is not free.
Cannot customize the song with various parameters.
Music Maker JAM – Song Music Maker with Unlimited Mix Pack (Android)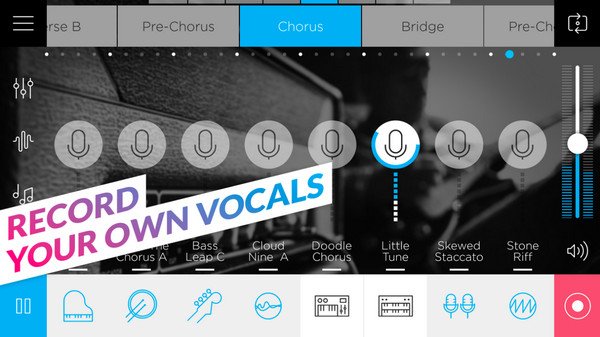 Music Maker JAM is the music remixing app for Android phone. It lets you choose mix packs from over 500k loops like trap, hip, hop, RnB, house, EDM, rock, pop, funk, drum and bass, techno, ambient, jazz, and more. Thousands of beats and samples are offered to compose your own DJ music. Customizable controls give you more freedom to adjust tempo and harmonies, edit song parts and add spectacular real-time effects.
PROS

Massive loops, beats and samples.
Support audio recording to create track.
Share remixes to SoundCloud, Facebook, etc.
CONS

Constant crashing.
All of your projects will go once deleting the app.
Some loops are in-app purchases.
Youtube DJ – Free Music Mixer App with YouTube Videos (Online)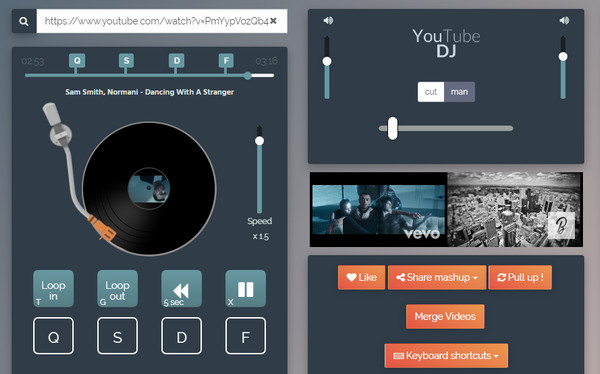 Youtube DJ is the free online music remix maker, which lets you create beats and mashups with YouTube videos. Various customization settings are left to you like loop in/out, speed, cut, etc. Meanwhile, you are capable of previewing the YouTube video and adjust the video effects for sharing with the music remix. It also lets you manage your crossfader with keyboard shortkeys.
PROS

Support song remix creation from videos.
Support speed playback.
Edit and share the videos with song remix.
CONS

No help guides or support team.
No download, but share the song remixes.
YOU.DJ – SoundCloud Song Remix Maker (iOS, Online and Windows)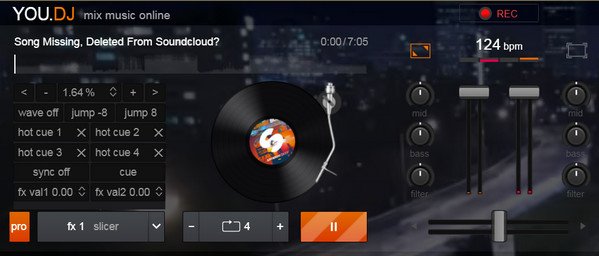 YOU.DJ is the song remix creator by loading music files from SoundCloud. Without downloading the files from SoundCloud, it will remix the songs together that you play simultaneously on each turntable. Supplying with different version for iOS, Desktop and Online, this music mashup tool will provide different numbers of effects, samples, settings, hotcues, manual BPM control, etc. It also supports MP3 files and records your own mixes with the computer recorder.
PROS

Easy to remix songs online.
Support SoundCloud songs for remix creations.
Support MP3 for remixes.
CONS

Effects and samples are limited in free version.
Only Desktop version supports remixes downloading.
Need sign-up in the online song remixer.
MAGIX Music Maker – Simple Music Remix App with Ready-Made Sounds (Windows and Mac)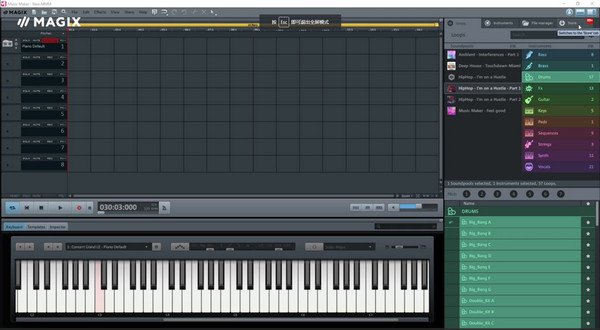 MAGIX Music Maker is the desktop software for creating remixes with free sounds and loops on Windows 10/8/7 and Mac. It is the simple music creator with soundpools, instruments and effects. Support multi-core, and multi-tracks, you could make your own songs easily.
PROS

Combine sounds from its selection of music genres.
Record sounds for remix creations.
Play and record MIDI.
CONS

Free version has limited sounds and effects.
The drum plug-in doesn't sound great.
Part 2. How to Mash up Songs with Music Remix Maker
The above 5 remix song makers has its advantages and disadvantages, and you can select the best one according to your own needs.
Here, we select Video Converter Ultimate, the easiest song remix app, as the example, to show how to remix the songs on computer.
Step 1
Download song remix maker on computer
Free download this software by clicking the following link. It supports Windows and Mac version. Just download the exact one you need. Then install and run it immediately on your computer.
Step 2
Add songs
Click "Add File" button to import one or multiple music files into this software. Select the song that you want to remix, click the "Add Audio" button next to the original song, and select other songs that you want to add.
Then you could click the arrow-down to check all the songs that you want to remix.
Just select the output file from the dropdown list of "Profile" and click "Convert" to start to remix the songs.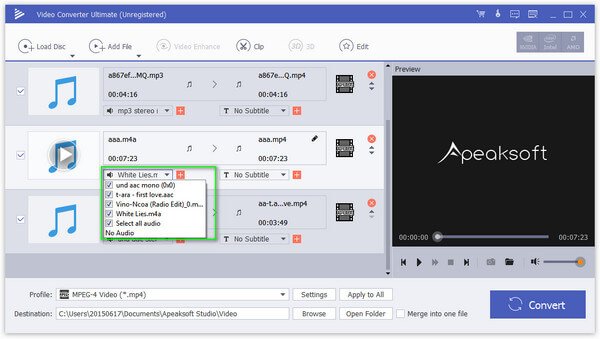 After the creation of remixes is done, you could easily share them in your DJ filed, or just download them to iPod, iPad, etc., for a loop playback.
Conclusion
Remix is the reconstruction of something by mixing some old songs with new elements. For doing the job easily, you just need the song remix maker to help you. The above 5 music remix creator has their own merits and demerits.
Which one is your favorite tool to remix songs?
Let me know by leaving your comments below.