You can post all types of videos to popular social media platforms like TikTok, Facebook, Twitter, Snapchat, and more. Depending on the associated platform, you can upload a video clip from 1 second to hundreds of hours. To fit the specific video length limit or get the best posting result, you need to figure out how long your social media video should be.
Video Length For Social Media
This post tells the desired video length for TikTok, Twitter, Facebook, Snapchat, and LinkedIn. You are also introduced to an all-featured video editor to cut your video clip and enhance its quality for posting on a social media platform.
Part 1: TikTok Video Length
The video length requirements vary on different social media platforms. For instance, you suggest sharing a 30-second video on TikTok or Instagram Reels. Users on YouTube may like something a little longer, such as 2-5 minutes. We will walk you through the recommended video length for every popular social platform and each type of video content. This part will focus on the optimal TikTok video length.
You could only upload 15-second video clips when TikTok first began. TikTok aimed to offer quick consumption for users to scroll through an endless stream of videos. TikTok extended the video length to 60 seconds In 2017. Since then, it started testing longer posts at the end of 2020 and finally bumped the video length to three minutes in July 2021. After that, many creators still wanted more freedom and longer duration. Hence the maximum video length of TikTok is 10 minutes now. The minimum video length for TikTok is 3 seconds. You are not allowed to upload any video clip of less than that.
Many studies illustrate that the highest-performing TikTok videos are between 21 and 34 seconds long. Most TikTok users feel stressed about watching a video longer than one minute. So when you edit and create a video for sharing on TikTok, you'd better keep it between 21 and 34 seconds in length.
Part 2: Facebook Video Length
Facebook allows you to upload a video of up to 240 minutes. Indeed you are not suggested to upload such a long video. You should keep your video for common Facebook posts for less than one minute. When you upload Facebook stories, you need to keep them less than 20 seconds in length. When posting episodic web series, developing stories, and live streaming, you should make them 3+ minutes.
Part 3: Twitter Video Length Limit
The Twitter app enables you to capture, edit, and share videos on your iPhone, Android phone or via the web. The maximum video length for Twitter is 2 minutes and 20 seconds. You are not allowed to Tweet a video longer than 140 seconds. You can freely control the duration of a Twitter video between 0.5 seconds and 140 seconds. In general, the ideal Twitter video length is anything between 20 to 45 seconds. You can post a video around the 44-second mark to get the best engagement.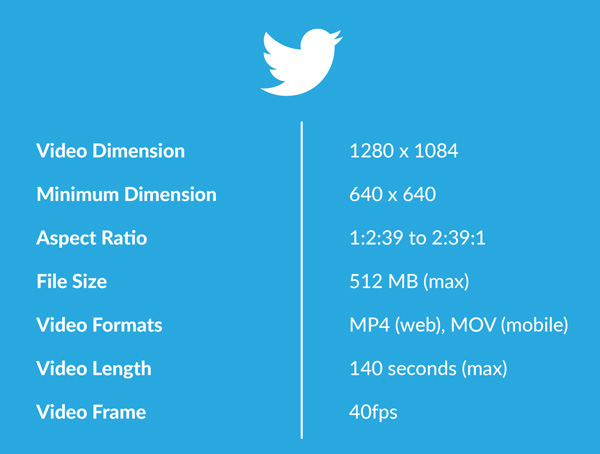 Part 4: Recommended Video Length for Snapchat, LinkedIn, and Instagram
Snapchat allows you to share a video of fewer than 10 seconds. The best Snapchat video length is around 7 seconds. If you are buying an ad, you can extend the maximum video length to 3 minutes. On the other hand, Snapchat's own research suggests you keep a video ad between 3 and 5 seconds.
You can upload videos, including Stories, Reels, IGTV, Live videos, and more, to Instagram. Instagram Stories enables you to upload a video of fewer than 15 seconds. The Instagram Feed allows you to post a video between 3 seconds- 60 seconds. The Instagram app suggests you use short and entertaining videos to Reels. The maximum video length of Instagram Reels is 60 seconds. You can post a video for up to 10 minutes from your mobile device and 60 minutes from a computer to Instagram IGTV.
The maximum LinkedIn video length is 10 minutes. If you want to post video ads, you can extend the max length to 30 minutes. LinkedIn is a social media platform for business-oriented users, so you'd better keep your shared video in less than 30 seconds.
Part 5: Edit Video Length for Social Media
When you edit a video and adjust its length for posting on TikTok, Facebook, Twitter, YouTube, Vimeo, or another social media platform, you can use the all-featured Video Converter Ultimate. It is designed with an individual Video Trimmer to cut the video length based on your need. Moreover, it has many other useful functions to edit your video, optimize its image and sound effects, and enhance its quality. You can free download it on a Windows 11/10/8/7 PC or Mac and follow the steps below to change video length for a specific limit.
Step 1Launch Video Converter Ultimate and click Toolbox to show more tools. You can scroll down to find the Video Trimmer tool. Open it and add your video file. All frequently-used 8K/5K/4K and HD video formats are supported.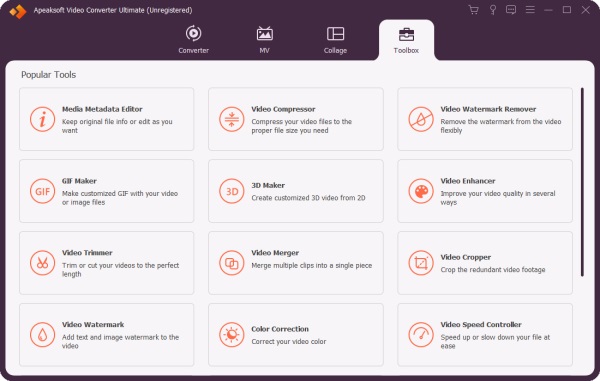 Step 2Drag the left and right points of the trimming bar to adjust the video length. You can trim it based on the abovementioned Snapchat, Facebook, Twitter, or TikTok video length limit. This video trimmer also offers Split, Add Segment, and Fast Split features to quickly change the video length. You can also merge several clips without quality loss.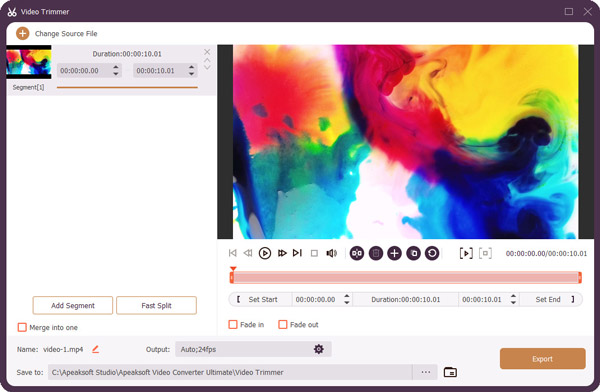 Step 3When you get a suitable video length, you can customize the output video settings, rename your video file, and then click the Export button to save it on your device. This powerful video editor carries many helpful editing features. You can use them to optimize videos with ease.
Part 6: FAQs of Video Length for Different Social Media
Question 1. What is the ideal Pinterest video length?
Besides pictures, Pinterest enables you to upload two main kinds of videos on its platform, Video Pins, and Pinterest Stories. Pinterest Video Pins can support videos from 4 seconds to 15 minutes. Pinterest Stories can run videos of less than 60 seconds. The recommended Pinterest video length is between 6 seconds and 15 seconds.
Question 2. What's the maximum video length for YouTube?
YouTube allows you to upload a video of less than 128GB as a verified account. There is no specific video length limit as long as you keep your video below 128 GB in size. Generally, you can upload videos for as long as 12 hours.
Question 3. Can I post the same video on different social media platforms?
Yes. You can upload the same video to different platforms or other channels. But you should edit and optimize your video based on the specific video length and ratio requirements. Moreover, you should not post a video with an official watermark from another platform.
Conclusion
How long should a social video be? This post tells you the video length requirements for popular social media platforms, including TikTok, Facebook, Snapchat, Instagram, Twitter, and more. Video length limits vary drastically between content types and platforms. You can use the recommended Video Converter Ultimate to change the video duration according to your need.