Nowadays, some people are engaged in watching videos, and some like playing the video faster than the average speed because they quickly get bored watching a long video. On the other hand, others preferred to slow down videos because the video is high-speed, and they can't keep up. Sometimes adjusting the speed of the video will have an impact on the viewers. This way, you need reliable software to control your video and put it at your preferred pace. You must look for a video speed controller if you wish to change and adjust the video speed of your file. There are applications/software with built-in video speed controls that may be used offline, and there are also applications that can be used online. Video speed controllers vary in their primary functions and features. Therefore, if you are interested in discovering these applications' excellent and valuable tools, continuing to read this article is the best thing for you.

Video Speed Controller
Part 1. Best 4 Video Speed Controllers Offline on Computer
1. Video Converter Ultimate
1.If you are looking for the helpful and best software application that is capable of helping you to double the speed of a video, Video Converter Ultimate is the best application for you and the best video speed controller for PC and Mac. It is not just limited to converting files; it also has a video speed controller to adjust the speed of your video. In addition, you'll never have some trouble utilizing this application because this software is simple and easy to use.
PROS

It supports numerous video file formats, such as MP4, AVI, M4V, MKV, FLV, and many more.
Very easy to utilize.
It has a capability to adjust your video to 0.125x, 0.25x, 0.5x, 0.75x, 1.25x, 1.5x, 2x, 4x, 8x speed.
It is available on both Windows and Mac.
CONS

If you want to experience more great features, you have to purchase the software.
How to adjust the video speed through Video Converter Ultimate?
Step 1To begin, download the Video Converter Ultimate. Click the Download button for Windows or Mac. After downloading the application, follow the installation process and launch the app.
Step 2After opening the software application, select the Toolbox panel. Under the Toolbox panel, select the Video Speed Controller option. Then, after clicking it, another interface will show up.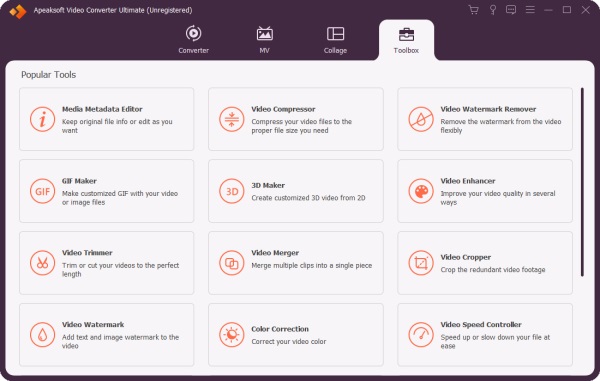 Step 3When the other interface has already shown up, click the plus sign button and add the video that you want to adjust the speed. You can also just drag the video file into the box.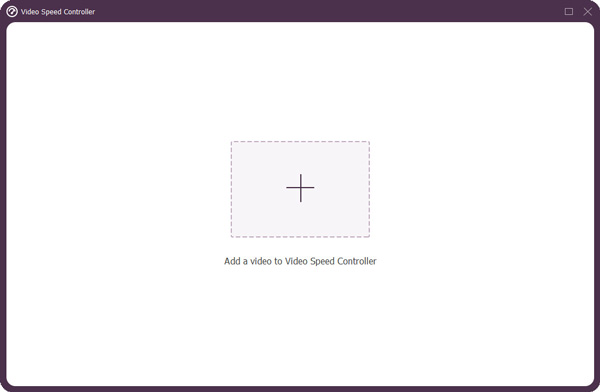 Step 4Adjust your video speed on the video speed options you can see under the video. You can make the video faster, and you can also make it slower.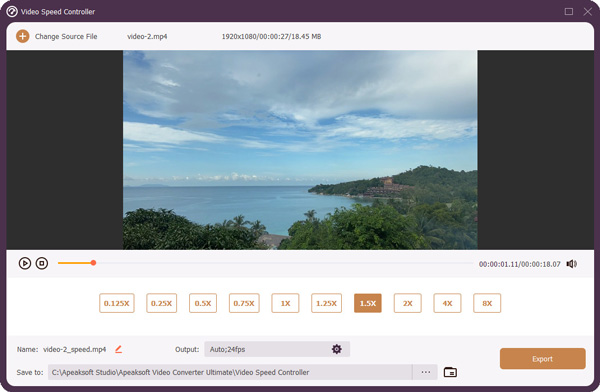 Step 5 For the last step, when you're done adjusting the speed of your video, click the Export button to save your video file with your chosen video speed.
2. EaseUS Video Editor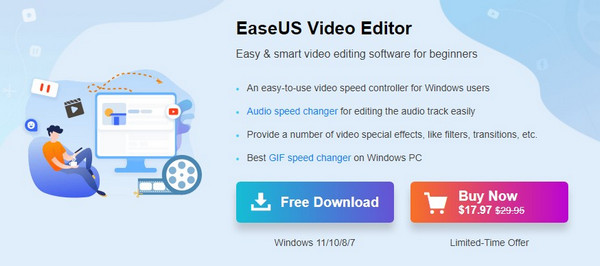 In terms of the best video speed controller in Windows or computers, EaseUS Video Editor is the excellent software you can operate. It is one of the best fast and slow-motion video tools. You can instantly speed up the video up to 50x times. In contrast, you can also slow down your video to 0.1x, wherein your 1-minute video can turn 10 minutes. It has many features, including filters, transitions, editing tools, overlays, etc. Lastly, this software is easy to use; you can learn to utilize it in just a few minutes.
PROS

Easy to learn and use.
It can speed up your video up to 50x times.
Have various features.
CONS

Only available on Windows 10/8/7.
The software is pricey. You have to purchase the software to enjoy all its features.
3. 5KPlayer - Video Player with Speed Control for Mac/Windows

Sometimes, we don't watch the videos at an average speed because there are times that we get bored, so we speed up the video to skip some portions; there is also the time that we want to slow down a video to get the detail. 5KPlayer is another application you can rely on to change your video's speed. You can adjust the speed from x0.5 to x2.0.
PROS

It has a speed choice of x2.0, x1.5, x1.2, x1.0, x0.8, x0.7, and x0.5.
It has essential editing tools.
This application is available for both Windows and Mac.
CONS

It is hard to use for beginners.
4. VideoProc Vlogger

VideoProc Vlogger is a free software application that allows you to speed up and slow down your videos. Also, it is an excellent video processing software for both advanced and beginners. It can increase the video speed to 72x faster than the average speed. This application has basic features, such as trimming, cutting, cropping, etc., and advanced features like background noise remover, video stabilizer, and many more.
PROS

It can speed up to 72x faster.
It provides all the features for free.
It supports numerous video formats.
CONS

Sometimes, the downloads are too slow.
Part 2. Best 2 Video Speed Controllers Online
1. Kapwing

There are times that when you watch some videos on YouTube, Facebook, and other platforms on Google, you want to make it faster but don't have an idea what to do; worry no more. Kapwing is the best app video speed controller online for you. It is not only good at editing videos, but it is also helpful in adjusting the speed of a particular video. This software is perfect for the user, especially for the beginner, because it is straightforward. It is also available on PC, Android, and Apple devices.
PROS

It can change the video's speed to double (2x) or quadruple (4x) times.
You can access some advanced features.
Very easy to use.
CONS

It lacks cutting-edge functions, like 3D editing, 360° editing, and more.
Can't maintain the exact resolution when exporting.
2. Veed.io

Another best video speed controller online that you can use is Veed.io. You don't need to download the application anymore. This software can allow you to make your video file faster and slower. It can adjust your video speed to 0.5x, 1x, 1.5x, and 2x. Veed.io is also accessible to many web browsers like Google, Safari, and Mozilla Firefox. In addition to that, this software can also adjust the speed of your GIF video file.
PROS

The tool is easy to use.
You don't have to download the software.
It is accessible to almost all web browsers, such as Google, Mozilla Firefox, and Safari.
CONS

There are only a few formats that it can support.
Part 3. Best 2 Video Speed Controllers on Mobile
There are some unexpected situations when your computer is not available to edit your videos, like adjusting its video speed. In this case, we will introduce two reliable apps with video controllers that you may use to change your video speed, either slowing it down or speeding it up on your mobile phone.
1. Video Speed: Fast Video and Slow Video Motion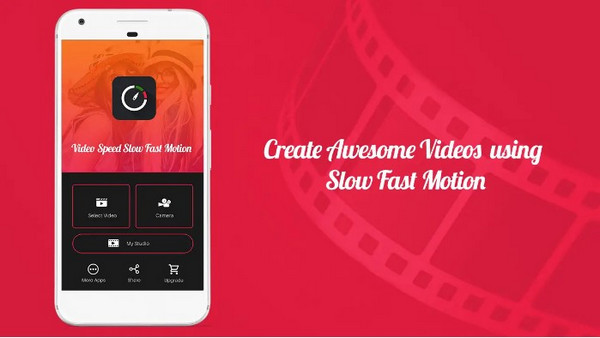 Video Speed: Fast Video and Slow Video Motion is one of the best video speed controllers for android. This software lets you slow down your videos and speed them up to four times. All you have to do is to import your recorded video or clips into the application and then select the portion of the video that you like to speed up or slow down and export it to your gallery.
PROS

It allows the user to speed up or slow down the video and speed it up to four times their original speed.
It supports many more video file formats.
Convenient to the users.
CONS

Advertisements are irritating and frustrating.
2. Videoshop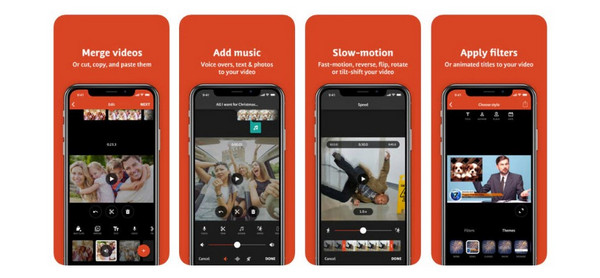 After discovering the video controller for androids, maybe you are wondering if there is also one for the iPhone. Therefore, in this part, we will introduce Videoshop to you. It is the video speed controller for iOS, and it is a simple editor with many features, like allowing you to change the speed of your video. Creating fast motion and slow motion videos through Videoshop is very easy.
PROS

It is an easy-to-use video editor.
It supports adding background music for your videos.
Allows the users to reverse the video.
CONS

The software may crash if you attempt to do demanding editing tasks.
The free version has only limited editing tools.
Further Reading:
How to Make a Split Screen Video in Movavi Video Editor
How to Make a Slideshow Online with Adobe Creative Cloud Express (formerly Adobe Spark)
Part 4. FAQs about Video Speed Controller
1. How does the video speed controller work?
After downloading a video speed controller to your computer, you can already launch it and look for the video speed controller button. You can click it to change the speed of your video. Some applications with video controllers like Video Converter Ultimate can speed up the video up to 8x times.
2. Are there video speed controllers for Firefox?
-Yes, of course! There are many video speed controllers that you can find in Mozilla Firefox. Search the video speed controllers in the search box and find many results on the result page.
3. Can I slow down my video using Video Converter Ultimate?
Yes, you can! Video Converter Ultimate is not only good for speeding up your video, but it is also capable of making your video slower than the average speed.
Conclusion
As you can see in this article, you can use many applications to adjust and change your video speed. This article also gave you information about what kinds of software you can use for Windows, Mac, Android, and iPhone. But, if you are searching for the best and most reliable video speed controller with lots of great features, then Video Converter Ultimate is the best software.