Videos with fun and thrilling transitions and effects are always an attention grabber on social media platforms. With the coming of Video Star in the application market, many users have pooled their attention into this video editor and started a heated discussion. So what is the magic of Video Star? Is it the best option for video editing? This post will give you a comprehensive review of Video Star and offer you excellent alternatives.

Video Star Review
Part 1. Introduction to Video Star
What is Video Star?
Founded in 2011 by Frontier Design Group, Video Star app is an editor and creator for fun videos and photos. There are rich effects and templates for video transitions, stickers, frameworks and more. You can film and edit an original music video in stardom with tools to adjust, colorize, animate, twist, merge and split your videos here.
Driven by imagination and creation, each user could make cool and pop videos and share them on social media. You can harvest unlimited creations for different scenes and attract attention with stylish designs.
Currently, there is a free version to experience editing functions on Video Star. But you need to pay $4.99 for a monthly subscription to get the all-access pass. Unlike other professional video editors, this app is not an easy-to-use tool with detailed instructions. You may have to figure out the layout and each section by exploring it on your own.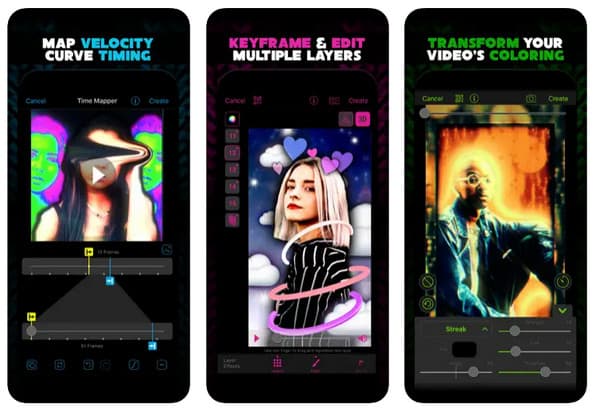 How to use Video Star?
To edit your photo or video in Video Star, you just need to download and get this app from the App Store first. Then tap the Plus icon on the top corner to select the song or video you want. After going through the music library or inputting the video, you can further edit, split the screen video and share the clip to other media platforms according to your needs.
If you are wondering how to make a velocity edit on Video Star, you can enter the Velocity section (Find it in the New feature next to Edit and Select after you have updated your app). Then move the velocity line in the mapper and create previews to fit your needs.
With further questions on video editing, you can also visit the official website for Video Star tutorial for help.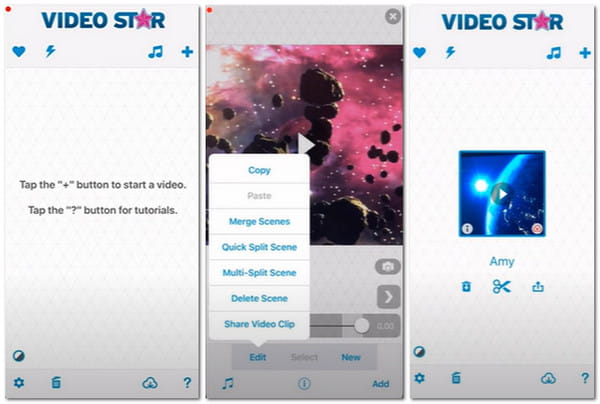 What do users think of Video Star?
In spite of the unique feature of Video Star, there is a divergence of opinions within Video Star.
For Parents:
Based on parents' comments, they share some common concerns on unrestricted content that is not suitable for their kids.
Since there is no precise description of the direction for each button within the app, no one can say for sure what their kids will browse.
Kids sometimes will be misled to some unrated videos online and be exposed to violent, sexual, and illegal rules like drinking, smoking, etc.
There are no clues or recordings for operation history. This can be a hidden danger for young kids who are lacking in the ability to control and recognize cyberspace.
For Teenagers & Kids:
While for most teenagers and kids, Video Star seems to be a perfect choice for edits on Instagram, TikTok and other social media platforms.
Unlike other video editors with an orderly and straightforward interface, they can adopt the material base with creative and pop elements in line with the fashion trend.
Although the subscription is expensive to afford in the long term, the refreshing design and stylish visual effects would still live up to their expectations and tastes.
Author's View:
However, from the viewpoint of the author, Video Star still stands out among the apps for video edits.
The design and functions cover most needs for a cool and entertaining video by the young.
But the regulations on the legit content and ban on clues to trigger consumption and exotic websites should be considered seriously.
Part 2. Best Alternatives to Video Star
1. Apeaksoft Video Converter Ultimate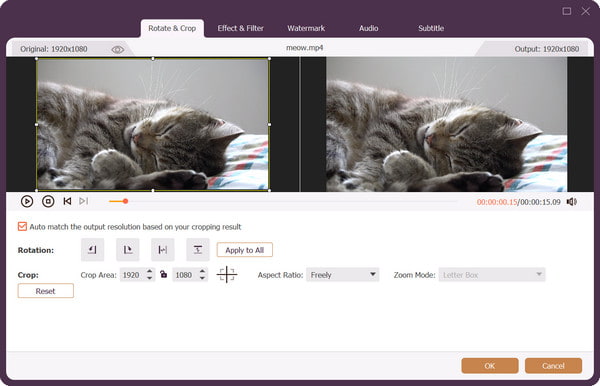 To tap more potential for editing and enhancing your videos and images, the first option would be Apeaksoft Video Converter Ultimate.
You are not limited to the mobile functions but enjoy both professional and entertaining visual effects for an ideal video on your computer.
Unlike Video Star, there is no illegal content, so you don't have to worry about security and privacy issues. You can also enjoy diverse visual effects to trim, edit, add watermarks, subtitles and 3D effects to your creation.

Main Features:
Enable you to make reaction videos with cool transition effects and templates.
Support 1,000 file formats, including MP4, MOV, MTS, MKV, FLV, SWF, OGG and more.
Offer excellent videos without quality loss at a super fast speed.
Provide sections to make GIFs, 3D movies, compress videos and edit video tags.
Available on both Mac and Windows systems.
2. Vid.Fun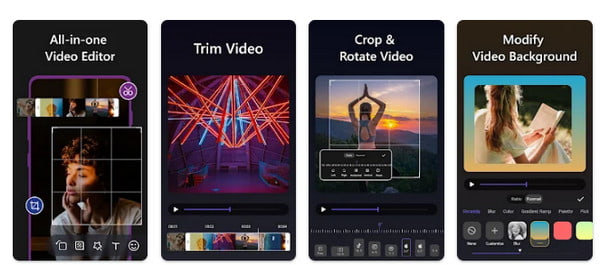 Vid.Fun would be another perfect alternative to Video Star on your mobile phone.
Rather than pay for the expensive fees to unlock the functions in Video Star, you can adopt all functions without any charge in Vid.Fun since it's a 100% free application for HD and 4K videos.
You can modify, edit and create stylish videos with a straightforward user interface. You can get an easy-to-start instruction to grasp its powerful functions quickly.

Main Features:
Help you to trim, crop, rotate, merge and split your videos with practical results.
Support popular video formats like MP4 and MOV.
Offer you a one-click option to customize the video settings quickly.
Supply multiple stickers and emojis for festivals, roles and characters and different occasions.
Accessible on Android 5.0 and higher versions.
3. YouCut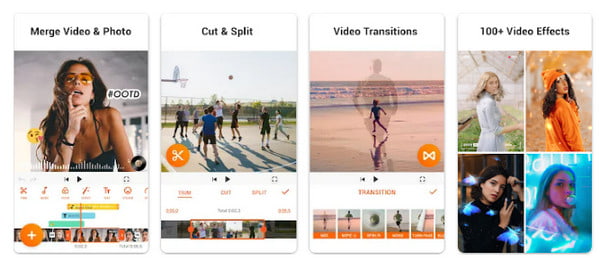 For iPhone and Android users, YouCut app is also a fantastic choice you should not miss. It's user-friendly and watermark-free.
You can create photo slideshows with the professional image tool and edit your video files with keyframes, animations, speed controller, etc.
There are over 100 audio resources for impressive sound effects. You can get an enjoyable experience without ads on the screen banner.

Main Features:
Enable users to adjust and extract audio tracks from video files.
Offer picture-in-picture functions to collage different videos.
Control your video speed with multiple options and filters.
Compatible with social media platforms like TikTok, YouTube and so on.
Attainable on both Android and iOS devices.
Part 3. FAQs of Video Star App
Can you use Video Star on MacBook?
The answer is no for the time being. The Video Star app by Frontier Design Group can be accessible on iPhone, iPad and iPod touch running iOS 14.0 and higher versions.
Is Video Star available on Android?
Not yet. But you can download and install Vid.Fun to edit and enjoy 4K videos on your Android devices as the best alternative to Video Star.
Is Video Star completely free now?
Not exactly. You still have to pay for the transitions and effects for your output video inside the app.
Conclusion
This post gives an unbiased introduction to Video Star on its features and alternatives. The recommended tools will never let you down once you give them a try. Please contact us if you have any other doubt.