There are several types of reset involved in Android phones, such as hard reset, soft reset, factory reset and more.
For average people, these concepts are complicated enough, not mentioning the operations of them.
In this article, we will talk about how to hard reset Android devices in detail. And to help you understand it clearly, we plan to compare soft reset and hard reset in this tutorial, including their concepts, functions, and workflows.
If it is a headache on these concepts or facing some problems about your Android phone, you will find our guides helpful.

Part 1

: Soft reset VS Hard reset

Many people were confused with the concepts of soft reset and hard reset an Android phone. Briefly, soft reset is to restart and reboot your Android device, power it off and then power it on. And hard reset Android is to restore an Android device to its original settings removing all personal data and information.

Both soft reset and hard reset are useful troubleshooting methods. The former is able to solve the problems, like:

1. Cannot receive messages, calls, emails and documents.

2. Cannot make phone calls.

3. Android phone is slow, freezing, not responsive, or responding incorrectly.

4. Cannot send SMS or files.

5. App stops working.

6. Wi-Fi or cellular connection incorrectly.

7. No sound on Android phone.

8. Speaker or headphone is not working.

9. Touch screen problems.

10. Android gets stuck in Odin mode.

The biggest benefit of soft resetting a mobile phone is not deleting anything from your device. And it is usually the first step to solve Android problems.

On the other hand, hard resetting Android is to restore factory settings on your device. It is the last resort in troubleshooting and powerful to remove most software issues, such as:

1. Forgot PIN passcode.

2. Software corrupted or crashed.

3. Completely delete viruses, malware, spyware and unwanted settings.

4. Remove rooting features from a rooted device or when root Android failed.

5. Enhance Android phone performance and accelerate.

6. Android phone system is problematic, and fails to get Android system recovery.

And people need to hard reset their device before sell the old devices in order to protect personal information and privacy.

You should understand that hard resetting Android will delete everything on your device, including the bad one and the good one. So, you'd better back up your device before do hard resetting.

Before hard reset Android phone, we suggest you to create a backup of your phone.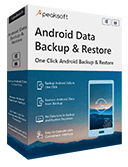 4,000,000+ Downloads
One click to backup and restore Android data to your PC or Mac.
Backup photos, contacts, messages, documents, videos, call logs, etc.
Highly compatible with various LG, Samsung, HTC, ZTE, etc.
Selectively backup and restore data from Android phone without data loss.
Learn the details here to backup Android phone.
Part 2

: How to soft reset Android phone

As said before, soft reset is the easiest way to reset an Android device and fix some software problems without losing data. The general operations of soft reset are below.

Step 1. Press and hold down the "Power" or "Sleep/Wake" button for a few seconds, which is usually on side or top of an Android device.

Step 2. When the "Power off" option appears, release the Power button, touch "Power off" and wait for the screen to turn black completely.

Step 3. Open the rear shell and remove the battery if it is removable. Wait for a few seconds and put the battery back.

Step 4. Press the "Power" button again until you see the Android logo or the smartphone vendor's logo appears. Then you can use your device as usual.
Part 3

: How to hard reset Android (Factory reset)

There are several ways to hard reset Android or restore factory settings on Android. We will share the best methods below.
Method 1: Hard reset Android via Settings
Step 1. Create a backup for your Android device using Google account or third party tools.
Step 2. Open the "Settings" app on your device and tap "Backup & Reset" on menu list.
Tip: The "Backup & Reset" option is in "Advanced Settings" or "General Management" on some Android devices.
Step 3. Tap "Factory data reset"; then read the warning message carefully and touch Reset phone to continue.
Tip: Android will ask you to enter PIN code to verify you are the owner of the device.
Step 4. Next, tap "Erase everything" and start hard reset Android process immediately. When it is done, restart your device and set it up as a new one.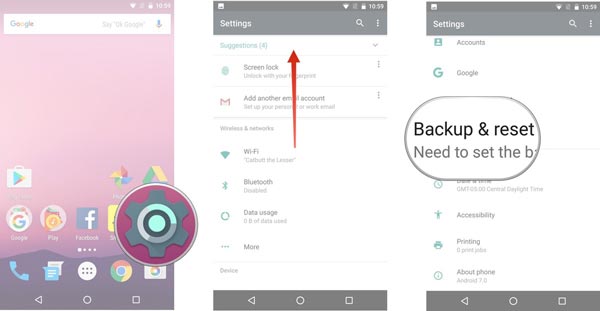 Method 2: Hard reset Android in recovery mode
Hard reset is able to fix many software problems. And in some cases, the Android device is inaccessible, such as freezing or black screen. Is it possible to hard reset Android in such condition? Yes; and recovery mode could help you do it without accessing Android OS.
Step 1. Press and hold the "Power" button until you see the power off screen. Then tap "Power off" to shut down your Android device.
Step 2. Hold down the recovery mode button combination until the recovery mode screen shows up.
Note: The recovery mode button combinations are different on the phone models from different vendors. On Nexus devices, the combination is Volume Up, Volume Down and Power buttons. On Samsung devices, it is the Volume Up, Home and Power keys. On Moto X, it includes the Volume Down, Home and Power buttons. Generally, most devices use the Volume Down and Power buttons or the Power or Home buttons.
Step 3. Highlight the option labeled "Wipe data/factory reset" using the "Volume Down" and "Volume Up" buttons. Then use the Power button to select the reset option.
Step 4. When you are prompted, select "Yes" and press the "Power" button to trigger the hard reset Android phone process. It will take a while to erase all data and settings on your device.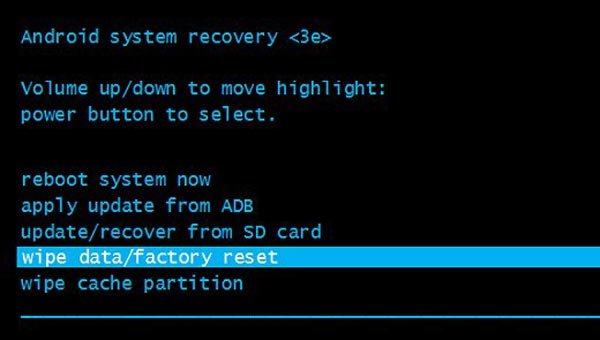 Conclusion
In this tutorial, we have shared what are soft reset and hard reset Android and how to implement. Now, you might understand the meanings of the both concepts clearly. Though soft reset and hard reset are different on the term and operations, they are both useful trouble shooting solutions. When you encounter some issues on your Android device, such as sluggish responding, you can try soft resetting. If it does not work on your device, hard reset Android is another solution to get your phone or tablet running normally. Anyway, we hope our explanation and step by step guides are helpful. Also, there are some tips about soft reset and hard reset. First of all, when implementing a soft reset, we suggested that your device should remain powered off for over 10 seconds before restart. On the other hand, hard reset Android cannot be undone. The guides above are involved in general Android devices. The button or button combination may be different on specific model. However, the most important thing is to backup your Android phone just in case of data loss.
If you have any question, please leave a message below.