RCA was a major American electronics manufacturer founded in 1919. Today, RCA sells a variety of customer electronic products, including tablets, 2-in-1 tablets and more. RCA tablet products are popular among young people and students, partly because they have higher cost-effective and offer better prices. We found that some people searched for how to reset an RCA tablet on forums. For example, "How to remove root features on my rooted 7 RCA Tablet through factory reset?", "My RCA tablet stuck in setup logo, how to reset it?" Therefore, we are going to tell you how to reset an RCA tablet to help you get rid of various problems.

Part 1

: Types of RCA Tablets

Generally speaking, RCA sells two types of tablet products, tablets and 2-in-1 tablets. The former is similar to iPad with a variety of models and each offers a different screen size, such as RCA Tablet 9 Gemini. The latter is a portable computer that shares the characteristics of both tablets and laptops. Briefly, a 2-in-1 tablet is a tablet featured a hot-pluggable complimentary keyboard.

And breakdown by operating system, RCA offers both Android tablets and Windows 10 tablets, such as RCA Cambio 10.1 tablet. Of course, the workflow to reset an RCA tablet is depending on its operating system.

If you are ready, let's start to learn about how to reset an RCA tablet in detail.
Part 2

: Before RCA tablet reset: Backup data

People prefer to store files and information on their tablets, partly because they have larger internal storage. So, the starting point of resetting an RCA tablet should be backup, no matter you use which method. Apeaksoft Android Backup & Restore is one of the best backup tools for RCA tablets. Its key features include:
Easy to use. It is able to create a backup for RCA tablet in one click.
View backup on computer. Users could back up RCA device to computer and view backup at any time.
Selectively backup. User could decide to back up what data types.
Lossless recovery. The program has the capacity to recover lost data from RCA backup in original conditions.
It supports all RCA tablet models, including Android tablets and Windows tablets.
This desktop program is available to Windows 10/8/8.1/7/XP and Mac OS.
Download for Win
Download for Mac
In short, Android Backup & Restore is the easiest method to back up RCA tablet before reset RCA tablet. This step is also necessary before you reset your Samsung, HTC, Huawei or other Android devices.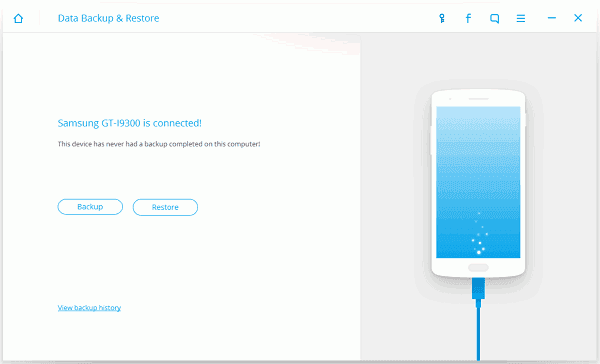 How to back up RCA tablet before reset
Step 1. Get the latest version of Android Data Backup & Restore installed on your PC. There is a specific version for Mac OS. Connect your tablet to the computer using a USB cord.
Step 2. Click the "One-click Backup" button when your tablet is detected, the tablet backup tool will start to create a backup automatically. All you need to do is to wait for the process to complete.
Step 3. In the result window, you can select the latest backup file and click on the "Start" button at bottom to open it, then you can view all data by categories, such as contacts, messages, photos, WhatsApp and more.
Part 3

: How to reset an RCA tablet

If you need to wipe all content on your RCA tablet and restore it to factory conditions, you will find the guides below helpful. Make sure that your tablet has at least 50% power capacity.
Way 1: Reset an RCA tablet running Android with the Settings menu
There is a built-in reset feature on RCA Android tablet, and it is the easiest way to perform factory reset.
Step 1. Unlock your RCA tablet and run the "Settings" app from your Home screen.
Step 2. Scroll down and find out the "Backup & reset" option. Tap on it and you will be prompted with the information that factory reset will delete all data on your device.
Step 3. If you are sure, tap on "Reset Tablet" or "Factory Data Reset" button to trigger the process.
Step 4. When RCA tablet reset is completed, restart your tablet and you can set it up as a new device.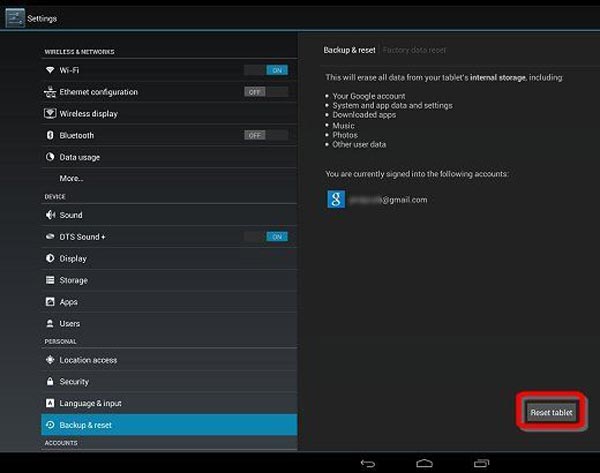 Way 2: Reset an RCA Android tablet in recovery mode
In some cases, the Settings menu is not feasible, such as your Android is bricked or not responsive. At this time, recovery mode is a good alternative solution.
Step 1. Power off your tablet using the "Power" button. Wait for the screen to be black completely, then press and hold down the "Volume Up" and "Power" buttons at the same time until you see the recovery mode screen.
Step 2. Navigate to the option labeled as "Wipe data/factory reset" using Volume Up and Volume Down buttons, then perform the command by pressing the Power button.
Step 3. When the confirmation screen appears, highlight and implement "Yes -- delete all user data" to start resetting RCA tablet. When it is done, tap "reboot system now" and then your tablet will restart and display the welcome screen.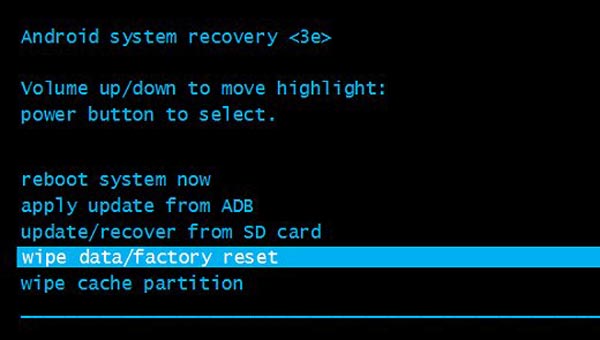 Way 3: Reset an RCA tablet running Windows 10
If your RCA tablet runs Windows 10, reset an RCA tablet also works as the ultimate troubleshooting solution.
Step 1. Shut down your tablet completely and then power it back. Hold down the "FN/function" button on your keyboard during power on while repeatedly press the F9 button until you see "Please wait".
Step 2. When you are presented with the boot screen, select the "Troubleshoot" option and then "Reset Your PC". Then you will see two options, remove files or fully clean the device. The latter one will erase all personal files and apps from your tablet and restore it to the factory settings.
Step 3. Make a decision and the process starts when you see the RCA logo. The whole process will spend 30 minutes to 1 hour depending on the amount of data on your tablet.
Conclusion
If you have troubles on your RCA tablet, you will discover that it is difficult to find out troubleshooting. In this tutorial, we have showed you how to reset an RCA tablet in detail. When you need to clean a tablet in order to get rid of various problems or before sell it, the guides above could help you, no matter your device runs Android or Windows. And we have shared the best RCA tablet backup tool, Apeaksoft Android Backup & Restore. It can streamline the tablet backup process and help you get back lost data after reset.