Samsung, one of the popular mobile devices manufacturing brands, releases several products each year, such as the famous flagship Samsung Galaxy Note 8/7/6/5. But it is not a secret that Samsung smartphones respond slower and slower as time goes by. When it is unresponsive, users have to perform Samsung hard reset to get their devices normal. What is hard reset and how to do it? Samsung hard reset is to wipe all contents and forcibly restore factory settings to your handset. To help you retrieve the best user experience, we are going to show you how to perform Samsung hard reset in this tutorial.

Part 1

: Heads up: Make a backup before Samsung phone reset

Considering Samsung hard reset will wipe all content and settings on you device, which differs from Samsung phone reboot to clear cache only, so the starting point of such action should be backup. If you need a simple tool, Samsung Cloud backup can be a good one.

However, if you have large amount of data to backup, then we will recommend Apeaksoft Android Data Backup & Restore. Its key features include:

1. Easy to use. It has the ability to back up Samsung phone or tablet in one click.

2. Better control. People can select to save what data types on their devices.

3. No damage to existing data. It will back up Android data to computer without damaging existing data on devices

4. Preview data. Users could open and view the backup for Samsung devices on computer at any time.

5. Restore lost data. It is able to recover and restore lost data from Samsung backup to computer or mobile device in original conditions.

6. Higher compatibility. It supports all Samsung devices, including smartphone and tablet.

In short, it is the best way to back up your Samsung device before performing hard reset.
How to back up Samsung mobile device before reset
Step 1. Download and install Android Data Backup & Restore on your PC. For Mac computer, there is a dedicated version. Plug your Samsung phone S8/S7/S5/S4 to reset into your computer too via the USB cord.
Free Download
Free Download
Tip: Turn on the USB debugging mode on your phone.
Step 2. Wait for the program to detect your phone automatically. Then click "One-click Backup" button to start creating a backup.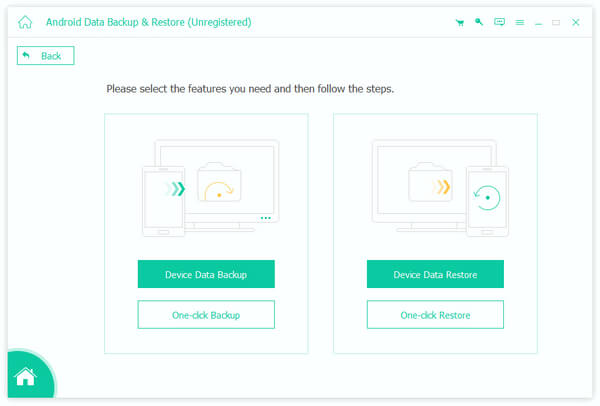 Step 3. The backup process will start immediately.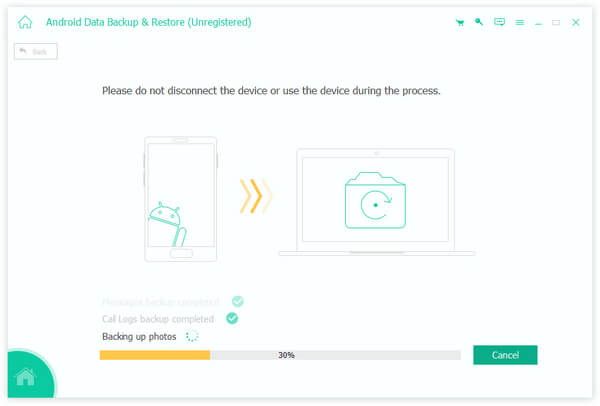 Step 4. When it is done, you will be presented with the result screen. Select the latest backup file and click "Start", you can go to the detail window and view all Android data by categories.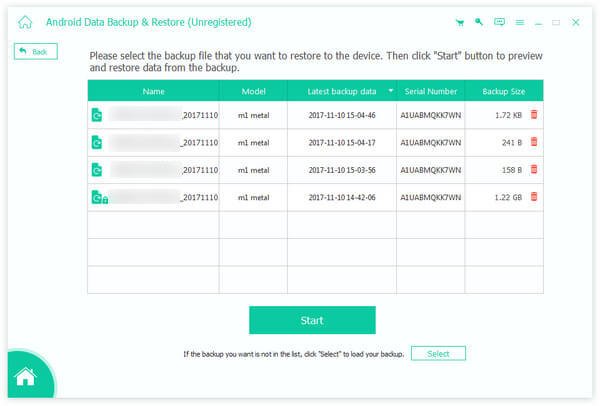 Part 2

: Hard reset Samsung Note from Settings menu

The Settings menu is the easiest way to perform Samsung hard reset if your device powers on and you can access it. This way does not need computer or third party tools. The workflows of hard reset on various Samsung devices are a little different.
Hard reset Samsung with Android 7.0 and later
Step 1. Go to the Apps screen and touch the Settings app marked with a gear icon.
Step 2. Then head to "General management" > "Reset" and tap on the "Factory data reset" option. Or you can search for reset in the Settings app by using the Search bar on top of the screen.
Tip: This way will not delete the data on the SD card in your device. And only several models allow you to reset the SD card at the same time by ticking the checkbox in front of "Format SD card".
Step 3. Read the warning message onscreen carefully. If you are sure, press "RESET" to confirm it.
Tip: When you are prompted to enter the PIN code or password, just put your device's password in the right box.
Step 4. When you are ready, tap on "DELETE ALL" to start performing Samsung hard reset. For old Samsung Note models running Android 6.0 and earlier.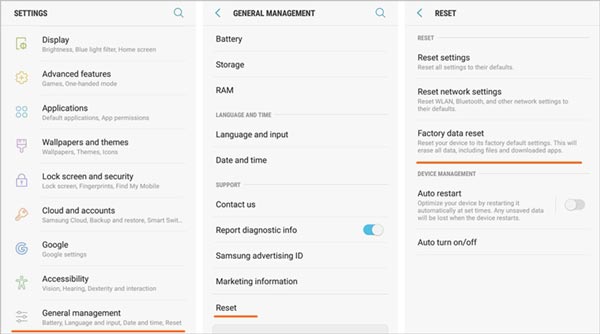 Hard reset Samsung with Android 6.0 or earlier version
Step 1. Also start the "Settings" app on your Samsung Note phone if it installs Android 6.0 or earlier version.
Step 2. Find out and tap the "Backup and reset" submenu in Settings screen. Then pick the Factory data reset option to begin Samsung hard reset. Follow the onscreen instructions and input your PIN code or password.
Step 3. Then press "Reset Device" on the warning message screen and then tap "Erase Everything" to trigger the Samsung hard reset process. Wiping an entire device will spend several minutes.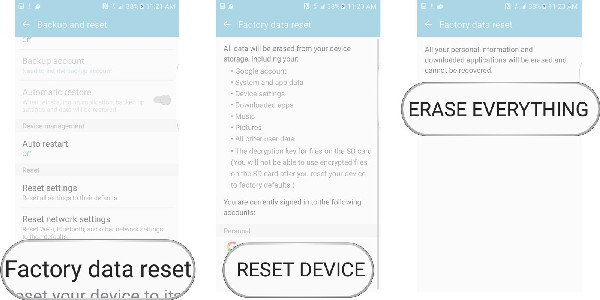 Part 3

: Master reset Samsung Note with hardware keys

Another way to do Samsung hard reset is to use the hardware keys. To help people reset frozen, black-screen, or crashed Note phones, Samsung has designed hardware keys for each device, which are not extra buttons but the combination of Power, Home, and Volume buttons.

Step 1. Shut down your device

Hold down the "Power" button until you see Power off on your Note phone. Then tap Power off to shut down your phone. If the Power button is not responsive, you can open the rear case and remove the battery. That will forcibly shut down a Samsung Note.

Step 2. Boot into the Recovery mode using hardware keys

When the screen turns black totally, hold down the hardware keys until boot into the recovery menu screen.

On Samsung Galaxy Note 8 and other Samsung Note having the Bixby button, you should press and hold the Power + Volume UP + Bixby button simultaneously.

For older Samsung Note models with the Home button, you should press and hold down Volume Up, Home and Power buttons at the same time.

On Samsung Note devices without the Home button, the hardware key combination is Volume Up + Power button.

Step 3. Perform Samsung hard reset

Highlight the "Wipe data/factory reset" using your "Volume Down" and "Volume Up" buttons on right side or left side. And perform it by pressing the Power or Home button. When you are presented the confirmation screen, select and perform "Yes -- delete all user data". Wait for the process to complete and tap "reboot system now" to start setting up your device.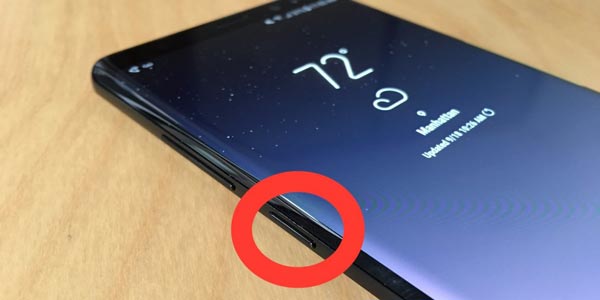 Conclusion
In this tutorial, we have showed you how to perform Samsung hard reset with the Settings menu and hardware keys. When you encounter some issues on your Samsung Note phone, such as not responding, freezing, black screen, no sound, or other software issues, you can find harmony by doing Samsung hard reset on your phone. Moreover, to avoid data loss, we also recommended a powerful Samsung Note backup tool, Apeaksoft Android Data Backup & Restore. Though it is rather easy to operate, you will be impressive about its quick and effective features.