Nowadays, mobile devices have introduced many features that greatly facilitate people's lives. However, these functions often require users to provide their GPS location or movements. Also, some applications will change their functions according to the user's location. Several games also require access to the player's movement track.
For privacy protection or other needs, people sometimes need to hide their real GPS location. At that time, a GPS spoofer will be the best assistant. To help you choose the right one among the many tools on the market, we will review 4 popular fake GPS location spoofers. Hope that after reading our content, you will get something out of it. Now, come and explore with us.
GPS Spoofing App
Part 1. Why Do We Need a GPS Spoofing App
A GPS spoofing app can manipulate the GPS location information on your device. It overrides the actual location data that your device receives from GPS satellites and replaces it with a fake location. Fake GPS location spoofers do this by creating a virtual GPS signal or modifying the location data sent by your device.
Developers or testers may need to simulate different locations to ensure that location-based apps or services function correctly in different regions. Some individuals may want to protect their privacy and prevent their real location from being tracked or shared by certain apps, services, or websites.
Part 1. Why Do We Need a GPS Spoofing App
Tool 1. Apeaksoft iPhone Location Changer
If you need to change your location, we recommend trying Apeaksoft iPhone Location Changer. It is quite user-friendly so you can change your location to any place in the world without any complicated operations. In addition to changing the GPS location, you can also use it to simulate your movements, with several modes to choose from. The history of the locations you have used will also be recorded. You can manage the favorite locations and routes list and access them whenever you want. Trusted by many users around the world, Apeaksoft iPhone Location Changer is absolutely safe.
Platform
For iOS devices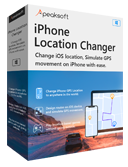 4,000,000+ Downloads
Enable users to change the GPS location to anywhere at will in one click.
Create a route to let the GPS positioning move along it at a specified speed.
Allows you to play location-based AR games without going outside.
Customize the moving speed and record your favorite location for future access.
Compatible with the latest iOS 17/iPadOS 17 and iPhone 15.
Here are the detailed steps for using Apeaksoft iPhone Location Changer.
Step 1 Download Apeaksoft iPhone Location Changer from the official website of it. After installing, launch it on your computer.
Step 2 Click Start, and connect your iOS device to the program via a lightning cable. You may need to bypass Trust This Computer on the computer.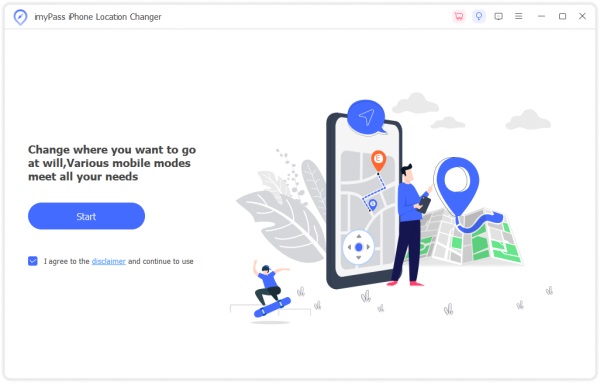 Step 3 Choose Modify Location on the interface. You can select among One-stop Mode, Multi-stop Mode, and Joystick Mode, depending on your needs.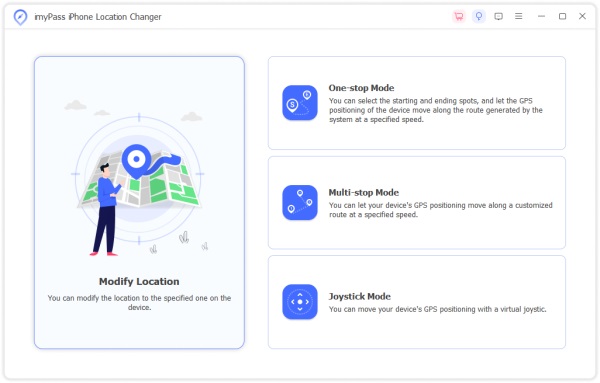 Step 4 Customize the speed and route. After finishing the modification, click Start Move to change the location of your iOS device.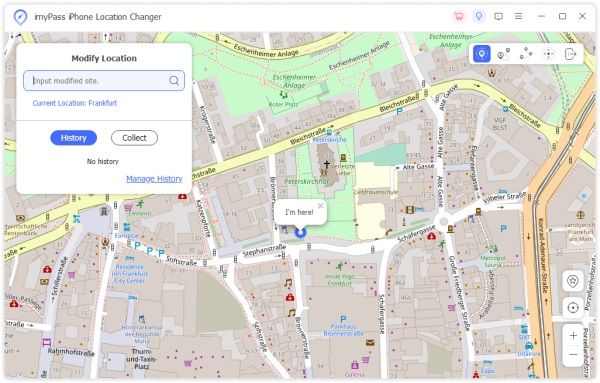 PROS

Very easy to use. Change your location in one click.
Has a high compatibility, supporting almost all models of iOS devices.
Multiple modes to choose from with a high degree of freedom.
CONS

The trial version offers limited functionality.
Tool 2. iSpoofer
iSpoofer is a popular iPhone GPS spoofing app used for changing locations. It also offers additional features like auto-walking and auto-catching in location-based games. For example, Pokemon Go. You don't need to jailbreak your device to use it. It works by using fake GPS signals to prevent your device from acquiring the actual location.
Platform
For iOS device

Main Features
Change iPhone or iPad GPS location on any gadget.
Even if you unplug your device, the location change will continue to take effect.
Supports using a joystick to move your location manually.
Allow you to spoof wirelessly.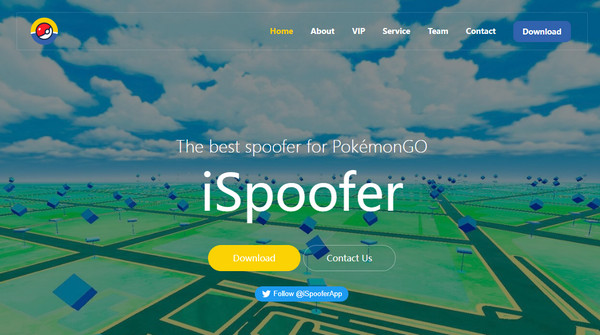 PROS

Very safe. No need to worry about your privacy and virus attacks.
No need to jailbreak your iOS devices.
Compatible with a wide range of iOS versions and models of devices.
CONS

Cannot be used on Android devices.
This program needs to be used with iTunes.
Tool 3. Dr. Fone Virtual Location
Dr. Fone Virtual Location is a GPS spoofing tool developed by Wondershare. With it, users can set a fake GPS location and bypass the regional restrictions smoothly. It has many more features for you to explore. For example, controlling up to 5 devices simultaneously, importing/exporting GPX files of different paths to save, keeping the visited locations for management, etc.
Platform
For both iOS and Android devices

Main Features
Offers several modes to choose from for changing location.
Modify your location to a random spot on the map under your control.
Provide a history view and allow you to manage all your chosen locations.
Can be used in playing geo-based games without actually moving.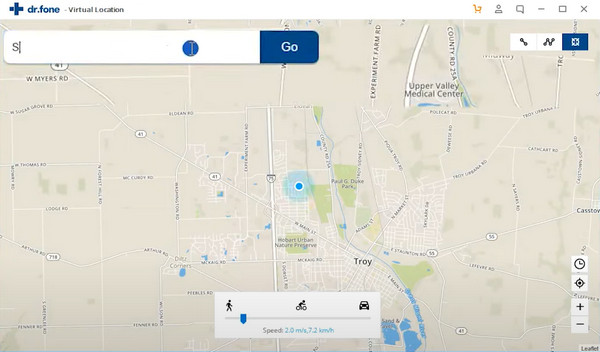 PROS

Supports changing the location of 3 mobile devices simultaneously.
Support entering the coordinates to modify your GPS location precisely.
Can be used with multiple apps and games.
CONS

Only offers two hours of free trial.
Has high system requirements. It is not compatible with lower systems.
Tool 4. GPS JoyStick
GPS JoyStick is an Android GPS spoofing app that offers several features to manipulate your device's GPS location via an overlay joystick control. It was called Fake GPS Location on Google Play Store. Not only does it deliver any latitude and longitude information in a timely manner, but it also prevents applications from detecting mock locations. Its interface is objective and simple, so you'll get the hang of it in no time.
Platform
For Android

Main Features
Change and set a fake GPS location of your choice.
Provides a virtual joystick that allows you to control your simulated movement with ease.
Create routes, allowing you to simulate movement along a specific path.
Adjust the speed of your movement and set it to a constant speed or simulate acceleration and deceleration.
Integrate with other location-based apps or services on your device.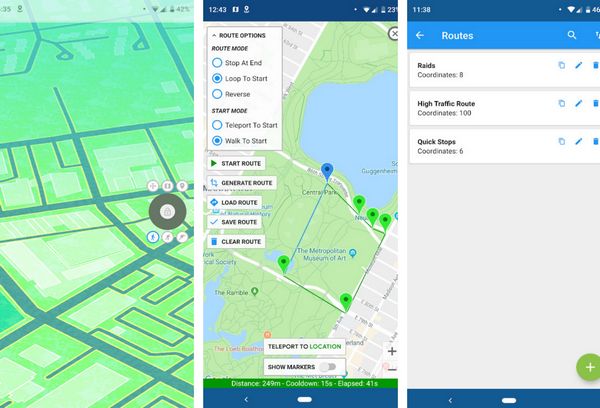 PROS

Accessible for users of all levels of technical expertise.
Customize the fake GPS location according to the user's preferences.
Able to create locations and routes without rooting.
CONS

May have limitations in terms of compatibility with certain apps.
There are in-app advertisements in the free version.
Part 3. FAQs of GPS Spoofing Apps
Can someone fake their location on an iPhone?
Yes, you can fake your location on an iPhone using GPS spoofing apps like Apeaksoft iPhone Location Changer. These apps allow users to manipulate the GPS location on their devices, simulating a different location than their actual physical location. However, using GPS spoofing apps may violate the terms of service of certain applications or services.
Can I spoof my location without a VPN?
Yes, you are allowed to spoof your location without a VPN. GPS spoofing apps allow you to set a fake GPS location. Additionally, you also have the option of using a Proxy Server. It works similarly to a VPN and can also help you change your IP address. You can choose one in hardware or software form, but you may have to pay for this service.
Can I make a fake live location?
Yes, you can set a fake GPS location and simulate movement in real time with a GPS spoofer, giving the impression that you are at a different location and moving around. However, you should use these apps within the legal boundaries, as they may violate the terms of service of certain applications.
Is GPS spoofing safe?
GPS spoofing can have both benefits and risks. It can be used for testing location-based apps, protecting privacy, deceiving others, or bypassing location-based restrictions. This could also make your device more vulnerable to hackers, as they can provide fake location information and bypass certain security features.
Can police track a fake VPN?
Police may be able to track a fake VPN if they have the necessary resources and expertise. They may employ various methods, such as monitoring network traffic or analyzing metadata to track down individuals using fake VPNs for illegal activities.
Conclusion
In this article, we have recommended 4 top GPS spoofing apps for you. Whether you are using an iOS or an Android device, you will find one that meets your needs. These GPS spoofers have similar core features, but each has unique strengths and weaknesses. With our detailed analysis, you can take a comprehensive look and try the one that suits your needs. If you have better tool recommendations or have other comments about these apps, please leave a comment to communicate with us.