You must have encountered a situation in which you can't find your iPhone or lost it in your daily life, or you need to locate your friends, children, or older people at all times to ensure their safety. If they have their cell phones with them, you can find them by tracking the position of the iPhone. And with the gradual promotion of GPS location services, tracking mobile phones at all times has been realized.
So, how to do the specific operation? In this article, we'll introduce 3 answers to how to track iPhone location, each using a different tool. You can choose the one that is most feasible for you after reading. In addition, we will also show you how to change the location of your phone's positioning.

Track iPhone Location
Part 1. How to Track iPhone Location
Method 1. Locate an iPhone with iCloud
icloud.com is a website offered by Apple that allows you to manage your iCloud account, iOS devices, and other associated services. You are supported to access your iCloud Mail, Contacts, Calendar, Photos, Notes, Find My, and other features. With icloud.com, you can access your iCloud and device data from any web browser. If you need to track the location of an iPhone, the Find iPhone features provided by iCloud will be a great assistant.
Here is what you need to do to locate an iPhone with iCloud.
In using this method, you should ensure Find My iPhone is enabled on your device. To do this, go to Settings and find iCloud. Then turn on Find My iPhone and Send Lost Location. Also, the device you want to track should be turned on and linked to Wi-Fi. Otherwise, you cannot find it with iCloud.
Step 1 Enter icloud.com into your browser, and log in with your Apple ID and password. Choose Find iPhone.
Step 2 Choose All Devices and drop down the list. Select the name of your iPhone.
Step 3 Now, the location of it will be shown on a map. You can zoom in or zoom out to locate its position.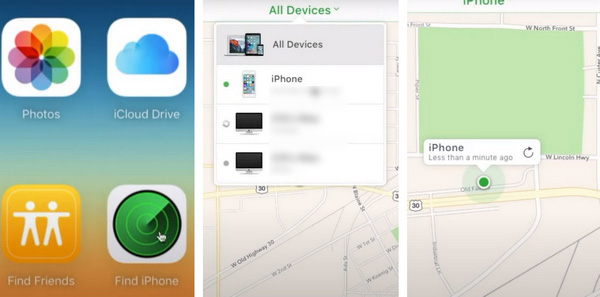 Method 2. Find An iPhone Using Find My iPhone
Find My iPhone is a built-in feature of iOS devices. You can use it to locate and track your iOS devices and share your location with friends and family members, making it easier to coordinate meetups or keep track of others. You can use it to locate your devices on a map, play a sound to help locate them, remotely lock them, or even erase the data on them to protect your privacy.
Here is what you need to do in using Find My iPhone. With this tool, you can track your location on your iPhone on another iOS device of yours.
Step 1 Open Find My iPhone on the iPhone and log in with your Apple ID and password.
Step 2 Check the location of your device on the map. You can click Action and choose Play Sound to play the ring on your iPhone.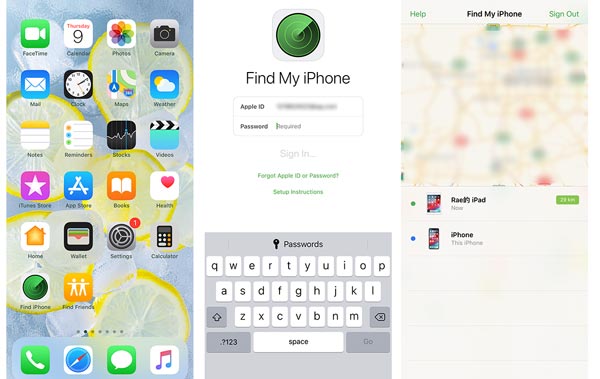 If you cannot find your device, click Lost Mode to lock or track it.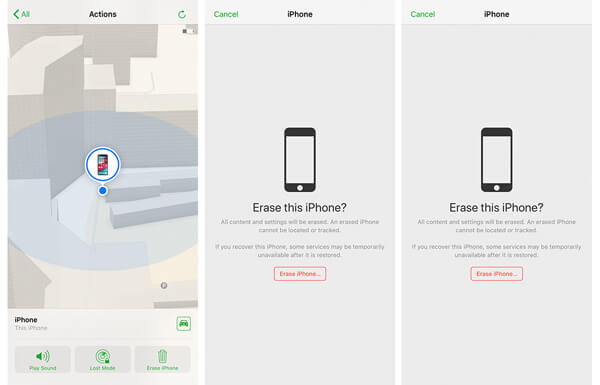 Method 3. Track iPhone Location from Google
• Google Timeline
Google Timeline allows you to view and manage your location history. It collects and stores location data from your Google account to create a detailed timeline of your whereabouts.
Follow this guide to track your iPhone with Google Timeline.
The Location Services needs to be turned on. And the device needs to be linked to the Internet.
Step 1 Log in to your Google Timeline. Choose the date you want to track from the left panel.
Step 2 Scroll down to find the latest location. Now, you can apply iPhone location tracking.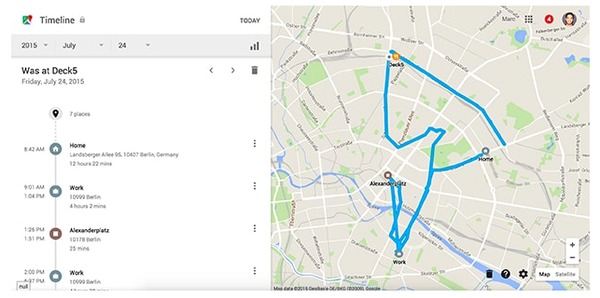 • Google Maps
Google Maps is a popular mapping service provided by Google. It offers detailed maps, real-time traffic information, and directions for various modes of transportation. Google Maps also provides additional features to record the location of your device.
Here are the steps to track your device from Google Maps
Step 1 Go to maps.google.com/location history. Choose the target date on the calendar.
Step 2 Check the location history. And you can click in to see the related updated time.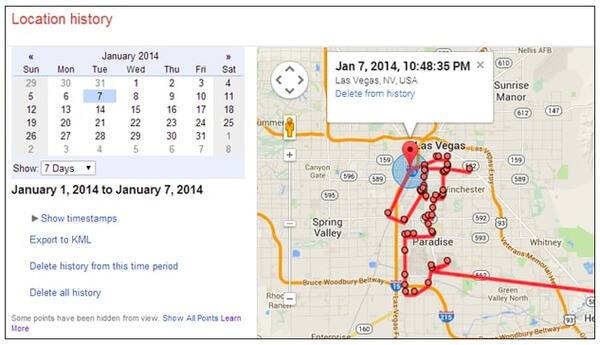 Part 2. Best Tool to Change Your iPhone Location
By now, we are sure you've mastered how to track the location of an iPhone. However, there are times when you may want to protect the privacy of your device and stop others from knowing your exact location. Or you need to change the location of the app's location so that you can test some of the app's features, as they offer different features for different regions. At this point, you may need a location-changing tool. We highly recommend you try Apeaksoft iPhone Location Changer. It is able to change the location of your device to any place in the world and is quite easy to use. You can even use it to simulate GPS movements and change the speed of movement. Your used address history will be saved for your next use.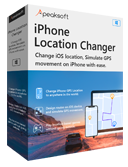 4,000,000+ Downloads
Change GPS location to anywhere on your iPhone within one click.
Let the position move along the route you create at a customized speed.
Record your favorite locations and routes to access them quickly next time.
Can be used on almost all types of iOS devices.
Here are the detailed steps of operating Apeaksoft iPhone Location Changer.
Step 1 Download Apeaksoft iPhone Location Changer from the official website and install it on your computer.
Step 2 Link your iPhone to this program via a USB lightning cable. You may be asked to tap Trust on your device to confirm. Then click Start on the interface.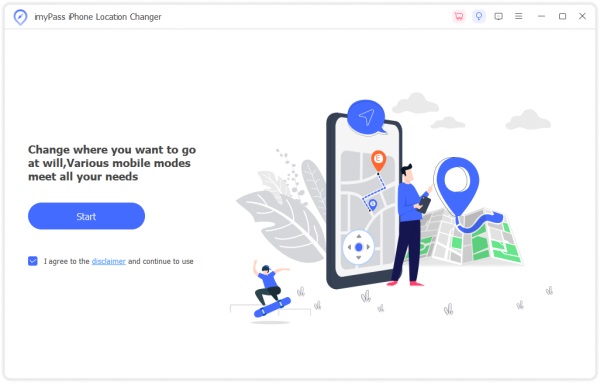 Step 3 According to your needs, choose among Modify Location, One-stop Mode, Multi-stop Mode, or Joystick Mode.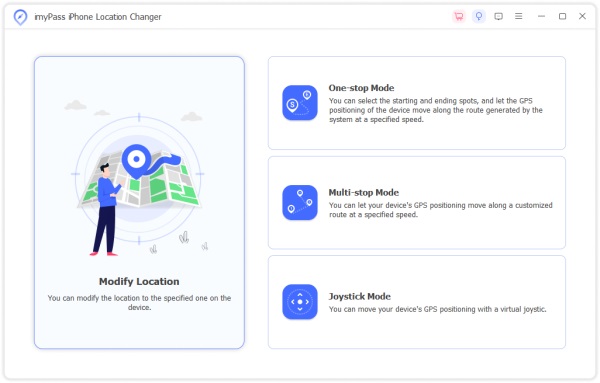 Step 4 Adjust the route and speed. Press Start Move to change the location.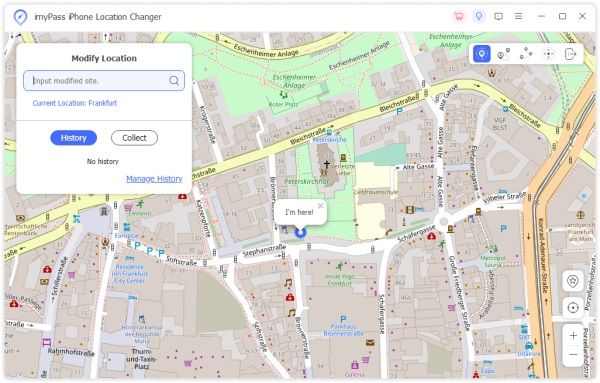 Part 3. FAQs of Tracking iPhone Location
Can I track my friends' location with an iPhone?
Yes, you can track your friends' location with your iPhone using the Find My app. It allows you to share your location with contacts and view their location on a map. It can be useful for staying connected with friends, coordinating meetups, or ensuring safety. It is important to note that you need to be aware of privacy and security issues. Before tracking your friend's location, you need to get their permission, or you will be violating their rights.
How do I know if someone is tracking my iPhone?
If your iPhone's battery is draining faster than usual, there could be software running in the background. Also, if you notice an increase in your data usage, it could be because a tracking app is sending location data to a remote server. Also, if you find other signs like unusual background noise, delayed shutdown, etc., your device might be tracked.
Can I find someone's location by their mobile number?
If no one removes your SIM card and uses your phone to make a call, you can track the location of your iPhone by phone number. You'll need some tools to help you with this, such as iMap, mSpy, GPS Tracker, Mobile Number Location Tracker, Number Locater, etc. However, if your SIM card has been changed, you won't be able to track the iPhone.
Can I hide the location of my iPhone?
Yes, you can hide the location of your iPhone by disabling Find My iPhone or the location services. To do this, go to the Settings, then select Privacy > Location Services. Toggle off the location services for specific apps or all apps. However, disabling location services may affect the functionality of certain apps or services.
Can someone track your location if your device is disabled?
No, if your phone is completely off, someone can't see your location. When your phone is turned off, it stops transmitting any signals or data, including location information. Therefore, your location cannot be tracked or seen by anyone.
Conclusion
In this article, we have offered 3 methods to track iPhone location. iCloud, Find My, and Google are all quite useful tools, and users have trusted them all in different regions. Detailed steps accompany all 3 methods to prevent you from encountering any problems in the operation. If you need to change your position, try the best tool we recommend. If you have any questions or have a better tool to choose from, feel free to leave a comment. We are looking forward to hearing from you.