"I constantly have fingerprints and smudges on my iPhone screen since it is so humid, and I despite cleaning it with a cloth, I still get this film all over my screen, is there a better way to clean iPhone screen?"

Your iPhone goes everywhere with you and picks up some dirt. Apparently, you can do more than just wipe the screen with your sleeve.
However, you need to take care when cleaning iPhone screen. Using anything you found in the cupboard to clean it may damage your screen, even your device.
In this post, we are going to show you how to achieve the task simply as well as avoid any damages.
Part 1

. How to Clean Your iPhone Screen

Apple continuously develops smartphone technology, including iPhone screen. For instance, Apple uses OLED screen for iPhone XS, XS Max. Considering the screen materials are different for different iPhone models, the ways of cleaning iPhone screen are various.
Clean iPhone XS/XR/X/8/8 Plus/7/7 Plus
Step 1: Disconnect cables, headphones, and other external devices. Press the Side button for a while to activate the shut down screen, and move the slider to turn off your iPhone.
If you use an iPhone case, take it off and clean it separately.
Step 2: Wait for your iPhone screen to become black. Then use a microfiber cloth to wipe off fingerprints on your screen.
The latest iPhone models are covered by an oleophobic coat, which is able to resist fingerprint and oil. So don't clean iPhone screen with window cleaners, household cleaners, solvents, ammonia, abrasives, water, or rubbing alcohol.
Use a soft cloth or moisten it with tap water instead, you can purchase the microfiber cloth in any camera shops.
Step 3: Next, clean the charging point with a paper clip or toothpick softly. The port may be full of dust, debris, or fluff. Don't use compressed air or moisten cloth to clean the charging port on iPhone 7 and other new models.
Then wipe the iPhone microphone and speaker holes with tooth brush.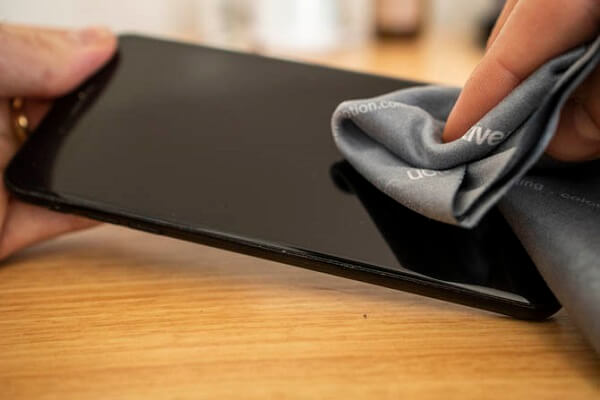 Clean iPhone 6/6s/5s/5c/5 and earlier models
Step 1: Power off your iPhone and remove all cables connected to your device.
Step 2: Next, clean iPhone screen with a microfiber or soft lint-free cloth. The surface may be worn as time goes by. If you use cleaners containing hydrogen peroxide to clean your screen, it may damage your device.
Step 3: There is a Home button on the old iPhone models. It is a very important part of your screen as well. To clean the Home button, you need to use a lint-free cloth to wipe it.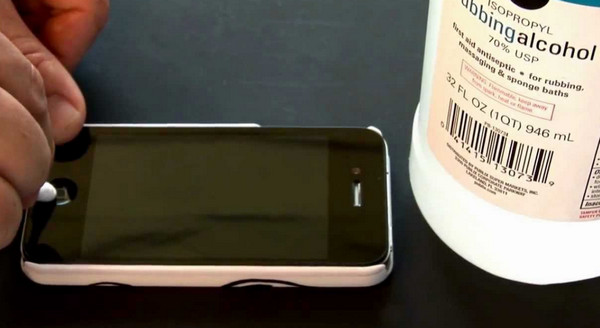 Note:You should clean your iPhone screen gently, and avoid a cracked screen on your iPhoneduring the cleaning process.
Important notes of how to clean iPhone screen
Here are some important notes to avoid ruining your iPhone when cleaning it:
1. Don't soak your iPhone in water. Although iPhone X/8/7 is certified water resistant, it does not mean you can soak your iPhone in water or drip moisture on your screen.
2. Household cleaners or other chemicals are able to destroy the oleophobic coat and your screen, even home button and cause Touch ID not workingor Touch screen not working, so do not use it to wipe your iPhone screen. In addition, the cleaners for LCD screens are not suitable to iPhone.
3. Don't use vinegar, lemon juice, or non-neutral materials on your iPhone screen. These substances are too abrasive for your screen, though they are natural.
4. If your screen contacts with ink, food, oils, dirt, makeup, and dyes, clean iPhone screen with a microfiber cloth immediately. We suggest you to always take a microfiber cloth. If the dirty stuff dries on the screen, it will become difficult to remove.
5. Always clean your screen with a lint-free cloth. If you do not have a microfiber cloth, utilize a lint-free material at least. Some people prefer to clean iPhone screen with paper towel or sleeve. They are so rough that can scratch iPhone touch screen.
6. Wipe your iPhone screen regularly. We take our iPhone everywhere. The best way to protect iPhone screen is to clean it regularly.
7. Data lost for unappropriate clean of iPhone screen? Just try to restore iPhone data from iCloudor iTunes backup.
7. Choose a professional tool to make a backup for your iPhone to prevent your data from losing before you clean your screen.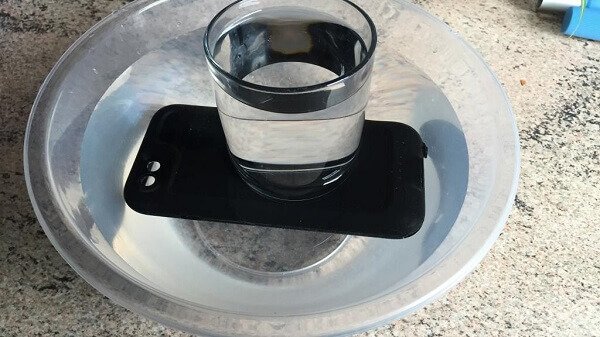 Recommendation

. iOS Data Backup & Restore

Apeaksoft iOS Data Backup & Restoreis one of the best tools to back up iPhone. Its key features include:

1. Easy to use. It allows you to create a backup for entire iPhone in a single click.

2. Back up a wide range of data. iOS Data Backup & Restore supports photos, videos, music, notes, contacts, call history, messages, iMessages, etc.

3. No damage to existing data. The application is able to back up all data from iPhone to computer without interrupting current files on your iPhone.

4. Selectively back up. It allows you to preview the data on your iOS device and select certain files for backup.

5. Protect iPhone backups. You can add password on iPhone backups and prevent others from viewing your privacy.

6. Restore iPhone backup. If your data is lost when cleaning iPhone screen, you can get back it with the same application.

7. Support all iOS devices, including iPhone 15/14/13/12/11/XS/XR/X/8/7/6, etc.

8. Provide two versions, one for Windows 11/10/8/8.1/7/Vista/XP and the other for macOS (including macOS 13 Ventura).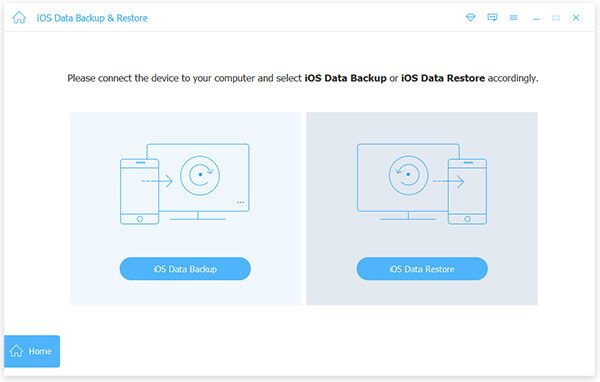 In a word, it is the best option to back up and restore iOS data.
Learn here to backup your iPhone photos, messages, cotacts, videos, etc. before cleaning iPhone screen.
FAQs of Cleaning iPhone Screen
1. How to disinfect iPhone Screen?
You can use a 70 percent isopropyl alcohol wipe or Clorox Disinfecting Wipes to wipe the exterior surfaces of your iPhone.
2. How to clean screen protectors for your iPhone?
Using a soft cotton or microfiber cloth, gently rub clean the fingerprints on your screen protector.
3. How do I clean iPhone speaker without damaging the device?
Artist brush is able to clean iPhone speaker. Just take your iPhone in one of your hand vertically, and then use the paint brush in another hand to clean up the bottom speaker on your iPhone. Then the tiny particles will fall out.
4. What apps can wipe out iPhone data permanently?
To clean up iPhone data permanently, you can use Apeaksoft iPhone Eraser, Clean Doctor, CleanMyPhone, iFreeUp, etc.
Conclusion
Based on the sharing above, you might understand that cleaning iPhone screen is an important thing for every user. However, not everyone uses the right way to clean their screen. Some people, for example, said that they clean their iOS devices with paper towel.
As a result, we shared the correct methods to clean the screen of iPhone 15/14/13/12/11/XS/XR/X/8/8 Plus/7/7 Plus and 6/6s/5s/5c/5 separately. We suggest you to use a microfiber or lint-free cloth to clean iPhone screen, because it is soft and will not scratch the surface. To help you avoid any damages, we also posted some tracks. Backup is the best way to protect your data. If you are ready to clean your iPhone screen, we recommend you to try Apeaksoft iOS Data Backup & Restore. It is able to create backups for your iPhone simply and quickly.