By using the Calendar app, you can organize and sort out all events and appointments in place. Furthermore, you can separate your work and personal life easily. Just create specific calendars for different themes or people. If you do not use some calendars for a long time, you can hide or delete calendars on iPhone to stay well organized.
However, many people have problems with deleting iPhone calendar events.
"How do I delete all iCloud calendar events?"
"How to delete iPhone calendar event with no edit icon?"
"How can I delete calendars in iOS 10?"

If you are stuck with the same question, you are lucky to find this article. Here you can learn how to delete calendar on iPhone temporarily or permanently. Yes, if you want to erase something really personal, you can get the detailed tutorial, too. Now, let's read and delete past calendar events in different cases together.
Part 1

. Part 1. How to Delete Subscribed Calendars in iOS 17/16/15/14/13/12/11

Some users complain that it is hard to delete subscribed iPhone calendars after iOS 11 update. Actually, you can remove unwanted calendars from your iOS 11 or later device as apps. Just head to iPhone Settings to delete calendar on iPhone 14/13/12/11/X, iPhone 8 or other iPhone models under iOS 11/12 version.

Step 1: Turn on your iPhone and open "Settings".

Step 2: Scroll down to find "Accounts & Passwords".

Step 3: Tap "Subscribed Calendars" under "Accounts".

Step 4: Choose the Calendar you want to clear.

Step 5: Tap "Delete Account" to delete a calendar on iPhone in iOS 11 or later.
Part 2

. How to Delete an Old Calendar Event on iPhone via Calendar APP

This is the old-style way to delete events on calendar for iOS 10, iOS 9 and other iOS versions. You can see all your previous calendars and events in the Calendar app. Well, you can choose the certain color to access calendars in the similar themes quickly.

Step 1: Launch Calendars app.

Step 2: Choose "Calendars" at the bottom of your iPhone screen.

Step 3: Tap the "Edit" icon on the top.

Step 4: Find and select the unwanted iPhone calendars.

Step 5: Choose "Delete Calendar" and confirm the deletion.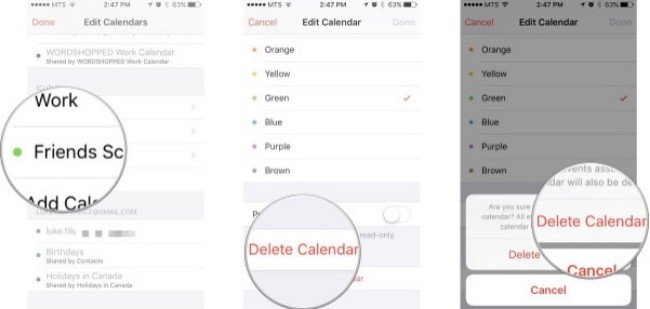 Part 3

. How to Delete a Calendar from iCloud Calendars List

If you have synced iPhone calendars with iCloud before, you should also delete iCloud calendar manually. Consequently, all events associated with that calendar will be removed at the same time. Be aware that you cannot delete all calendars in the list. iCloud requires at least one calendar left. What's more, all your Apple devices cannot find this deleted calendar via iCloud.

Step 1: Visit iCloud.com in your web browser. Sign into your iCloud account.

Step 2: Choose "Calendar" from various choices. Then tap "Edit" on the top left corner.

Step 3: Select the "-" icon in a red circle next to the old iPhone calendar's name.

Step 4: Choose "Delete" to delete an iCloud calendar on iPhone.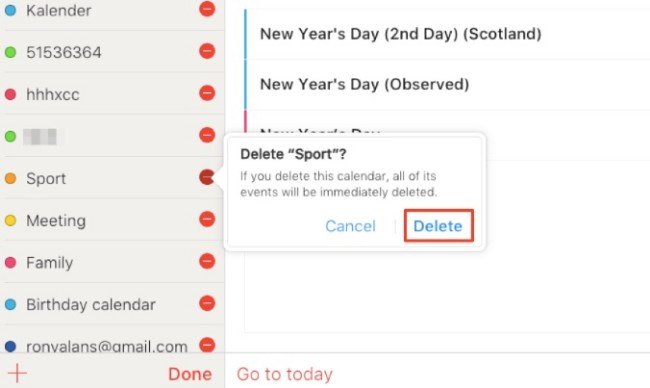 Then all iOS device synced with this iCloud account will also deleted calendars on your iOS devices. In this way, you are able to delete contacts on iPhone easily.
Part 4

. Can't Delete a Calendar or Event? Try This iPhone Eraser

If you do not want others know your calendar, the most effective way is cleaning up your iPhone. Deleting calendars on iPhone is not safe enough. Just like you screw up the wastepaper into the trash bin. Even though you empty the dustbin, someone can still find the wastepaper. During this time, you need a "shredder", which is Apeaksoft iPhone Eraser.

You can erase all stored files and settings from your iOS device with no recovery possibility. Others cannot track your personal information with the old iPhone. Thus, iPhone Eraser is also a must-have app that can safeguard your phone data. You really need to clean up your iPhone before selling or giving. Therefore, you can delete calendar on iPhone safely, as well as other sensitive information.
Delete all calendar events, notes, URL, and inbox, etc.
Clean your iPhone other data like contacts, SMS, photos, etc.
Delete calendars on iPhone in low level, medium level or high level.
Work with iPhone 15/14/13/12/11/XS/XR/X/8/7/6, etc. running on iOS 17/16/15/14/13/12/11 and earlier.
Download for Win
Download for Mac
Before you delete calendars permanently, you had better sync iPhone calendar with Mac, just in case of data loss.
Steps to Permanently Delete iPhone Calendars without Recovery
Step 1: Connect iPhone to iPhone Eraser
Free download and install iPhone Eraser. Use an Apple lighting USB cable to connect iPhone to your computer. Sooner, the computer will detect your iOS device.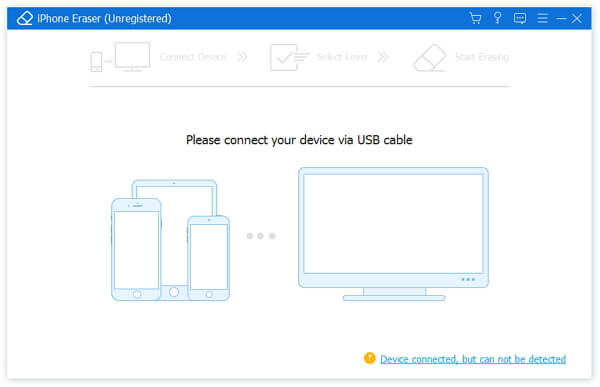 Step 2: Set iPhone erasing level
You will be required to choose the iPhone erasing level. Choose "Low (One Time)" to overwrite iPhone data for one time. Consequently, you can overwrite all iPhone data and junk files for two or three times, too. During this time, the default Low level is enough. Then click "OK" to save the change.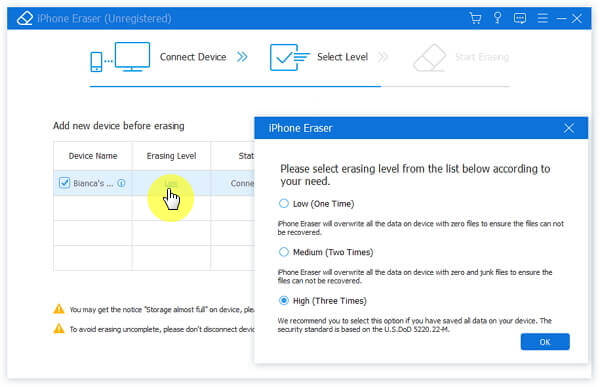 Step 3: Delete calendar on iPhone safely
Click "Start" to start erasing your iPhone events and other files. You need to wait for a while to complete the process. Later, you can restart your iPhone to have a check.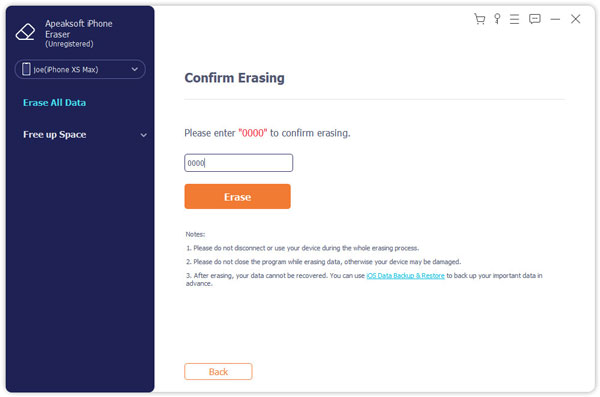 Part 5

. FAQs About Deleting Calendar on iPhone

Why do I have multiple calendars on my iPhone?

The iPhone's calendar feature helps you set up multiple calendars to keep track of different types of schedules and categorize them. For example, work schedules, family matters, school schedules, etc. You can also set up to keep track of all your schedules in one calendar.

What does it mean to merge calendars on an iPhone?

Merging calendars generally means mixing the calendar on your iPhone with the calendar on your iCloud. If you haven't used iCloud calendars, your calendar will be uploaded to iCloud and merged with an empty one.

Is iCloud Calendar the same as iPhone Calendar?

While both are not very different in functionality, they are stored differently. iPhone Calendar will only be stored on your device, but the iCloud Calendar is stored in the cloud. You can view these calendars on any device that is logged into iCloud. Of course, you can also merge the two.

How do I create a family calendar on my iPhone?

Open Calendar on your iPhone, and tap Calendars on the bottom of the screen to enter the next screen. Then, choose Add Calendar in the bottom left of the screen. Now, you can create a new calendar or add a subscription calendar.

How far back does the iPhone calendar keep events?

By default, the iPhone will save your calendar for up to a month. However, you can change the time limit of the calendar. Open Settings and tap Calendar. You can adjust the range to Events 3 Months Back, Events 6 Months Back, or All Events.
Conclusion
By using iPhone Eraser, you can protect privacy and free up more space. In another word, no matter how many files you have stored, you can turn your iPhone as a "new" one. Can you delete calendar on iPhone now? If you still have difficulty in deleting iPhone calendars or events, you can leave messages below or feel free to contact us.