Deleting emails on iPhone can be a tedious process since the Trash All option has been removed when iOS 10 released. According to a recent survey, checking email has transformed to mobile devices. Majority of smartphone users look at emails on their handsets frequently.
What about managing emails, such as delete emails? iPhone users complained that they have accumulated hundreds of old mails in their inbox; however, they did not know how to remove them quickly. Moreover, email services only offer limited space for every account. If there is not enough storage, people may miss important mails. That is why we share the how-to in this article.

Part 1

. Delete Emails on iPhone Inbox

If you are tired of checking your Mail app full of old emails, follow the steps below to get rid of them from your Inbox.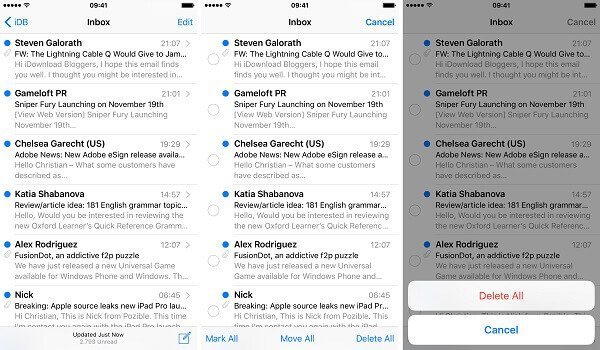 Step 1. Run the Settings app, tap on your name, and go to Account and Passwords. Select your email account and tap Advanced.
Step 2. Tap Archive Mailbox and select On the Server, and then choose All Mail. Back to the Advanced settings screen, tap Move Discarded Messages Into and select Deleted Mailbox. Tap Done to confirm it.
Step 3. Open the Mail app from your home screen and go to Inbox.
Step 4. Tap Edit at top right corner and touch the unwanted emails.
Tip: You are allowed to delete up to 150 emails on iPhone Inbox at one time.
Step 5. Tap Trash at the bottom and press Delete All to delete emails on iOS 10 immediately.
Note: After deleting emails on iPhone 8/7/6 and earlier models, you'd better restart your iPhone. That could clear out all the cache and deleted items from your iPhone.
Note: this is the common way to delete emails on your iPhone, and others cannot see them again. However, once your iPhone is scanned with professionl data recovery software, it still gets the possibility to retrieve the deleted emails on iPhone.
Part 2

. Remove Emails on iOS 11 or Later

Apple continuously releases updates and introduces new features. In the latest systems, you can mass delete multiple emails on iPhone quickly.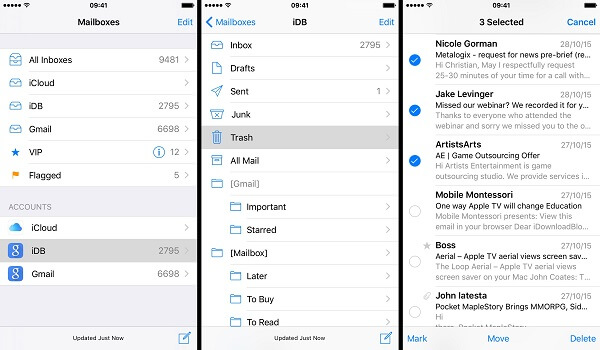 Step 1. Start the Mail app on your iPhone.
Step 2. Go to the Inbox folder and tap the Edit button. Select an email, press and hold the Move button at the bottom. While holding the Move button, uncheck the selected emails.
Tip: If you have associated multiple email accounts on your iPhone, you can go to the inbox separately under the Inbox section. Tapping the Inbox tab, you will be presented all emails you received in any accounts.
Step 3. Wait for a while until you see a new screen pops up. Here you are allowed to move all emails to another folder. Select Trash or Junk folder as the destination.
Step 4. Then go to the Trash or Junk folder, tap the Edit button and select Delete All from the context menu.
Note: The Trash folder contains the Delete All command on iOS 11 and later versions. In addition to iPhone's Mail app, you may use Gmail or other mail apps on your device. The procedure of deleting all emails on iPhone may be different depending on the design of your mail app, but most services permit users to remove old emails in batch.
Part 3

. How to Clean Emails on iPhone Memory Permanently

When you open an email and read the text and attachments on your iPhone, that will produce caches. It is difficult for average people to delete all emails and cache on iPhone 7 or other models. From this point, we suggest you to try Apeaksoft iPhone Eraser.
Mass delete all emails and cache data on iPhone in a single click.
Support emails, attachments and cache in iOS Mail app or third-part mail apps.
Rely on hardware acceleration technology to speed up the process.
Offer three erasing levels to meet your demand in various situations.
Compatible with iPhone 15/14/13/12/11/XS/XR/X/8/7/6 or earlier, iPad and iPod Touch.
In a word, it is the best choice to delete all emails on your iPhone at a time. We use an iPhone 6 and a PC as the example to show the procedure.
How to delete emails and attachments on iPhone
Step 1. Get the best email eraser
Download Apeaksoft iPhone Eraser to your computer, double click on the installer and follow the onscreen instructions to install it on your machine. Then hook up your iPhone to the computer with a Lightning cable. Once open the email eraser tool, it will recognize your iPhone automatically. (iPhone does not show up on computer? Check the solutions.)
Tip: You should make a backup for entire iPhone 6 with iCloud or iTunes before performing email deletion.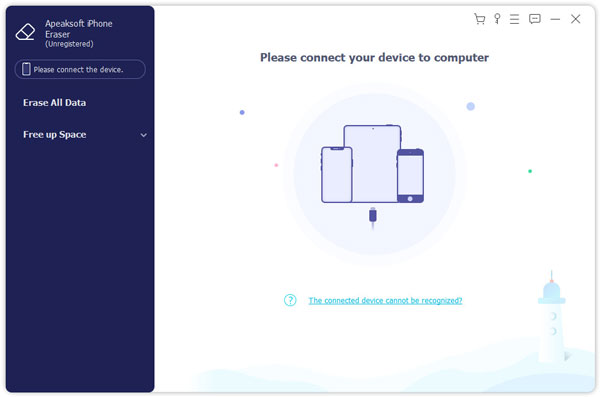 Step 2. Prepare for deleting emails on iPhone 6
Click the link in the Erasing Level column and you will get three options, Low, Medium and High. The first one deletes all emails by overwriting iPhone one time, the second overwrites your iPhone twice, and the latest one performs overwrite three times. Pick the proper one based on your need and click OK button to back to the home interface.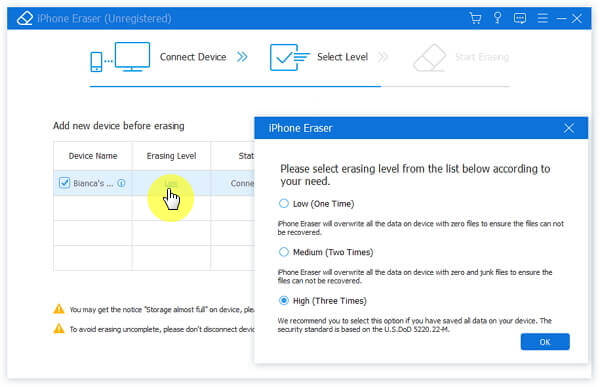 Step 3. Erase all iPhone emails at one time
If you are ready, click the big Start button to initiate deleting all emails, attachments and cache data on your iPhone immediately. A few seconds later, you will get the notification. Quit the email eraser and disconnect your iPhone from your computer.
Note: The email eraser will remove all personal data and files on your iPhone. After deleting, your iPhone will go to the welcome screen as a new device. You can restore the apps and files from iCloud or iTunes backup.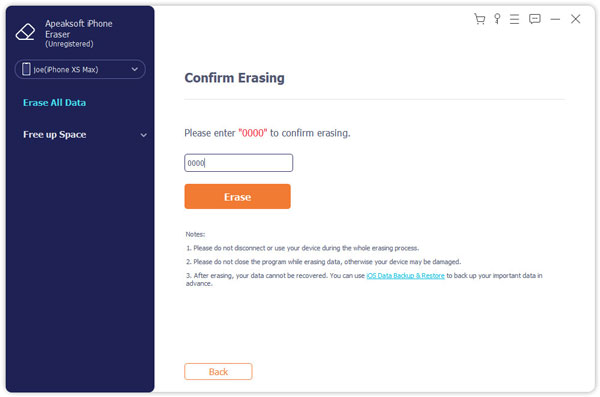 Conclusion
This tutorial has told you how to delete emails on iPhone. Nowadays, emails are not dead, but we switch to the mobile devices to receive, send, check and manage our emails. When it comes to iPhone, users feel confused since Apple keeps changing the design of iOS Mail app. We have shared guides step by step in this article. Plus, if you are looking for an all-in-one solution to remove all emails on your iPhone, Apeaksoft iPhone Eraser is a good option. It is not only easy to use, but also available to both emails as well as attachments.