"Since I updated to iOS 11, I have frequently checked my calendar, the weather, and more on the lock screen, how to delete Siri app suggestions from iPhone?" Apple iOS systems are smart and include a lot of functionalities. Siri, for example, is the artificial intelligence technology on iPhone. It can analyze your app use and provide customized suggestions. This guide tells you how to delete Siri app suggestions and protect your privacy.

Delete Siri Suggestions
Part 1: How to Delete Siri Suggestions Manually
How to Delete Siri App Suggestions on the Home Screen
The Siri Suggestions widget can display on both your home screen and lock screen. When you see an unwanted app on the widget, you can delete it from Siri Suggestions on your home screen directly.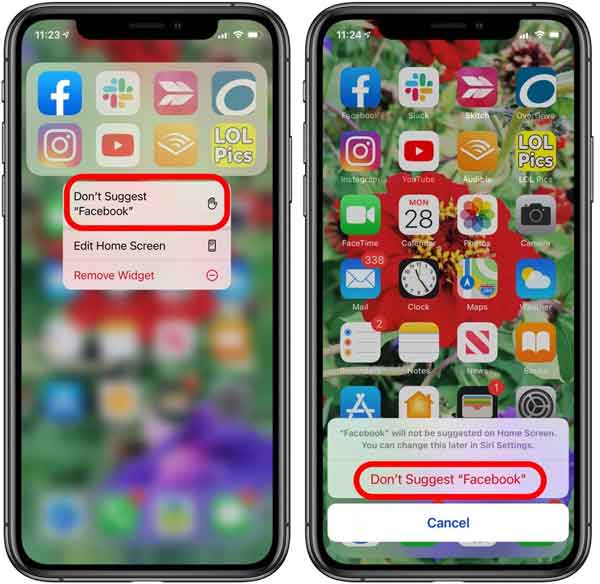 Step 1Touch and hold the app that you want to delete from Siri Suggestions. Then a popup menu will appear.
Step 2Tap the Don't Suggest option, and confirm that you intend to delete Siri App Suggestions. Then you won't see the app on the widget again.
How to Delete Siri App Suggestions by Settings
The Settings app allows you to manage your iPhone from every aspect including deleting apps from Siri Suggestions widget. You can follow the steps below to get it properly.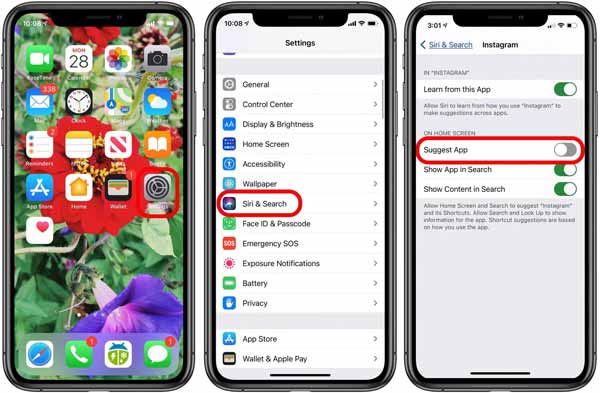 Step 1Run the Settings app, and tap the Siri & Search option.
Step 2Scroll down and find the app that you intend to delete, and touch it.
Step 3Toggle off the Suggest App option under the ON HOME SCREEN section.
Step 4Go back to your home screen and turn off your iPhone. Next, unlock it with your passcode, and you will find that the app is disappeared from the Siri Suggestions widget.
Note : For a native app, you can delete it from Siri App Suggestions in the app Settings screen.
How to Turn off Sir Suggestions on iPhone
Some people believe that Siri Suggestions are not only annoying but also leak privacy. In fact, you can disable this feature and completely delete Siri App Suggestions from your home screen and lock screen.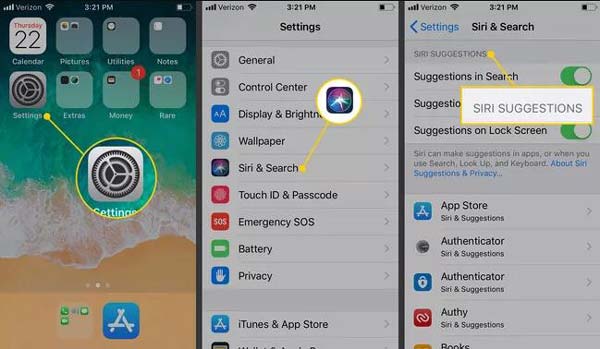 Step 1Open the Settings app, and press the Siri & Search option.
Step 2Scroll down to the Siri Suggestions section, and toggle off each option under the section, like Suggestions in Search, Suggestions in Look Up, and Suggestions on Lock Screen.
How to Disable Siri Suggestions Widget
Even if you have turned off Siri Suggestions in the Settings app, it is also an attempt to provide recommendations on your Today View Screen. Fortunately, you can follow the steps below to hide the widget quickly.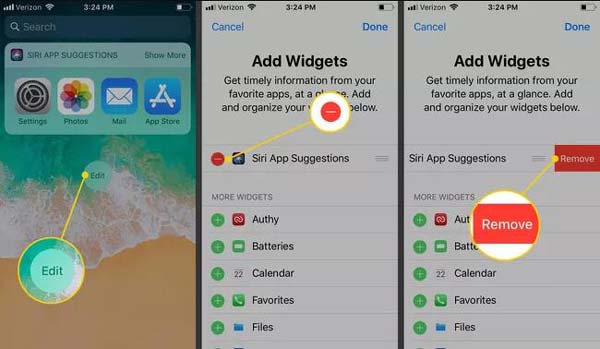 Step 1Swipe right from your home screen until you enter the Today View screen.
Step 2Scroll to the bottom and tap Edit. Find the Siri App Suggestions option. Tap the red – icon in front of the option, and touch Remove.
Step 3Finally, tap Done at the top of the screen to save the changes.
Recommend: Best iPhone Remover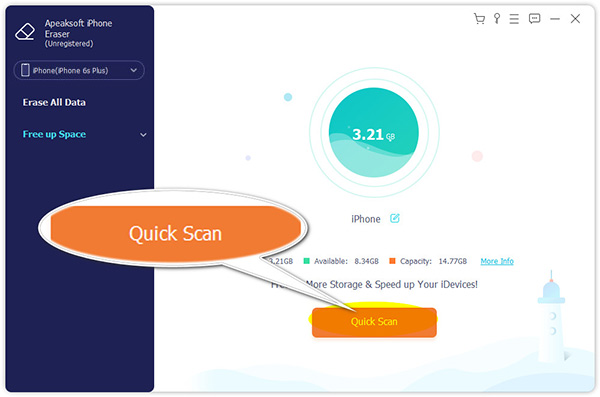 Many people do not like Siri App Suggestions because it leaks your activities on the lock screen or home screen. The best way to protect your privacy on iPhone is to find a powerful iPhone manager and eraser, such as Aspeaksoft iPhone Eraser. It offers multiple ways to clean up iOS memory in various situations.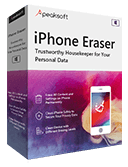 4,000,000+ Downloads
Erase all data and settings on iPhone in one click.
Remove duplicates, junk files, and more without data loss.
Quickly scan your iPhone memory with a computer.
Available to a wide range of iOS devices.
Part 2: FAQs on How to Delete Siri Suggestions
How do I erase Siri suggestions?
You can erase specific apps from Siri Suggestions widget on your home screen or the Settings app following the guide above. Moreover, you can completely remove Siri Suggestions from your screen too.
Can I customize Siri Suggestions on iPhone?
You can only decide which apps display on Siri Suggestions, where the Siri Suggestions show up, such as your home screen, lock screen, and Siri Suggestions widget, or hide it from your iPhone directly.
What are the Siri suggestions based on?
Siri makes suggestions for shortcuts based on your iOS or iPadOS app usage, information from third-party apps, browser history, email, messages, and contact information. It also suggests shortcuts created in the Shortcuts app.
Conclusion
Now, you should understand what Siri Suggestions are, how to delete specific apps from the suggestions, and how to turn off the feature completely. If you are bothered by the widget, you can follow our guide to get the desired result according to your situation. For privacy protection, Apeaksoft iPhone Eraser is a choice worth you to try. If you encounter other troubles related to Siri Suggestions, please feel free to write them down as a message below this post and we will reply with it quickly.