Cookies are used for websites to save personal information. Sometimes, cookies may lead to an error page display. Besides, your iPhone may be lagged for there are a lot of cookies on your iPhone. So, it is a must to clear these cookies on iPhone.
If you are still having no idea about how to clean your iPhone cookies, you can read the article. There is no need to worry about. To deal with the problem, we will offer you 4 solutions to clear cookies on iPhone. So, be patient to read-on the passage.

How to Clear Cookies on iPhone
Part 1. What Are Cookies on iPhone and Why to Clear Them
Cookies works as an important factor to track visitors for website. It is an essential part among all system detecting and tracking tool. At first, websites use cookies to record personal information, browsing history, preference, and logging statue of users. All of which are used to improve the user interface when searching through the website.
To know more details about cookies, you must know that there are essentially two kinds of cookies, including first-party cookies and third-party cookies.
As the name indicates, first-party cookies are stored in the first website you are visiting. While, third-party cookies are created by the domains other than the website you are visiting, such as ads on website.
Every time you enter the account and password, the browser can remember it. It is unsafe and your personal information may leak to other hackers. Cookies may lead to an error website page. So, you need to clear them regularly.
Part 2. Permanently Delete iPhone Cookies with Third-Party Tool
If your iPhone gets slower and slower, for there are too much cache, cookies, and searching history on your iPhone. You might as well delete the cookies on your iPhone with the professional software. Apeaksoft iPhone Eraser shows its advantages among so many similar iPhone cookies erasing tools. You can erase everything including cookies, cache, account information, photos, browsing history, videos, emails, downloads, and more settings on iPhone as to secure your personal privacy.
How to Delete cookies on iPhone with iPhone Eraser
Step 1Click the download button to free download iPhone Eraser. Install and launch this cookies eraser on your computer. Tap "Trust" on your iPhone to trust the program.
Step 2iPhone Eraser offers three erasing levels, including Low level, Medium level, and High level.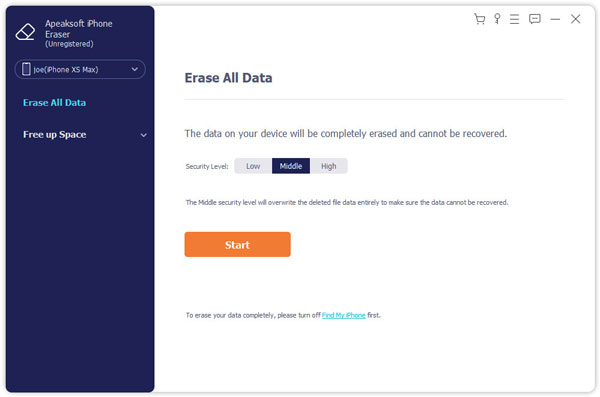 Step 3After selecting the erasing level, click "Start" to clear all cookies in Safari, caches, browsing history, videos, notes, calendars, and all the content and settings on iPhone.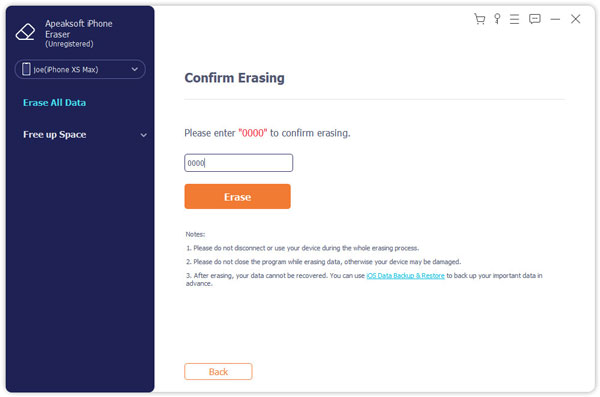 Note :
iPhone Eraser will erase all content and settings on your iPhone. If you have something important to save, you can backup them first with
Apeaksoft iOS Data Backup & Restore
. It helps you quickly and safely backup all frequently-used iPhone/iPad/iPod data, including messages, documents, photos, notes, call logs, videos, audio, and more.
Part 3. Free Way to Remove Cookies and Website Data on iPhone
To free up more storage and improve iPhone performance, you can remove cookies on iPhone with the settings directly. Here, you can take the simple steps in the Safari settings. The whole process will delete all saved logins and associated data in Safari.
You can go to Settings > Safari > Advanced > Website Data. You can see a list of domains for each of website data and cookies. Then click Edit and delete the website data you want to delete. You can also just navigate to Safari, and tap Clear History and Website Data to erase all history, cookies, and other browsing data in Safari.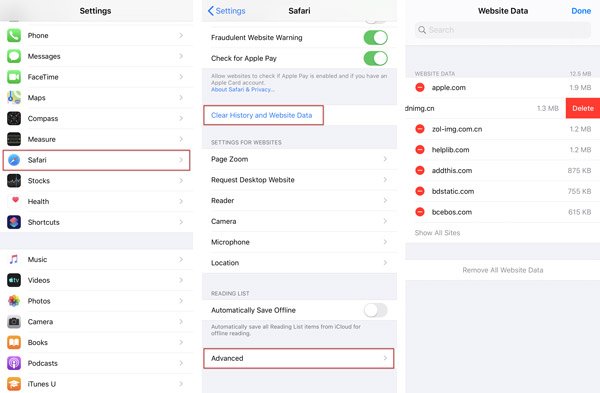 If you have enabled cookies in Safari and find it troublesome to remove it, you can block the cookies in setting. Just go to Safari setting, find Block All Cookies, and switch the slider to turn it on. All the existing cookies and website data will be removed. Perhaps, the website may not work for that.
Part 4. Free Method to Delete Cookies in Safari on iPhone
If there are a lot of cookies in your Safari browser, your Safari may get slower and slower. To fix that, you can try the following methods to delete cookies in Safari. Detailed steps are shown as follows.
Step 1Open Safari app, and tap on Bookmark icon at the bottom.
Step 2Then, tap History > Clear to clear history and data in Safari.
Step 3You can select to delete Safari history and data in the last hour, Today, Today and yesterday, and All Time.
Part 5. Free Way to Clear Cookies in Chrome on iPhone
Google Chrome is also a frequently used browser as Safari. You can follow the steps to delete cookies in Chrome on your iPhone. You can choose to delete the existing cookies, allow or block all cookies, and set preference in Chrome.
Step 1Open Chrome app on your iPhone.
Step 2Then you can tap More... > Settings at the bottom right.
Step 3Check Cookies, and Site Data, and tap Clear Browsing Data.
Then, the cookies in Chrome on your iPhone can be deleted. However, some cookies cannot be deleted completely. If you want a thorough clean of your iPhone, you can use the third-party software – iPhone Eraser. It can completely erase all content and settings on your iPhone.
You may need: How to clear cookies on Mac
Conclusion
We mainly introduced 4 methods to clear cookies on iPhone. Hope that you can find the wanted answer after reading this article. You can choose one from the three free ways to delete cookies on iPhone, or use the powerful iPhone Eraser. Instead of deleting cookies manually, it's better to use iPhone Eraser to delete Safari cookies, caches, browsing history, and all content and settings. If you have better solutions, please don't hesitate to leave a comment.