As we all know that our mobile phones are generating data all the time when we are using them. Too much data will slow down our device and even cause other problem to make our iOS devices perform improperly. As an iOS user, you may have the habit to delete useless data from iPhone/iPad/iPod frequently to save space, but does it mean you have deleted the data from your device permanently?
As we all know, there is a recycling feature in computer or Mac to hold items we have deleted. For Windows PCs, it's called Recycle Bin. For Mac, it's called Trash.

There is also a similar feature in some apps in iOS device, which is a folder called Recently Deleted in iPhone Photos, Notes and Mail app. In this article we will show you how to empty trash on iPhone/iPad/iPod permanently.
Part 1

. How to empty trash on iPhone/iPad/iPod Photos

There is a folder named Recently Deleted inside the Photos app.

When you delete some photos or videos from your album, the deleted photos or videos will not be deleted directly from your iOS device. They will firstly go to the Recently Deleted folder and iOS will keep them for 30 days. In the 30 days, if you want to find the deleted photos or videos back, you can recover them from this Recently Deleted folder. However, if you make up your mind to delete the photos or videos from Photos app, it's nonsense to keep them in the Recently Deleted folder for 30 days, cause it will take up the space in your device. Tap on "Recently Deleted", you will see the photos and videos you have deleted, together with remaining days the iOS will keep them for. If you cannot find pictures and videos you removed in this folder, it means that they have passed the 30-day grace period and been erased by iOS permanently already.

To delete the Photos trash, please follow steps as below.

1. Open Photos>Albums, scroll down until you see a trashcan icon square named "Recently Deleted".

2. Click "Select"-Delete All -"Delete X Items" to confirm the operation to empty trash on iPhone/iPad/iPod Photos.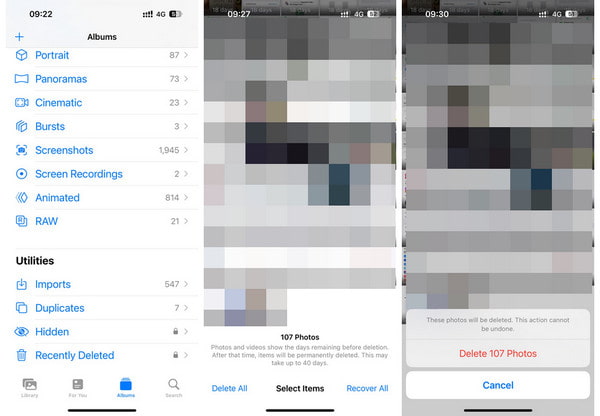 What if we delete photos from iPhone/iPad/iPod mistakenly? Don't worry, you can recover deleted photos from your iPhone to find back your precious photos.
Part 2

. How to empty trash on iPhone/iPad/iPod Mail

If you have more than one email accounts associated with the Mail app in your iOS device, the deleted mails and spam will occupy more and more space in the trash folder.

In order to empty trash on iPhone/iPad/iPod Mail, the method is similar to the one of emptying Photos trash:
1. Open Mail app and tap the mail account that you want to empty the trash.
2. Tap "Trash" to enter the "Trash" interface.
3. Click the "Edit" button and tap "Delete All" to remove all the mails in the trash folder. You can also empty the Junk folder with the same method.
Unable to delete email messages on iPhone in Trash? Find the solutions here.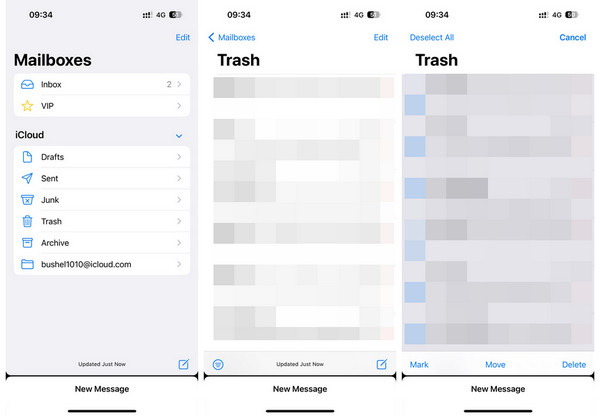 Don't miss Retrieve Deleted Emails on iPhone if you delete useful mails by mistake.
Part 3

. How to empty trash on iPhone/iPad/iPod Notes

The method to empty trash on iOS devices Notes app is similar to that of Photos and Mail app. There is also a "Recently Deleted" folder in the Note app if you have deleted some notes. The deleted notes will also stay in the "Recently Deleted" folder for 30 days before they are erased from your iPhone permanently.

1. To empty the trash in Notes app, open Notes>Recently Deleted to find all your deleted notes.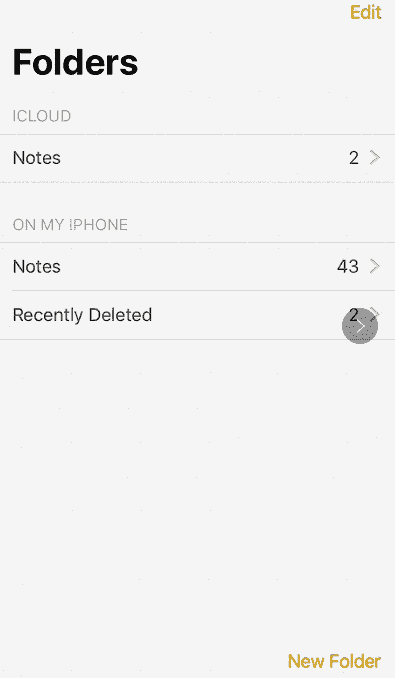 2. Tap on "Edit">Delete All to delete the trash on Mail app permanently.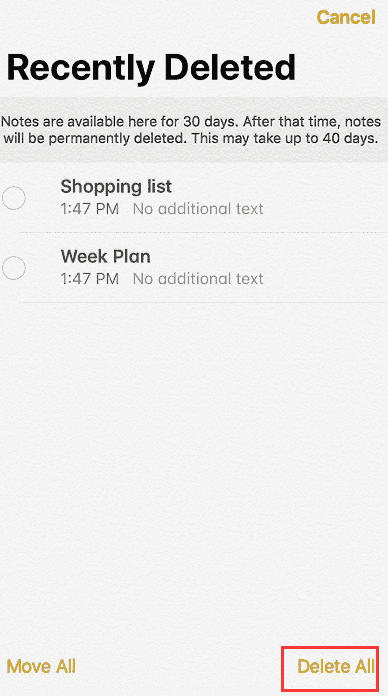 If you delete notes on your iPhone by accident, don't worry, read Undelete notes on iPhone to find a solution.
Part 4

. How to permanently empty the trash on iPhone/iPad/iPod

The above operations will simply delete files from the trash, but the data still exists somewhere in your iPhone. If you want to completely empty the trash in your iPhone, you'd better get help from professional phone data erasing tool. Apeaksoft iPhone Eraser is one of the best choices for you. It offers 100% promise to securely erase all your data (contacts, SMS, photos, videos, account information, browser history, music, games, downloads etc.) from iOS devices (iPhone 15/14/13/12/11/X/8/7/6/5/4, iPad or iPod) without recovery possibility.

Features of iPhone Eraser:
1. It can help you erase iPhone content and settings permanently and thoroughly.
2. Three erasing levels available, you are able to erase all data from iOS devices safely and clearly.
3. iPhone Eraser allows you to connect more than one iOS device and erase all contents and settings from multiple devices simultaneously to save your time.
4. Support various iOS devices (iPhone 4~iPhone 15, iPad/iPod).
How to use Aiseesoft FoneEraser
Step 1. Download and run iPhone Eraser.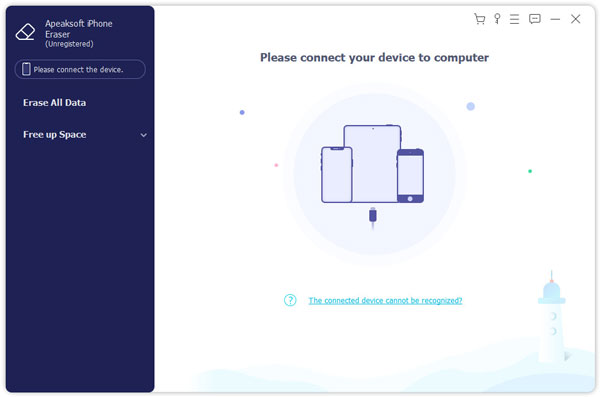 Before getting started, please note that this software will wipe out all content in your iOS device at once without giving you a selective option, so you need to backup some important data if you don't mean to delete them forever.
Step 2. Connect your iOS device to iPhone Eraser and wait for seconds to let your device detected by the program. You can connect several iOS devices to the software at the same time.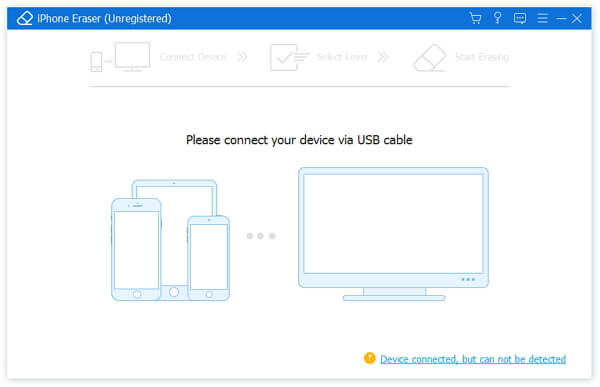 Step 3. Choose erasing level.
As we have introduced in the features above, there are three erasing levels available: Low, Medium, and High.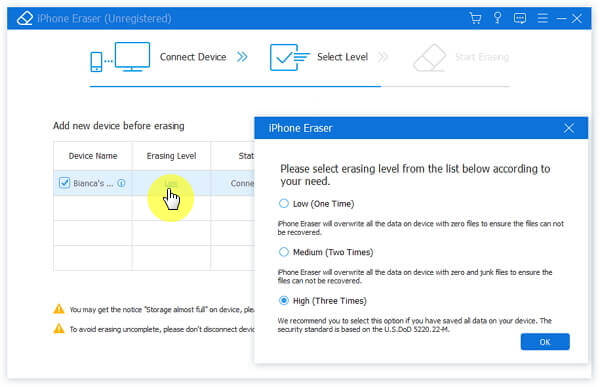 Three Erasing Levels:
• Low level: Erase data quickly and overwrite your device for only one time, which can save you time for plenty of data files.
• Medium level: Completely erase all data and overwrite the device for twice, remaining no trace. Nobody will know the data on your device has been erased.
• High level: Destroy data thoroughly by overwriting data for three times, which is the safest and most radical way to get your device started with a clean state.
Step 4. Start to erase your iOS data and settings
After selecting the erasing level, you can click "Start" button to erase all the data and settings on your iPhone/iPad/iPod. Now you will erase all data and settings on your iOS devices thoroughly and permanently. Here you may also want to delete Bookmarks on iPhone and iPad.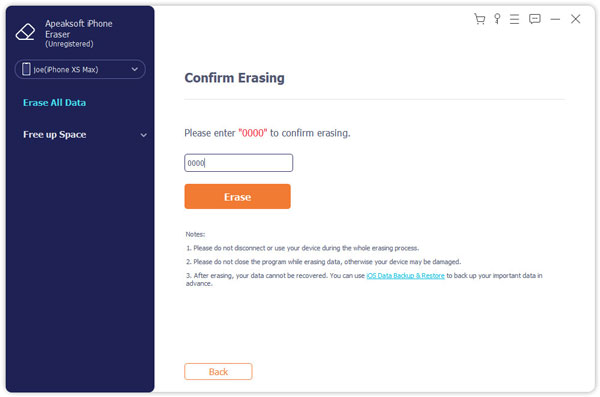 Want to empty trash on iPhone/iPad/iPod, there is no good tool available for iOS users to achieve the goal with just one click. Since there is only visible trash folder on Photos, Mail and Notes app. So you need to empty the trash manually. There are still many invisible trashes in your iOS devices which is difficult to delete.
If you want to delete all the data and settings on your iPhone/iPad/iPod permanently before selling it to avoid privacy disclosure, there is a powerful and professional iPhone Eraser available to do you a favor. You can erase all contents from your iOS devices easily and permanently with this iOS data eraser without the worry that the deleted data can be recovered. You can select the erasing level according to your demand. Download the trial version to experience its powerful erasing ability now!
Part 5. FAQs of Emptying Trash on iPhone
1. Is there a recycle bin in iPhone?
In fact, there is no recycle bin on iPhone. If you deleted or lost important files on your iPhone and want to get them back, although no recycle bin on iPhone, you can get them back from iTunes backup or iCloud backup.
2. What happens to data when you empty trash on iPhone?
When you empty trash on iPhone, the data will be deleted. And there is no way you can undo trash on iPhone.
3. How do I empty trash on Mac?
The easiest way is to click and hold the "Trash" icon in the Dock. Then, select "Empty Trash" in the popup. For running Secure Empty Trash, you need to hold down the "command" key and click "Trash", and "Empty Trash" will change to "Secure Empty Trash". Just select it.
4. Can I restore data once I empty trash on iPhone?
Normally, you are not able to restore data. But you can use a third-party tool like Apeaksoft iPhone Data Recovery to help you recover deleted data.