As time goes by, you have got a large number of apps on your iPad. Then you may want to know how to remove apps from iPad. According to our research, iOS users download over ten new apps every week. Moreover, iPad users are more likely to get new apps, partly because iPad equips a larger screen.
After trying apps out, you may decide some are just not for you or find another one you like better. Some apps are useless and taking up space on your iPad. In such cases, removing them from your device is a good idea. This tutorial will show you how-to in detail.

Part 1

. Remove an App on iPad Home Screen

Once entering your PIN password or Touch ID, you will be presented the home screen. All apps you downloaded from App Store can be found on your home screen. Of course, you can remove apps on iPad home screen quickly.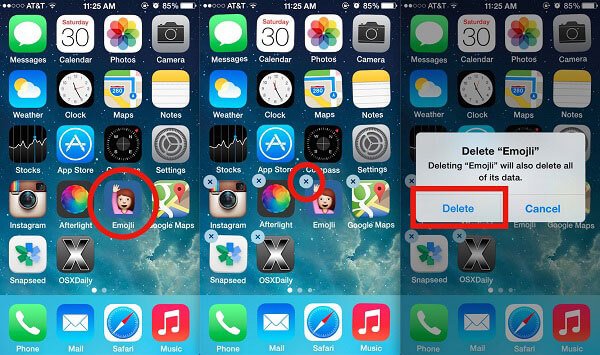 Step 1. Go to your home screen and locate the screen that contains the app you want to remove on iPad.
Step 2. Touch and hold any app for a while until the icons starting wiggling. It means that the screen goes into the edit mode.
Step 3. Tap the Delete symbol at upper left corner of the app. If prompted, tap the Delete button to remove the app on iPad immediately.
Note: There are two kinds of apps on your iPad, the native app and third-party app. The former is pre-installed on iPad, such as iBook, Photos, Safari, and more. They can only be removed from your home screen but not your device.
Part 2

. Delete an App in Settings on iPad

If the app cannot be removed on iPad home screen, you can try to achieve it in the Settings app.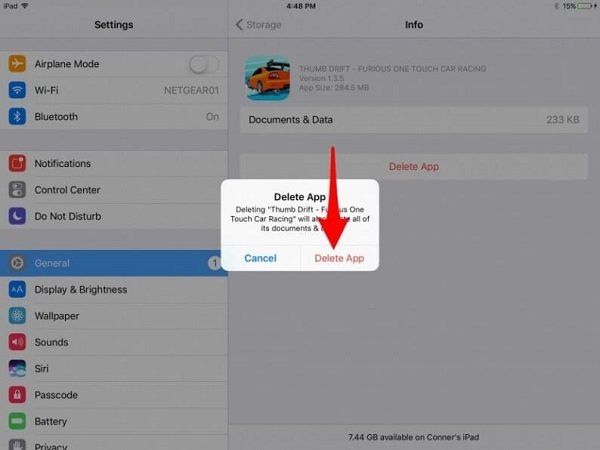 Step 1. Press the Settings app from your home screen and tap on your name.
Step 2. Go to General > iPad Storage and all apps on your iPad will show up
Step 3. Toggle the Offload Unused Apps option to On position.
Step 4. Tap the unwanted app and touch Delete App. Finally, tap the Delete App button to confirm it.
Note: If you cannot remove the app on iPad, go to Settings > General > Restrictions and make sure to turn on the Deleting Apps option. This way is suitable to remove apps on iPad if you cannot find them on your home screen or they are undeletable on iPad home screen.
Once unneeded apps are deleted, you'd better make a backup with iCloud or iTunes. Otherwise, the deleted apps may go back to your iPad when syncing.
Part 3

. Uninstall Apps via iTunes

iTunes is a utility for iPad and iPhone users to manage data on their devices. You can purchase and download apps and media contents in iTunes. Of course, the apps on iPad can be removed within iTunes. If the methods above are not valid, you should try iTunes. This way requires a computer and a USB cable.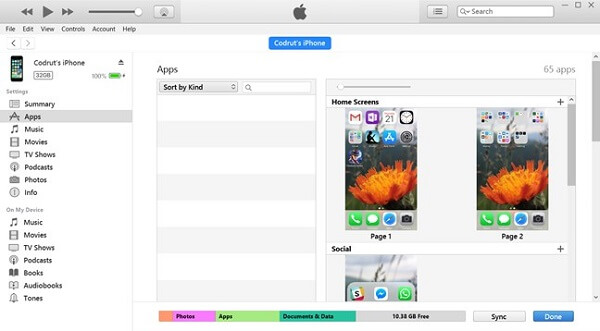 Step 1. Get the latest iTunes on your computer or update your iTunes to the latest version. Then connect your iPad to your machine with the USB cable.
Step 2. Open iTunes and click the Device icon at upper left corner after it detects your iPad. (iPad iPhone does not show up in iTunes?)
Step 3. Select the Apps entity from the left side to display all apps on your iPad.
Step 4. Double click on the screen or app folder in which the app you intend to remove. Hover your cursor over the unwanted app and click the X icon. Repeat the process on other apps you want to remove on iPad.
Step 5. When it is done, click the Apply button. When prompted, select the Remove button.
Part 4

. Remove All Apps on iPad

No matter the Settings app or iTunes, you have to remove apps on iPad one by one. They cannot delete all apps on your iPad at one time. If you have dozens of unneeded apps to remove, it will take long time to complete the process. From this point, we recommend Apeaksoft iPhone Eraser.
Remove all apps on iPad along with app data via a single click.
Erase apps, personal settings and documents from iPad permanently.
Protect your privacy and personal data without spying by others.
Available in various situations, including locked iOS devices.
Compatible with iPad Pro/Air and other models, iPhone and iPod Touch.
All in all, iPhone Eraser is the best way to remove all apps on iPad fast.
How to remove all apps on iPad
Step 1. Get the best app eraser for iPad
Download and install the best app eraser on your computer and use a Lightning cable to connect your iPad to the computer. We suggest you to use the cable came with your iPad.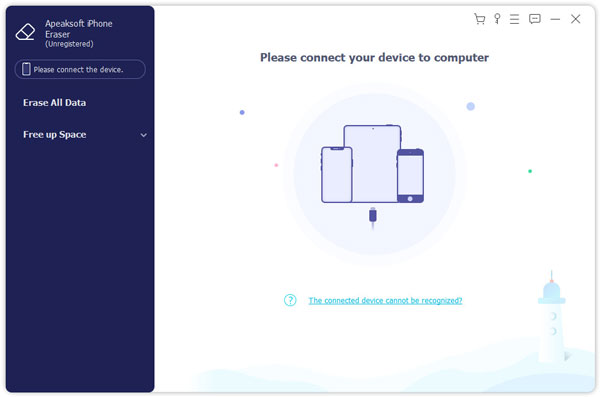 Step 2. Set up iPad Eraser
Launch the app eraser software and it will detect your iPad as well as apps automatically. You have three options of erasing levels:
Low: Overwrite apps on iPad one time.
Medium: Do app erasing twice.
High: Repeat app overwriting for three times.
Select an erasing level based on your need and click the OK button to confirm it.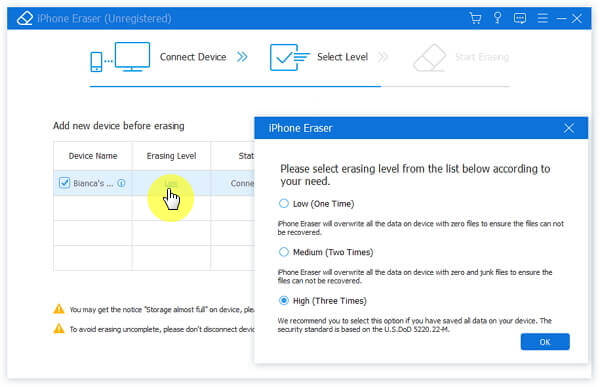 Step 3. Remove apps on iPad with one click
After deciding the erasing level, click the Start button to initiate removing apps on iPad. According to our research, it only takes a few minutes to delete all iPad apps and app data. During the process, keep your iPad connecting to the computer.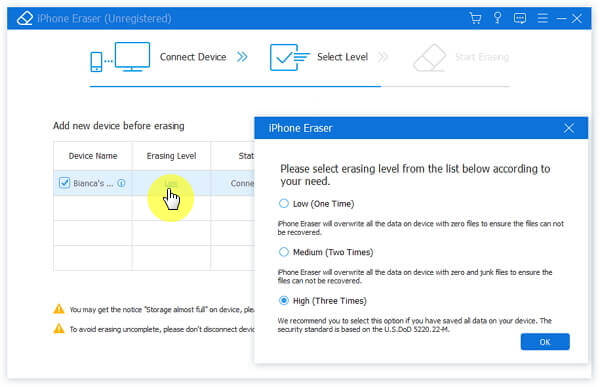 Conclusion
This tutorial has shared how to remove apps on iPad home screen, Settings app or iTunes. Home screen is the most convenient way to get rid of unwanted apps from your iPad. The Settings app is another method to remove iPad apps one by one. If you already have iTunes on your computer, it could help you to delete apps. To uninstall all apps and app data on iPad, Apeaksoft iPhone Eraser is the best way since it is able to complete the task at one time.