Apple Music is the subscription service, where you can listen to all of your favourite music and discover new music across all of your devices.
However, some users report that Apple Music does not play on iPhone or iPad. Why cannot you hear Apple Music?
In most cases, Apple Music not playing on iPhone/iPad/iPod is caused by the following issues:
1. Music sync failure.
2. Network issues caused Apple Music not working.
3. Wrong settings on Apple Music lead to Apple Music not playing.
4. Music is damaged or corrupted, which makes Apple Music won't play.

Apple Music Won't Play on iPhone
To solve the problem, follow the quick 14 solutions to fix it now.
4 Basic Fixes to Solve Apple Music Not Playing on iPhone
If you are not sure which reason for Apple Music not playing on iPhone or iPad, just try the 5 basic fixes quickly to solve the problem now.
Fix 1. Restart Music App
The easiest way to play the songs from Apple Music normally is exiting the app and restart it.
1. On an iPhone X or later, or an iPad with iOS 12 or later, or iPadOS: From the Home screen, swipe up from the bottom of the screen and pause slightly in the middle of the screen.
On an iPhone 8 or earlier: Double-click the Home button to show your most recently used apps, including Music app.
2. Swipe left or right to find Music app and swipe up on the Music's preview to close it.
3. Tap Music app and start playing the songs to fix the problem.
4. If there are other media app that are playing audio or video files, you should also exit them.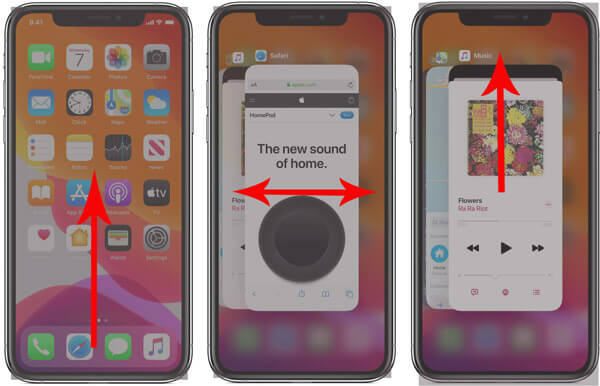 Fix 2. Restart iPhone
To restart an iPhone is the universal solution to fix any iPhone problems. Here, it still works. There are various iPhone models, and the steps of restarting are slightly different. Here we take iPhone X and later as an example.
1. Press and hold either volume button and the side button until the power off slider appears.
2. Drag the slider, and then wait 30 seconds for your iPhone to turn off.
3. Press and hold the side button until you see the Apple logo and your iPhone will restart.
More details about restating iPhone in other models, you should check this post: How to Restart iPhone.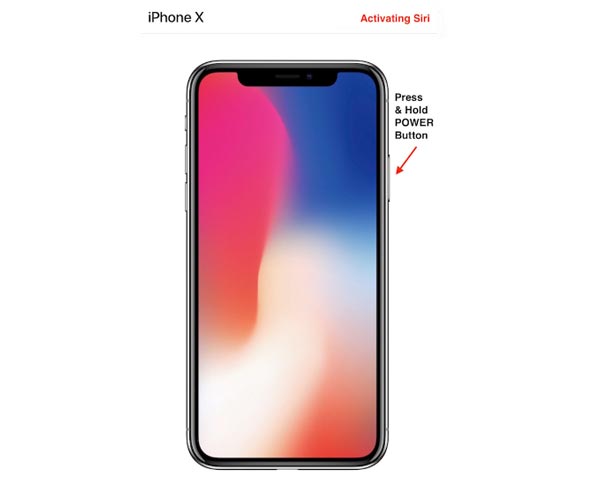 Fix 3. Change Network Connection
Listening to the online songs in Apple Music will need the Internet connection. So, just make sure the Internet connection with your iPhone is available.
1. Allow Music to use both WLAN and cellular data. Go to Settings > WLAN > Scroll down to find Apps Using WLAN & Cellular > Scroll down to find Music > Enable WLAN & Cellular Data.
2. Change WLAN to cellular data. Go to Settings > Cellular > Toggle on Cellular Data and then back to WLAN > Toggle off WLAN.
3. Change cellular data to WLAN. Follow the similar steps in the next part to turn off cellular data and turn on WLAN.
This solution works especially when you add music to Apple Music and sync the Library on other devices.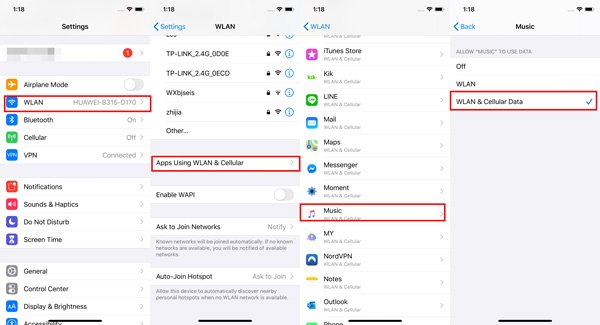 Fix 4. Reset Network Settings
If the network connected with your iPhone is not working, Apple Music will not play exactly. After trying to switch the network connection, you should reset the network settings on iPhone. Resetting network settings will not erase any data but only the network related settings.
1. Open Settings app on your iPhone or iPad.
2. Tap General and scroll down to choose "Reset".
3. Tap Reset Network Settings and confirm the settings by inputting the Apple ID password if prompted.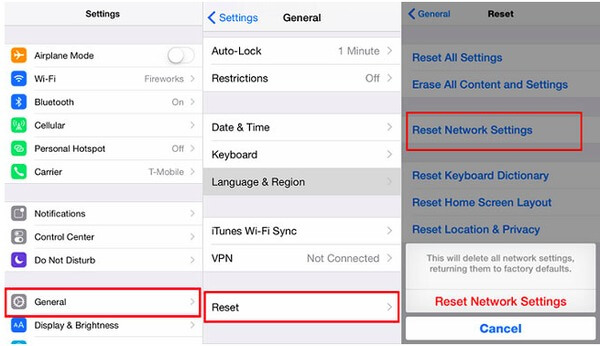 5 Ways to Change Settings to Play Apple Music Normally on iPhone
Fix 5. Enable Apple Music Subscription
Apple Music is the subscription service, and you can stream, listen to and download songs through the service. Apple offers a 3-month free trial for new subscribers and you should pay $9.9 per month for Individual subscription. Moreover, if you have subscribed it, just check if your subscription is expired or not.
1. Go to Settings > Tap iTunes & App Stores > Apple ID.
2. Select View Apple ID to authenticate yourself > Scroll down to tap Subscriptions.
Then you can see the current status of your Apple music subscription.
If you have multiple subscriptions, you should tap Apple Music to see the detailed status of your account.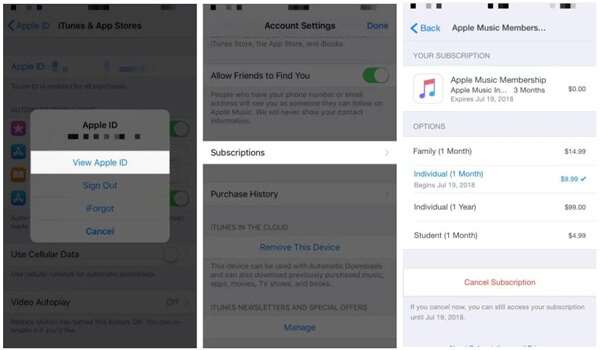 Fix 6. Enable iCloud Music Library
iCloud Music Library lets you access all the songs in your Library from Apple Music, and update the Library across all of your devices once you make any changes. If you find the songs from Apple Music won't play on your iPhone, just make sure iCloud Music Library is enabled.
Go to Settings > Music > Toggle on iCloud Music Library.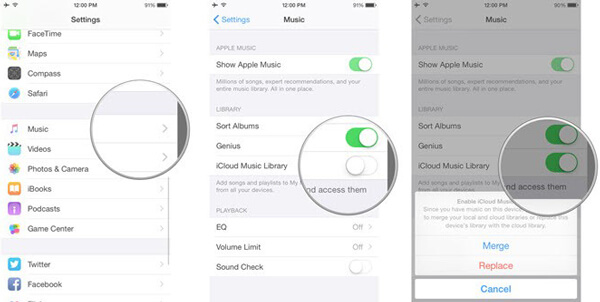 Fix 7. Turn on Automatic Music Downloads
When you find the songs you downloaded from Apple Music recently are not showing up on other iOS devices, you should turn on Automatic Music Downloads on iOS device.
On your iPhone, iPad, or iPod touch, go to Settings > Your Apple ID > iTunes & App Stores > Turn on Music under Automatic Downloads.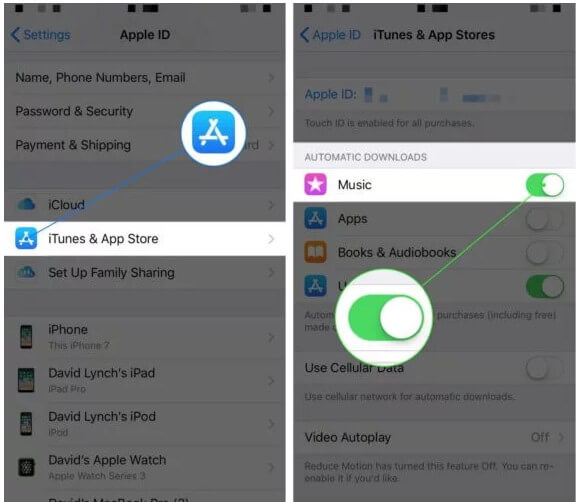 Fix 8. Disable Restrictions on iPhone
When you find the music with explicit lyrics are not playing on iPhone, then you may have enabled restrictions of music. It is easy to fix such type problem by disabling the restriction feature.
Go to Settings > Screen Time > Content & Privacy Restrictions > Content Restrictions > Music, Podcasts & News >Select Explicit.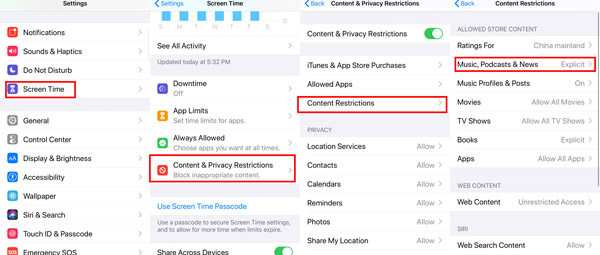 Fix 9. Sign in and out of iCloud
Apple Music subscription is related with iCloud account. Once iCloud account is abnormal, it will also prevent Apple Music from accessing on iPhone iPad.
You can sign out and sign in iCloud account on iPhone to fix the problem.
1. Open Settings app on your iPhone > Tap your iCloud name > Scroll down to hit Sign Out at the bottom > Confirm by inputting the iCloud password and hit Turn Off > Keep a copy of your data on this iPhone by toggling on Calendars and Keychain or not > Tap Sign Out on the upper-right corner.
2. Select iCloud under iPhone/iPad Settings again. Enter your Apple ID and password and tap Sign in to re-sign in your Apple ID on iCloud.
Not sure what data stored in iCloud? Just view iCloud backup now.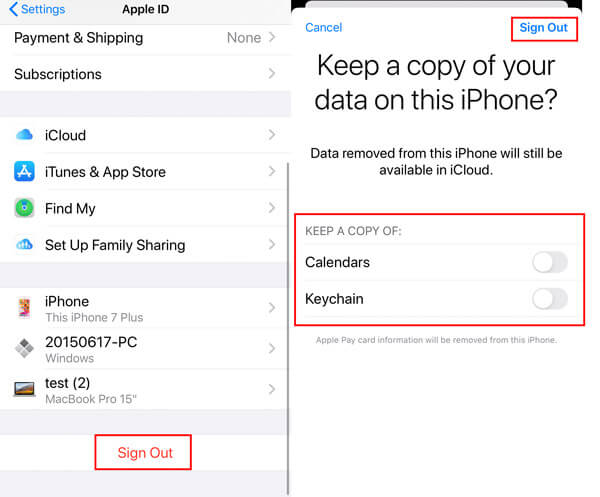 5 Advanced Solutions to Fix Apple Music Won't Play on iPhone (Caution!)
The fixes mentioned above can solve Apple Music not playing on iPhone iPad exactly. If none of the above solutions work, then you should fix iPhone system or iTunes errors to settle a matter.
Fix 10. Update iPhone
Every iOS update will refresh your iPhone iPad and iPod with new features. Apple Music also updates in the latest iOS 16 upgrade. If your Apple Music not playing on old iOS versions like iOS 12, 11, etc., it is time to update your iPhone.
1. On iPhone, go to Settings > General > Software Update.
2. Tap Download and install to start updating your iPhone automatically, if an iOS update is available.
3. If your iPhone is running in the latest iOS version, you'll see the phrase "Your iPhone is up to date."
You can start the automatic iOS software update settings by toggling on "Automatic Updates" on iOS 12 and later.
Caution: Apple has the official guide to update iOS, but not downgrade an iOS. You have to take the third-party tools to help you to downgrade iOS.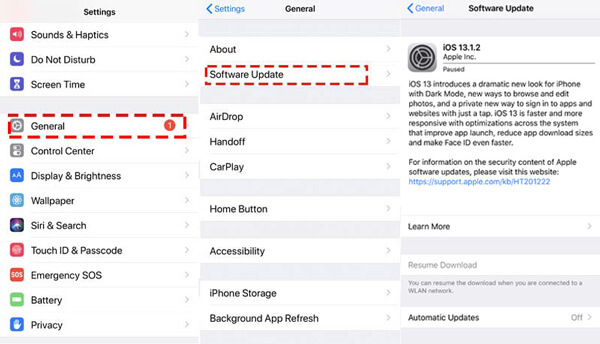 Fix 11. Update iTunes
Similar to iOS update, Apple also release iTunes updates to improve their services. More specifically, Apple Music in iTunes plays an important role. When Apple Music not playing on iPhone, you can try to update iTunes on computer.
Note: iTunes will be longer in macOS Catalina.
1. Run iTunes and click help from the menu and select Check for Updates to update iTunes.
2. Alternatively, go to Apple official site to check the latest iTunes version and download it.
Getting iTunes errors while updating iTunes? Here are the fixes.
You can start the automatic iOS software update settings by toggling on "Automatic Updates" on iOS 12 and later.
Caution: Every update of iTunes will bring new features, but also remove some modules. e.g. Tones has been removed since iTunes 12.7.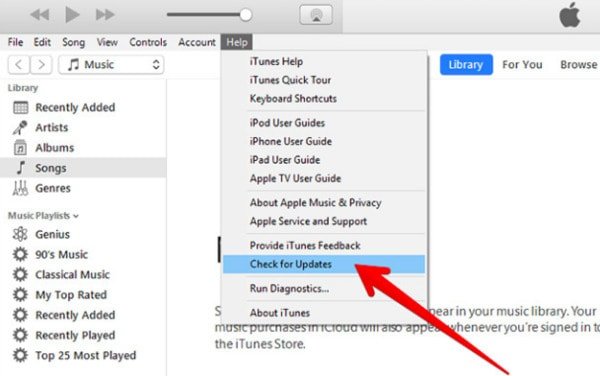 Fix 12. Uninstall and Re-install Music App
Since iOS 12, 13 and 14, Apple gives you more controls of the built-in apps, you can delete the built-in Music app and reinstall it from App Store to let Apple Music play normally on iPhone.
1. On your iPhone, iPad or iPod, touch and hold the Music app.
2. Tap Rearrange Apps > Tap the small cross icon in the upper-left corner to delete Music.
3. After the deletion, go to the App Store > Search for the Music app > Tap the download button to reinstall Music again.
Caution: Deleting the Music app will also delete the purchased and synced songs on this device. For playing the purchased songs, you have to restore iTunes purchases after reinstalling the Music app.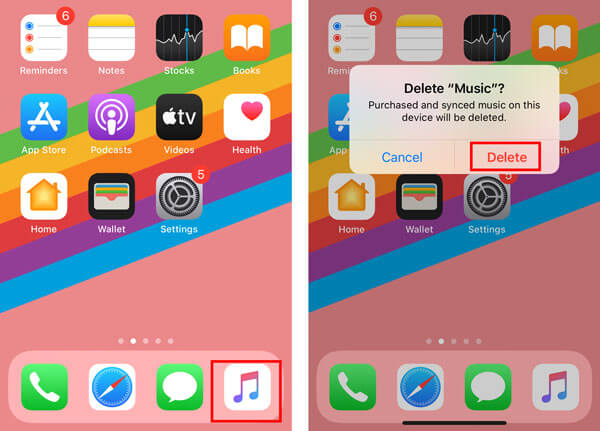 Fix 13. Restore iPhone with iTunes
There is no exception that restoring iPhone to factory settings is the bottom line for every iPhone problem solving. When Apple Music not playing trouble me without any efficient solutions above, you may need to restore iPhone to factory settings.
1. Run iTunes on computer. Connect iPhone to computer with the USB cable, and iTunes will detect it automatically.
2. Click your iPhone icon to go to Summary section by default.
3. Select This Computer under Backups and click Back Up Now.
4. After the backup is done, click Restore iPhone and follow the on-screen instructions to restore iPhone to factory settings.
5. After that, your iPhone will be set up as new and restore iPhone from iTunes backup file.
iTunes is not the only solution to restore iPhone, and you can also restore iPhone without iTunes.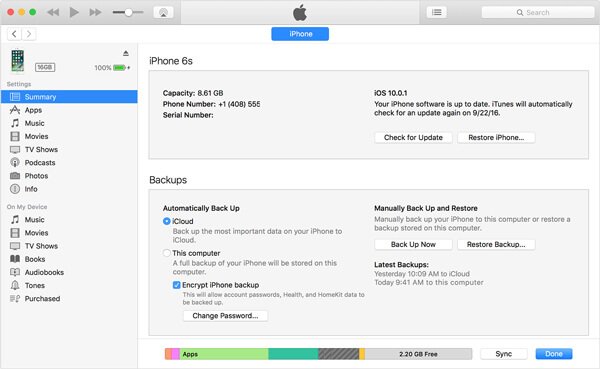 Fix 14. iTunes Alternative to Sync Music for iOS
We could have completed the post to fix Apple Music not playing on iPhone iPad and iPod. However, you may have found that Apple Music can brings you more ear pleasure with refreshed library, it also causes the music playback problems.
For getting rid of the music issues brought by the network connection or sync issues, you should get an iTunes alternative to share your music from iPhone to iPad, computer, iPod, etc.
Here, we recommend Apeaksoft iPhone Transfer, which is the music sync and management tool for iPhone iPad and iPod on Windows and Mac.
Sync music among iPhone/iPad/iPod, computer and iTunes.
Manage music on computer (delete items, edit ID3, create playlists, etc.).
Transfer videos, contacts, photos, messages, notes, calendars, and more.
Supports the latest iOS devices running iOS 16.
Download for Win
Download for Mac
Step 1
Connect iPhone to computer
Connect your iPhone to computer with the USB cable, and this software will detect your iPhone automatically.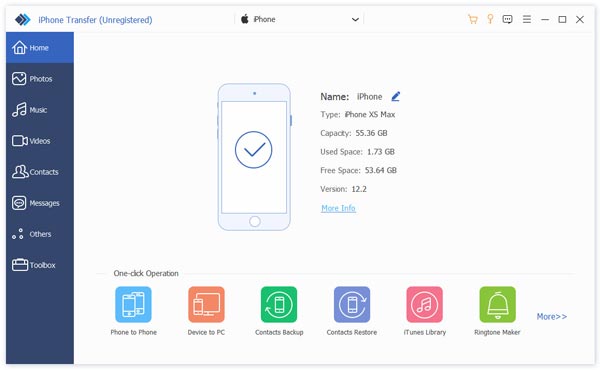 Step 2
Select music
Click "Music" on the left sidebar, and you will see all the detailed music types in the right side. Click the specific song and you can play it in this software.
Then you should select the checkbox of the song by clicking the box or use the Shift or Ctrl to select the multiple songs.
If you want to share a playlist with others, just create a music playlist firstly.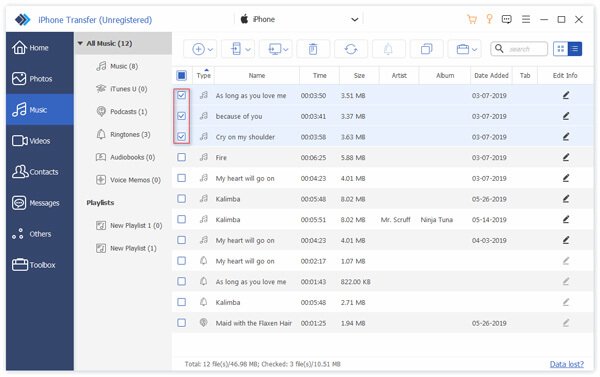 Step 3
Export music from iPhone
After selecting the songs, you could use the buttons in the upper menu to export to PC (the third computer image).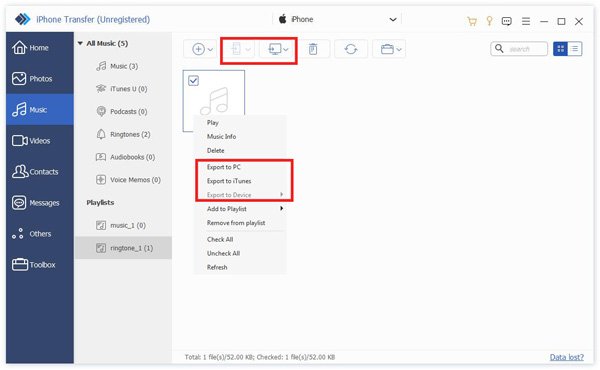 The buttons in the menu also let you delete music from iPhone, transfer music form iPhone to iPhone iPad, and more.
FAQs About How to Fix Apple Music Not Playing on iPhone
Why are certain songs not playing on Apple Music?
If it's just some specific songs that aren't being played properly in Apple Music, it is most likely because the music files are corrupted. Delete them now in the app and re-download them to check if they can be played properly. Alternatively, you can try logging out of Apple Music and logging back in to check if the problem has been resolved.
Why won't my Apple Music play after iOS update?
If restarting your iPhone still doesn't solve your problem, then it may be the lack of memory space after the system downloads the update causing Apple Music to not work properly. Check your memory space and clean them up in time. If you have headphones connected, please check if it is a problem with the headphones that is causing the music not to be played properly.
Why does my music stop playing when I open an app on my phone?
Most apps are set up to not mix audio with other apps. So when a new app you open is also playing audio, it can cause the music software audio to break. So Apple Music may stop working when the other app starts playing music. To fix this, you can adjust it in the app settings.
Will I lose my Music if I switch from individual to family Apple Music?
If you just set up to switch your Apple ID to family and not join another family, all of your music will not be lost. If you have Family Sharing turned on, then all members in that family group will have access to your Apple Music.
Will I lose my music if I cancel Apple Music?
If your Apple Music account expires or you cancel your Apple Music subscription, all the music you've saved or purchased will be gone, and you won't be able to play them again unless you renew your subscription.
Conclusion
You can discover large scale music database from Apple Music. However, Apple Music will not play due to network connection, Apple Music settings, sync issues, etc. This post shows the top 14 solutions to fix Apple Music not playing on iOS devices.
Have you solved the issue?
Any good solution to fix the problem?
Do not hesitate to leave your comments below.